♥ Made by Matthew-x83 - Official Website
Warning!!!
Has been detected program and / or browser extension
in the upper right corner for blocking advertising and / or functional cookies.
Example:


To view the WebSite, disable the Filter and Reload the Page.
For more information on temporarily disabling the filter or to put the Website
on the safe list (whitelist) Click Here
Page will reload in:

60

seconds or Click Here
GDPR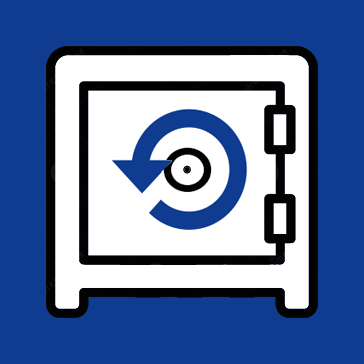 pSaveMe
Please Save Me - a Linux Backup Plan
---
| | |
| --- | --- |
| | |
| | |
| --- | --- |
| | |
---
Negli anni un problema ricorrente che si è posto è stato quello di trovare la soluzione di gestione dei dati più efficiente ed economica possibile per piccole reti aziendali.
Nel 2015 nasce il progetto pSaveMe - Please Save Me - a Linux Backup plan per risolvere il problema di un'azienda di elaborazione dati fiscali/contabili con 1 titolare (che aveva studiato informatica ed avanzava pretese) e 6 dipendenti.
A quel tempo non esisteva il GDPR con i suoi obblighi di sicurezza e ridondanza, non esistevano i RANSOMWARE e lo scenario a cui ci troviamo di fronte era:
1) 7 computer sempre in uso ( 1 a persona) e 1 computer di riserva spento. 2 notebook.
2) 1 server dove risiede il gestionale che gestisce i dati fiscali protetto da condivisioni personalizzate (giustamente) dall'azienda che fornisce il software in modo da risultare una specie di black box intoccabile da parte degli utenti.
3) Una quantità molto rilevante di file sensibili su ogni computer (parecchie migliaia), che devono essere condivisi solo all'occorrenza tra le varie postazioni: da fogli di calcolo a documenti digitalizzati.
4) Una quantità di posta elettronica rilevante. La posta deve essere preservata non soltanto nel server remoto che gestisce il servizio ma anche in azienda per evitare cancellazioni accidentali.
5) Una connessione ad internet instabile ( almeno fino al 2020) la connessione era pessima in molti borghi italiani. Una capacità di upload limitata a 4/5 megabit ( velocità media di trasferimento file su un server remoto di 500kbyte al secondo ).
6) Il computer del titolare con centinaia di documenti personali tra cui foto e video per una dimensione di circa 200gb a detta sua importantissimi anche se non aziendali.
Le richieste del titolare erano: fare un server centralizzato di backup il più economico possibile, flessibile (espandibile e di facile riparazione),versatile ( possibilità di installare eventuali software), sicuro, automatizzato, accessibile da Microsoft Windows e con una richiesta ben precisa: una volta salvati i dati sul supporto esterno, quel supporto doveva essere spento.
"Perché se è spento sicuro non si rompe o mi rubano i dati". La politica di salvataggio doveva essere giornaliera ( avere a disposizione la copia di tutti i dati aziendali come si sarebbero presentati alla chiusura del giorno precedente) e una copia settimanale che veniva effettuata il sabato ( per avere l'istantanea dei dati della settimana precedente).
A recurring problem that has arisen over the years has been to find the most efficient and cost-effective data management solution possible for small business networks.
In 2015 the pSaveMe - Please Save Me - a Linux Backup plan project was born to solve the problem of a tax / accounting data processing company with 1 owner (who had studied IT and was making demands on requirements) and 6 employees.
At that time there was no GDPR with its security obligations and redundancy, the RANSOMWARE did not exist and the scenario we are facing was:
1) 7 computers always in use (1 per person) and 1 spare computer turned off. 2 notebooks.
2) 1 server where the management software that manages the tax data is protected by personalized shares (rightly so) by the company that provides the software in order to be a kind of black box untouchable by users.
3) A very large amount of sensitive files on each computer (several thousand), which must be shared only when necessary between the various workstations: from spreadsheets to digitized documents.
4) A significant amount of email. Mail must be preserved not only on the remote server that manages the service but also in the company to avoid accidental deletion.
5) An unstable internet connection (at least until 2020) the connection was bad in many Italian cities. An upload capacity limited to 4/5 megabits (average file transfer rate on a remote server of 500kbytes per second).
6) The computer of the owner with hundreds of personal documents including photos and videos for a size of about 200gb according to him very important even if not corporate.
The owner's requests were: to make a centralized backup server as economical as possible, flexible (expandable and easy to repair), versatile (possibility to install any software), secure, automated, accessible from Microsoft Windows and with a request very precise: once the data was saved on the external support, that support had to be turned off.
"Because if it's off, it won't break or steal my data". The saving policy had to be daily (have a copy of all company data available as they would have been presented at the close of the previous day) and a weekly copy that was made on Saturday (to have a snapshot of the previous week's data).
---
Quello di cui avevo bisogno era:
1) Un server sempre acceso affidabile, ma economico, accessibile da client Microsoft Windows per la condivisione file.
2) Ogni persona doveva avere la sua username e password per accedere alla sua cartella di backup e nessun altro utente doveva poter accedere.
3) Una cartella condivisa accessibile da tutti gli utenti della rete.
4) Una memoria esterna o un computer da poter accendere e spegnere all'occorrenza per avere la seconda copia.
Per prima cosa ho cercato soluzioni commerciali ( NAS QNAP , NAS Buffalo , Synology ) ma non avevo flessibilità ed automazione: mancava la possibilità di espandere il numero dei dischi in maniera semplice e la possibilità di accendere e spegnere il dispositivo di backup.
Pertanto il modo più semplice ed economico era quello di costruire 2 NAS con hardware ordinario ed uno dei due veniva acceso e spento all'occorrenza usando il Wake on LAN per l'accensione
e l' SSH per lo spegnimento (dopo aver effettuato la sincronizzazione).
Tutte le operazioni dovevano essere eseguite in sicurezza elettrica tramite UPS ed automatizzate con mail di riepilogo.
Lo schema operativo classico è il seguente:
✔ Ogni PC ha un utente.
✔ Ogni utente lavora sempre sulle sue cartelle nella directory dell'utente di Windows
✔ L'utente è informato e sa che non deve mai salvare fuori dalla sua cartella utente
✔ Ogni 60 minuti il software SyncBackFree v7.x (versione attiva nel 2015) crea una copia speculare delle cartelle utente in una cartella del server n°1 accessibile solo a quell'utente.
✔ Dal lunedi al venerdi alle ore 20.00, dopo l'orario di chiusura il server n°1 tramite il comando Wake on LAN accende il server n°2, effettua la copia speculare con rsync sul server n°2 in un disco specifico per i backup giornalieri, invia una mail di riepilogo con lo stato della copia infine tramite SSH spegne il server n°2.
✔ Il sabato l'operazione è identica a quella degli altri giorni della settimana se non per la destinazione del salvataggio che viene messo su disco diverso.
What I needed was:
1) A reliable, yet inexpensive, always-on server accessible from Microsoft Windows clients for file sharing.
2) Each person had to have his username and password to access his backup folder and no other user had to be able to access.
3) A shared folder accessible by all network users.
4) An external memory or a computer that can be turned on and off as needed to get the second copy.
First I looked for commercial solutions ( NAS QNAP, NAS Buffalo, Synology) but I didn't have flexibility and automation: it lacked the ability to expand the number of disks easily and the ability to turn the backup device on and off.
Therefore the simplest and cheapest way was to build 2 NAS with ordinary hardware and one of the two was turned on and off as needed using the Wake on LAN for power on
and SSH for shutdown (after synchronization).
All operations had to be carried out in electrical safety via UPS and automated with summary mail.
The classic operating scheme is the following:
✔ Each PC has a user.
✔ Each user always works on his own folders in the Windows user directory
✔ The user is informed and knows he should never save out of his user folder
✔ Every 60 minutes the software SyncBackFree v7.x (version active in 2015) creates a mirror copy of the user folders in a server n°1 folder accessible only to that user.
✔ From Monday to Friday at 20.00, after the closing time, server n°1 switches on server n°2 through the Wake on LAN command; it makes the mirror copy with rsync on server n°2 in a specific disk for backups daily; it sends a summary email with the status of the copy and finally, via SSH, turns off the server n°2.
✔ On Saturday, the operation is identical to that of the other days of the week except for the destination of the save which is put on a different disk.
---
Hardware 2015
Server n°1:
⏺ Processore Intel G3250
⏺ Scheda madre Asus di fascia economica (ad esempio serie B85M con scheda di rete gigabit)
⏺ 4GB RAM DDR3
⏺ Scheda PCI Gigabit
⏺ LSI MegaRAID 9265-8i (reperibile su EBAY al tempo sotto i 200 euro)
⏺ x3 hard disk serie Western Digital RED da 1TB sata configurati in RAID 5
⏺ Alimentatore CORSAIR di fascia media
⏺ 2x hard disk SSD 30GB sata Kingston
⏺ Case Micro ATX economico
⏺ Case Hotswap da 2.5 pollici per la rimozione veloce del disco di sistema
⏺ Masterizzatore DVD
Server n°2:
⏺ Processore Intel G3250
⏺ Scheda madre Asus di fascia economica (ad esempio serie B85M con scheda di rete gigabit)
⏺ 4GB RAM DDR3
⏺ Scheda PCI Gigabit
⏺ 2x Hard Disk SSD 30gb sata Kingston
⏺ Case Micro ATX economico
⏺ Alimentatore CORSAIR di fascia media
⏺ 2x Hard Disk da 2TB Western Digital RED
⏺ Case Hotswap da 2.5 pollici per la rimozione veloce del disco di sistema
⏺ Masterizzatore DVD
Uno dei dischi da 30 gigabyte aveva il sistema operativo installato e dopo averlo configurato in ogni più piccolo particolare venne clonato sull'altro disco, montato per verificare la copia e smontato per essere messo in un armadio chiuso da usare in caso di emergenza. Il computer veniva poi collegato con porta USB ad un UPS ( ad esempio i CyberPower)

Hardware 2015
Server°1:
⏺ Intel G3250 Processor
⏺ Budget-range Asus motherboard (eg B85M series with gigabit network card)
⏺ 4GB DDR3 RAM
⏺ Gigabit PCI Card
⏺ LSI MegaRAID 9265-8i (available on EBAY at the time under 200$)
⏺ x3 1TB Western Digital RED hard disk series configured in RAID 5
⏺ CORSAIR mid-range power supply
⏺ 2x Kingston SSD 30GB sata hard drive
⏺ Cheap Micro ATX Case
⏺ 2.5-inch Hotswap Case for a quick System Disk removal
⏺ DVD burner
Server°2:
⏺ Intel G3250 Processor
⏺ Budget-range Asus motherboard (eg B85M series with gigabit network card)
⏺ 4GB DDR3 RAM
⏺ Gigabit PCI Card
⏺ 2x Hard Disk SSD 30gb sata Kingston
⏺ Cheap Micro ATX Case
⏺ CORSAIR mid-range power supply
⏺ 2x 2TB Western Digital RED Hard Disk
⏺ 2.5-inch Hotswap Case for a quick System Disk removal
⏺ DVD burner
One of the 30 gigabyte disks had the operating system installed and after configuring it in every smallest detail it was cloned on the other disk, mounted to verify the copy and disassembled to be placed in a closed cabinet to be used in an emergency. The computer was then connected with a USB port to a UPS (for example the CyberPower)

❗ Hardware aggiornato (2022)
Negli anni le capacità degli hard disk sono aumentate notevolmente ed i prezzi sono crollati.
Si è arrivati ad una consapevolezza ambientale e a puntare su soluzione a massima efficienza energetica per dispositivi sempre accesi.
Pertanto oggi una soluzione con scheda madre mini itx con processori serie j o atom hanno consumi ridottissimi e sono un ottima scelta.
L'importante è puntare ad un controller raid hardware affidabile (ad esempio Intel RAID ) sempre con tecnologia Megaraid e scegliere dischi pensati per NAS.
Inoltre si trovano schede pcie anche 10GbE ( e relativi switch SFP) con costi non più così elevati.
Il sistema operativo può essere messo su un qualsiasi disco, possibilimente il più piccolo possibile di capacità per velocizzare procedure di cloning del sistema.
A distanza di 7 anni i dischi dei sistemi operativi sono rimasti integri, sono stati clonati ed alternati di pari passo con gli aggiornamenti di sicurezza software.
❗ Updated hardware (2022)
Over the years the capacities of hard drives have increased significantly and prices have plummeted.
Environmental awareness has been achieved and a focus on maximum energy efficiency solution for devices that are always on.
Therefore today a solution with a mini itx motherboard with j series or atom processors have very low power consumption and are an excellent choice.
The important thing is to aim for a reliable hardware raid controller (for example Intel RAID ) always with Megaraid technology and choose disks designed for NAS .
In addition there are also 10GbE pcie cards (and relative SFP switches) with not so high costs.
The operating system can be put on any disk, possibly the smallest possible capacity to speed up cloning procedures of the system.
After 7 years, the disks of the operating systems remained intact, were cloned and alternated hand in hand with the software security updates.
---
🔹 Dopo aver assemblato e verificato i componenti del server n°1, si è proceduto a configurare tramite il proprio bios il controller raid per essere in modalità RAID 5.
🔹 Si sono impostati sempre dal suo bios gli allarmi in caso di guasto di un disco.
🔹 Si è proceduto poi ad installare la distribuzione linux Debian sul disco ssd da 30gb. Durante l'installazione si è scelto di non installare l'ambiente grafico, ma di installare i pacchetti base necessari. I pacchetti aggiuntivi fondamentali per entrambi i sistemi sono:
  🔸 ifenslave: per fare il bonding delle 2 interfacce di rete presenti.
  🔸 samba e sambaclient: per creare le le condivisioni dei file compatibili con i sistemi Windows.
  🔸 nload: per la verifica del traffico di rete
  🔸 iostat: per la verifica dell attività dei dischi
  🔸 smartmontools, storcli64 per il monitoring dei dischi SATA e del controller RAID
  🔸 nut e nut-server: per la gestione dell'ups tramite porta USB
  🔸 sshd: per il collegamento remoto al server
  🔸 wakeonlan: per l'accensione del secondo server
  🔸 truecrypt (obsoleto) e sostiuito con veracrypt: per eventuale crittografia
  🔸 msmtp: per l'invio della posta da linea di comando
  🔸 s3fs-fuse: per attivare il cloud Amazon S3. Data l'instabilità del software,della linea internet ed i costi nel 2015 non fu utlizzato.

🔹 After having assembled and verified the components of server n°1, we proceeded to configure the raid controller to be in RAID 5 mode via our bios.
🔹 The alarms in case of disk failure have always been set from its bios.
🔹 We then proceeded to install the linux distribution Debian on the 30gb ssd disk. During installation, it was decided not to install the graphical environment, but to install the necessary basic packages. The core add-on packages for both systems are:
  🔸 ifenslave: to bond the 2 network interfaces present.
  🔸 samba and sambaclient: to create file shares compatible with Windows systems.
  🔸 nload: for checking network traffic
  🔸 iostat: for verifying disk activity
  🔸 smartmontools, storcli64 for monitoring SATA disks and RAID controller
  🔸 nut and nut-server: for UPS management via USB port
  🔸 sshd: for remote connection to server
  🔸 wakeonlan: to switch on the second server
  🔸 truecrypt (obsolete) and replaced with veracrypt: for possible encryption
  🔸 msmtp: for sending mail from the command line
  🔸 s3fs-fuse: to activate the Amazon S3 cloud. Given the instability of the software, the internet line and costs, in 2015 it was not used.

---
Dopo aver installato i suddetti pacchetti, si procede con la configurazione del Server n°1:
1) Il bonding: qui c'è la guida ufficiale per il bonding su Debian . Scegliere e ricordarsi l'indirizzo IP scelto.
2) Viene attivato il jumbo frame per tutte le interfacce con il comando: ip link set nome_interfaccia mtu 9000 ed il comando viene rieseguito ad ogni avvio.
3) Vengono creati 7 utenti con le relative password
4) Viene formattato in ext4 il disco virtuale creato dal controller RAID e messo in montaggio automatico nel file /etc/fstab
5) Nel disco virtuale RAID vengono create 7 cartelle usando per ogni cartella il nome del singolo utente con i permessi non accessibili tra i singoli utenti ( usando i comandi chown e chmod).
6) Nel disco virtuale raid viene creata una cartella condivisa accessibile a tutti e 7 gli utenti ad esempio RAID5
7) Vengono condivise le cartelle editando il file /etc/samba/smb.conf secondo le linee guida di samba per l'accesso sul server°1 dalle singole postazioni Windows.
8) Configurazione client mail msmtp. Possibilmente evitando Gmail per le sue politiche restrittive sui client non sicuri. Qui la guida per Debian
9) Configurazione mail per il monitoring dell'hard disk di sistema editando correttamente il file /etc/smartd.conf ad esempio con "/dev/sda -H -C 0 -U 0 -m admin@example.com"
10) Configurazione di nut-server .E' importante configurare correttamente i file /etc/nut/hosts.conf ed /etc/nut/ups.conf con il driver usb corretto per il proprio UPS e l'indirizzo di rete che si è scelto per l'interfaccia di rete combinata generata dal bonding.
11) Configurare il demone SSH per l'autologin generando una coppia di chiavi di autenticazione con il comando ssh-keygen. Successivamente usare ssh-copy-id per copiare la chiave sul server n°2.

After installing the aforementioned packages, proceed with the configuration of Server n°1:
1) Bonding: here is the official Debian bonding guide. Choose and remember the chosen IP address.
2) The jumbo frame is activated for all interfaces with the command: ip link set name_interface mtu 9000 and the command is re-executed at each start.
3) 7 users are created with their passwords
4) The virtual disk created by the RAID controller is formatted in ext4 and automatically mounted in the file /etc/fstab
5) In the virtual RAID disk 7 folders are created using for each folder the name of the single user with the permissions not accessible between single users (using the chown and chmod commands).
6) A shared folder accessible to all 7 users is created in the virtual raid disk, for example RAID5
7) The folders are shared by editing the file /etc/samba/smb.conf according to samba guidelines for accessing server 1 from individual Windows workstations.
8) Configuration of msmtp mail client. Possibly avoiding Gmail for its restrictive policies on insecure clients. Guide for Debian here
9) Mail configuration for system hard disk monitoring by correctly editing the /etc/smartd.conf file, for example with "/dev/sda -H -C 0 -U 0 -m admin@example.com"
10) nut-server configuration. It is important to correctly configure the /etc/nut/hosts.conf and /etc/nut/ups.conf with the correct usb driver for your UPS and the network address you have chosen for the combined network interface generated by bonding.
11) Configure the SSH daemon for autologin by generating an authentication key pair with the ssh-keygen command. Then use ssh-copy-id to copy the key to Server n°2.

---
Per quanto riguarda il Server n°2, si procede all'installazione dei pacchetti base e dei pacchetti menzionati in precedenza e per la configurazione:
1) Si crea l'interfaccia bonding su un altro ip specifico
2) Viene attivato il jumbo frame come per il caso precedente
3) Viene creato un solo utente psaveme con password a scelta
4) Vengono formattati in ext4 e montati in fstab come /media/daily_backup e /media/weekly_backup i due dischi da 2TB
5) Vengono condivise le due cartelle tramite samba /media/daily_backup e /media/weekly_backup
6) Configurazione client mail msmtp.
7) Configurazione mail per il monitoring dell'hard disk di sistema e dei due dischi secondari usati per /media/daily_backup e /media/weekly_backup
8) Configurazione di nut-server come per il caso precedente con l'aggiunta del file /etc/nut/notifycmd per attivare lo spegnimento automatico del sistema in caso di guasto di energia e batteria sotto il 10% di carica
9) Viene verificato l'auto login con SSH dopo aver copiato la chiave generata precedentemente.
10) Viene salvato il MAC address della scheda di rete integrata nella scheda madre per essere usato dal software wakeonlan

With regard to Server n°2 , proceed with the installation of the basic packages and the packages mentioned above and for the configuration:
1) The bonding interface is created on another specific IP
2) The jumbo frame is activated as in the previous case
3) Only one psaveme user is created with a password of your choice
4) The two 2TB disks are formatted in ext4 and mounted in fstab as /media/daily_backup and /media/weekly_backup
5) The two folders are shared via samba /media/daily_backup and /media/weekly_backup
6) Configuration of msmtp mail client.
7) Mail configuration for monitoring the system hard disk and the two secondary disks used for /media/daily_backup and /media/weekly_backup
8) Nut-server configuration as in the previous case with the addition of the /etc/nut/notifycmd file to activate the automatic shutdown of the system in case of power failure and battery below 10% charge
9) The auto login with SSH is verified after copying the previously generated key.
10) The MAC address of the network card integrated in the motherboard is saved to be used by the wakeonlan software

---
C files & config file: psaveme_monitoring.c , psaveme_rsync.c , text.conf
Si torna poi sul Server n°1:
  🔸 Personalizzare il file text.conf in base alle configurazioni effettuate nei punti precedenti e copiarlo in /etc/psaveme
  🔸 Compilare i file psaveme_monitoring.c e psaveme_rsync.c con:

cc -lpthread -o pSaveme_monitoring psaveme_monitoring.c
cc -lpthread -o psaveme_rsync psaveme_rsync.c

File C and configuration file: psaveme_monitoring.c , psaveme_rsync.c , text.conf
Then go back to Server n°1 :
  🔸 Customize the text.conf file according to the configurations made in the previous points and copy it in /etc/psaveme
  🔸 Compile the psaveme_monitoring.c and psaveme_rsync.c files with:

cc -lpthread -o pSaveme_monitoring psaveme_monitoring.c
cc -lpthread -o psaveme_rsync psaveme_rsync.c

---
  🔸 Eseguire e mettere in auto avvio i demoni appena compilati con i permessi di root.
  🔸 Infine si procede la configurazione dei singoli sistemi Windows:
    ⚪ Si procedeva con attivazione di unità di rete creando il disco virtuale della propria condivisione per avere la destinazione del backup.
    ⚪ Si procedeva con attivazione di una seconda unità di rete attivando il disco virtuale della cartella condivisa tra tutti gli utenti.
    ⚪ Si procedeva poi all'installazione del software SyncBackFree.
Nel 2015 era presente la versione 7.x di SyncBackFree e si era configurato per salvare la cartella utente come "copia speculare" ogni 30 minuti. Si erano escluse alcune cartelle in Appdata e cartelle temporanee.
Ovviamente è possibile decidere cosa salvare regolarmente sul server 1 su ogni singolo computer.
  🔸 Run and auto-start the newly compiled daemons with root permissions.
  🔸 Finally, we proceed with the configuration of the individual Windows systems:
    ⚪ You proceeded with activation of network drives by creating the virtual disk of your share to have the backup destination.
    ⚪ We proceeded with activation of a second network drive by activating the virtual disk of the folder shared between all users.
    ⚪ The SyncBackFree software was then installed.
In 2015 there was SyncBackFree 7.x and it was configured to save the user folder as a "mirror copy" every 30 minutes. Some folders in Appdata and temporary folders were excluded.
Of course, you can decide what to save regularly on server 1 on each individual computer.
---
Il 25 Maggio 2018, entrava in vigore la General Data Protection Regulation (GDPR) dell'Unione Europea, una articolata normativa sulla privacy e la protezione dei dati personali.
L'obiettivo principale del regolamento è quello di rendere omogeneo il trattamento dei dati personali dei cittadini e residenti dell'Unione Europea e definire delle politiche efficienti per il trattamento dei dati. Pertanto la normativa tocca in maniera completa il problema del salvataggio dati.
La normativa relativa ai backup è definita all'articolo 32 del GDPR: il responsabile del trattamento dei dati, ovvero il soggetto che immagazzina dati sensibili di cittadini UE, deve assicurarsi di avere delle procedure di cifratura dei dati e la capacità di ripristinare tempestivamente la disponibilità e l'accesso dei dati in caso di incidente fisico o tecnico.
Questo significa avere delle procedure di backup dei dati sempre attive, e che consentano inoltre di cifrare il contenuto del backup stesso, in modo tale da renderlo inaccessibile a chi non conosca le necessarie password.
Per rispettare la normativa GDPR si devono tener conto delle seguenti linee guida:
1. Modalità di backup: almeno 3 backup, su almeno 2 sistemi differenti di cui 1 off-site. Si possono sfruttare servizi cloud come Microsoft OneDrive e Azure, Google Drive, Amazon S3 e Dropbox. I servizi remoti scelti devono essere GDPR-compliant.
2. adottare la crittografia.
3. effettuare un monitoraggio continuativo dello stato dei backup ad esempio utilizzando le notifiche email.
4. fare delle verifiche a campione sulla funzionalità di ripristino dei backup con cadenza regolare.

Psaveme - Aggiornamento
Per seguire la norma GDPR il sistema deve essere modificato con l'attivazione del backup sul cloud.
Per il costo e il continuo sviluppo di s3fs-fuse consiglio Amazon S3.
La guida alla configurazione di s3fs-fuse è accessibile Qui
Consiglio di montare lo spazio cloud in avvio attivando una cartella specifica su /etc/fstab.
Pertanto il file psaveme_rsync.c puo è essere modficato per aggiungere l'operazione di rsync su Amazon s3 commentando le linee 288 e 295, decommentando le linee 289 e 296 e modificare la directory di destinazione con la cartella inserita in /etc/fstab
Per quanto riguarda la crittografia, è possibile attivare sui dischi la crittografia di sistema usando dm-crypt sul Server°1 durante l'installazione del sistema.
Per il Server°2 è possibile, allo stesso modo, modificare il sorgente per aggiungere il comando per il montaggio dei dischi di backup via SSH.
On May 25, 2018, the General Data Protection Regulation (GDPR) of the European Union entered into force, a complex legislation on privacy and the protection of personal data.
The main objective of the regulation is to make the processing of personal data of citizens and residents of the European Union homogeneous and to define efficient policies for data processing. Therefore the legislation completely touches the problem of data saving.
The legislation relating to backups is defined in article 32 of the GDPR: the data controller, or the person who stores sensitive data of EU citizens, must make sure you have data encryption procedures and the ability to promptly restore data availability and access in the event of a physical or technical incident.
This means having data backup procedures always active, and which also allow to encrypt the contents of the backup itself, in such a way as to make it inaccessible to anyone who does not know the necessary passwords.
To comply with the GDPR regulations, the following guidelines must be taken into account:
1. Backup mode: at least 3 backups, on at least 2 different systems, 1 of which is off-site. You can take advantage of cloud services such as Microsoft OneDrive and Azure, Google Drive, Amazon S3 and Dropbox. The remote services chosen must be GDPR-compliant.
2. adopt encryption.
3. carry out continuous monitoring of the backup status, for example using email notifications.
4. perform random checks on the backup restore functionality on a regular basis.

Psaveme - Update
To follow the GDPR rule, the system must be modified with the activation of Cloud Backup .
For the cost and continued development of s3fs-fuse I recommend Amazon S3.
The s3fs-fuse configuration guide is accessible Here
I recommend mounting the cloud space on startup by activating a specific folder on /etc/fstab.
Therefore the psaveme_rsync.c file can be modified to add the rsync operation on Amazon s3 by commenting out lines 288 and 295, uncommenting lines 289 and 296 and changing the destination directory to the folder entered in /etc/fstab
As for encryption , system encryption can be activated on the disks using dm-crypt on Server°1 during system installation.
For Server°2 it is possible, in the same way, to modify the source to add the command for mounting the backup disks via SSH.
---
Social Media - My Personal Ranking
ICA8YSBocmVmPSdodHRwczovL3d3dy5mYWNlYm9vay5jb20vJyB0YXJnZXQ9J19ibGFuayc+RmFjZWJvb2s8L2E+IC0gSW1wb3J0YW56YSwgU3RlbGxpbmU6ICA8ZGl2IGNsYXNzPSdmb3Rvc3RlbGxpbmUnPjxpbWcgIHN0eWxlPSd2ZXJ0aWNhbC1hbGlnbjptaWRkbGU7JyBzcmM9Jy4uL2dyYWZpY2EvNXN0ZWxsZS5wbmcnIGFsdD0nNVN0ZWxsaW5lJz48L2Rpdj4gIExpbmsgRXN0ZXNvOiA8YSBocmVmPSdodHRwczovL3d3dy5mYWNlYm9vay5jb20vJyB0YXJnZXQ9J19ibGFuayc+aHR0cHM6Ly93d3cuZmFjZWJvb2suY29tLzwvYT48L3A+ ICA8YSBocmVmPSdodHRwczovL3d3dy5pbnN0YWdyYW0uY29tLycgdGFyZ2V0PSdfYmxhbmsnPkluc3RhZ3JhbTwvYT4gLSBJbXBvcnRhbnphLCBTdGVsbGluZTogIDxkaXYgY2xhc3M9J2ZvdG9zdGVsbGluZSc+PGltZyAgc3R5bGU9J3ZlcnRpY2FsLWFsaWduOm1pZGRsZTsnIHNyYz0nLi4vZ3JhZmljYS81c3RlbGxlLnBuZycgYWx0PSc1U3RlbGxpbmUnPjwvZGl2PiAgTGluayBFc3Rlc286IDxhIGhyZWY9J2h0dHBzOi8vd3d3Lmluc3RhZ3JhbS5jb20vJyB0YXJnZXQ9J19ibGFuayc+aHR0cHM6Ly93d3cuaW5zdGFncmFtLmNvbS88L2E+PC9wPg== ICA8YSBocmVmPSdodHRwczovL3d3dy5saW5rZWRpbi5jb20vJyB0YXJnZXQ9J19ibGFuayc+TGlua2VkaW48L2E+IC0gSW1wb3J0YW56YSwgU3RlbGxpbmU6ICA8ZGl2IGNsYXNzPSdmb3Rvc3RlbGxpbmUnPjxpbWcgIHN0eWxlPSd2ZXJ0aWNhbC1hbGlnbjptaWRkbGU7JyBzcmM9Jy4uL2dyYWZpY2EvNHN0ZWxsZS5wbmcnIGFsdD0nNFN0ZWxsaW5lJz48L2Rpdj4gIExpbmsgRXN0ZXNvOiA8YSBocmVmPSdodHRwczovL3d3dy5saW5rZWRpbi5jb20vJyB0YXJnZXQ9J19ibGFuayc+aHR0cHM6Ly93d3cubGlua2VkaW4uY29tLzwvYT48L3A+ ICA8YSBocmVmPSdodHRwczovL3R3aXR0ZXIuY29tLycgdGFyZ2V0PSdfYmxhbmsnPlR3aXR0ZXI8L2E+IC0gSW1wb3J0YW56YSwgU3RlbGxpbmU6ICA8ZGl2IGNsYXNzPSdmb3Rvc3RlbGxpbmUnPjxpbWcgIHN0eWxlPSd2ZXJ0aWNhbC1hbGlnbjptaWRkbGU7JyBzcmM9Jy4uL2dyYWZpY2EvNHN0ZWxsZS5wbmcnIGFsdD0nNFN0ZWxsaW5lJz48L2Rpdj4gIExpbmsgRXN0ZXNvOiA8YSBocmVmPSdodHRwczovL3R3aXR0ZXIuY29tLycgdGFyZ2V0PSdfYmxhbmsnPmh0dHBzOi8vdHdpdHRlci5jb20vPC9hPjwvcD4= ICA8YSBocmVmPSdodHRwczovL3dlYi53aGF0c2FwcC5jb20vJyB0YXJnZXQ9J19ibGFuayc+V2hhdHNhcHA8L2E+IC0gSW1wb3J0YW56YSwgU3RlbGxpbmU6ICA8ZGl2IGNsYXNzPSdmb3Rvc3RlbGxpbmUnPjxpbWcgIHN0eWxlPSd2ZXJ0aWNhbC1hbGlnbjptaWRkbGU7JyBzcmM9Jy4uL2dyYWZpY2EvNHN0ZWxsZS5wbmcnIGFsdD0nNFN0ZWxsaW5lJz48L2Rpdj4gIExpbmsgRXN0ZXNvOiA8YSBocmVmPSdodHRwczovL3dlYi53aGF0c2FwcC5jb20vJyB0YXJnZXQ9J19ibGFuayc+aHR0cHM6Ly93ZWIud2hhdHNhcHAuY29tLzwvYT48L3A+ ICA8YSBocmVmPSdodHRwczovL3d3dy5waW50ZXJlc3QuY29tLycgdGFyZ2V0PSdfYmxhbmsnPlBpbnRlcmVzdDwvYT4gLSBJbXBvcnRhbnphLCBTdGVsbGluZTogIDxkaXYgY2xhc3M9J2ZvdG9zdGVsbGluZSc+PGltZyAgc3R5bGU9J3ZlcnRpY2FsLWFsaWduOm1pZGRsZTsnIHNyYz0nLi4vZ3JhZmljYS8zc3RlbGxlLnBuZycgYWx0PSczU3RlbGxpbmUnPjwvZGl2PiAgTGluayBFc3Rlc286IDxhIGhyZWY9J2h0dHBzOi8vd3d3LnBpbnRlcmVzdC5jb20vJyB0YXJnZXQ9J19ibGFuayc+aHR0cHM6Ly93d3cucGludGVyZXN0LmNvbS88L2E+PC9wPg== ICA8YSBocmVmPSdodHRwczovL3d3dy5mbGlja3IuY29tLycgdGFyZ2V0PSdfYmxhbmsnPkZsaWNrcjwvYT4gLSBJbXBvcnRhbnphLCBTdGVsbGluZTogIDxkaXYgY2xhc3M9J2ZvdG9zdGVsbGluZSc+PGltZyAgc3R5bGU9J3ZlcnRpY2FsLWFsaWduOm1pZGRsZTsnIHNyYz0nLi4vZ3JhZmljYS8zc3RlbGxlLnBuZycgYWx0PSczU3RlbGxpbmUnPjwvZGl2PiAgTGluayBFc3Rlc286IDxhIGhyZWY9J2h0dHBzOi8vd3d3LmZsaWNrci5jb20vJyB0YXJnZXQ9J19ibGFuayc+aHR0cHM6Ly93d3cuZmxpY2tyLmNvbS88L2E+PC9wPg== ICA8YSBocmVmPSdodHRwczovL3d3dy50dW1ibHIuY29tLycgdGFyZ2V0PSdfYmxhbmsnPlR1bWJscjwvYT4gLSBJbXBvcnRhbnphLCBTdGVsbGluZTogIDxkaXYgY2xhc3M9J2ZvdG9zdGVsbGluZSc+PGltZyAgc3R5bGU9J3ZlcnRpY2FsLWFsaWduOm1pZGRsZTsnIHNyYz0nLi4vZ3JhZmljYS8zc3RlbGxlLnBuZycgYWx0PSczU3RlbGxpbmUnPjwvZGl2PiAgTGluayBFc3Rlc286IDxhIGhyZWY9J2h0dHBzOi8vd3d3LnR1bWJsci5jb20vJyB0YXJnZXQ9J19ibGFuayc+aHR0cHM6Ly93d3cudHVtYmxyLmNvbS88L2E+PC9wPg== ICA8YSBocmVmPSdodHRwczovL3d3dy50aWt0b2suY29tLycgdGFyZ2V0PSdfYmxhbmsnPlRpa3RvazwvYT4gLSBJbXBvcnRhbnphLCBTdGVsbGluZTogIDxkaXYgY2xhc3M9J2ZvdG9zdGVsbGluZSc+PGltZyAgc3R5bGU9J3ZlcnRpY2FsLWFsaWduOm1pZGRsZTsnIHNyYz0nLi4vZ3JhZmljYS8zc3RlbGxlLnBuZycgYWx0PSczU3RlbGxpbmUnPjwvZGl2PiAgTGluayBFc3Rlc286IDxhIGhyZWY9J2h0dHBzOi8vd3d3LnRpa3Rvay5jb20vJyB0YXJnZXQ9J19ibGFuayc+aHR0cHM6Ly93d3cudGlrdG9rLmNvbS88L2E+PC9wPg== ICA8YSBocmVmPSdodHRwczovL2Rpc3F1cy5jb20nIHRhcmdldD0nX2JsYW5rJz5EaXNxdXM8L2E+IC0gSW1wb3J0YW56YSwgU3RlbGxpbmU6ICA8ZGl2IGNsYXNzPSdmb3Rvc3RlbGxpbmUnPjxpbWcgIHN0eWxlPSd2ZXJ0aWNhbC1hbGlnbjptaWRkbGU7JyBzcmM9Jy4uL2dyYWZpY2EvNHN0ZWxsZS5wbmcnIGFsdD0nNFN0ZWxsaW5lJz48L2Rpdj4gIExpbmsgRXN0ZXNvOiA8YSBocmVmPSdodHRwczovL2Rpc3F1cy5jb20nIHRhcmdldD0nX2JsYW5rJz5odHRwczovL2Rpc3F1cy5jb208L2E+PC9wPg== ICA8YSBocmVmPSdodHRwOi8vd3d3LnJlbnJlbi5jb20vJyB0YXJnZXQ9J19ibGFuayc+UmVucmVuIC0gSWwgcHJpbmNpcGFsZSBzb2NpYWwgYXNpYXRpY288L2E+IC0gSW1wb3J0YW56YSwgU3RlbGxpbmU6ICA8ZGl2IGNsYXNzPSdmb3Rvc3RlbGxpbmUnPjxpbWcgIHN0eWxlPSd2ZXJ0aWNhbC1hbGlnbjptaWRkbGU7JyBzcmM9Jy4uL2dyYWZpY2EvNHN0ZWxsZS5wbmcnIGFsdD0nNFN0ZWxsaW5lJz48L2Rpdj4gIExpbmsgRXN0ZXNvOiA8YSBocmVmPSdodHRwOi8vd3d3LnJlbnJlbi5jb20vJyB0YXJnZXQ9J19ibGFuayc+aHR0cDovL3d3dy5yZW5yZW4uY29tLzwvYT48L3A+ ICA8YSBocmVmPSdodHRwczovL3d3dy5ibG9nZ2VyLmNvbS8nIHRhcmdldD0nX2JsYW5rJz5CbG9nZ2VyPC9hPiAtIEltcG9ydGFuemEsIFN0ZWxsaW5lOiAgPGRpdiBjbGFzcz0nZm90b3N0ZWxsaW5lJz48aW1nICBzdHlsZT0ndmVydGljYWwtYWxpZ246bWlkZGxlOycgc3JjPScuLi9ncmFmaWNhLzVzdGVsbGUucG5nJyBhbHQ9JzVTdGVsbGluZSc+PC9kaXY+ICBMaW5rIEVzdGVzbzogPGEgaHJlZj0naHR0cHM6Ly93d3cuYmxvZ2dlci5jb20vJyB0YXJnZXQ9J19ibGFuayc+aHR0cHM6Ly93d3cuYmxvZ2dlci5jb20vPC9hPjwvcD4=
News - My Personal Ranking
ICA8YSBocmVmPSdodHRwczovL3d3dy5hbnNhLml0LycgdGFyZ2V0PSdfYmxhbmsnPkFuc2E8L2E+IC0gSW1wb3J0YW56YSwgU3RlbGxpbmU6ICA8ZGl2IGNsYXNzPSdmb3Rvc3RlbGxpbmUnPjxpbWcgIHN0eWxlPSd2ZXJ0aWNhbC1hbGlnbjptaWRkbGU7JyBzcmM9Jy4uL2dyYWZpY2EvNXN0ZWxsZS5wbmcnIGFsdD0nNVN0ZWxsaW5lJz48L2Rpdj4gIExpbmsgRXN0ZXNvOiA8YSBocmVmPSdodHRwczovL3d3dy5hbnNhLml0LycgdGFyZ2V0PSdfYmxhbmsnPmh0dHBzOi8vd3d3LmFuc2EuaXQvPC9hPjwvcD4= ICA8YSBocmVmPSdodHRwczovL3d3dy5pbGZhdHRvcXVvdGlkaWFuby5pdC8nIHRhcmdldD0nX2JsYW5rJz5JbCBGYXR0byBRdW90aWRpYW5vPC9hPiAtIEltcG9ydGFuemEsIFN0ZWxsaW5lOiAgPGRpdiBjbGFzcz0nZm90b3N0ZWxsaW5lJz48aW1nICBzdHlsZT0ndmVydGljYWwtYWxpZ246bWlkZGxlOycgc3JjPScuLi9ncmFmaWNhLzVzdGVsbGUucG5nJyBhbHQ9JzVTdGVsbGluZSc+PC9kaXY+ICBMaW5rIEVzdGVzbzogPGEgaHJlZj0naHR0cHM6Ly93d3cuaWxmYXR0b3F1b3RpZGlhbm8uaXQvJyB0YXJnZXQ9J19ibGFuayc+aHR0cHM6Ly93d3cuaWxmYXR0b3F1b3RpZGlhbm8uaXQvPC9hPjwvcD4= ICA8YSBocmVmPSdodHRwczovL3d3dy5yZXB1YmJsaWNhLml0LycgdGFyZ2V0PSdfYmxhbmsnPlJlcHViYmxpY2E8L2E+IC0gSW1wb3J0YW56YSwgU3RlbGxpbmU6ICA8ZGl2IGNsYXNzPSdmb3Rvc3RlbGxpbmUnPjxpbWcgIHN0eWxlPSd2ZXJ0aWNhbC1hbGlnbjptaWRkbGU7JyBzcmM9Jy4uL2dyYWZpY2EvNXN0ZWxsZS5wbmcnIGFsdD0nNVN0ZWxsaW5lJz48L2Rpdj4gIExpbmsgRXN0ZXNvOiA8YSBocmVmPSdodHRwczovL3d3dy5yZXB1YmJsaWNhLml0LycgdGFyZ2V0PSdfYmxhbmsnPmh0dHBzOi8vd3d3LnJlcHViYmxpY2EuaXQvPC9hPjwvcD4= ICA8YSBocmVmPSdodHRwczovL3d3dy5jb3JyaWVyZS5pdC8nIHRhcmdldD0nX2JsYW5rJz5Db3JyaWVyZTwvYT4gLSBJbXBvcnRhbnphLCBTdGVsbGluZTogIDxkaXYgY2xhc3M9J2ZvdG9zdGVsbGluZSc+PGltZyAgc3R5bGU9J3ZlcnRpY2FsLWFsaWduOm1pZGRsZTsnIHNyYz0nLi4vZ3JhZmljYS81c3RlbGxlLnBuZycgYWx0PSc1U3RlbGxpbmUnPjwvZGl2PiAgTGluayBFc3Rlc286IDxhIGhyZWY9J2h0dHBzOi8vd3d3LmNvcnJpZXJlLml0LycgdGFyZ2V0PSdfYmxhbmsnPmh0dHBzOi8vd3d3LmNvcnJpZXJlLml0LzwvYT48L3A+ ICA8YSBocmVmPSdodHRwczovL3d3dy50Z2NvbTI0Lm1lZGlhc2V0Lml0LycgdGFyZ2V0PSdfYmxhbmsnPlRnY29tMjQ8L2E+IC0gSW1wb3J0YW56YSwgU3RlbGxpbmU6ICA8ZGl2IGNsYXNzPSdmb3Rvc3RlbGxpbmUnPjxpbWcgIHN0eWxlPSd2ZXJ0aWNhbC1hbGlnbjptaWRkbGU7JyBzcmM9Jy4uL2dyYWZpY2EvNXN0ZWxsZS5wbmcnIGFsdD0nNVN0ZWxsaW5lJz48L2Rpdj4gIExpbmsgRXN0ZXNvOiA8YSBocmVmPSdodHRwczovL3d3dy50Z2NvbTI0Lm1lZGlhc2V0Lml0LycgdGFyZ2V0PSdfYmxhbmsnPmh0dHBzOi8vd3d3LnRnY29tMjQubWVkaWFzZXQuaXQvPC9hPjwvcD4= ICA8YSBocmVmPSdodHRwczovL3d3dy5pbG1lc3NhZ2dlcm8uaXQvJyB0YXJnZXQ9J19ibGFuayc+SWwgbWVzc2FnZ2VybzwvYT4gLSBJbXBvcnRhbnphLCBTdGVsbGluZTogIDxkaXYgY2xhc3M9J2ZvdG9zdGVsbGluZSc+PGltZyAgc3R5bGU9J3ZlcnRpY2FsLWFsaWduOm1pZGRsZTsnIHNyYz0nLi4vZ3JhZmljYS81c3RlbGxlLnBuZycgYWx0PSc1U3RlbGxpbmUnPjwvZGl2PiAgTGluayBFc3Rlc286IDxhIGhyZWY9J2h0dHBzOi8vd3d3LmlsbWVzc2FnZ2Vyby5pdC8nIHRhcmdldD0nX2JsYW5rJz5odHRwczovL3d3dy5pbG1lc3NhZ2dlcm8uaXQvPC9hPjwvcD4= ICA8YSBocmVmPSdodHRwczovL3RnMjQuc2t5Lml0LycgdGFyZ2V0PSdfYmxhbmsnPlNreSBUZyAyNDwvYT4gLSBJbXBvcnRhbnphLCBTdGVsbGluZTogIDxkaXYgY2xhc3M9J2ZvdG9zdGVsbGluZSc+PGltZyAgc3R5bGU9J3ZlcnRpY2FsLWFsaWduOm1pZGRsZTsnIHNyYz0nLi4vZ3JhZmljYS81c3RlbGxlLnBuZycgYWx0PSc1U3RlbGxpbmUnPjwvZGl2PiAgTGluayBFc3Rlc286IDxhIGhyZWY9J2h0dHBzOi8vdGcyNC5za3kuaXQvJyB0YXJnZXQ9J19ibGFuayc+aHR0cHM6Ly90ZzI0LnNreS5pdC88L2E+PC9wPg== ICA8YSBocmVmPSdodHRwczovL3d3dy5iYmMuY29tLycgdGFyZ2V0PSdfYmxhbmsnPkJCQzwvYT4gLSBJbXBvcnRhbnphLCBTdGVsbGluZTogIDxkaXYgY2xhc3M9J2ZvdG9zdGVsbGluZSc+PGltZyAgc3R5bGU9J3ZlcnRpY2FsLWFsaWduOm1pZGRsZTsnIHNyYz0nLi4vZ3JhZmljYS81c3RlbGxlLnBuZycgYWx0PSc1U3RlbGxpbmUnPjwvZGl2PiAgTGluayBFc3Rlc286IDxhIGhyZWY9J2h0dHBzOi8vd3d3LmJiYy5jb20vJyB0YXJnZXQ9J19ibGFuayc+aHR0cHM6Ly93d3cuYmJjLmNvbS88L2E+PC9wPg== ICA8YSBocmVmPSdodHRwOi8vbmV3cy55YWhvby5jb20vJyB0YXJnZXQ9J19ibGFuayc+WWFob28gbmV3czwvYT4gLSBJbXBvcnRhbnphLCBTdGVsbGluZTogIDxkaXYgY2xhc3M9J2ZvdG9zdGVsbGluZSc+PGltZyAgc3R5bGU9J3ZlcnRpY2FsLWFsaWduOm1pZGRsZTsnIHNyYz0nLi4vZ3JhZmljYS81c3RlbGxlLnBuZycgYWx0PSc1U3RlbGxpbmUnPjwvZGl2PiAgTGluayBFc3Rlc286IDxhIGhyZWY9J2h0dHA6Ly9uZXdzLnlhaG9vLmNvbS8nIHRhcmdldD0nX2JsYW5rJz5odHRwOi8vbmV3cy55YWhvby5jb20vPC9hPjwvcD4= ICA8YSBocmVmPSdodHRwOi8vd3d3Lmh1ZmZpbmd0b25wb3N0LmNvbS8nIHRhcmdldD0nX2JsYW5rJz5IdWZmaW5ndG9ucG9zdDwvYT4gLSBJbXBvcnRhbnphLCBTdGVsbGluZTogIDxkaXYgY2xhc3M9J2ZvdG9zdGVsbGluZSc+PGltZyAgc3R5bGU9J3ZlcnRpY2FsLWFsaWduOm1pZGRsZTsnIHNyYz0nLi4vZ3JhZmljYS81c3RlbGxlLnBuZycgYWx0PSc1U3RlbGxpbmUnPjwvZGl2PiAgTGluayBFc3Rlc286IDxhIGhyZWY9J2h0dHA6Ly93d3cuaHVmZmluZ3RvbnBvc3QuY29tLycgdGFyZ2V0PSdfYmxhbmsnPmh0dHA6Ly93d3cuaHVmZmluZ3RvbnBvc3QuY29tLzwvYT48L3A+ ICA8YSBocmVmPSdodHRwOi8vd3d3LmNubi5jb20vJyB0YXJnZXQ9J19ibGFuayc+Q05OPC9hPiAtIEltcG9ydGFuemEsIFN0ZWxsaW5lOiAgPGRpdiBjbGFzcz0nZm90b3N0ZWxsaW5lJz48aW1nICBzdHlsZT0ndmVydGljYWwtYWxpZ246bWlkZGxlOycgc3JjPScuLi9ncmFmaWNhLzVzdGVsbGUucG5nJyBhbHQ9JzVTdGVsbGluZSc+PC9kaXY+ICBMaW5rIEVzdGVzbzogPGEgaHJlZj0naHR0cDovL3d3dy5jbm4uY29tLycgdGFyZ2V0PSdfYmxhbmsnPmh0dHA6Ly93d3cuY25uLmNvbS88L2E+PC9wPg== ICA8YSBocmVmPSdodHRwczovL3d3dy5pbHNvbGUyNG9yZS5jb20vJyB0YXJnZXQ9J19ibGFuayc+SWwgU29sZSAyNCBvcmU8L2E+IC0gSW1wb3J0YW56YSwgU3RlbGxpbmU6ICA8ZGl2IGNsYXNzPSdmb3Rvc3RlbGxpbmUnPjxpbWcgIHN0eWxlPSd2ZXJ0aWNhbC1hbGlnbjptaWRkbGU7JyBzcmM9Jy4uL2dyYWZpY2EvNHN0ZWxsZS5wbmcnIGFsdD0nNFN0ZWxsaW5lJz48L2Rpdj4gIExpbmsgRXN0ZXNvOiA8YSBocmVmPSdodHRwczovL3d3dy5pbHNvbGUyNG9yZS5jb20vJyB0YXJnZXQ9J19ibGFuayc+aHR0cHM6Ly93d3cuaWxzb2xlMjRvcmUuY29tLzwvYT48L3A+ ICA8YSBocmVmPSdodHRwczovL25vdGl6aWUudmlyZ2lsaW8uaXQvJyB0YXJnZXQ9J19ibGFuayc+VmlyZ2lsaW8gTmV3czwvYT4gLSBJbXBvcnRhbnphLCBTdGVsbGluZTogIDxkaXYgY2xhc3M9J2ZvdG9zdGVsbGluZSc+PGltZyAgc3R5bGU9J3ZlcnRpY2FsLWFsaWduOm1pZGRsZTsnIHNyYz0nLi4vZ3JhZmljYS80c3RlbGxlLnBuZycgYWx0PSc0U3RlbGxpbmUnPjwvZGl2PiAgTGluayBFc3Rlc286IDxhIGhyZWY9J2h0dHBzOi8vbm90aXppZS52aXJnaWxpby5pdC8nIHRhcmdldD0nX2JsYW5rJz5odHRwczovL25vdGl6aWUudmlyZ2lsaW8uaXQvPC9hPjwvcD4= ICA8YSBocmVmPSdodHRwczovL3d3dy5saWJlcm9xdW90aWRpYW5vLml0LycgdGFyZ2V0PSdfYmxhbmsnPkxpYmVybyBRdW90aWRpYW5vPC9hPiAtIEltcG9ydGFuemEsIFN0ZWxsaW5lOiAgPGRpdiBjbGFzcz0nZm90b3N0ZWxsaW5lJz48aW1nICBzdHlsZT0ndmVydGljYWwtYWxpZ246bWlkZGxlOycgc3JjPScuLi9ncmFmaWNhLzRzdGVsbGUucG5nJyBhbHQ9JzRTdGVsbGluZSc+PC9kaXY+ICBMaW5rIEVzdGVzbzogPGEgaHJlZj0naHR0cHM6Ly93d3cubGliZXJvcXVvdGlkaWFuby5pdC8nIHRhcmdldD0nX2JsYW5rJz5odHRwczovL3d3dy5saWJlcm9xdW90aWRpYW5vLml0LzwvYT48L3A+ ICA8YSBocmVmPSdodHRwczovL3d3dy5sYXN0YW1wYS5pdC8nIHRhcmdldD0nX2JsYW5rJz5MYSBTdGFtcGE8L2E+IC0gSW1wb3J0YW56YSwgU3RlbGxpbmU6ICA8ZGl2IGNsYXNzPSdmb3Rvc3RlbGxpbmUnPjxpbWcgIHN0eWxlPSd2ZXJ0aWNhbC1hbGlnbjptaWRkbGU7JyBzcmM9Jy4uL2dyYWZpY2EvNHN0ZWxsZS5wbmcnIGFsdD0nNFN0ZWxsaW5lJz48L2Rpdj4gIExpbmsgRXN0ZXNvOiA8YSBocmVmPSdodHRwczovL3d3dy5sYXN0YW1wYS5pdC8nIHRhcmdldD0nX2JsYW5rJz5odHRwczovL3d3dy5sYXN0YW1wYS5pdC88L2E+PC9wPg== ICA8YSBocmVmPSdodHRwczovL3d3dy5pbGdpb3JuYWxlLml0LycgdGFyZ2V0PSdfYmxhbmsnPklsIEdpb3JuYWxlPC9hPiAtIEltcG9ydGFuemEsIFN0ZWxsaW5lOiAgPGRpdiBjbGFzcz0nZm90b3N0ZWxsaW5lJz48aW1nICBzdHlsZT0ndmVydGljYWwtYWxpZ246bWlkZGxlOycgc3JjPScuLi9ncmFmaWNhLzRzdGVsbGUucG5nJyBhbHQ9JzRTdGVsbGluZSc+PC9kaXY+ICBMaW5rIEVzdGVzbzogPGEgaHJlZj0naHR0cHM6Ly93d3cuaWxnaW9ybmFsZS5pdC8nIHRhcmdldD0nX2JsYW5rJz5odHRwczovL3d3dy5pbGdpb3JuYWxlLml0LzwvYT48L3A+ ICA8YSBocmVmPSdodHRwczovL3d3dy5yYWluZXdzLml0LycgdGFyZ2V0PSdfYmxhbmsnPlJhaSBOZXdzPC9hPiAtIEltcG9ydGFuemEsIFN0ZWxsaW5lOiAgPGRpdiBjbGFzcz0nZm90b3N0ZWxsaW5lJz48aW1nICBzdHlsZT0ndmVydGljYWwtYWxpZ246bWlkZGxlOycgc3JjPScuLi9ncmFmaWNhLzRzdGVsbGUucG5nJyBhbHQ9JzRTdGVsbGluZSc+PC9kaXY+ICBMaW5rIEVzdGVzbzogPGEgaHJlZj0naHR0cHM6Ly93d3cucmFpbmV3cy5pdC8nIHRhcmdldD0nX2JsYW5rJz5odHRwczovL3d3dy5yYWluZXdzLml0LzwvYT48L3A+ ICA8YSBocmVmPSdodHRwczovL3d3dy5mYW5wYWdlLml0LycgdGFyZ2V0PSdfYmxhbmsnPkZhbnBhZ2U8L2E+IC0gSW1wb3J0YW56YSwgU3RlbGxpbmU6ICA8ZGl2IGNsYXNzPSdmb3Rvc3RlbGxpbmUnPjxpbWcgIHN0eWxlPSd2ZXJ0aWNhbC1hbGlnbjptaWRkbGU7JyBzcmM9Jy4uL2dyYWZpY2EvM3N0ZWxsZS5wbmcnIGFsdD0nM1N0ZWxsaW5lJz48L2Rpdj4gIExpbmsgRXN0ZXNvOiA8YSBocmVmPSdodHRwczovL3d3dy5mYW5wYWdlLml0LycgdGFyZ2V0PSdfYmxhbmsnPmh0dHBzOi8vd3d3LmZhbnBhZ2UuaXQvPC9hPjwvcD4= ICA8YSBocmVmPSdodHRwczovL3d3dy5sZWdnby5pdC8nIHRhcmdldD0nX2JsYW5rJz5MZWdnbzwvYT4gLSBJbXBvcnRhbnphLCBTdGVsbGluZTogIDxkaXYgY2xhc3M9J2ZvdG9zdGVsbGluZSc+PGltZyAgc3R5bGU9J3ZlcnRpY2FsLWFsaWduOm1pZGRsZTsnIHNyYz0nLi4vZ3JhZmljYS8zc3RlbGxlLnBuZycgYWx0PSczU3RlbGxpbmUnPjwvZGl2PiAgTGluayBFc3Rlc286IDxhIGhyZWY9J2h0dHBzOi8vd3d3LmxlZ2dvLml0LycgdGFyZ2V0PSdfYmxhbmsnPmh0dHBzOi8vd3d3LmxlZ2dvLml0LzwvYT48L3A+ ICA8YSBocmVmPSdodHRwczovL3d3dy5pbHBvc3QuaXQvJyB0YXJnZXQ9J19ibGFuayc+SWwgUG9zdDwvYT4gLSBJbXBvcnRhbnphLCBTdGVsbGluZTogIDxkaXYgY2xhc3M9J2ZvdG9zdGVsbGluZSc+PGltZyAgc3R5bGU9J3ZlcnRpY2FsLWFsaWduOm1pZGRsZTsnIHNyYz0nLi4vZ3JhZmljYS8zc3RlbGxlLnBuZycgYWx0PSczU3RlbGxpbmUnPjwvZGl2PiAgTGluayBFc3Rlc286IDxhIGhyZWY9J2h0dHBzOi8vd3d3LmlscG9zdC5pdC8nIHRhcmdldD0nX2JsYW5rJz5odHRwczovL3d3dy5pbHBvc3QuaXQvPC9hPjwvcD4= ICA8YSBocmVmPSdodHRwczovL3d3dy5hZmZhcml0YWxpYW5pLml0LycgdGFyZ2V0PSdfYmxhbmsnPkFmZmFyaSBJdGFsaWFuaTwvYT4gLSBJbXBvcnRhbnphLCBTdGVsbGluZTogIDxkaXYgY2xhc3M9J2ZvdG9zdGVsbGluZSc+PGltZyAgc3R5bGU9J3ZlcnRpY2FsLWFsaWduOm1pZGRsZTsnIHNyYz0nLi4vZ3JhZmljYS8zc3RlbGxlLnBuZycgYWx0PSczU3RlbGxpbmUnPjwvZGl2PiAgTGluayBFc3Rlc286IDxhIGhyZWY9J2h0dHBzOi8vd3d3LmFmZmFyaXRhbGlhbmkuaXQvJyB0YXJnZXQ9J19ibGFuayc+aHR0cHM6Ly93d3cuYWZmYXJpdGFsaWFuaS5pdC88L2E+PC9wPg==
Streaming - My Personal Ranking
ICA8YSBocmVmPSdodHRwczovL3d3dy55b3V0dWJlLmNvbS8nIHRhcmdldD0nX2JsYW5rJz5Zb3V0dWJlPC9hPiAtIEltcG9ydGFuemEsIFN0ZWxsaW5lOiAgPGRpdiBjbGFzcz0nZm90b3N0ZWxsaW5lJz48aW1nICBzdHlsZT0ndmVydGljYWwtYWxpZ246bWlkZGxlOycgc3JjPScuLi9ncmFmaWNhLzVzdGVsbGUucG5nJyBhbHQ9JzVTdGVsbGluZSc+PC9kaXY+ICBMaW5rIEVzdGVzbzogPGEgaHJlZj0naHR0cHM6Ly93d3cueW91dHViZS5jb20vJyB0YXJnZXQ9J19ibGFuayc+aHR0cHM6Ly93d3cueW91dHViZS5jb20vPC9hPjwvcD4= ICA8YSBocmVmPSdodHRwczovL3d3dy5kYWlseW1vdGlvbi5jb20vJyB0YXJnZXQ9J19ibGFuayc+RGFpbHltb3Rpb248L2E+IC0gSW1wb3J0YW56YSwgU3RlbGxpbmU6ICA8ZGl2IGNsYXNzPSdmb3Rvc3RlbGxpbmUnPjxpbWcgIHN0eWxlPSd2ZXJ0aWNhbC1hbGlnbjptaWRkbGU7JyBzcmM9Jy4uL2dyYWZpY2EvNXN0ZWxsZS5wbmcnIGFsdD0nNVN0ZWxsaW5lJz48L2Rpdj4gIExpbmsgRXN0ZXNvOiA8YSBocmVmPSdodHRwczovL3d3dy5kYWlseW1vdGlvbi5jb20vJyB0YXJnZXQ9J19ibGFuayc+aHR0cHM6Ly93d3cuZGFpbHltb3Rpb24uY29tLzwvYT48L3A+ ICA8YSBocmVmPSdodHRwczovL3ZpbWVvLmNvbS8nIHRhcmdldD0nX2JsYW5rJz5WaW1lbzwvYT4gLSBJbXBvcnRhbnphLCBTdGVsbGluZTogIDxkaXYgY2xhc3M9J2ZvdG9zdGVsbGluZSc+PGltZyAgc3R5bGU9J3ZlcnRpY2FsLWFsaWduOm1pZGRsZTsnIHNyYz0nLi4vZ3JhZmljYS80c3RlbGxlLnBuZycgYWx0PSc0U3RlbGxpbmUnPjwvZGl2PiAgTGluayBFc3Rlc286IDxhIGhyZWY9J2h0dHBzOi8vdmltZW8uY29tLycgdGFyZ2V0PSdfYmxhbmsnPmh0dHBzOi8vdmltZW8uY29tLzwvYT48L3A+ ICA8YSBocmVmPSdodHRwczovL3d3dy52ZW9oLmNvbS8nIHRhcmdldD0nX2JsYW5rJz5WZW9oPC9hPiAtIEltcG9ydGFuemEsIFN0ZWxsaW5lOiAgPGRpdiBjbGFzcz0nZm90b3N0ZWxsaW5lJz48aW1nICBzdHlsZT0ndmVydGljYWwtYWxpZ246bWlkZGxlOycgc3JjPScuLi9ncmFmaWNhLzNzdGVsbGUucG5nJyBhbHQ9JzNTdGVsbGluZSc+PC9kaXY+ICBMaW5rIEVzdGVzbzogPGEgaHJlZj0naHR0cHM6Ly93d3cudmVvaC5jb20vJyB0YXJnZXQ9J19ibGFuayc+aHR0cHM6Ly93d3cudmVvaC5jb20vPC9hPjwvcD4= ICA8YSBocmVmPSdodHRwczovL3d3dy50d2l0Y2gudHYvJyB0YXJnZXQ9J19ibGFuayc+VHdpdGNoPC9hPiAtIEltcG9ydGFuemEsIFN0ZWxsaW5lOiAgPGRpdiBjbGFzcz0nZm90b3N0ZWxsaW5lJz48aW1nICBzdHlsZT0ndmVydGljYWwtYWxpZ246bWlkZGxlOycgc3JjPScuLi9ncmFmaWNhLzNzdGVsbGUucG5nJyBhbHQ9JzNTdGVsbGluZSc+PC9kaXY+ICBMaW5rIEVzdGVzbzogPGEgaHJlZj0naHR0cHM6Ly93d3cudHdpdGNoLnR2LycgdGFyZ2V0PSdfYmxhbmsnPmh0dHBzOi8vd3d3LnR3aXRjaC50di88L2E+PC9wPg== ICA8YSBocmVmPSdodHRwczovL2Rpc2NvcmRhcHAuY29tLycgdGFyZ2V0PSdfYmxhbmsnPkRpc2NvcmQ8L2E+IC0gSW1wb3J0YW56YSwgU3RlbGxpbmU6ICA8ZGl2IGNsYXNzPSdmb3Rvc3RlbGxpbmUnPjxpbWcgIHN0eWxlPSd2ZXJ0aWNhbC1hbGlnbjptaWRkbGU7JyBzcmM9Jy4uL2dyYWZpY2EvM3N0ZWxsZS5wbmcnIGFsdD0nM1N0ZWxsaW5lJz48L2Rpdj4gIExpbmsgRXN0ZXNvOiA8YSBocmVmPSdodHRwczovL2Rpc2NvcmRhcHAuY29tLycgdGFyZ2V0PSdfYmxhbmsnPmh0dHBzOi8vZGlzY29yZGFwcC5jb20vPC9hPjwvcD4=
Tv Ufficiali - My Personal Ranking
ICA8YSBocmVmPSdodHRwczovL3d3dy5uZXRmbGl4LmNvbScgdGFyZ2V0PSdfYmxhbmsnPk5ldGZsaXg8L2E+IC0gSW1wb3J0YW56YSwgU3RlbGxpbmU6ICA8ZGl2IGNsYXNzPSdmb3Rvc3RlbGxpbmUnPjxpbWcgIHN0eWxlPSd2ZXJ0aWNhbC1hbGlnbjptaWRkbGU7JyBzcmM9Jy4uL2dyYWZpY2EvNXN0ZWxsZS5wbmcnIGFsdD0nNVN0ZWxsaW5lJz48L2Rpdj4gIExpbmsgRXN0ZXNvOiA8YSBocmVmPSdodHRwczovL3d3dy5uZXRmbGl4LmNvbScgdGFyZ2V0PSdfYmxhbmsnPmh0dHBzOi8vd3d3Lm5ldGZsaXguY29tPC9hPjwvcD4= ICA8YSBocmVmPSd3d3cuZGlzbmV5cGx1cy5jb20nIHRhcmdldD0nX2JsYW5rJz5EaXNuZXkgUGx1czwvYT4gLSBJbXBvcnRhbnphLCBTdGVsbGluZTogIDxkaXYgY2xhc3M9J2ZvdG9zdGVsbGluZSc+PGltZyAgc3R5bGU9J3ZlcnRpY2FsLWFsaWduOm1pZGRsZTsnIHNyYz0nLi4vZ3JhZmljYS81c3RlbGxlLnBuZycgYWx0PSc1U3RlbGxpbmUnPjwvZGl2PiAgTGluayBFc3Rlc286IDxhIGhyZWY9J3d3dy5kaXNuZXlwbHVzLmNvbScgdGFyZ2V0PSdfYmxhbmsnPnd3dy5kaXNuZXlwbHVzLmNvbTwvYT48L3A+ ICA8YSBocmVmPSdodHRwczovL3d3dy5ub3d0di5pdC8nIHRhcmdldD0nX2JsYW5rJz5Ob3dUVjwvYT4gLSBJbXBvcnRhbnphLCBTdGVsbGluZTogIDxkaXYgY2xhc3M9J2ZvdG9zdGVsbGluZSc+PGltZyAgc3R5bGU9J3ZlcnRpY2FsLWFsaWduOm1pZGRsZTsnIHNyYz0nLi4vZ3JhZmljYS80c3RlbGxlLnBuZycgYWx0PSc0U3RlbGxpbmUnPjwvZGl2PiAgTGluayBFc3Rlc286IDxhIGhyZWY9J2h0dHBzOi8vd3d3Lm5vd3R2Lml0LycgdGFyZ2V0PSdfYmxhbmsnPmh0dHBzOi8vd3d3Lm5vd3R2Lml0LzwvYT48L3A+ ICA8YSBocmVmPSdodHRwczovL3d3dy5kYXpuLmNvbScgdGFyZ2V0PSdfYmxhbmsnPkRhem48L2E+IC0gSW1wb3J0YW56YSwgU3RlbGxpbmU6ICA8ZGl2IGNsYXNzPSdmb3Rvc3RlbGxpbmUnPjxpbWcgIHN0eWxlPSd2ZXJ0aWNhbC1hbGlnbjptaWRkbGU7JyBzcmM9Jy4uL2dyYWZpY2EvM3N0ZWxsZS5wbmcnIGFsdD0nM1N0ZWxsaW5lJz48L2Rpdj4gIExpbmsgRXN0ZXNvOiA8YSBocmVmPSdodHRwczovL3d3dy5kYXpuLmNvbScgdGFyZ2V0PSdfYmxhbmsnPmh0dHBzOi8vd3d3LmRhem4uY29tPC9hPjwvcD4= ICA8YSBocmVmPSdodHRwczovL3d3dy52dnZ2aWQuaXQvJyB0YXJnZXQ9J19ibGFuayc+VlZWVklEPC9hPiAtIEltcG9ydGFuemEsIFN0ZWxsaW5lOiAgPGRpdiBjbGFzcz0nZm90b3N0ZWxsaW5lJz48aW1nICBzdHlsZT0ndmVydGljYWwtYWxpZ246bWlkZGxlOycgc3JjPScuLi9ncmFmaWNhLzNzdGVsbGUucG5nJyBhbHQ9JzNTdGVsbGluZSc+PC9kaXY+ICBMaW5rIEVzdGVzbzogPGEgaHJlZj0naHR0cHM6Ly93d3cudnZ2dmlkLml0LycgdGFyZ2V0PSdfYmxhbmsnPmh0dHBzOi8vd3d3LnZ2dnZpZC5pdC88L2E+PC9wPg== ICA8YSBocmVmPSdodHRwczovL3d3dy5kcGxheS5jb20vJyB0YXJnZXQ9J19ibGFuayc+RHBsYXk8L2E+IC0gSW1wb3J0YW56YSwgU3RlbGxpbmU6ICA8ZGl2IGNsYXNzPSdmb3Rvc3RlbGxpbmUnPjxpbWcgIHN0eWxlPSd2ZXJ0aWNhbC1hbGlnbjptaWRkbGU7JyBzcmM9Jy4uL2dyYWZpY2EvNXN0ZWxsZS5wbmcnIGFsdD0nNVN0ZWxsaW5lJz48L2Rpdj4gIExpbmsgRXN0ZXNvOiA8YSBocmVmPSdodHRwczovL3d3dy5kcGxheS5jb20vJyB0YXJnZXQ9J19ibGFuayc+aHR0cHM6Ly93d3cuZHBsYXkuY29tLzwvYT48L3A+ ICA8YSBocmVmPSdodHRwczovL3d3dy5wcmltZXZpZGVvLmNvbS8nIHRhcmdldD0nX2JsYW5rJz5BbWF6b24gUHJpbWUgVmlkZW88L2E+IC0gSW1wb3J0YW56YSwgU3RlbGxpbmU6ICA8ZGl2IGNsYXNzPSdmb3Rvc3RlbGxpbmUnPjxpbWcgIHN0eWxlPSd2ZXJ0aWNhbC1hbGlnbjptaWRkbGU7JyBzcmM9Jy4uL2dyYWZpY2EvNXN0ZWxsZS5wbmcnIGFsdD0nNVN0ZWxsaW5lJz48L2Rpdj4gIExpbmsgRXN0ZXNvOiA8YSBocmVmPSdodHRwczovL3d3dy5wcmltZXZpZGVvLmNvbS8nIHRhcmdldD0nX2JsYW5rJz5odHRwczovL3d3dy5wcmltZXZpZGVvLmNvbS88L2E+PC9wPg== ICA8YSBocmVmPSdodHRwczovL3NreWdvLnNreS5pdC8nIHRhcmdldD0nX2JsYW5rJz5Ta3kgR288L2E+IC0gSW1wb3J0YW56YSwgU3RlbGxpbmU6ICA8ZGl2IGNsYXNzPSdmb3Rvc3RlbGxpbmUnPjxpbWcgIHN0eWxlPSd2ZXJ0aWNhbC1hbGlnbjptaWRkbGU7JyBzcmM9Jy4uL2dyYWZpY2EvNHN0ZWxsZS5wbmcnIGFsdD0nNFN0ZWxsaW5lJz48L2Rpdj4gIExpbmsgRXN0ZXNvOiA8YSBocmVmPSdodHRwczovL3NreWdvLnNreS5pdC8nIHRhcmdldD0nX2JsYW5rJz5odHRwczovL3NreWdvLnNreS5pdC88L2E+PC9wPg== ICA8YSBocmVmPSdodHRwczovL3d3dy5pbmZpbml0eXR2Lml0LycgdGFyZ2V0PSdfYmxhbmsnPkluZmluaXR5IFRWPC9hPiAtIEltcG9ydGFuemEsIFN0ZWxsaW5lOiAgPGRpdiBjbGFzcz0nZm90b3N0ZWxsaW5lJz48aW1nICBzdHlsZT0ndmVydGljYWwtYWxpZ246bWlkZGxlOycgc3JjPScuLi9ncmFmaWNhLzRzdGVsbGUucG5nJyBhbHQ9JzRTdGVsbGluZSc+PC9kaXY+ICBMaW5rIEVzdGVzbzogPGEgaHJlZj0naHR0cHM6Ly93d3cuaW5maW5pdHl0di5pdC8nIHRhcmdldD0nX2JsYW5rJz5odHRwczovL3d3dy5pbmZpbml0eXR2Lml0LzwvYT48L3A+ ICA8YSBocmVmPSdodHRwczovL3d3dy5wYXJhbW91bnRuZXR3b3JrLml0LycgdGFyZ2V0PSdfYmxhbmsnPlBhcmFtb3VudCBUVjwvYT4gLSBJbXBvcnRhbnphLCBTdGVsbGluZTogIDxkaXYgY2xhc3M9J2ZvdG9zdGVsbGluZSc+PGltZyAgc3R5bGU9J3ZlcnRpY2FsLWFsaWduOm1pZGRsZTsnIHNyYz0nLi4vZ3JhZmljYS81c3RlbGxlLnBuZycgYWx0PSc1U3RlbGxpbmUnPjwvZGl2PiAgTGluayBFc3Rlc286IDxhIGhyZWY9J2h0dHBzOi8vd3d3LnBhcmFtb3VudG5ldHdvcmsuaXQvJyB0YXJnZXQ9J19ibGFuayc+aHR0cHM6Ly93d3cucGFyYW1vdW50bmV0d29yay5pdC88L2E+PC9wPg== ICA8YSBocmVmPSdodHRwczovL3d3dy5yYWlwbGF5Lml0LycgdGFyZ2V0PSdfYmxhbmsnPlJhaSBQbGF5PC9hPiAtIEltcG9ydGFuemEsIFN0ZWxsaW5lOiAgPGRpdiBjbGFzcz0nZm90b3N0ZWxsaW5lJz48aW1nICBzdHlsZT0ndmVydGljYWwtYWxpZ246bWlkZGxlOycgc3JjPScuLi9ncmFmaWNhLzVzdGVsbGUucG5nJyBhbHQ9JzVTdGVsbGluZSc+PC9kaXY+ICBMaW5rIEVzdGVzbzogPGEgaHJlZj0naHR0cHM6Ly93d3cucmFpcGxheS5pdC8nIHRhcmdldD0nX2JsYW5rJz5odHRwczovL3d3dy5yYWlwbGF5Lml0LzwvYT48L3A+ ICA8YSBocmVmPSdodHRwczovL3d3dy5tZWRpYXNldHBsYXkubWVkaWFzZXQuaXQvJyB0YXJnZXQ9J19ibGFuayc+TWVkaWFzZXQgUGxheTwvYT4gLSBJbXBvcnRhbnphLCBTdGVsbGluZTogIDxkaXYgY2xhc3M9J2ZvdG9zdGVsbGluZSc+PGltZyAgc3R5bGU9J3ZlcnRpY2FsLWFsaWduOm1pZGRsZTsnIHNyYz0nLi4vZ3JhZmljYS81c3RlbGxlLnBuZycgYWx0PSc1U3RlbGxpbmUnPjwvZGl2PiAgTGluayBFc3Rlc286IDxhIGhyZWY9J2h0dHBzOi8vd3d3Lm1lZGlhc2V0cGxheS5tZWRpYXNldC5pdC8nIHRhcmdldD0nX2JsYW5rJz5odHRwczovL3d3dy5tZWRpYXNldHBsYXkubWVkaWFzZXQuaXQvPC9hPjwvcD4=
Streaming Terze Parti - My Personal Ranking
ICA8YSBocmVmPSdodHRwczovL2NiMDEubWFya2V0aW5nLycgdGFyZ2V0PSdfYmxhbmsnPkNCMDE8L2E+IC0gSW1wb3J0YW56YSwgU3RlbGxpbmU6ICA8ZGl2IGNsYXNzPSdmb3Rvc3RlbGxpbmUnPjxpbWcgIHN0eWxlPSd2ZXJ0aWNhbC1hbGlnbjptaWRkbGU7JyBzcmM9Jy4uL2dyYWZpY2EvMnN0ZWxsZS5wbmcnIGFsdD0nMlN0ZWxsaW5lJz48L2Rpdj4gIExpbmsgRXN0ZXNvOiA8YSBocmVmPSdodHRwczovL2NiMDEubWFya2V0aW5nLycgdGFyZ2V0PSdfYmxhbmsnPmh0dHBzOi8vY2IwMS5tYXJrZXRpbmcvPC9hPjwvcD4= ICA8YSBocmVmPSdodHRwczovL2NpbmVtYWxpYmVyby5jYWZlLycgdGFyZ2V0PSdfYmxhbmsnPkNpbmVtYWxpYmVybzwvYT4gLSBJbXBvcnRhbnphLCBTdGVsbGluZTogIDxkaXYgY2xhc3M9J2ZvdG9zdGVsbGluZSc+PGltZyAgc3R5bGU9J3ZlcnRpY2FsLWFsaWduOm1pZGRsZTsnIHNyYz0nLi4vZ3JhZmljYS80c3RlbGxlLnBuZycgYWx0PSc0U3RlbGxpbmUnPjwvZGl2PiAgTGluayBFc3Rlc286IDxhIGhyZWY9J2h0dHBzOi8vY2luZW1hbGliZXJvLmNhZmUvJyB0YXJnZXQ9J19ibGFuayc+aHR0cHM6Ly9jaW5lbWFsaWJlcm8uY2FmZS88L2E+PC9wPg== ICA8YSBocmVmPSdodHRwczovL3N0cmVhbWluZ2NvbW11bml0eS5jYWZlLycgdGFyZ2V0PSdfYmxhbmsnPlN0cmVhbWluZ0NvbW11bml0eTwvYT4gLSBJbXBvcnRhbnphLCBTdGVsbGluZTogIDxkaXYgY2xhc3M9J2ZvdG9zdGVsbGluZSc+PGltZyAgc3R5bGU9J3ZlcnRpY2FsLWFsaWduOm1pZGRsZTsnIHNyYz0nLi4vZ3JhZmljYS81c3RlbGxlLnBuZycgYWx0PSc1U3RlbGxpbmUnPjwvZGl2PiAgTGluayBFc3Rlc286IDxhIGhyZWY9J2h0dHBzOi8vc3RyZWFtaW5nY29tbXVuaXR5LmNhZmUvJyB0YXJnZXQ9J19ibGFuayc+aHR0cHM6Ly9zdHJlYW1pbmdjb21tdW5pdHkuY2FmZS88L2E+PC9wPg== ICA8YSBocmVmPSdodHRwczovL2FsdGQubGl2ZS9uZXdzLycgdGFyZ2V0PSdfYmxhbmsnPkFsdGFkZWZpbml6aW9uZWhkPC9hPiAtIEltcG9ydGFuemEsIFN0ZWxsaW5lOiAgPGRpdiBjbGFzcz0nZm90b3N0ZWxsaW5lJz48aW1nICBzdHlsZT0ndmVydGljYWwtYWxpZ246bWlkZGxlOycgc3JjPScuLi9ncmFmaWNhLzRzdGVsbGUucG5nJyBhbHQ9JzRTdGVsbGluZSc+PC9kaXY+ICBMaW5rIEVzdGVzbzogPGEgaHJlZj0naHR0cHM6Ly9hbHRkLmxpdmUvbmV3cy8nIHRhcmdldD0nX2JsYW5rJz5odHRwczovL2FsdGQubGl2ZS9uZXdzLzwvYT48L3A+ ICA8YSBocmVmPSdodHRwczovL2lsZ2VuaW9kZWxsb3N0cmVhbWluZy5oYWlyL25ld3MvJyB0YXJnZXQ9J19ibGFuayc+SWwgR2VuaW8gZGVsbG8gU3RyZWFtaW5nPC9hPiAtIEltcG9ydGFuemEsIFN0ZWxsaW5lOiAgPGRpdiBjbGFzcz0nZm90b3N0ZWxsaW5lJz48aW1nICBzdHlsZT0ndmVydGljYWwtYWxpZ246bWlkZGxlOycgc3JjPScuLi9ncmFmaWNhLzVzdGVsbGUucG5nJyBhbHQ9JzVTdGVsbGluZSc+PC9kaXY+ICBMaW5rIEVzdGVzbzogPGEgaHJlZj0naHR0cHM6Ly9pbGdlbmlvZGVsbG9zdHJlYW1pbmcuaGFpci9uZXdzLycgdGFyZ2V0PSdfYmxhbmsnPmh0dHBzOi8vaWxnZW5pb2RlbGxvc3RyZWFtaW5nLmhhaXIvbmV3cy88L2E+PC9wPg== ICA8YSBocmVmPSdodHRwczovL3d3dy50YW50aWZpbG0ucmVjaXBlcy8nIHRhcmdldD0nX2JsYW5rJz5UYW50aWZpbG08L2E+IC0gSW1wb3J0YW56YSwgU3RlbGxpbmU6ICA8ZGl2IGNsYXNzPSdmb3Rvc3RlbGxpbmUnPjxpbWcgIHN0eWxlPSd2ZXJ0aWNhbC1hbGlnbjptaWRkbGU7JyBzcmM9Jy4uL2dyYWZpY2EvNHN0ZWxsZS5wbmcnIGFsdD0nNFN0ZWxsaW5lJz48L2Rpdj4gIExpbmsgRXN0ZXNvOiA8YSBocmVmPSdodHRwczovL3d3dy50YW50aWZpbG0ucmVjaXBlcy8nIHRhcmdldD0nX2JsYW5rJz5odHRwczovL3d3dy50YW50aWZpbG0ucmVjaXBlcy88L2E+PC9wPg== ICA8YSBocmVmPSdodHRwczovL2d1YXJkYXNlcmllLmNhbS8nIHRhcmdldD0nX2JsYW5rJz5HdWFyZGFzZXJpZTwvYT4gLSBJbXBvcnRhbnphLCBTdGVsbGluZTogIDxkaXYgY2xhc3M9J2ZvdG9zdGVsbGluZSc+PGltZyAgc3R5bGU9J3ZlcnRpY2FsLWFsaWduOm1pZGRsZTsnIHNyYz0nLi4vZ3JhZmljYS80c3RlbGxlLnBuZycgYWx0PSc0U3RlbGxpbmUnPjwvZGl2PiAgTGluayBFc3Rlc286IDxhIGhyZWY9J2h0dHBzOi8vZ3VhcmRhc2VyaWUuY2FtLycgdGFyZ2V0PSdfYmxhbmsnPmh0dHBzOi8vZ3VhcmRhc2VyaWUuY2FtLzwvYT48L3A+ ICA8YSBocmVmPSdodHRwczovL2d1YXJkYXNlcmllLmJpei8nIHRhcmdldD0nX2JsYW5rJz5HdWFyZGFzZXJpZS5iaXo8L2E+IC0gSW1wb3J0YW56YSwgU3RlbGxpbmU6ICA8ZGl2IGNsYXNzPSdmb3Rvc3RlbGxpbmUnPjxpbWcgIHN0eWxlPSd2ZXJ0aWNhbC1hbGlnbjptaWRkbGU7JyBzcmM9Jy4uL2dyYWZpY2EvNHN0ZWxsZS5wbmcnIGFsdD0nNFN0ZWxsaW5lJz48L2Rpdj4gIExpbmsgRXN0ZXNvOiA8YSBocmVmPSdodHRwczovL2d1YXJkYXNlcmllLmJpei8nIHRhcmdldD0nX2JsYW5rJz5odHRwczovL2d1YXJkYXNlcmllLmJpei88L2E+PC9wPg== ICA8YSBocmVmPSdodHRwczovL2NpbmVibG9nMDEubG92ZS8nIHRhcmdldD0nX2JsYW5rJz5DaW5lYmxvZyBPbGQgc3R5bGU8L2E+IC0gSW1wb3J0YW56YSwgU3RlbGxpbmU6ICA8ZGl2IGNsYXNzPSdmb3Rvc3RlbGxpbmUnPjxpbWcgIHN0eWxlPSd2ZXJ0aWNhbC1hbGlnbjptaWRkbGU7JyBzcmM9Jy4uL2dyYWZpY2EvNHN0ZWxsZS5wbmcnIGFsdD0nNFN0ZWxsaW5lJz48L2Rpdj4gIExpbmsgRXN0ZXNvOiA8YSBocmVmPSdodHRwczovL2NpbmVibG9nMDEubG92ZS8nIHRhcmdldD0nX2JsYW5rJz5odHRwczovL2NpbmVibG9nMDEubG92ZS88L2E+PC9wPg== ICA8YSBocmVmPSdodHRwczovL3B1dGxvY2tlci5hY3Rvci9nZW5yZXMnIHRhcmdldD0nX2JsYW5rJz5QdXRsb2NrZXIgRmlsbSBMaW5ndWEgSW5nbGVzZTwvYT4gLSBJbXBvcnRhbnphLCBTdGVsbGluZTogIDxkaXYgY2xhc3M9J2ZvdG9zdGVsbGluZSc+PGltZyAgc3R5bGU9J3ZlcnRpY2FsLWFsaWduOm1pZGRsZTsnIHNyYz0nLi4vZ3JhZmljYS81c3RlbGxlLnBuZycgYWx0PSc1U3RlbGxpbmUnPjwvZGl2PiAgTGluayBFc3Rlc286IDxhIGhyZWY9J2h0dHBzOi8vcHV0bG9ja2VyLmFjdG9yL2dlbnJlcycgdGFyZ2V0PSdfYmxhbmsnPmh0dHBzOi8vcHV0bG9ja2VyLmFjdG9yL2dlbnJlczwvYT48L3A+ ICA8YSBocmVmPSdodHRwczovL3d3dy5hbmltZXdvcmxkLnR2LycgdGFyZ2V0PSdfYmxhbmsnPkRyZWFtc3ViIEFuaW1lPC9hPiAtIEltcG9ydGFuemEsIFN0ZWxsaW5lOiAgPGRpdiBjbGFzcz0nZm90b3N0ZWxsaW5lJz48aW1nICBzdHlsZT0ndmVydGljYWwtYWxpZ246bWlkZGxlOycgc3JjPScuLi9ncmFmaWNhLzVzdGVsbGUucG5nJyBhbHQ9JzVTdGVsbGluZSc+PC9kaXY+ICBMaW5rIEVzdGVzbzogPGEgaHJlZj0naHR0cHM6Ly93d3cuYW5pbWV3b3JsZC50di8nIHRhcmdldD0nX2JsYW5rJz5odHRwczovL3d3dy5hbmltZXdvcmxkLnR2LzwvYT48L3A+ ICA8YSBocmVmPSdodHRwczovL2V1cm9zdHJlYW1pbmcucXVlc3QvJyB0YXJnZXQ9J19ibGFuayc+RXVyb3N0cmVhbWluZzwvYT4gLSBJbXBvcnRhbnphLCBTdGVsbGluZTogIDxkaXYgY2xhc3M9J2ZvdG9zdGVsbGluZSc+PGltZyAgc3R5bGU9J3ZlcnRpY2FsLWFsaWduOm1pZGRsZTsnIHNyYz0nLi4vZ3JhZmljYS81c3RlbGxlLnBuZycgYWx0PSc1U3RlbGxpbmUnPjwvZGl2PiAgTGluayBFc3Rlc286IDxhIGhyZWY9J2h0dHBzOi8vZXVyb3N0cmVhbWluZy5xdWVzdC8nIHRhcmdldD0nX2JsYW5rJz5odHRwczovL2V1cm9zdHJlYW1pbmcucXVlc3QvPC9hPjwvcD4=
Streaming Sport - My Personal Ranking
ICA8YSBocmVmPSdodHRwczovL3d3dy5iYXRtYW4tc3RyZWFtLnR2L3N0cmVhbS1zcG9ydHMtNScgdGFyZ2V0PSdfYmxhbmsnPkJhdG1hbiBTdHJlYW08L2E+IC0gSW1wb3J0YW56YSwgU3RlbGxpbmU6ICA8ZGl2IGNsYXNzPSdmb3Rvc3RlbGxpbmUnPjxpbWcgIHN0eWxlPSd2ZXJ0aWNhbC1hbGlnbjptaWRkbGU7JyBzcmM9Jy4uL2dyYWZpY2EvM3N0ZWxsZS5wbmcnIGFsdD0nM1N0ZWxsaW5lJz48L2Rpdj4gIExpbmsgRXN0ZXNvOiA8YSBocmVmPSdodHRwczovL3d3dy5iYXRtYW4tc3RyZWFtLnR2L3N0cmVhbS1zcG9ydHMtNScgdGFyZ2V0PSdfYmxhbmsnPmh0dHBzOi8vd3d3LmJhdG1hbi1zdHJlYW0udHYvc3RyZWFtLXNwb3J0cy01PC9hPjwvcD4= ICA8YSBocmVmPSdodHRwczovL3d3dy5waW1wbGV0di5ydS9jYXRlZ29yeS9icm9hZGNhc3QvZm9vdGJhbGwvJyB0YXJnZXQ9J19ibGFuayc+cGltcGxldHYucnU8L2E+IC0gSW1wb3J0YW56YSwgU3RlbGxpbmU6ICA8ZGl2IGNsYXNzPSdmb3Rvc3RlbGxpbmUnPjxpbWcgIHN0eWxlPSd2ZXJ0aWNhbC1hbGlnbjptaWRkbGU7JyBzcmM9Jy4uL2dyYWZpY2EvNHN0ZWxsZS5wbmcnIGFsdD0nNFN0ZWxsaW5lJz48L2Rpdj4gIExpbmsgRXN0ZXNvOiA8YSBocmVmPSdodHRwczovL3d3dy5waW1wbGV0di5ydS9jYXRlZ29yeS9icm9hZGNhc3QvZm9vdGJhbGwvJyB0YXJnZXQ9J19ibGFuayc+aHR0cHM6Ly93d3cucGltcGxldHYucnUvY2F0ZWdvcnkvYnJvYWRjYXN0L2Zvb3RiYWxsLzwvYT48L3A+ ICA8YSBocmVmPSdodHRwOi8vbGl2ZXR2NDk3Lm1lL2l0LycgdGFyZ2V0PSdfYmxhbmsnPkxpdmVUVjwvYT4gLSBJbXBvcnRhbnphLCBTdGVsbGluZTogIDxkaXYgY2xhc3M9J2ZvdG9zdGVsbGluZSc+PGltZyAgc3R5bGU9J3ZlcnRpY2FsLWFsaWduOm1pZGRsZTsnIHNyYz0nLi4vZ3JhZmljYS81c3RlbGxlLnBuZycgYWx0PSc1U3RlbGxpbmUnPjwvZGl2PiAgTGluayBFc3Rlc286IDxhIGhyZWY9J2h0dHA6Ly9saXZldHY0OTcubWUvaXQvJyB0YXJnZXQ9J19ibGFuayc+aHR0cDovL2xpdmV0djQ5Ny5tZS9pdC88L2E+PC9wPg== ICA8YSBocmVmPSdodHRwOi8vZmlyc3Ryb3cuY28vJyB0YXJnZXQ9J19ibGFuayc+RmlzdHJvd3M8L2E+IC0gSW1wb3J0YW56YSwgU3RlbGxpbmU6ICA8ZGl2IGNsYXNzPSdmb3Rvc3RlbGxpbmUnPjxpbWcgIHN0eWxlPSd2ZXJ0aWNhbC1hbGlnbjptaWRkbGU7JyBzcmM9Jy4uL2dyYWZpY2EvNHN0ZWxsZS5wbmcnIGFsdD0nNFN0ZWxsaW5lJz48L2Rpdj4gIExpbmsgRXN0ZXNvOiA8YSBocmVmPSdodHRwOi8vZmlyc3Ryb3cuY28vJyB0YXJnZXQ9J19ibGFuayc+aHR0cDovL2ZpcnN0cm93LmNvLzwvYT48L3A+ ICA8YSBocmVmPSdodHRwczovL215Y3Vqb28udHYvZW4vJyB0YXJnZXQ9J19ibGFuayc+TXljdWpvbyB0djwvYT4gLSBJbXBvcnRhbnphLCBTdGVsbGluZTogIDxkaXYgY2xhc3M9J2ZvdG9zdGVsbGluZSc+PGltZyAgc3R5bGU9J3ZlcnRpY2FsLWFsaWduOm1pZGRsZTsnIHNyYz0nLi4vZ3JhZmljYS81c3RlbGxlLnBuZycgYWx0PSc1U3RlbGxpbmUnPjwvZGl2PiAgTGluayBFc3Rlc286IDxhIGhyZWY9J2h0dHBzOi8vbXljdWpvby50di9lbi8nIHRhcmdldD0nX2JsYW5rJz5odHRwczovL215Y3Vqb28udHYvZW4vPC9hPjwvcD4= ICA8YSBocmVmPSdodHRwOi8vdG9wbGl2ZW1hdGNoLmNvbS8nIHRhcmdldD0nX2JsYW5rJz5Ub3BsaXZlbWF0Y2ggLSBkaXJldHRhbWVudGUgZGFsIGJyb3dzZXI8L2E+IC0gSW1wb3J0YW56YSwgU3RlbGxpbmU6ICA8ZGl2IGNsYXNzPSdmb3Rvc3RlbGxpbmUnPjxpbWcgIHN0eWxlPSd2ZXJ0aWNhbC1hbGlnbjptaWRkbGU7JyBzcmM9Jy4uL2dyYWZpY2EvNXN0ZWxsZS5wbmcnIGFsdD0nNVN0ZWxsaW5lJz48L2Rpdj4gIExpbmsgRXN0ZXNvOiA8YSBocmVmPSdodHRwOi8vdG9wbGl2ZW1hdGNoLmNvbS8nIHRhcmdldD0nX2JsYW5rJz5odHRwOi8vdG9wbGl2ZW1hdGNoLmNvbS88L2E+PC9wPg== ICA8YSBocmVmPSdodHRwczovL2RhZGR5bGl2ZS5jby8nIHRhcmdldD0nX2JsYW5rJz5EYWRkeWxpdmU8L2E+IC0gSW1wb3J0YW56YSwgU3RlbGxpbmU6ICA8ZGl2IGNsYXNzPSdmb3Rvc3RlbGxpbmUnPjxpbWcgIHN0eWxlPSd2ZXJ0aWNhbC1hbGlnbjptaWRkbGU7JyBzcmM9Jy4uL2dyYWZpY2EvNXN0ZWxsZS5wbmcnIGFsdD0nNVN0ZWxsaW5lJz48L2Rpdj4gIExpbmsgRXN0ZXNvOiA8YSBocmVmPSdodHRwczovL2RhZGR5bGl2ZS5jby8nIHRhcmdldD0nX2JsYW5rJz5odHRwczovL2RhZGR5bGl2ZS5jby88L2E+PC9wPg==
Streaming Musica - My Personal Ranking
ICA8YSBocmVmPSdodHRwczovL3d3dy5zcG90aWZ5LmNvbS8nIHRhcmdldD0nX2JsYW5rJz5TcG90aWZ5PC9hPiAtIEltcG9ydGFuemEsIFN0ZWxsaW5lOiAgPGRpdiBjbGFzcz0nZm90b3N0ZWxsaW5lJz48aW1nICBzdHlsZT0ndmVydGljYWwtYWxpZ246bWlkZGxlOycgc3JjPScuLi9ncmFmaWNhLzVzdGVsbGUucG5nJyBhbHQ9JzVTdGVsbGluZSc+PC9kaXY+ICBMaW5rIEVzdGVzbzogPGEgaHJlZj0naHR0cHM6Ly93d3cuc3BvdGlmeS5jb20vJyB0YXJnZXQ9J19ibGFuayc+aHR0cHM6Ly93d3cuc3BvdGlmeS5jb20vPC9hPjwvcD4= ICA8YSBocmVmPSdodHRwczovL3d3dy5kZWV6ZXIuY29tLycgdGFyZ2V0PSdfYmxhbmsnPkRlZXplcjwvYT4gLSBJbXBvcnRhbnphLCBTdGVsbGluZTogIDxkaXYgY2xhc3M9J2ZvdG9zdGVsbGluZSc+PGltZyAgc3R5bGU9J3ZlcnRpY2FsLWFsaWduOm1pZGRsZTsnIHNyYz0nLi4vZ3JhZmljYS81c3RlbGxlLnBuZycgYWx0PSc1U3RlbGxpbmUnPjwvZGl2PiAgTGluayBFc3Rlc286IDxhIGhyZWY9J2h0dHBzOi8vd3d3LmRlZXplci5jb20vJyB0YXJnZXQ9J19ibGFuayc+aHR0cHM6Ly93d3cuZGVlemVyLmNvbS88L2E+PC9wPg== ICA8YSBocmVmPSdodHRwczovL211c2ljLmFtYXpvbi5pdC8nIHRhcmdldD0nX2JsYW5rJz5BbWF6b24gTXVzaWM8L2E+IC0gSW1wb3J0YW56YSwgU3RlbGxpbmU6ICA8ZGl2IGNsYXNzPSdmb3Rvc3RlbGxpbmUnPjxpbWcgIHN0eWxlPSd2ZXJ0aWNhbC1hbGlnbjptaWRkbGU7JyBzcmM9Jy4uL2dyYWZpY2EvM3N0ZWxsZS5wbmcnIGFsdD0nM1N0ZWxsaW5lJz48L2Rpdj4gIExpbmsgRXN0ZXNvOiA8YSBocmVmPSdodHRwczovL211c2ljLmFtYXpvbi5pdC8nIHRhcmdldD0nX2JsYW5rJz5odHRwczovL211c2ljLmFtYXpvbi5pdC88L2E+PC9wPg== ICA8YSBocmVmPSdodHRwczovL3d3dy5hcHBsZS5jb20vaXQvbXVzaWMvJyB0YXJnZXQ9J19ibGFuayc+QXBwbGUgTXVzaWM8L2E+IC0gSW1wb3J0YW56YSwgU3RlbGxpbmU6ICA8ZGl2IGNsYXNzPSdmb3Rvc3RlbGxpbmUnPjxpbWcgIHN0eWxlPSd2ZXJ0aWNhbC1hbGlnbjptaWRkbGU7JyBzcmM9Jy4uL2dyYWZpY2EvNHN0ZWxsZS5wbmcnIGFsdD0nNFN0ZWxsaW5lJz48L2Rpdj4gIExpbmsgRXN0ZXNvOiA8YSBocmVmPSdodHRwczovL3d3dy5hcHBsZS5jb20vaXQvbXVzaWMvJyB0YXJnZXQ9J19ibGFuayc+aHR0cHM6Ly93d3cuYXBwbGUuY29tL2l0L211c2ljLzwvYT48L3A+ ICA8YSBocmVmPSdodHRwczovL3BsYXkuZ29vZ2xlLmNvbS9tdXNpYycgdGFyZ2V0PSdfYmxhbmsnPkdvb2dsZSBQbGF5IE11c2ljPC9hPiAtIEltcG9ydGFuemEsIFN0ZWxsaW5lOiAgPGRpdiBjbGFzcz0nZm90b3N0ZWxsaW5lJz48aW1nICBzdHlsZT0ndmVydGljYWwtYWxpZ246bWlkZGxlOycgc3JjPScuLi9ncmFmaWNhLzNzdGVsbGUucG5nJyBhbHQ9JzNTdGVsbGluZSc+PC9kaXY+ICBMaW5rIEVzdGVzbzogPGEgaHJlZj0naHR0cHM6Ly9wbGF5Lmdvb2dsZS5jb20vbXVzaWMnIHRhcmdldD0nX2JsYW5rJz5odHRwczovL3BsYXkuZ29vZ2xlLmNvbS9tdXNpYzwvYT48L3A+ ICA8YSBocmVmPSdodHRwczovL3RpZGFsLmNvbS8nIHRhcmdldD0nX2JsYW5rJz5UaWRhbCBIaWdoIEZpZGVsaXR5IE11c2ljPC9hPiAtIEltcG9ydGFuemEsIFN0ZWxsaW5lOiAgPGRpdiBjbGFzcz0nZm90b3N0ZWxsaW5lJz48aW1nICBzdHlsZT0ndmVydGljYWwtYWxpZ246bWlkZGxlOycgc3JjPScuLi9ncmFmaWNhLzRzdGVsbGUucG5nJyBhbHQ9JzRTdGVsbGluZSc+PC9kaXY+ICBMaW5rIEVzdGVzbzogPGEgaHJlZj0naHR0cHM6Ly90aWRhbC5jb20vJyB0YXJnZXQ9J19ibGFuayc+aHR0cHM6Ly90aWRhbC5jb20vPC9hPjwvcD4= ICA8YSBocmVmPSdodHRwczovL211c2ljLnlvdXR1YmUuY29tLycgdGFyZ2V0PSdfYmxhbmsnPk11c2ljIFlvdXR1YmU8L2E+IC0gSW1wb3J0YW56YSwgU3RlbGxpbmU6ICA8ZGl2IGNsYXNzPSdmb3Rvc3RlbGxpbmUnPjxpbWcgIHN0eWxlPSd2ZXJ0aWNhbC1hbGlnbjptaWRkbGU7JyBzcmM9Jy4uL2dyYWZpY2EvNHN0ZWxsZS5wbmcnIGFsdD0nNFN0ZWxsaW5lJz48L2Rpdj4gIExpbmsgRXN0ZXNvOiA8YSBocmVmPSdodHRwczovL211c2ljLnlvdXR1YmUuY29tLycgdGFyZ2V0PSdfYmxhbmsnPmh0dHBzOi8vbXVzaWMueW91dHViZS5jb20vPC9hPjwvcD4= ICA8YSBocmVmPSdodHRwczovL3d3dy5iZWF0cG9ydC5jb20vJyB0YXJnZXQ9J19ibGFuayc+QmVhdHBvcnQ8L2E+IC0gSW1wb3J0YW56YSwgU3RlbGxpbmU6ICA8ZGl2IGNsYXNzPSdmb3Rvc3RlbGxpbmUnPjxpbWcgIHN0eWxlPSd2ZXJ0aWNhbC1hbGlnbjptaWRkbGU7JyBzcmM9Jy4uL2dyYWZpY2EvM3N0ZWxsZS5wbmcnIGFsdD0nM1N0ZWxsaW5lJz48L2Rpdj4gIExpbmsgRXN0ZXNvOiA8YSBocmVmPSdodHRwczovL3d3dy5iZWF0cG9ydC5jb20vJyB0YXJnZXQ9J19ibGFuayc+aHR0cHM6Ly93d3cuYmVhdHBvcnQuY29tLzwvYT48L3A+ ICA8YSBocmVmPSdodHRwOi8vY2xhc3NpZmljaGUubXR2Lml0LycgdGFyZ2V0PSdfYmxhbmsnPk10djwvYT4gLSBJbXBvcnRhbnphLCBTdGVsbGluZTogIDxkaXYgY2xhc3M9J2ZvdG9zdGVsbGluZSc+PGltZyAgc3R5bGU9J3ZlcnRpY2FsLWFsaWduOm1pZGRsZTsnIHNyYz0nLi4vZ3JhZmljYS8zc3RlbGxlLnBuZycgYWx0PSczU3RlbGxpbmUnPjwvZGl2PiAgTGluayBFc3Rlc286IDxhIGhyZWY9J2h0dHA6Ly9jbGFzc2lmaWNoZS5tdHYuaXQvJyB0YXJnZXQ9J19ibGFuayc+aHR0cDovL2NsYXNzaWZpY2hlLm10di5pdC88L2E+PC9wPg== ICA8YSBocmVmPSdodHRwczovL3d3dy5sYXN0LmZtL211c2ljJyB0YXJnZXQ9J19ibGFuayc+TGFzdC5mbTwvYT4gLSBJbXBvcnRhbnphLCBTdGVsbGluZTogIDxkaXYgY2xhc3M9J2ZvdG9zdGVsbGluZSc+PGltZyAgc3R5bGU9J3ZlcnRpY2FsLWFsaWduOm1pZGRsZTsnIHNyYz0nLi4vZ3JhZmljYS81c3RlbGxlLnBuZycgYWx0PSc1U3RlbGxpbmUnPjwvZGl2PiAgTGluayBFc3Rlc286IDxhIGhyZWY9J2h0dHBzOi8vd3d3Lmxhc3QuZm0vbXVzaWMnIHRhcmdldD0nX2JsYW5rJz5odHRwczovL3d3dy5sYXN0LmZtL211c2ljPC9hPjwvcD4=
Download Cinema/serie Tv - My Personal Ranking
ICA8YSBocmVmPSdodHRwczovL2hkNG1lLm5ldC8nIHRhcmdldD0nX2JsYW5rJz5IRDRNRTwvYT4gLSBJbXBvcnRhbnphLCBTdGVsbGluZTogIDxkaXYgY2xhc3M9J2ZvdG9zdGVsbGluZSc+PGltZyAgc3R5bGU9J3ZlcnRpY2FsLWFsaWduOm1pZGRsZTsnIHNyYz0nLi4vZ3JhZmljYS81c3RlbGxlLnBuZycgYWx0PSc1U3RlbGxpbmUnPjwvZGl2PiAgTGluayBFc3Rlc286IDxhIGhyZWY9J2h0dHBzOi8vaGQ0bWUubmV0LycgdGFyZ2V0PSdfYmxhbmsnPmh0dHBzOi8vaGQ0bWUubmV0LzwvYT48L3A+ ICA8YSBocmVmPSdodHRwczovL3RoZXBpcmF0ZWJheS5vcmcvaW5kZXguaHRtbCcgdGFyZ2V0PSdfYmxhbmsnPlRoZXBpcmF0ZWJheTwvYT4gLSBJbXBvcnRhbnphLCBTdGVsbGluZTogIDxkaXYgY2xhc3M9J2ZvdG9zdGVsbGluZSc+PGltZyAgc3R5bGU9J3ZlcnRpY2FsLWFsaWduOm1pZGRsZTsnIHNyYz0nLi4vZ3JhZmljYS81c3RlbGxlLnBuZycgYWx0PSc1U3RlbGxpbmUnPjwvZGl2PiAgTGluayBFc3Rlc286IDxhIGhyZWY9J2h0dHBzOi8vdGhlcGlyYXRlYmF5Lm9yZy9pbmRleC5odG1sJyB0YXJnZXQ9J19ibGFuayc+aHR0cHM6Ly90aGVwaXJhdGViYXkub3JnL2luZGV4Lmh0bWw8L2E+PC9wPg== ICA8YSBocmVmPSdodHRwczovL3d3dy5saW1ldG9ycmVudHMuaW5mby8nIHRhcmdldD0nX2JsYW5rJz5MaW1ldG9ycmVudHM8L2E+IC0gSW1wb3J0YW56YSwgU3RlbGxpbmU6ICA8ZGl2IGNsYXNzPSdmb3Rvc3RlbGxpbmUnPjxpbWcgIHN0eWxlPSd2ZXJ0aWNhbC1hbGlnbjptaWRkbGU7JyBzcmM9Jy4uL2dyYWZpY2EvM3N0ZWxsZS5wbmcnIGFsdD0nM1N0ZWxsaW5lJz48L2Rpdj4gIExpbmsgRXN0ZXNvOiA8YSBocmVmPSdodHRwczovL3d3dy5saW1ldG9ycmVudHMuaW5mby8nIHRhcmdldD0nX2JsYW5rJz5odHRwczovL3d3dy5saW1ldG9ycmVudHMuaW5mby88L2E+PC9wPg== ICA8YSBocmVmPSdodHRwczovLzEzMzd4LnRvLycgdGFyZ2V0PSdfYmxhbmsnPjEzMzcgLSBpbiBpbmdsZXNlPC9hPiAtIEltcG9ydGFuemEsIFN0ZWxsaW5lOiAgPGRpdiBjbGFzcz0nZm90b3N0ZWxsaW5lJz48aW1nICBzdHlsZT0ndmVydGljYWwtYWxpZ246bWlkZGxlOycgc3JjPScuLi9ncmFmaWNhLzVzdGVsbGUucG5nJyBhbHQ9JzVTdGVsbGluZSc+PC9kaXY+ICBMaW5rIEVzdGVzbzogPGEgaHJlZj0naHR0cHM6Ly8xMzM3eC50by8nIHRhcmdldD0nX2JsYW5rJz5odHRwczovLzEzMzd4LnRvLzwvYT48L3A+ ICA8YSBocmVmPSdodHRwczovL3JhcmJnLnRvL3RvcnJlbnRzLnBocCcgdGFyZ2V0PSdfYmxhbmsnPlJhcmJnIC0gSW5nbGVzZTwvYT4gLSBJbXBvcnRhbnphLCBTdGVsbGluZTogIDxkaXYgY2xhc3M9J2ZvdG9zdGVsbGluZSc+PGltZyAgc3R5bGU9J3ZlcnRpY2FsLWFsaWduOm1pZGRsZTsnIHNyYz0nLi4vZ3JhZmljYS81c3RlbGxlLnBuZycgYWx0PSc1U3RlbGxpbmUnPjwvZGl2PiAgTGluayBFc3Rlc286IDxhIGhyZWY9J2h0dHBzOi8vcmFyYmcudG8vdG9ycmVudHMucGhwJyB0YXJnZXQ9J19ibGFuayc+aHR0cHM6Ly9yYXJiZy50by90b3JyZW50cy5waHA8L2E+PC9wPg==
Sport - My Personal Ranking
ICA8YSBocmVmPSdodHRwczovL3d3dy5nYXp6ZXR0YS5pdC8nIHRhcmdldD0nX2JsYW5rJz5HYXp6ZXR0YSBkZWxsbyBTcG9ydDwvYT4gLSBJbXBvcnRhbnphLCBTdGVsbGluZTogIDxkaXYgY2xhc3M9J2ZvdG9zdGVsbGluZSc+PGltZyAgc3R5bGU9J3ZlcnRpY2FsLWFsaWduOm1pZGRsZTsnIHNyYz0nLi4vZ3JhZmljYS81c3RlbGxlLnBuZycgYWx0PSc1U3RlbGxpbmUnPjwvZGl2PiAgTGluayBFc3Rlc286IDxhIGhyZWY9J2h0dHBzOi8vd3d3LmdhenpldHRhLml0LycgdGFyZ2V0PSdfYmxhbmsnPmh0dHBzOi8vd3d3LmdhenpldHRhLml0LzwvYT48L3A+ ICA8YSBocmVmPSdodHRwczovL3Nwb3J0LnNreS5pdC8nIHRhcmdldD0nX2JsYW5rJz5TcG9ydCBTa3k8L2E+IC0gSW1wb3J0YW56YSwgU3RlbGxpbmU6ICA8ZGl2IGNsYXNzPSdmb3Rvc3RlbGxpbmUnPjxpbWcgIHN0eWxlPSd2ZXJ0aWNhbC1hbGlnbjptaWRkbGU7JyBzcmM9Jy4uL2dyYWZpY2EvNXN0ZWxsZS5wbmcnIGFsdD0nNVN0ZWxsaW5lJz48L2Rpdj4gIExpbmsgRXN0ZXNvOiA8YSBocmVmPSdodHRwczovL3Nwb3J0LnNreS5pdC8nIHRhcmdldD0nX2JsYW5rJz5odHRwczovL3Nwb3J0LnNreS5pdC88L2E+PC9wPg== ICA8YSBocmVmPSdodHRwczovL3d3dy5zcG9ydG1lZGlhc2V0Lm1lZGlhc2V0Lml0LycgdGFyZ2V0PSdfYmxhbmsnPlNwb3J0bWVkaWFzZXQ8L2E+IC0gSW1wb3J0YW56YSwgU3RlbGxpbmU6ICA8ZGl2IGNsYXNzPSdmb3Rvc3RlbGxpbmUnPjxpbWcgIHN0eWxlPSd2ZXJ0aWNhbC1hbGlnbjptaWRkbGU7JyBzcmM9Jy4uL2dyYWZpY2EvNXN0ZWxsZS5wbmcnIGFsdD0nNVN0ZWxsaW5lJz48L2Rpdj4gIExpbmsgRXN0ZXNvOiA8YSBocmVmPSdodHRwczovL3d3dy5zcG9ydG1lZGlhc2V0Lm1lZGlhc2V0Lml0LycgdGFyZ2V0PSdfYmxhbmsnPmh0dHBzOi8vd3d3LnNwb3J0bWVkaWFzZXQubWVkaWFzZXQuaXQvPC9hPjwvcD4= ICA8YSBocmVmPSdodHRwczovL3d3dy5ldXJvc3BvcnQuaXQvJyB0YXJnZXQ9J19ibGFuayc+RXVyb3Nwb3J0PC9hPiAtIEltcG9ydGFuemEsIFN0ZWxsaW5lOiAgPGRpdiBjbGFzcz0nZm90b3N0ZWxsaW5lJz48aW1nICBzdHlsZT0ndmVydGljYWwtYWxpZ246bWlkZGxlOycgc3JjPScuLi9ncmFmaWNhLzRzdGVsbGUucG5nJyBhbHQ9JzRTdGVsbGluZSc+PC9kaXY+ICBMaW5rIEVzdGVzbzogPGEgaHJlZj0naHR0cHM6Ly93d3cuZXVyb3Nwb3J0Lml0LycgdGFyZ2V0PSdfYmxhbmsnPmh0dHBzOi8vd3d3LmV1cm9zcG9ydC5pdC88L2E+PC9wPg== ICA8YSBocmVmPSdodHRwczovL3d3dy5tc24uY29tL2l0LWl0L3Nwb3J0JyB0YXJnZXQ9J19ibGFuayc+TXNuIFNwb3J0PC9hPiAtIEltcG9ydGFuemEsIFN0ZWxsaW5lOiAgPGRpdiBjbGFzcz0nZm90b3N0ZWxsaW5lJz48aW1nICBzdHlsZT0ndmVydGljYWwtYWxpZ246bWlkZGxlOycgc3JjPScuLi9ncmFmaWNhLzRzdGVsbGUucG5nJyBhbHQ9JzRTdGVsbGluZSc+PC9kaXY+ICBMaW5rIEVzdGVzbzogPGEgaHJlZj0naHR0cHM6Ly93d3cubXNuLmNvbS9pdC1pdC9zcG9ydCcgdGFyZ2V0PSdfYmxhbmsnPmh0dHBzOi8vd3d3Lm1zbi5jb20vaXQtaXQvc3BvcnQ8L2E+PC9wPg== ICA8YSBocmVmPSdodHRwczovL3d3dy5jb3JyaWVyZWRlbGxvc3BvcnQuaXQvJyB0YXJnZXQ9J19ibGFuayc+Q29ycmllcmUgZGVsbG8gU3BvcnQ8L2E+IC0gSW1wb3J0YW56YSwgU3RlbGxpbmU6ICA8ZGl2IGNsYXNzPSdmb3Rvc3RlbGxpbmUnPjxpbWcgIHN0eWxlPSd2ZXJ0aWNhbC1hbGlnbjptaWRkbGU7JyBzcmM9Jy4uL2dyYWZpY2EvNHN0ZWxsZS5wbmcnIGFsdD0nNFN0ZWxsaW5lJz48L2Rpdj4gIExpbmsgRXN0ZXNvOiA8YSBocmVmPSdodHRwczovL3d3dy5jb3JyaWVyZWRlbGxvc3BvcnQuaXQvJyB0YXJnZXQ9J19ibGFuayc+aHR0cHM6Ly93d3cuY29ycmllcmVkZWxsb3Nwb3J0Lml0LzwvYT48L3A+ ICA8YSBocmVmPSdodHRwczovL3d3dy5kaXJldHRhLml0LycgdGFyZ2V0PSdfYmxhbmsnPkRpcmV0dGE8L2E+IC0gSW1wb3J0YW56YSwgU3RlbGxpbmU6ICA8ZGl2IGNsYXNzPSdmb3Rvc3RlbGxpbmUnPjxpbWcgIHN0eWxlPSd2ZXJ0aWNhbC1hbGlnbjptaWRkbGU7JyBzcmM9Jy4uL2dyYWZpY2EvNXN0ZWxsZS5wbmcnIGFsdD0nNVN0ZWxsaW5lJz48L2Rpdj4gIExpbmsgRXN0ZXNvOiA8YSBocmVmPSdodHRwczovL3d3dy5kaXJldHRhLml0LycgdGFyZ2V0PSdfYmxhbmsnPmh0dHBzOi8vd3d3LmRpcmV0dGEuaXQvPC9hPjwvcD4= ICA8YSBocmVmPSdodHRwczovL3d3dy50dXR0b21lcmNhdG93ZWIuY29tLycgdGFyZ2V0PSdfYmxhbmsnPlR1dHRvbWVyY2F0b3dlYjwvYT4gLSBJbXBvcnRhbnphLCBTdGVsbGluZTogIDxkaXYgY2xhc3M9J2ZvdG9zdGVsbGluZSc+PGltZyAgc3R5bGU9J3ZlcnRpY2FsLWFsaWduOm1pZGRsZTsnIHNyYz0nLi4vZ3JhZmljYS80c3RlbGxlLnBuZycgYWx0PSc0U3RlbGxpbmUnPjwvZGl2PiAgTGluayBFc3Rlc286IDxhIGhyZWY9J2h0dHBzOi8vd3d3LnR1dHRvbWVyY2F0b3dlYi5jb20vJyB0YXJnZXQ9J19ibGFuayc+aHR0cHM6Ly93d3cudHV0dG9tZXJjYXRvd2ViLmNvbS88L2E+PC9wPg== ICA8YSBocmVmPSdodHRwczovL3d3dy5jYWxjaW9tZXJjYXRvLmNvbS8nIHRhcmdldD0nX2JsYW5rJz5DYWxjaW9tZXJjYXRvLmNvbTwvYT4gLSBJbXBvcnRhbnphLCBTdGVsbGluZTogIDxkaXYgY2xhc3M9J2ZvdG9zdGVsbGluZSc+PGltZyAgc3R5bGU9J3ZlcnRpY2FsLWFsaWduOm1pZGRsZTsnIHNyYz0nLi4vZ3JhZmljYS80c3RlbGxlLnBuZycgYWx0PSc0U3RlbGxpbmUnPjwvZGl2PiAgTGluayBFc3Rlc286IDxhIGhyZWY9J2h0dHBzOi8vd3d3LmNhbGNpb21lcmNhdG8uY29tLycgdGFyZ2V0PSdfYmxhbmsnPmh0dHBzOi8vd3d3LmNhbGNpb21lcmNhdG8uY29tLzwvYT48L3A+ ICA8YSBocmVmPSdodHRwczovL3d3dy50dXR0b3Nwb3J0LmNvbS8nIHRhcmdldD0nX2JsYW5rJz5UdXR0b3Nwb3J0PC9hPiAtIEltcG9ydGFuemEsIFN0ZWxsaW5lOiAgPGRpdiBjbGFzcz0nZm90b3N0ZWxsaW5lJz48aW1nICBzdHlsZT0ndmVydGljYWwtYWxpZ246bWlkZGxlOycgc3JjPScuLi9ncmFmaWNhLzNzdGVsbGUucG5nJyBhbHQ9JzNTdGVsbGluZSc+PC9kaXY+ICBMaW5rIEVzdGVzbzogPGEgaHJlZj0naHR0cHM6Ly93d3cudHV0dG9zcG9ydC5jb20vJyB0YXJnZXQ9J19ibGFuayc+aHR0cHM6Ly93d3cudHV0dG9zcG9ydC5jb20vPC9hPjwvcD4= ICA8YSBocmVmPSdodHRwczovL3d3dy5mY2ludGVyMTkwOC5pdC8nIHRhcmdldD0nX2JsYW5rJz5GY2ludGVyMTkwODwvYT4gLSBJbXBvcnRhbnphLCBTdGVsbGluZTogIDxkaXYgY2xhc3M9J2ZvdG9zdGVsbGluZSc+PGltZyAgc3R5bGU9J3ZlcnRpY2FsLWFsaWduOm1pZGRsZTsnIHNyYz0nLi4vZ3JhZmljYS8zc3RlbGxlLnBuZycgYWx0PSczU3RlbGxpbmUnPjwvZGl2PiAgTGluayBFc3Rlc286IDxhIGhyZWY9J2h0dHBzOi8vd3d3LmZjaW50ZXIxOTA4Lml0LycgdGFyZ2V0PSdfYmxhbmsnPmh0dHBzOi8vd3d3LmZjaW50ZXIxOTA4Lml0LzwvYT48L3A+ ICA8YSBocmVmPSdodHRwczovL3d3dy5oYXR0cmljay5vcmcvaXQvJyB0YXJnZXQ9J19ibGFuayc+SGF0dHJpY2s8L2E+IC0gSW1wb3J0YW56YSwgU3RlbGxpbmU6ICA8ZGl2IGNsYXNzPSdmb3Rvc3RlbGxpbmUnPjxpbWcgIHN0eWxlPSd2ZXJ0aWNhbC1hbGlnbjptaWRkbGU7JyBzcmM9Jy4uL2dyYWZpY2EvM3N0ZWxsZS5wbmcnIGFsdD0nM1N0ZWxsaW5lJz48L2Rpdj4gIExpbmsgRXN0ZXNvOiA8YSBocmVmPSdodHRwczovL3d3dy5oYXR0cmljay5vcmcvaXQvJyB0YXJnZXQ9J19ibGFuayc+aHR0cHM6Ly93d3cuaGF0dHJpY2sub3JnL2l0LzwvYT48L3A+ ICA8YSBocmVmPSdodHRwczovL3d3dy50ZW5uaXMuY29tLycgdGFyZ2V0PSdfYmxhbmsnPlRlbm5pczwvYT4gLSBJbXBvcnRhbnphLCBTdGVsbGluZTogIDxkaXYgY2xhc3M9J2ZvdG9zdGVsbGluZSc+PGltZyAgc3R5bGU9J3ZlcnRpY2FsLWFsaWduOm1pZGRsZTsnIHNyYz0nLi4vZ3JhZmljYS80c3RlbGxlLnBuZycgYWx0PSc0U3RlbGxpbmUnPjwvZGl2PiAgTGluayBFc3Rlc286IDxhIGhyZWY9J2h0dHBzOi8vd3d3LnRlbm5pcy5jb20vJyB0YXJnZXQ9J19ibGFuayc+aHR0cHM6Ly93d3cudGVubmlzLmNvbS88L2E+PC9wPg== ICA8YSBocmVmPSdodHRwczovL2dvbGYuY29tLycgdGFyZ2V0PSdfYmxhbmsnPkdvbGYuY29tPC9hPiAtIEltcG9ydGFuemEsIFN0ZWxsaW5lOiAgPGRpdiBjbGFzcz0nZm90b3N0ZWxsaW5lJz48aW1nICBzdHlsZT0ndmVydGljYWwtYWxpZ246bWlkZGxlOycgc3JjPScuLi9ncmFmaWNhLzRzdGVsbGUucG5nJyBhbHQ9JzRTdGVsbGluZSc+PC9kaXY+ICBMaW5rIEVzdGVzbzogPGEgaHJlZj0naHR0cHM6Ly9nb2xmLmNvbS8nIHRhcmdldD0nX2JsYW5rJz5odHRwczovL2dvbGYuY29tLzwvYT48L3A+ ICA8YSBocmVmPSdodHRwczovL3d3dy51ZWZhLmNvbS8nIHRhcmdldD0nX2JsYW5rJz5VZWZhPC9hPiAtIEltcG9ydGFuemEsIFN0ZWxsaW5lOiAgPGRpdiBjbGFzcz0nZm90b3N0ZWxsaW5lJz48aW1nICBzdHlsZT0ndmVydGljYWwtYWxpZ246bWlkZGxlOycgc3JjPScuLi9ncmFmaWNhLzRzdGVsbGUucG5nJyBhbHQ9JzRTdGVsbGluZSc+PC9kaXY+ICBMaW5rIEVzdGVzbzogPGEgaHJlZj0naHR0cHM6Ly93d3cudWVmYS5jb20vJyB0YXJnZXQ9J19ibGFuayc+aHR0cHM6Ly93d3cudWVmYS5jb20vPC9hPjwvcD4= ICA8YSBocmVmPSdodHRwczovL2JveGUtbWFuaWEuY29tL25ld3MvJyB0YXJnZXQ9J19ibGFuayc+Qm94ZTwvYT4gLSBJbXBvcnRhbnphLCBTdGVsbGluZTogIDxkaXYgY2xhc3M9J2ZvdG9zdGVsbGluZSc+PGltZyAgc3R5bGU9J3ZlcnRpY2FsLWFsaWduOm1pZGRsZTsnIHNyYz0nLi4vZ3JhZmljYS80c3RlbGxlLnBuZycgYWx0PSc0U3RlbGxpbmUnPjwvZGl2PiAgTGluayBFc3Rlc286IDxhIGhyZWY9J2h0dHBzOi8vYm94ZS1tYW5pYS5jb20vbmV3cy8nIHRhcmdldD0nX2JsYW5rJz5odHRwczovL2JveGUtbWFuaWEuY29tL25ld3MvPC9hPjwvcD4= ICA8YSBocmVmPSdodHRwOi8vd3d3LmNpY2xvd2ViLml0LycgdGFyZ2V0PSdfYmxhbmsnPkNpY2xvd2ViIC0gQ2ljbGlzbW88L2E+IC0gSW1wb3J0YW56YSwgU3RlbGxpbmU6ICA8ZGl2IGNsYXNzPSdmb3Rvc3RlbGxpbmUnPjxpbWcgIHN0eWxlPSd2ZXJ0aWNhbC1hbGlnbjptaWRkbGU7JyBzcmM9Jy4uL2dyYWZpY2EvM3N0ZWxsZS5wbmcnIGFsdD0nM1N0ZWxsaW5lJz48L2Rpdj4gIExpbmsgRXN0ZXNvOiA8YSBocmVmPSdodHRwOi8vd3d3LmNpY2xvd2ViLml0LycgdGFyZ2V0PSdfYmxhbmsnPmh0dHA6Ly93d3cuY2ljbG93ZWIuaXQvPC9hPjwvcD4= ICA8YSBocmVmPSdodHRwczovL3d3dy5mZWRlcnZvbGxleS5pdC8nIHRhcmdldD0nX2JsYW5rJz5GZWRlcmF6aW9uZSBJdGFsaWFuYSBQYWxsYXZvbG88L2E+IC0gSW1wb3J0YW56YSwgU3RlbGxpbmU6ICA8ZGl2IGNsYXNzPSdmb3Rvc3RlbGxpbmUnPjxpbWcgIHN0eWxlPSd2ZXJ0aWNhbC1hbGlnbjptaWRkbGU7JyBzcmM9Jy4uL2dyYWZpY2EvM3N0ZWxsZS5wbmcnIGFsdD0nM1N0ZWxsaW5lJz48L2Rpdj4gIExpbmsgRXN0ZXNvOiA8YSBocmVmPSdodHRwczovL3d3dy5mZWRlcnZvbGxleS5pdC8nIHRhcmdldD0nX2JsYW5rJz5odHRwczovL3d3dy5mZWRlcnZvbGxleS5pdC88L2E+PC9wPg== ICA8YSBocmVmPSdodHRwOi8vd3d3LmxlZ2FiYXNrZXQuaXQvJyB0YXJnZXQ9J19ibGFuayc+TGVnYSBCYXNrZXQgSXRhbGlhPC9hPiAtIEltcG9ydGFuemEsIFN0ZWxsaW5lOiAgPGRpdiBjbGFzcz0nZm90b3N0ZWxsaW5lJz48aW1nICBzdHlsZT0ndmVydGljYWwtYWxpZ246bWlkZGxlOycgc3JjPScuLi9ncmFmaWNhLzRzdGVsbGUucG5nJyBhbHQ9JzRTdGVsbGluZSc+PC9kaXY+ICBMaW5rIEVzdGVzbzogPGEgaHJlZj0naHR0cDovL3d3dy5sZWdhYmFza2V0Lml0LycgdGFyZ2V0PSdfYmxhbmsnPmh0dHA6Ly93d3cubGVnYWJhc2tldC5pdC88L2E+PC9wPg== ICA8YSBocmVmPSdodHRwczovL3d3dy51c2FiLmNvbS8nIHRhcmdldD0nX2JsYW5rJz5Vc2EgQmFza2V0PC9hPiAtIEltcG9ydGFuemEsIFN0ZWxsaW5lOiAgPGRpdiBjbGFzcz0nZm90b3N0ZWxsaW5lJz48aW1nICBzdHlsZT0ndmVydGljYWwtYWxpZ246bWlkZGxlOycgc3JjPScuLi9ncmFmaWNhLzVzdGVsbGUucG5nJyBhbHQ9JzVTdGVsbGluZSc+PC9kaXY+ICBMaW5rIEVzdGVzbzogPGEgaHJlZj0naHR0cHM6Ly93d3cudXNhYi5jb20vJyB0YXJnZXQ9J19ibGFuayc+aHR0cHM6Ly93d3cudXNhYi5jb20vPC9hPjwvcD4= ICA8YSBocmVmPSdodHRwczovL3d3dy5vbnJ1Z2J5Lml0LycgdGFyZ2V0PSdfYmxhbmsnPk9ucnVnYnk8L2E+IC0gSW1wb3J0YW56YSwgU3RlbGxpbmU6ICA8ZGl2IGNsYXNzPSdmb3Rvc3RlbGxpbmUnPjxpbWcgIHN0eWxlPSd2ZXJ0aWNhbC1hbGlnbjptaWRkbGU7JyBzcmM9Jy4uL2dyYWZpY2EvM3N0ZWxsZS5wbmcnIGFsdD0nM1N0ZWxsaW5lJz48L2Rpdj4gIExpbmsgRXN0ZXNvOiA8YSBocmVmPSdodHRwczovL3d3dy5vbnJ1Z2J5Lml0LycgdGFyZ2V0PSdfYmxhbmsnPmh0dHBzOi8vd3d3Lm9ucnVnYnkuaXQvPC9hPjwvcD4= ICA8YSBocmVmPSdodHRwczovL3d3dy5tb25kb3NjaW5ld3MuaXQvJyB0YXJnZXQ9J19ibGFuayc+TW9uZG8gU2NpPC9hPiAtIEltcG9ydGFuemEsIFN0ZWxsaW5lOiAgPGRpdiBjbGFzcz0nZm90b3N0ZWxsaW5lJz48aW1nICBzdHlsZT0ndmVydGljYWwtYWxpZ246bWlkZGxlOycgc3JjPScuLi9ncmFmaWNhLzNzdGVsbGUucG5nJyBhbHQ9JzNTdGVsbGluZSc+PC9kaXY+ICBMaW5rIEVzdGVzbzogPGEgaHJlZj0naHR0cHM6Ly93d3cubW9uZG9zY2luZXdzLml0LycgdGFyZ2V0PSdfYmxhbmsnPmh0dHBzOi8vd3d3Lm1vbmRvc2NpbmV3cy5pdC88L2E+PC9wPg== ICA8YSBocmVmPSdodHRwczovL3d3dy5mZWRlcnNjaGVybWEuaXQnIHRhcmdldD0nX2JsYW5rJz5GZWRlcmF6aW9uZSBJdGFsaWFuYSBTY2hlcm1hPC9hPiAtIEltcG9ydGFuemEsIFN0ZWxsaW5lOiAgPGRpdiBjbGFzcz0nZm90b3N0ZWxsaW5lJz48aW1nICBzdHlsZT0ndmVydGljYWwtYWxpZ246bWlkZGxlOycgc3JjPScuLi9ncmFmaWNhLzNzdGVsbGUucG5nJyBhbHQ9JzNTdGVsbGluZSc+PC9kaXY+ICBMaW5rIEVzdGVzbzogPGEgaHJlZj0naHR0cHM6Ly93d3cuZmVkZXJzY2hlcm1hLml0JyB0YXJnZXQ9J19ibGFuayc+aHR0cHM6Ly93d3cuZmVkZXJzY2hlcm1hLml0PC9hPjwvcD4=
Download Musica - My Personal Ranking
ICA8YSBocmVmPSdodHRwczovL3NvdW5kY2xvdWQuY29tLycgdGFyZ2V0PSdfYmxhbmsnPlNvdW5kQ2xvdWQ8L2E+IC0gSW1wb3J0YW56YSwgU3RlbGxpbmU6ICA8ZGl2IGNsYXNzPSdmb3Rvc3RlbGxpbmUnPjxpbWcgIHN0eWxlPSd2ZXJ0aWNhbC1hbGlnbjptaWRkbGU7JyBzcmM9Jy4uL2dyYWZpY2EvNXN0ZWxsZS5wbmcnIGFsdD0nNVN0ZWxsaW5lJz48L2Rpdj4gIExpbmsgRXN0ZXNvOiA8YSBocmVmPSdodHRwczovL3NvdW5kY2xvdWQuY29tLycgdGFyZ2V0PSdfYmxhbmsnPmh0dHBzOi8vc291bmRjbG91ZC5jb20vPC9hPjwvcD4= ICA8YSBocmVmPSdodHRwczovL2ZyZWVtdXNpY2FyY2hpdmUub3JnL211c2ljL2NoYXJ0cy9hbGwnIHRhcmdldD0nX2JsYW5rJz5GcmVlIE11c2ljIEFyY2hpdmU8L2E+IC0gSW1wb3J0YW56YSwgU3RlbGxpbmU6ICA8ZGl2IGNsYXNzPSdmb3Rvc3RlbGxpbmUnPjxpbWcgIHN0eWxlPSd2ZXJ0aWNhbC1hbGlnbjptaWRkbGU7JyBzcmM9Jy4uL2dyYWZpY2EvNXN0ZWxsZS5wbmcnIGFsdD0nNVN0ZWxsaW5lJz48L2Rpdj4gIExpbmsgRXN0ZXNvOiA8YSBocmVmPSdodHRwczovL2ZyZWVtdXNpY2FyY2hpdmUub3JnL211c2ljL2NoYXJ0cy9hbGwnIHRhcmdldD0nX2JsYW5rJz5odHRwczovL2ZyZWVtdXNpY2FyY2hpdmUub3JnL211c2ljL2NoYXJ0cy9hbGw8L2E+PC9wPg== ICA8YSBocmVmPSdodHRwczovL3d3dy5iZW5zb3VuZC5jb20vJyB0YXJnZXQ9J19ibGFuayc+QmVuU291bmQ8L2E+IC0gSW1wb3J0YW56YSwgU3RlbGxpbmU6ICA8ZGl2IGNsYXNzPSdmb3Rvc3RlbGxpbmUnPjxpbWcgIHN0eWxlPSd2ZXJ0aWNhbC1hbGlnbjptaWRkbGU7JyBzcmM9Jy4uL2dyYWZpY2EvNHN0ZWxsZS5wbmcnIGFsdD0nNFN0ZWxsaW5lJz48L2Rpdj4gIExpbmsgRXN0ZXNvOiA8YSBocmVmPSdodHRwczovL3d3dy5iZW5zb3VuZC5jb20vJyB0YXJnZXQ9J19ibGFuayc+aHR0cHM6Ly93d3cuYmVuc291bmQuY29tLzwvYT48L3A+ ICA8YSBocmVmPSdodHRwczovL3d3dy5qYW1lbmRvLmNvbS9zZWFyY2gnIHRhcmdldD0nX2JsYW5rJz5KYW1lbmRvIC0gTG9naW4gUmVxdWlyZWQ8L2E+IC0gSW1wb3J0YW56YSwgU3RlbGxpbmU6ICA8ZGl2IGNsYXNzPSdmb3Rvc3RlbGxpbmUnPjxpbWcgIHN0eWxlPSd2ZXJ0aWNhbC1hbGlnbjptaWRkbGU7JyBzcmM9Jy4uL2dyYWZpY2EvM3N0ZWxsZS5wbmcnIGFsdD0nM1N0ZWxsaW5lJz48L2Rpdj4gIExpbmsgRXN0ZXNvOiA8YSBocmVmPSdodHRwczovL3d3dy5qYW1lbmRvLmNvbS9zZWFyY2gnIHRhcmdldD0nX2JsYW5rJz5odHRwczovL3d3dy5qYW1lbmRvLmNvbS9zZWFyY2g8L2E+PC9wPg== ICA8YSBocmVmPSdodHRwczovL215ZnJlZW1wM3YuY29tLycgdGFyZ2V0PSdfYmxhbmsnPk15RnJlZU1wM3Y8L2E+IC0gSW1wb3J0YW56YSwgU3RlbGxpbmU6ICA8ZGl2IGNsYXNzPSdmb3Rvc3RlbGxpbmUnPjxpbWcgIHN0eWxlPSd2ZXJ0aWNhbC1hbGlnbjptaWRkbGU7JyBzcmM9Jy4uL2dyYWZpY2EvNXN0ZWxsZS5wbmcnIGFsdD0nNVN0ZWxsaW5lJz48L2Rpdj4gIExpbmsgRXN0ZXNvOiA8YSBocmVmPSdodHRwczovL215ZnJlZW1wM3YuY29tLycgdGFyZ2V0PSdfYmxhbmsnPmh0dHBzOi8vbXlmcmVlbXAzdi5jb20vPC9hPjwvcD4= ICA8YSBocmVmPSdodHRwczovL3J1LW11c2ljLmNvbS8nIHRhcmdldD0nX2JsYW5rJz5SdS1NdXNpYzwvYT4gLSBJbXBvcnRhbnphLCBTdGVsbGluZTogIDxkaXYgY2xhc3M9J2ZvdG9zdGVsbGluZSc+PGltZyAgc3R5bGU9J3ZlcnRpY2FsLWFsaWduOm1pZGRsZTsnIHNyYz0nLi4vZ3JhZmljYS80c3RlbGxlLnBuZycgYWx0PSc0U3RlbGxpbmUnPjwvZGl2PiAgTGluayBFc3Rlc286IDxhIGhyZWY9J2h0dHBzOi8vcnUtbXVzaWMuY29tLycgdGFyZ2V0PSdfYmxhbmsnPmh0dHBzOi8vcnUtbXVzaWMuY29tLzwvYT48L3A+ ICA8YSBocmVmPSdodHRwOi8vd3d3LnRoZS1zei5jb20vcHJvZHVjdHMvbGFjZXkvJyB0YXJnZXQ9J19ibGFuayc+TGFjZXkgbXAzIGRvd25sb2FkZXI8L2E+IC0gSW1wb3J0YW56YSwgU3RlbGxpbmU6ICA8ZGl2IGNsYXNzPSdmb3Rvc3RlbGxpbmUnPjxpbWcgIHN0eWxlPSd2ZXJ0aWNhbC1hbGlnbjptaWRkbGU7JyBzcmM9Jy4uL2dyYWZpY2EvNXN0ZWxsZS5wbmcnIGFsdD0nNVN0ZWxsaW5lJz48L2Rpdj4gIExpbmsgRXN0ZXNvOiA8YSBocmVmPSdodHRwOi8vd3d3LnRoZS1zei5jb20vcHJvZHVjdHMvbGFjZXkvJyB0YXJnZXQ9J19ibGFuayc+aHR0cDovL3d3dy50aGUtc3ouY29tL3Byb2R1Y3RzL2xhY2V5LzwvYT48L3A+
E-Commerce - My Personal Ranking
ICA8YSBocmVmPSdodHRwczovL3d3dy5hbWF6b24uaXQvJyB0YXJnZXQ9J19ibGFuayc+QW1hem9uPC9hPiAtIEltcG9ydGFuemEsIFN0ZWxsaW5lOiAgPGRpdiBjbGFzcz0nZm90b3N0ZWxsaW5lJz48aW1nICBzdHlsZT0ndmVydGljYWwtYWxpZ246bWlkZGxlOycgc3JjPScuLi9ncmFmaWNhLzVzdGVsbGUucG5nJyBhbHQ9JzVTdGVsbGluZSc+PC9kaXY+ICBMaW5rIEVzdGVzbzogPGEgaHJlZj0naHR0cHM6Ly93d3cuYW1hem9uLml0LycgdGFyZ2V0PSdfYmxhbmsnPmh0dHBzOi8vd3d3LmFtYXpvbi5pdC88L2E+PC9wPg== ICA8YSBocmVmPSdodHRwczovL3d3dy5lYmF5Lml0LycgdGFyZ2V0PSdfYmxhbmsnPkViYXk8L2E+IC0gSW1wb3J0YW56YSwgU3RlbGxpbmU6ICA8ZGl2IGNsYXNzPSdmb3Rvc3RlbGxpbmUnPjxpbWcgIHN0eWxlPSd2ZXJ0aWNhbC1hbGlnbjptaWRkbGU7JyBzcmM9Jy4uL2dyYWZpY2EvNXN0ZWxsZS5wbmcnIGFsdD0nNVN0ZWxsaW5lJz48L2Rpdj4gIExpbmsgRXN0ZXNvOiA8YSBocmVmPSdodHRwczovL3d3dy5lYmF5Lml0LycgdGFyZ2V0PSdfYmxhbmsnPmh0dHBzOi8vd3d3LmViYXkuaXQvPC9hPjwvcD4= ICA8YSBocmVmPSdodHRwczovL3d3dy50cm92YXByZXp6aS5pdC8nIHRhcmdldD0nX2JsYW5rJz5Ucm92YXByZXp6aTwvYT4gLSBJbXBvcnRhbnphLCBTdGVsbGluZTogIDxkaXYgY2xhc3M9J2ZvdG9zdGVsbGluZSc+PGltZyAgc3R5bGU9J3ZlcnRpY2FsLWFsaWduOm1pZGRsZTsnIHNyYz0nLi4vZ3JhZmljYS81c3RlbGxlLnBuZycgYWx0PSc1U3RlbGxpbmUnPjwvZGl2PiAgTGluayBFc3Rlc286IDxhIGhyZWY9J2h0dHBzOi8vd3d3LnRyb3ZhcHJlenppLml0LycgdGFyZ2V0PSdfYmxhbmsnPmh0dHBzOi8vd3d3LnRyb3ZhcHJlenppLml0LzwvYT48L3A+ ICA8YSBocmVmPSdodHRwczovL3d3dy5lcHJpY2UuaXQvJyB0YXJnZXQ9J19ibGFuayc+RXByaWNlPC9hPiAtIEltcG9ydGFuemEsIFN0ZWxsaW5lOiAgPGRpdiBjbGFzcz0nZm90b3N0ZWxsaW5lJz48aW1nICBzdHlsZT0ndmVydGljYWwtYWxpZ246bWlkZGxlOycgc3JjPScuLi9ncmFmaWNhLzRzdGVsbGUucG5nJyBhbHQ9JzRTdGVsbGluZSc+PC9kaXY+ICBMaW5rIEVzdGVzbzogPGEgaHJlZj0naHR0cHM6Ly93d3cuZXByaWNlLml0LycgdGFyZ2V0PSdfYmxhbmsnPmh0dHBzOi8vd3d3LmVwcmljZS5pdC88L2E+PC9wPg== ICA8YSBocmVmPSdodHRwczovL3d3dy5zdWJpdG8uaXQvJyB0YXJnZXQ9J19ibGFuayc+U3ViaXRvLml0PC9hPiAtIEltcG9ydGFuemEsIFN0ZWxsaW5lOiAgPGRpdiBjbGFzcz0nZm90b3N0ZWxsaW5lJz48aW1nICBzdHlsZT0ndmVydGljYWwtYWxpZ246bWlkZGxlOycgc3JjPScuLi9ncmFmaWNhLzRzdGVsbGUucG5nJyBhbHQ9JzRTdGVsbGluZSc+PC9kaXY+ICBMaW5rIEVzdGVzbzogPGEgaHJlZj0naHR0cHM6Ly93d3cuc3ViaXRvLml0LycgdGFyZ2V0PSdfYmxhbmsnPmh0dHBzOi8vd3d3LnN1Yml0by5pdC88L2E+PC9wPg== ICA8YSBocmVmPSdodHRwczovL3d3dy5tb25jbGljay5pdCcgdGFyZ2V0PSdfYmxhbmsnPk1vbmNsaWNrPC9hPiAtIEltcG9ydGFuemEsIFN0ZWxsaW5lOiAgPGRpdiBjbGFzcz0nZm90b3N0ZWxsaW5lJz48aW1nICBzdHlsZT0ndmVydGljYWwtYWxpZ246bWlkZGxlOycgc3JjPScuLi9ncmFmaWNhLzRzdGVsbGUucG5nJyBhbHQ9JzRTdGVsbGluZSc+PC9kaXY+ICBMaW5rIEVzdGVzbzogPGEgaHJlZj0naHR0cHM6Ly93d3cubW9uY2xpY2suaXQnIHRhcmdldD0nX2JsYW5rJz5odHRwczovL3d3dy5tb25jbGljay5pdDwvYT48L3A+ ICA8YSBocmVmPSdodHRwczovL3d3dy5raWppamkuaXQvJyB0YXJnZXQ9J19ibGFuayc+S2lqaWppPC9hPiAtIEltcG9ydGFuemEsIFN0ZWxsaW5lOiAgPGRpdiBjbGFzcz0nZm90b3N0ZWxsaW5lJz48aW1nICBzdHlsZT0ndmVydGljYWwtYWxpZ246bWlkZGxlOycgc3JjPScuLi9ncmFmaWNhLzNzdGVsbGUucG5nJyBhbHQ9JzNTdGVsbGluZSc+PC9kaXY+ICBMaW5rIEVzdGVzbzogPGEgaHJlZj0naHR0cHM6Ly93d3cua2lqaWppLml0LycgdGFyZ2V0PSdfYmxhbmsnPmh0dHBzOi8vd3d3LmtpamlqaS5pdC88L2E+PC9wPg== ICA8YSBocmVmPSdodHRwczovL3d3dy55b294LmNvbS8nIHRhcmdldD0nX2JsYW5rJz5Zb294IEFiYmlnbGlhbWVudG88L2E+IC0gSW1wb3J0YW56YSwgU3RlbGxpbmU6ICA8ZGl2IGNsYXNzPSdmb3Rvc3RlbGxpbmUnPjxpbWcgIHN0eWxlPSd2ZXJ0aWNhbC1hbGlnbjptaWRkbGU7JyBzcmM9Jy4uL2dyYWZpY2EvNHN0ZWxsZS5wbmcnIGFsdD0nNFN0ZWxsaW5lJz48L2Rpdj4gIExpbmsgRXN0ZXNvOiA8YSBocmVmPSdodHRwczovL3d3dy55b294LmNvbS8nIHRhcmdldD0nX2JsYW5rJz5odHRwczovL3d3dy55b294LmNvbS88L2E+PC9wPg== ICA8YSBocmVmPSdodHRwczovL3d3dy5tZWRpYXdvcmxkLml0LycgdGFyZ2V0PSdfYmxhbmsnPk1lZGlhd29ybGQ8L2E+IC0gSW1wb3J0YW56YSwgU3RlbGxpbmU6ICA8ZGl2IGNsYXNzPSdmb3Rvc3RlbGxpbmUnPjxpbWcgIHN0eWxlPSd2ZXJ0aWNhbC1hbGlnbjptaWRkbGU7JyBzcmM9Jy4uL2dyYWZpY2EvNHN0ZWxsZS5wbmcnIGFsdD0nNFN0ZWxsaW5lJz48L2Rpdj4gIExpbmsgRXN0ZXNvOiA8YSBocmVmPSdodHRwczovL3d3dy5tZWRpYXdvcmxkLml0LycgdGFyZ2V0PSdfYmxhbmsnPmh0dHBzOi8vd3d3Lm1lZGlhd29ybGQuaXQvPC9hPjwvcD4= ICA8YSBocmVmPSdodHRwczovL3d3dy5ncm91cG9uLml0LycgdGFyZ2V0PSdfYmxhbmsnPkdyb3Vwb248L2E+IC0gSW1wb3J0YW56YSwgU3RlbGxpbmU6ICA8ZGl2IGNsYXNzPSdmb3Rvc3RlbGxpbmUnPjxpbWcgIHN0eWxlPSd2ZXJ0aWNhbC1hbGlnbjptaWRkbGU7JyBzcmM9Jy4uL2dyYWZpY2EvNHN0ZWxsZS5wbmcnIGFsdD0nNFN0ZWxsaW5lJz48L2Rpdj4gIExpbmsgRXN0ZXNvOiA8YSBocmVmPSdodHRwczovL3d3dy5ncm91cG9uLml0LycgdGFyZ2V0PSdfYmxhbmsnPmh0dHBzOi8vd3d3Lmdyb3Vwb24uaXQvPC9hPjwvcD4= ICA8YSBocmVmPSdodHRwczovL3d3dy5ob21lMjQuaXQvJyB0YXJnZXQ9J19ibGFuayc+SG9tZSAyNCAtIE1vYmlsaSBlIEFycmVkYW1lbnRvPC9hPiAtIEltcG9ydGFuemEsIFN0ZWxsaW5lOiAgPGRpdiBjbGFzcz0nZm90b3N0ZWxsaW5lJz48aW1nICBzdHlsZT0ndmVydGljYWwtYWxpZ246bWlkZGxlOycgc3JjPScuLi9ncmFmaWNhLzRzdGVsbGUucG5nJyBhbHQ9JzRTdGVsbGluZSc+PC9kaXY+ICBMaW5rIEVzdGVzbzogPGEgaHJlZj0naHR0cHM6Ly93d3cuaG9tZTI0Lml0LycgdGFyZ2V0PSdfYmxhbmsnPmh0dHBzOi8vd3d3LmhvbWUyNC5pdC88L2E+PC9wPg== ICA8YSBocmVmPSdodHRwczovL3d3dy56b29wbHVzLml0LycgdGFyZ2V0PSdfYmxhbmsnPlpvb1BsdXMgLSBBbmltYWxpPC9hPiAtIEltcG9ydGFuemEsIFN0ZWxsaW5lOiAgPGRpdiBjbGFzcz0nZm90b3N0ZWxsaW5lJz48aW1nICBzdHlsZT0ndmVydGljYWwtYWxpZ246bWlkZGxlOycgc3JjPScuLi9ncmFmaWNhLzRzdGVsbGUucG5nJyBhbHQ9JzRTdGVsbGluZSc+PC9kaXY+ICBMaW5rIEVzdGVzbzogPGEgaHJlZj0naHR0cHM6Ly93d3cuem9vcGx1cy5pdC8nIHRhcmdldD0nX2JsYW5rJz5odHRwczovL3d3dy56b29wbHVzLml0LzwvYT48L3A+ ICA8YSBocmVmPSdodHRwczovL3d3dy5raWFiaS5pdC8nIHRhcmdldD0nX2JsYW5rJz5LaWFiaTwvYT4gLSBJbXBvcnRhbnphLCBTdGVsbGluZTogIDxkaXYgY2xhc3M9J2ZvdG9zdGVsbGluZSc+PGltZyAgc3R5bGU9J3ZlcnRpY2FsLWFsaWduOm1pZGRsZTsnIHNyYz0nLi4vZ3JhZmljYS8zc3RlbGxlLnBuZycgYWx0PSczU3RlbGxpbmUnPjwvZGl2PiAgTGluayBFc3Rlc286IDxhIGhyZWY9J2h0dHBzOi8vd3d3LmtpYWJpLml0LycgdGFyZ2V0PSdfYmxhbmsnPmh0dHBzOi8vd3d3LmtpYWJpLml0LzwvYT48L3A+ ICA8YSBocmVmPSdodHRwczovL3d3dy5ldXJvbmljcy5pdC8nIHRhcmdldD0nX2JsYW5rJz5FdXJvbmljczwvYT4gLSBJbXBvcnRhbnphLCBTdGVsbGluZTogIDxkaXYgY2xhc3M9J2ZvdG9zdGVsbGluZSc+PGltZyAgc3R5bGU9J3ZlcnRpY2FsLWFsaWduOm1pZGRsZTsnIHNyYz0nLi4vZ3JhZmljYS80c3RlbGxlLnBuZycgYWx0PSc0U3RlbGxpbmUnPjwvZGl2PiAgTGluayBFc3Rlc286IDxhIGhyZWY9J2h0dHBzOi8vd3d3LmV1cm9uaWNzLml0LycgdGFyZ2V0PSdfYmxhbmsnPmh0dHBzOi8vd3d3LmV1cm9uaWNzLml0LzwvYT48L3A+ ICA8YSBocmVmPSdodHRwczovL3d3dy5zcGFydG9vLml0LycgdGFyZ2V0PSdfYmxhbmsnPlNwYXJ0b288L2E+IC0gSW1wb3J0YW56YSwgU3RlbGxpbmU6ICA8ZGl2IGNsYXNzPSdmb3Rvc3RlbGxpbmUnPjxpbWcgIHN0eWxlPSd2ZXJ0aWNhbC1hbGlnbjptaWRkbGU7JyBzcmM9Jy4uL2dyYWZpY2EvM3N0ZWxsZS5wbmcnIGFsdD0nM1N0ZWxsaW5lJz48L2Rpdj4gIExpbmsgRXN0ZXNvOiA8YSBocmVmPSdodHRwczovL3d3dy5zcGFydG9vLml0LycgdGFyZ2V0PSdfYmxhbmsnPmh0dHBzOi8vd3d3LnNwYXJ0b28uaXQvPC9hPjwvcD4= ICA8YSBocmVmPSdodHRwczovL3d3dy51bmlldXJvLml0JyB0YXJnZXQ9J19ibGFuayc+VW5pZXVybzwvYT4gLSBJbXBvcnRhbnphLCBTdGVsbGluZTogIDxkaXYgY2xhc3M9J2ZvdG9zdGVsbGluZSc+PGltZyAgc3R5bGU9J3ZlcnRpY2FsLWFsaWduOm1pZGRsZTsnIHNyYz0nLi4vZ3JhZmljYS80c3RlbGxlLnBuZycgYWx0PSc0U3RlbGxpbmUnPjwvZGl2PiAgTGluayBFc3Rlc286IDxhIGhyZWY9J2h0dHBzOi8vd3d3LnVuaWV1cm8uaXQnIHRhcmdldD0nX2JsYW5rJz5odHRwczovL3d3dy51bmlldXJvLml0PC9hPjwvcD4= ICA8YSBocmVmPSdodHRwczovL3d3dy5sYXJlZG91dGUuaXQvJyB0YXJnZXQ9J19ibGFuayc+TGFyZWRvdXRlLml0PC9hPiAtIEltcG9ydGFuemEsIFN0ZWxsaW5lOiAgPGRpdiBjbGFzcz0nZm90b3N0ZWxsaW5lJz48aW1nICBzdHlsZT0ndmVydGljYWwtYWxpZ246bWlkZGxlOycgc3JjPScuLi9ncmFmaWNhLzNzdGVsbGUucG5nJyBhbHQ9JzNTdGVsbGluZSc+PC9kaXY+ICBMaW5rIEVzdGVzbzogPGEgaHJlZj0naHR0cHM6Ly93d3cubGFyZWRvdXRlLml0LycgdGFyZ2V0PSdfYmxhbmsnPmh0dHBzOi8vd3d3LmxhcmVkb3V0ZS5pdC88L2E+PC9wPg== ICA8YSBocmVmPSdodHRwczovL3d3dy5pYnMuaXQvJyB0YXJnZXQ9J19ibGFuayc+SUJTIExpYnJpPC9hPiAtIEltcG9ydGFuemEsIFN0ZWxsaW5lOiAgPGRpdiBjbGFzcz0nZm90b3N0ZWxsaW5lJz48aW1nICBzdHlsZT0ndmVydGljYWwtYWxpZ246bWlkZGxlOycgc3JjPScuLi9ncmFmaWNhLzRzdGVsbGUucG5nJyBhbHQ9JzRTdGVsbGluZSc+PC9kaXY+ICBMaW5rIEVzdGVzbzogPGEgaHJlZj0naHR0cHM6Ly93d3cuaWJzLml0LycgdGFyZ2V0PSdfYmxhbmsnPmh0dHBzOi8vd3d3Lmlicy5pdC88L2E+PC9wPg== ICA8YSBocmVmPSdodHRwczovL3d3dy5ib3R0ZWdhdmVyZGUuaXQvJyB0YXJnZXQ9J19ibGFuayc+Qm90dGVnYVZlcmRlPC9hPiAtIEltcG9ydGFuemEsIFN0ZWxsaW5lOiAgPGRpdiBjbGFzcz0nZm90b3N0ZWxsaW5lJz48aW1nICBzdHlsZT0ndmVydGljYWwtYWxpZ246bWlkZGxlOycgc3JjPScuLi9ncmFmaWNhLzVzdGVsbGUucG5nJyBhbHQ9JzVTdGVsbGluZSc+PC9kaXY+ICBMaW5rIEVzdGVzbzogPGEgaHJlZj0naHR0cHM6Ly93d3cuYm90dGVnYXZlcmRlLml0LycgdGFyZ2V0PSdfYmxhbmsnPmh0dHBzOi8vd3d3LmJvdHRlZ2F2ZXJkZS5pdC88L2E+PC9wPg==
Database Informativi - My Personal Ranking
ICA8YSBocmVmPSdodHRwczovL3d3dy53aWtpcGVkaWEub3JnLycgdGFyZ2V0PSdfYmxhbmsnPldpa2lwZWRpYTwvYT4gLSBJbXBvcnRhbnphLCBTdGVsbGluZTogIDxkaXYgY2xhc3M9J2ZvdG9zdGVsbGluZSc+PGltZyAgc3R5bGU9J3ZlcnRpY2FsLWFsaWduOm1pZGRsZTsnIHNyYz0nLi4vZ3JhZmljYS81c3RlbGxlLnBuZycgYWx0PSc1U3RlbGxpbmUnPjwvZGl2PiAgTGluayBFc3Rlc286IDxhIGhyZWY9J2h0dHBzOi8vd3d3Lndpa2lwZWRpYS5vcmcvJyB0YXJnZXQ9J19ibGFuayc+aHR0cHM6Ly93d3cud2lraXBlZGlhLm9yZy88L2E+PC9wPg== ICA8YSBocmVmPSdodHRwczovL3d3dy5pbnN0cnVjdGFibGVzLmNvbS8nIHRhcmdldD0nX2JsYW5rJz5JbnN0cnVjdGFibGVzPC9hPiAtIEltcG9ydGFuemEsIFN0ZWxsaW5lOiAgPGRpdiBjbGFzcz0nZm90b3N0ZWxsaW5lJz48aW1nICBzdHlsZT0ndmVydGljYWwtYWxpZ246bWlkZGxlOycgc3JjPScuLi9ncmFmaWNhLzVzdGVsbGUucG5nJyBhbHQ9JzVTdGVsbGluZSc+PC9kaXY+ICBMaW5rIEVzdGVzbzogPGEgaHJlZj0naHR0cHM6Ly93d3cuaW5zdHJ1Y3RhYmxlcy5jb20vJyB0YXJnZXQ9J19ibGFuayc+aHR0cHM6Ly93d3cuaW5zdHJ1Y3RhYmxlcy5jb20vPC9hPjwvcD4= ICA8YSBocmVmPSdodHRwOi8vd3d3LnNhcGVyZS5pdC8nIHRhcmdldD0nX2JsYW5rJz5TYXBlcmUuaXQ8L2E+IC0gSW1wb3J0YW56YSwgU3RlbGxpbmU6ICA8ZGl2IGNsYXNzPSdmb3Rvc3RlbGxpbmUnPjxpbWcgIHN0eWxlPSd2ZXJ0aWNhbC1hbGlnbjptaWRkbGU7JyBzcmM9Jy4uL2dyYWZpY2EvNHN0ZWxsZS5wbmcnIGFsdD0nNFN0ZWxsaW5lJz48L2Rpdj4gIExpbmsgRXN0ZXNvOiA8YSBocmVmPSdodHRwOi8vd3d3LnNhcGVyZS5pdC8nIHRhcmdldD0nX2JsYW5rJz5odHRwOi8vd3d3LnNhcGVyZS5pdC88L2E+PC9wPg== ICA8YSBocmVmPSdodHRwczovL3d3dy5pbWRiLmNvbS8nIHRhcmdldD0nX2JsYW5rJz5JbWRiPC9hPiAtIEltcG9ydGFuemEsIFN0ZWxsaW5lOiAgPGRpdiBjbGFzcz0nZm90b3N0ZWxsaW5lJz48aW1nICBzdHlsZT0ndmVydGljYWwtYWxpZ246bWlkZGxlOycgc3JjPScuLi9ncmFmaWNhLzVzdGVsbGUucG5nJyBhbHQ9JzVTdGVsbGluZSc+PC9kaXY+ICBMaW5rIEVzdGVzbzogPGEgaHJlZj0naHR0cHM6Ly93d3cuaW1kYi5jb20vJyB0YXJnZXQ9J19ibGFuayc+aHR0cHM6Ly93d3cuaW1kYi5jb20vPC9hPjwvcD4= ICA8YSBocmVmPSdodHRwczovL3d3dy5hbGxtdXNpYy5jb20vJyB0YXJnZXQ9J19ibGFuayc+QWxsbXVzaWMgRGF0YWJhc2U8L2E+IC0gSW1wb3J0YW56YSwgU3RlbGxpbmU6ICA8ZGl2IGNsYXNzPSdmb3Rvc3RlbGxpbmUnPjxpbWcgIHN0eWxlPSd2ZXJ0aWNhbC1hbGlnbjptaWRkbGU7JyBzcmM9Jy4uL2dyYWZpY2EvNHN0ZWxsZS5wbmcnIGFsdD0nNFN0ZWxsaW5lJz48L2Rpdj4gIExpbmsgRXN0ZXNvOiA8YSBocmVmPSdodHRwczovL3d3dy5hbGxtdXNpYy5jb20vJyB0YXJnZXQ9J19ibGFuayc+aHR0cHM6Ly93d3cuYWxsbXVzaWMuY29tLzwvYT48L3A+ ICA8YSBocmVmPSdodHRwczovL3d3dy5teS1wZXJzb25hbHRyYWluZXIuaXQvJyB0YXJnZXQ9J19ibGFuayc+TXkgUGVyc29uYWwgVHJhaW5lciAtIFNhbHV0ZSBlIERpZXRlPC9hPiAtIEltcG9ydGFuemEsIFN0ZWxsaW5lOiAgPGRpdiBjbGFzcz0nZm90b3N0ZWxsaW5lJz48aW1nICBzdHlsZT0ndmVydGljYWwtYWxpZ246bWlkZGxlOycgc3JjPScuLi9ncmFmaWNhLzVzdGVsbGUucG5nJyBhbHQ9JzVTdGVsbGluZSc+PC9kaXY+ICBMaW5rIEVzdGVzbzogPGEgaHJlZj0naHR0cHM6Ly93d3cubXktcGVyc29uYWx0cmFpbmVyLml0LycgdGFyZ2V0PSdfYmxhbmsnPmh0dHBzOi8vd3d3Lm15LXBlcnNvbmFsdHJhaW5lci5pdC88L2E+PC9wPg== ICA8YSBocmVmPSdodHRwOi8vd3d3Lm1vbmRpLml0L2FsbWFuYWNjby8nIHRhcmdldD0nX2JsYW5rJz5BbG1hbmFjY28gZGVsIEdpb3JubzwvYT4gLSBJbXBvcnRhbnphLCBTdGVsbGluZTogIDxkaXYgY2xhc3M9J2ZvdG9zdGVsbGluZSc+PGltZyAgc3R5bGU9J3ZlcnRpY2FsLWFsaWduOm1pZGRsZTsnIHNyYz0nLi4vZ3JhZmljYS80c3RlbGxlLnBuZycgYWx0PSc0U3RlbGxpbmUnPjwvZGl2PiAgTGluayBFc3Rlc286IDxhIGhyZWY9J2h0dHA6Ly93d3cubW9uZGkuaXQvYWxtYW5hY2NvLycgdGFyZ2V0PSdfYmxhbmsnPmh0dHA6Ly93d3cubW9uZGkuaXQvYWxtYW5hY2NvLzwvYT48L3A+ ICA8YSBocmVmPSdodHRwczovL3d3dy5xdW9yYS5jb20vJyB0YXJnZXQ9J19ibGFuayc+UXVvcmEgLSBSaWNoaWVkZSBSZWdpc3RyYXppb25lPC9hPiAtIEltcG9ydGFuemEsIFN0ZWxsaW5lOiAgPGRpdiBjbGFzcz0nZm90b3N0ZWxsaW5lJz48aW1nICBzdHlsZT0ndmVydGljYWwtYWxpZ246bWlkZGxlOycgc3JjPScuLi9ncmFmaWNhLzVzdGVsbGUucG5nJyBhbHQ9JzVTdGVsbGluZSc+PC9kaXY+ICBMaW5rIEVzdGVzbzogPGEgaHJlZj0naHR0cHM6Ly93d3cucXVvcmEuY29tLycgdGFyZ2V0PSdfYmxhbmsnPmh0dHBzOi8vd3d3LnF1b3JhLmNvbS88L2E+PC9wPg== ICA8YSBocmVmPSdodHRwczovL2Jpb2dyYWZpZW9ubGluZS5pdC8nIHRhcmdldD0nX2JsYW5rJz5CaW9ncmFmaWU8L2E+IC0gSW1wb3J0YW56YSwgU3RlbGxpbmU6ICA8ZGl2IGNsYXNzPSdmb3Rvc3RlbGxpbmUnPjxpbWcgIHN0eWxlPSd2ZXJ0aWNhbC1hbGlnbjptaWRkbGU7JyBzcmM9Jy4uL2dyYWZpY2EvNHN0ZWxsZS5wbmcnIGFsdD0nNFN0ZWxsaW5lJz48L2Rpdj4gIExpbmsgRXN0ZXNvOiA8YSBocmVmPSdodHRwczovL2Jpb2dyYWZpZW9ubGluZS5pdC8nIHRhcmdldD0nX2JsYW5rJz5odHRwczovL2Jpb2dyYWZpZW9ubGluZS5pdC88L2E+PC9wPg== ICA8YSBocmVmPSdodHRwOi8vd3d3LnNjaG9sYXJwZWRpYS5vcmcvJyB0YXJnZXQ9J19ibGFuayc+U2Nob2xhcnBlZGlhPC9hPiAtIEltcG9ydGFuemEsIFN0ZWxsaW5lOiAgPGRpdiBjbGFzcz0nZm90b3N0ZWxsaW5lJz48aW1nICBzdHlsZT0ndmVydGljYWwtYWxpZ246bWlkZGxlOycgc3JjPScuLi9ncmFmaWNhLzRzdGVsbGUucG5nJyBhbHQ9JzRTdGVsbGluZSc+PC9kaXY+ICBMaW5rIEVzdGVzbzogPGEgaHJlZj0naHR0cDovL3d3dy5zY2hvbGFycGVkaWEub3JnLycgdGFyZ2V0PSdfYmxhbmsnPmh0dHA6Ly93d3cuc2Nob2xhcnBlZGlhLm9yZy88L2E+PC9wPg== ICA8YSBocmVmPSdodHRwOi8vd3d3LmRlYmF0ZXBlZGlhLm9yZy8nIHRhcmdldD0nX2JsYW5rJz5EZWJhdGVwZWRpYTwvYT4gLSBJbXBvcnRhbnphLCBTdGVsbGluZTogIDxkaXYgY2xhc3M9J2ZvdG9zdGVsbGluZSc+PGltZyAgc3R5bGU9J3ZlcnRpY2FsLWFsaWduOm1pZGRsZTsnIHNyYz0nLi4vZ3JhZmljYS8zc3RlbGxlLnBuZycgYWx0PSczU3RlbGxpbmUnPjwvZGl2PiAgTGluayBFc3Rlc286IDxhIGhyZWY9J2h0dHA6Ly93d3cuZGViYXRlcGVkaWEub3JnLycgdGFyZ2V0PSdfYmxhbmsnPmh0dHA6Ly93d3cuZGViYXRlcGVkaWEub3JnLzwvYT48L3A+ ICA8YSBocmVmPSdodHRwczovL3NjaG9sYXIuZ29vZ2xlLmNvbS8nIHRhcmdldD0nX2JsYW5rJz5Hb29nbGUgU2Nob2xhcjwvYT4gLSBJbXBvcnRhbnphLCBTdGVsbGluZTogIDxkaXYgY2xhc3M9J2ZvdG9zdGVsbGluZSc+PGltZyAgc3R5bGU9J3ZlcnRpY2FsLWFsaWduOm1pZGRsZTsnIHNyYz0nLi4vZ3JhZmljYS81c3RlbGxlLnBuZycgYWx0PSc1U3RlbGxpbmUnPjwvZGl2PiAgTGluayBFc3Rlc286IDxhIGhyZWY9J2h0dHBzOi8vc2Nob2xhci5nb29nbGUuY29tLycgdGFyZ2V0PSdfYmxhbmsnPmh0dHBzOi8vc2Nob2xhci5nb29nbGUuY29tLzwvYT48L3A+ ICA8YSBocmVmPSdodHRwczovL3d3dy51cmJhbmRpY3Rpb25hcnkuY29tLycgdGFyZ2V0PSdfYmxhbmsnPlVyYmFuIERpY3Rpb25hcnk8L2E+IC0gSW1wb3J0YW56YSwgU3RlbGxpbmU6ICA8ZGl2IGNsYXNzPSdmb3Rvc3RlbGxpbmUnPjxpbWcgIHN0eWxlPSd2ZXJ0aWNhbC1hbGlnbjptaWRkbGU7JyBzcmM9Jy4uL2dyYWZpY2EvNXN0ZWxsZS5wbmcnIGFsdD0nNVN0ZWxsaW5lJz48L2Rpdj4gIExpbmsgRXN0ZXNvOiA8YSBocmVmPSdodHRwczovL3d3dy51cmJhbmRpY3Rpb25hcnkuY29tLycgdGFyZ2V0PSdfYmxhbmsnPmh0dHBzOi8vd3d3LnVyYmFuZGljdGlvbmFyeS5jb20vPC9hPjwvcD4= ICA8YSBocmVmPSdodHRwczovL3d3dy5zeW1ib2xzLmNvbS8nIHRhcmdldD0nX2JsYW5rJz5TaW1ib2xpPC9hPiAtIEltcG9ydGFuemEsIFN0ZWxsaW5lOiAgPGRpdiBjbGFzcz0nZm90b3N0ZWxsaW5lJz48aW1nICBzdHlsZT0ndmVydGljYWwtYWxpZ246bWlkZGxlOycgc3JjPScuLi9ncmFmaWNhLzVzdGVsbGUucG5nJyBhbHQ9JzVTdGVsbGluZSc+PC9kaXY+ICBMaW5rIEVzdGVzbzogPGEgaHJlZj0naHR0cHM6Ly93d3cuc3ltYm9scy5jb20vJyB0YXJnZXQ9J19ibGFuayc+aHR0cHM6Ly93d3cuc3ltYm9scy5jb20vPC9hPjwvcD4= ICA8YSBocmVmPSdodHRwczovL3d3dy5zbm9wZXMuY29tLycgdGFyZ2V0PSdfYmxhbmsnPlNub3BlcyAtIExlZ2dlbmRlIGUgbWl0aSBkZWwgd2ViPC9hPiAtIEltcG9ydGFuemEsIFN0ZWxsaW5lOiAgPGRpdiBjbGFzcz0nZm90b3N0ZWxsaW5lJz48aW1nICBzdHlsZT0ndmVydGljYWwtYWxpZ246bWlkZGxlOycgc3JjPScuLi9ncmFmaWNhLzRzdGVsbGUucG5nJyBhbHQ9JzRTdGVsbGluZSc+PC9kaXY+ICBMaW5rIEVzdGVzbzogPGEgaHJlZj0naHR0cHM6Ly93d3cuc25vcGVzLmNvbS8nIHRhcmdldD0nX2JsYW5rJz5odHRwczovL3d3dy5zbm9wZXMuY29tLzwvYT48L3A+ ICA8YSBocmVmPSdodHRwOi8vd3d3LmFydGN5Y2xvcGVkaWEuY29tLycgdGFyZ2V0PSdfYmxhbmsnPkFydGN5Y2xvcGVkaWE8L2E+IC0gSW1wb3J0YW56YSwgU3RlbGxpbmU6ICA8ZGl2IGNsYXNzPSdmb3Rvc3RlbGxpbmUnPjxpbWcgIHN0eWxlPSd2ZXJ0aWNhbC1hbGlnbjptaWRkbGU7JyBzcmM9Jy4uL2dyYWZpY2EvNXN0ZWxsZS5wbmcnIGFsdD0nNVN0ZWxsaW5lJz48L2Rpdj4gIExpbmsgRXN0ZXNvOiA8YSBocmVmPSdodHRwOi8vd3d3LmFydGN5Y2xvcGVkaWEuY29tLycgdGFyZ2V0PSdfYmxhbmsnPmh0dHA6Ly93d3cuYXJ0Y3ljbG9wZWRpYS5jb20vPC9hPjwvcD4= ICA8YSBocmVmPSdodHRwczovL2VkaXRvcnMuZW9sLm9yZy9lb2VhcnRoL3dpa2kvVGhlX0VuY3ljbG9wZWRpYV9vZl9FYXJ0aCcgdGFyZ2V0PSdfYmxhbmsnPlRoZSBFbmN5Y2xvcGVkaWEgb2YgRWFydGg8L2E+IC0gSW1wb3J0YW56YSwgU3RlbGxpbmU6ICA8ZGl2IGNsYXNzPSdmb3Rvc3RlbGxpbmUnPjxpbWcgIHN0eWxlPSd2ZXJ0aWNhbC1hbGlnbjptaWRkbGU7JyBzcmM9Jy4uL2dyYWZpY2EvM3N0ZWxsZS5wbmcnIGFsdD0nM1N0ZWxsaW5lJz48L2Rpdj4gIExpbmsgRXN0ZXNvOiA8YSBocmVmPSdodHRwczovL2VkaXRvcnMuZW9sLm9yZy9lb2VhcnRoL3dpa2kvVGhlX0VuY3ljbG9wZWRpYV9vZl9FYXJ0aCcgdGFyZ2V0PSdfYmxhbmsnPmh0dHBzOi8vZWRpdG9ycy5lb2wub3JnL2VvZWFydGgvd2lraS9UaGVfRW5jeWNsb3BlZGlhX29mX0VhcnRoPC9hPjwvcD4= ICA8YSBocmVmPSdodHRwczovL25vbmNpY2xvcGVkaWEub3JnLycgdGFyZ2V0PSdfYmxhbmsnPk5vbmNpY2xvcGVkaWEgLSBTYXRpcmljYTwvYT4gLSBJbXBvcnRhbnphLCBTdGVsbGluZTogIDxkaXYgY2xhc3M9J2ZvdG9zdGVsbGluZSc+PGltZyAgc3R5bGU9J3ZlcnRpY2FsLWFsaWduOm1pZGRsZTsnIHNyYz0nLi4vZ3JhZmljYS81c3RlbGxlLnBuZycgYWx0PSc1U3RlbGxpbmUnPjwvZGl2PiAgTGluayBFc3Rlc286IDxhIGhyZWY9J2h0dHBzOi8vbm9uY2ljbG9wZWRpYS5vcmcvJyB0YXJnZXQ9J19ibGFuayc+aHR0cHM6Ly9ub25jaWNsb3BlZGlhLm9yZy88L2E+PC9wPg== ICA8YSBocmVmPSdodHRwczovL3d3dy5tb2plZWsuZGUvJyB0YXJnZXQ9J19ibGFuayc+TW9qZWVrIC0gZGljaGlhcmF0byBuZXV0cmFsZTwvYT4gLSBJbXBvcnRhbnphLCBTdGVsbGluZTogIDxkaXYgY2xhc3M9J2ZvdG9zdGVsbGluZSc+PGltZyAgc3R5bGU9J3ZlcnRpY2FsLWFsaWduOm1pZGRsZTsnIHNyYz0nLi4vZ3JhZmljYS81c3RlbGxlLnBuZycgYWx0PSc1U3RlbGxpbmUnPjwvZGl2PiAgTGluayBFc3Rlc286IDxhIGhyZWY9J2h0dHBzOi8vd3d3Lm1vamVlay5kZS8nIHRhcmdldD0nX2JsYW5rJz5odHRwczovL3d3dy5tb2plZWsuZGUvPC9hPjwvcD4=
Motori di Ricerca - My Personal Ranking
ICA8YSBocmVmPSdodHRwczovL3d3dy5nb29nbGUuY29tLycgdGFyZ2V0PSdfYmxhbmsnPkdvb2dsZTwvYT4gLSBJbXBvcnRhbnphLCBTdGVsbGluZTogIDxkaXYgY2xhc3M9J2ZvdG9zdGVsbGluZSc+PGltZyAgc3R5bGU9J3ZlcnRpY2FsLWFsaWduOm1pZGRsZTsnIHNyYz0nLi4vZ3JhZmljYS81c3RlbGxlLnBuZycgYWx0PSc1U3RlbGxpbmUnPjwvZGl2PiAgTGluayBFc3Rlc286IDxhIGhyZWY9J2h0dHBzOi8vd3d3Lmdvb2dsZS5jb20vJyB0YXJnZXQ9J19ibGFuayc+aHR0cHM6Ly93d3cuZ29vZ2xlLmNvbS88L2E+PC9wPg== ICA8YSBocmVmPSdodHRwczovL3d3dy55YWhvby5jb20vJyB0YXJnZXQ9J19ibGFuayc+WWFob288L2E+IC0gSW1wb3J0YW56YSwgU3RlbGxpbmU6ICA8ZGl2IGNsYXNzPSdmb3Rvc3RlbGxpbmUnPjxpbWcgIHN0eWxlPSd2ZXJ0aWNhbC1hbGlnbjptaWRkbGU7JyBzcmM9Jy4uL2dyYWZpY2EvNXN0ZWxsZS5wbmcnIGFsdD0nNVN0ZWxsaW5lJz48L2Rpdj4gIExpbmsgRXN0ZXNvOiA8YSBocmVmPSdodHRwczovL3d3dy55YWhvby5jb20vJyB0YXJnZXQ9J19ibGFuayc+aHR0cHM6Ly93d3cueWFob28uY29tLzwvYT48L3A+ ICA8YSBocmVmPSdodHRwOi8vd3d3LmJpbmcuY29tLycgdGFyZ2V0PSdfYmxhbmsnPkJpbmc8L2E+IC0gSW1wb3J0YW56YSwgU3RlbGxpbmU6ICA8ZGl2IGNsYXNzPSdmb3Rvc3RlbGxpbmUnPjxpbWcgIHN0eWxlPSd2ZXJ0aWNhbC1hbGlnbjptaWRkbGU7JyBzcmM9Jy4uL2dyYWZpY2EvNXN0ZWxsZS5wbmcnIGFsdD0nNVN0ZWxsaW5lJz48L2Rpdj4gIExpbmsgRXN0ZXNvOiA8YSBocmVmPSdodHRwOi8vd3d3LmJpbmcuY29tLycgdGFyZ2V0PSdfYmxhbmsnPmh0dHA6Ly93d3cuYmluZy5jb20vPC9hPjwvcD4= ICA8YSBocmVmPSdodHRwczovL2R1Y2tkdWNrZ28uY29tLycgdGFyZ2V0PSdfYmxhbmsnPkR1Y2tEdWNrR28gLSBhbm9uaW1vPC9hPiAtIEltcG9ydGFuemEsIFN0ZWxsaW5lOiAgPGRpdiBjbGFzcz0nZm90b3N0ZWxsaW5lJz48aW1nICBzdHlsZT0ndmVydGljYWwtYWxpZ246bWlkZGxlOycgc3JjPScuLi9ncmFmaWNhLzVzdGVsbGUucG5nJyBhbHQ9JzVTdGVsbGluZSc+PC9kaXY+ICBMaW5rIEVzdGVzbzogPGEgaHJlZj0naHR0cHM6Ly9kdWNrZHVja2dvLmNvbS8nIHRhcmdldD0nX2JsYW5rJz5odHRwczovL2R1Y2tkdWNrZ28uY29tLzwvYT48L3A+ ICA8YSBocmVmPSdodHRwczovL3d3dy5zdGFydHBhZ2UuY29tLycgdGFyZ2V0PSdfYmxhbmsnPlN0YXJwYWdlIC0gQW5vbmltbzwvYT4gLSBJbXBvcnRhbnphLCBTdGVsbGluZTogIDxkaXYgY2xhc3M9J2ZvdG9zdGVsbGluZSc+PGltZyAgc3R5bGU9J3ZlcnRpY2FsLWFsaWduOm1pZGRsZTsnIHNyYz0nLi4vZ3JhZmljYS81c3RlbGxlLnBuZycgYWx0PSc1U3RlbGxpbmUnPjwvZGl2PiAgTGluayBFc3Rlc286IDxhIGhyZWY9J2h0dHBzOi8vd3d3LnN0YXJ0cGFnZS5jb20vJyB0YXJnZXQ9J19ibGFuayc+aHR0cHM6Ly93d3cuc3RhcnRwYWdlLmNvbS88L2E+PC9wPg== ICA8YSBocmVmPSdodHRwczovL3d3dy5xd2FudC5jb20vP2w9aXQnIHRhcmdldD0nX2JsYW5rJz5Rd2FudDwvYT4gLSBJbXBvcnRhbnphLCBTdGVsbGluZTogIDxkaXYgY2xhc3M9J2ZvdG9zdGVsbGluZSc+PGltZyAgc3R5bGU9J3ZlcnRpY2FsLWFsaWduOm1pZGRsZTsnIHNyYz0nLi4vZ3JhZmljYS8zc3RlbGxlLnBuZycgYWx0PSczU3RlbGxpbmUnPjwvZGl2PiAgTGluayBFc3Rlc286IDxhIGhyZWY9J2h0dHBzOi8vd3d3LnF3YW50LmNvbS8/bD1pdCcgdGFyZ2V0PSdfYmxhbmsnPmh0dHBzOi8vd3d3LnF3YW50LmNvbS8/bD1pdDwvYT48L3A+ ICA8YSBocmVmPSdodHRwczovL21ldGFnZXIub3JnLycgdGFyZ2V0PSdfYmxhbmsnPk1ldGFnZXIgLSBhbm9uaW1vPC9hPiAtIEltcG9ydGFuemEsIFN0ZWxsaW5lOiAgPGRpdiBjbGFzcz0nZm90b3N0ZWxsaW5lJz48aW1nICBzdHlsZT0ndmVydGljYWwtYWxpZ246bWlkZGxlOycgc3JjPScuLi9ncmFmaWNhLzNzdGVsbGUucG5nJyBhbHQ9JzNTdGVsbGluZSc+PC9kaXY+ICBMaW5rIEVzdGVzbzogPGEgaHJlZj0naHR0cHM6Ly9tZXRhZ2VyLm9yZy8nIHRhcmdldD0nX2JsYW5rJz5odHRwczovL21ldGFnZXIub3JnLzwvYT48L3A+ ICA8YSBocmVmPSdodHRwczovL3d3dy5leGFsZWFkLmNvbS8nIHRhcmdldD0nX2JsYW5rJz5leGFsZWFkIGV4IHByb2dldHRvIHVlIFF1YWVybzwvYT4gLSBJbXBvcnRhbnphLCBTdGVsbGluZTogIDxkaXYgY2xhc3M9J2ZvdG9zdGVsbGluZSc+PGltZyAgc3R5bGU9J3ZlcnRpY2FsLWFsaWduOm1pZGRsZTsnIHNyYz0nLi4vZ3JhZmljYS80c3RlbGxlLnBuZycgYWx0PSc0U3RlbGxpbmUnPjwvZGl2PiAgTGluayBFc3Rlc286IDxhIGhyZWY9J2h0dHBzOi8vd3d3LmV4YWxlYWQuY29tLycgdGFyZ2V0PSdfYmxhbmsnPmh0dHBzOi8vd3d3LmV4YWxlYWQuY29tLzwvYT48L3A+ ICA8YSBocmVmPSdodHRwczovL3d3dy53b2xmcmFtYWxwaGEuY29tLycgdGFyZ2V0PSdfYmxhbmsnPndvbGZyYW1hbHBoYSAtIHNjaWVudGlmaWNvIC0gbGluZ3VhIGluZ2xlc2U8L2E+IC0gSW1wb3J0YW56YSwgU3RlbGxpbmU6ICA8ZGl2IGNsYXNzPSdmb3Rvc3RlbGxpbmUnPjxpbWcgIHN0eWxlPSd2ZXJ0aWNhbC1hbGlnbjptaWRkbGU7JyBzcmM9Jy4uL2dyYWZpY2EvNXN0ZWxsZS5wbmcnIGFsdD0nNVN0ZWxsaW5lJz48L2Rpdj4gIExpbmsgRXN0ZXNvOiA8YSBocmVmPSdodHRwczovL3d3dy53b2xmcmFtYWxwaGEuY29tLycgdGFyZ2V0PSdfYmxhbmsnPmh0dHBzOi8vd3d3LndvbGZyYW1hbHBoYS5jb20vPC9hPjwvcD4= ICA8YSBocmVmPSdodHRwOi8vY2l0ZXNlZXJ4LmlzdC5wc3UuZWR1LycgdGFyZ2V0PSdfYmxhbmsnPkNpdGVzZWVyeCAtIENpdGF6aW9uaSAtICBsZXR0ZXJhdHVyYSBzY2llbnRpZmljYTwvYT4gLSBJbXBvcnRhbnphLCBTdGVsbGluZTogIDxkaXYgY2xhc3M9J2ZvdG9zdGVsbGluZSc+PGltZyAgc3R5bGU9J3ZlcnRpY2FsLWFsaWduOm1pZGRsZTsnIHNyYz0nLi4vZ3JhZmljYS80c3RlbGxlLnBuZycgYWx0PSc0U3RlbGxpbmUnPjwvZGl2PiAgTGluayBFc3Rlc286IDxhIGhyZWY9J2h0dHA6Ly9jaXRlc2VlcnguaXN0LnBzdS5lZHUvJyB0YXJnZXQ9J19ibGFuayc+aHR0cDovL2NpdGVzZWVyeC5pc3QucHN1LmVkdS88L2E+PC9wPg== ICA8YSBocmVmPSdodHRwczovL3NlYXJjaC5jcmVhdGl2ZWNvbW1vbnMub3JnLycgdGFyZ2V0PSdfYmxhbmsnPlJpY2VyY2EgaW1tYWdpbmkgY3JlYXRpdmVjb21tb25zPC9hPiAtIEltcG9ydGFuemEsIFN0ZWxsaW5lOiAgPGRpdiBjbGFzcz0nZm90b3N0ZWxsaW5lJz48aW1nICBzdHlsZT0ndmVydGljYWwtYWxpZ246bWlkZGxlOycgc3JjPScuLi9ncmFmaWNhLzVzdGVsbGUucG5nJyBhbHQ9JzVTdGVsbGluZSc+PC9kaXY+ICBMaW5rIEVzdGVzbzogPGEgaHJlZj0naHR0cHM6Ly9zZWFyY2guY3JlYXRpdmVjb21tb25zLm9yZy8nIHRhcmdldD0nX2JsYW5rJz5odHRwczovL3NlYXJjaC5jcmVhdGl2ZWNvbW1vbnMub3JnLzwvYT48L3A+ ICA8YSBocmVmPSdodHRwczovL3BpeGFiYXkuY29tLycgdGFyZ2V0PSdfYmxhbmsnPlBpeGFiYXkgLSBpbW1hZ2luaTwvYT4gLSBJbXBvcnRhbnphLCBTdGVsbGluZTogIDxkaXYgY2xhc3M9J2ZvdG9zdGVsbGluZSc+PGltZyAgc3R5bGU9J3ZlcnRpY2FsLWFsaWduOm1pZGRsZTsnIHNyYz0nLi4vZ3JhZmljYS81c3RlbGxlLnBuZycgYWx0PSc1U3RlbGxpbmUnPjwvZGl2PiAgTGluayBFc3Rlc286IDxhIGhyZWY9J2h0dHBzOi8vcGl4YWJheS5jb20vJyB0YXJnZXQ9J19ibGFuayc+aHR0cHM6Ly9waXhhYmF5LmNvbS88L2E+PC9wPg== ICA8YSBocmVmPSdodHRwczovL3RpbmV5ZS5jb20vJyB0YXJnZXQ9J19ibGFuayc+UmV2ZXJzZSBJbWFnZSBTZWFyY2ggLSBEb3ZlIOggYXBwYXJzYSBsJ2ltbWFnaW5lPC9hPiAtIEltcG9ydGFuemEsIFN0ZWxsaW5lOiAgPGRpdiBjbGFzcz0nZm90b3N0ZWxsaW5lJz48aW1nICBzdHlsZT0ndmVydGljYWwtYWxpZ246bWlkZGxlOycgc3JjPScuLi9ncmFmaWNhLzRzdGVsbGUucG5nJyBhbHQ9JzRTdGVsbGluZSc+PC9kaXY+ICBMaW5rIEVzdGVzbzogPGEgaHJlZj0naHR0cHM6Ly90aW5leWUuY29tLycgdGFyZ2V0PSdfYmxhbmsnPmh0dHBzOi8vdGluZXllLmNvbS88L2E+PC9wPg== ICA8YSBocmVmPSdodHRwczovL3d3dy5hc2suY29tLycgdGFyZ2V0PSdfYmxhbmsnPkFzazwvYT4gLSBJbXBvcnRhbnphLCBTdGVsbGluZTogIDxkaXYgY2xhc3M9J2ZvdG9zdGVsbGluZSc+PGltZyAgc3R5bGU9J3ZlcnRpY2FsLWFsaWduOm1pZGRsZTsnIHNyYz0nLi4vZ3JhZmljYS8zc3RlbGxlLnBuZycgYWx0PSczU3RlbGxpbmUnPjwvZGl2PiAgTGluayBFc3Rlc286IDxhIGhyZWY9J2h0dHBzOi8vd3d3LmFzay5jb20vJyB0YXJnZXQ9J19ibGFuayc+aHR0cHM6Ly93d3cuYXNrLmNvbS88L2E+PC9wPg== ICA8YSBocmVmPSdodHRwczovL3d3dy5wYWdpbmVnaWFsbGUuaXQvJyB0YXJnZXQ9J19ibGFuayc+UGFnaW5lIEdpYWxsZTwvYT4gLSBJbXBvcnRhbnphLCBTdGVsbGluZTogIDxkaXYgY2xhc3M9J2ZvdG9zdGVsbGluZSc+PGltZyAgc3R5bGU9J3ZlcnRpY2FsLWFsaWduOm1pZGRsZTsnIHNyYz0nLi4vZ3JhZmljYS8zc3RlbGxlLnBuZycgYWx0PSczU3RlbGxpbmUnPjwvZGl2PiAgTGluayBFc3Rlc286IDxhIGhyZWY9J2h0dHBzOi8vd3d3LnBhZ2luZWdpYWxsZS5pdC8nIHRhcmdldD0nX2JsYW5rJz5odHRwczovL3d3dy5wYWdpbmVnaWFsbGUuaXQvPC9hPjwvcD4= ICA8YSBocmVmPSdodHRwczovL3d3dy50cm92aXQuaXQvJyB0YXJnZXQ9J19ibGFuayc+VHJvdml0PC9hPiAtIEltcG9ydGFuemEsIFN0ZWxsaW5lOiAgPGRpdiBjbGFzcz0nZm90b3N0ZWxsaW5lJz48aW1nICBzdHlsZT0ndmVydGljYWwtYWxpZ246bWlkZGxlOycgc3JjPScuLi9ncmFmaWNhLzNzdGVsbGUucG5nJyBhbHQ9JzNTdGVsbGluZSc+PC9kaXY+ICBMaW5rIEVzdGVzbzogPGEgaHJlZj0naHR0cHM6Ly93d3cudHJvdml0Lml0LycgdGFyZ2V0PSdfYmxhbmsnPmh0dHBzOi8vd3d3LnRyb3ZpdC5pdC88L2E+PC9wPg== ICA8YSBocmVmPSdodHRwczovL3dlYi5hcmNoaXZlLm9yZy8nIHRhcmdldD0nX2JsYW5rJz5TaXRpIGFyY2hpdmlhdGk8L2E+IC0gSW1wb3J0YW56YSwgU3RlbGxpbmU6ICA8ZGl2IGNsYXNzPSdmb3Rvc3RlbGxpbmUnPjxpbWcgIHN0eWxlPSd2ZXJ0aWNhbC1hbGlnbjptaWRkbGU7JyBzcmM9Jy4uL2dyYWZpY2EvNXN0ZWxsZS5wbmcnIGFsdD0nNVN0ZWxsaW5lJz48L2Rpdj4gIExpbmsgRXN0ZXNvOiA8YSBocmVmPSdodHRwczovL3dlYi5hcmNoaXZlLm9yZy8nIHRhcmdldD0nX2JsYW5rJz5odHRwczovL3dlYi5hcmNoaXZlLm9yZy88L2E+PC9wPg== ICA8YSBocmVmPSdodHRwczovL2hhdmVpYmVlbnB3bmVkLmNvbS9QYXNzd29yZHMnIHRhcmdldD0nX2JsYW5rJz5Db250cm9sbG8gUGFzc3dvcmQgQ29tcHJvbWVzc2U8L2E+IC0gSW1wb3J0YW56YSwgU3RlbGxpbmU6ICA8ZGl2IGNsYXNzPSdmb3Rvc3RlbGxpbmUnPjxpbWcgIHN0eWxlPSd2ZXJ0aWNhbC1hbGlnbjptaWRkbGU7JyBzcmM9Jy4uL2dyYWZpY2EvNXN0ZWxsZS5wbmcnIGFsdD0nNVN0ZWxsaW5lJz48L2Rpdj4gIExpbmsgRXN0ZXNvOiA8YSBocmVmPSdodHRwczovL2hhdmVpYmVlbnB3bmVkLmNvbS9QYXNzd29yZHMnIHRhcmdldD0nX2JsYW5rJz5odHRwczovL2hhdmVpYmVlbnB3bmVkLmNvbS9QYXNzd29yZHM8L2E+PC9wPg==
Email - My Personal Ranking
ICA8YSBocmVmPSdodHRwczovL3d3dy5nb29nbGUuY29tL2dtYWlsLycgdGFyZ2V0PSdfYmxhbmsnPkdtYWlsPC9hPiAtIEltcG9ydGFuemEsIFN0ZWxsaW5lOiAgPGRpdiBjbGFzcz0nZm90b3N0ZWxsaW5lJz48aW1nICBzdHlsZT0ndmVydGljYWwtYWxpZ246bWlkZGxlOycgc3JjPScuLi9ncmFmaWNhLzVzdGVsbGUucG5nJyBhbHQ9JzVTdGVsbGluZSc+PC9kaXY+ICBMaW5rIEVzdGVzbzogPGEgaHJlZj0naHR0cHM6Ly93d3cuZ29vZ2xlLmNvbS9nbWFpbC8nIHRhcmdldD0nX2JsYW5rJz5odHRwczovL3d3dy5nb29nbGUuY29tL2dtYWlsLzwvYT48L3A+ ICA8YSBocmVmPSdodHRwczovL291dGxvb2subGl2ZS5jb20nIHRhcmdldD0nX2JsYW5rJz5PdXRsbG9vayBieSBNaWNyb3NvZnQ8L2E+IC0gSW1wb3J0YW56YSwgU3RlbGxpbmU6ICA8ZGl2IGNsYXNzPSdmb3Rvc3RlbGxpbmUnPjxpbWcgIHN0eWxlPSd2ZXJ0aWNhbC1hbGlnbjptaWRkbGU7JyBzcmM9Jy4uL2dyYWZpY2EvNXN0ZWxsZS5wbmcnIGFsdD0nNVN0ZWxsaW5lJz48L2Rpdj4gIExpbmsgRXN0ZXNvOiA8YSBocmVmPSdodHRwczovL291dGxvb2subGl2ZS5jb20nIHRhcmdldD0nX2JsYW5rJz5odHRwczovL291dGxvb2subGl2ZS5jb208L2E+PC9wPg== ICA8YSBocmVmPSdodHRwczovL2xvZ2luLnlhaG9vLmNvbS8nIHRhcmdldD0nX2JsYW5rJz5ZYWhvbyBtYWlsPC9hPiAtIEltcG9ydGFuemEsIFN0ZWxsaW5lOiAgPGRpdiBjbGFzcz0nZm90b3N0ZWxsaW5lJz48aW1nICBzdHlsZT0ndmVydGljYWwtYWxpZ246bWlkZGxlOycgc3JjPScuLi9ncmFmaWNhLzRzdGVsbGUucG5nJyBhbHQ9JzRTdGVsbGluZSc+PC9kaXY+ICBMaW5rIEVzdGVzbzogPGEgaHJlZj0naHR0cHM6Ly9sb2dpbi55YWhvby5jb20vJyB0YXJnZXQ9J19ibGFuayc+aHR0cHM6Ly9sb2dpbi55YWhvby5jb20vPC9hPjwvcD4= ICA8YSBocmVmPSdodHRwczovL2xvZ2luLmxpYmVyby5pdC8nIHRhcmdldD0nX2JsYW5rJz5MaWJlcm8gTWFpbDwvYT4gLSBJbXBvcnRhbnphLCBTdGVsbGluZTogIDxkaXYgY2xhc3M9J2ZvdG9zdGVsbGluZSc+PGltZyAgc3R5bGU9J3ZlcnRpY2FsLWFsaWduOm1pZGRsZTsnIHNyYz0nLi4vZ3JhZmljYS80c3RlbGxlLnBuZycgYWx0PSc0U3RlbGxpbmUnPjwvZGl2PiAgTGluayBFc3Rlc286IDxhIGhyZWY9J2h0dHBzOi8vbG9naW4ubGliZXJvLml0LycgdGFyZ2V0PSdfYmxhbmsnPmh0dHBzOi8vbG9naW4ubGliZXJvLml0LzwvYT48L3A+ ICA8YSBocmVmPSdodHRwczovL21haWwudGltLml0LycgdGFyZ2V0PSdfYmxhbmsnPk1haWwgVGltPC9hPiAtIEltcG9ydGFuemEsIFN0ZWxsaW5lOiAgPGRpdiBjbGFzcz0nZm90b3N0ZWxsaW5lJz48aW1nICBzdHlsZT0ndmVydGljYWwtYWxpZ246bWlkZGxlOycgc3JjPScuLi9ncmFmaWNhLzRzdGVsbGUucG5nJyBhbHQ9JzRTdGVsbGluZSc+PC9kaXY+ICBMaW5rIEVzdGVzbzogPGEgaHJlZj0naHR0cHM6Ly9tYWlsLnRpbS5pdC8nIHRhcmdldD0nX2JsYW5rJz5odHRwczovL21haWwudGltLml0LzwvYT48L3A+ ICA8YSBocmVmPSdodHRwczovL21haWwudGlzY2FsaS5pdC8nIHRhcmdldD0nX2JsYW5rJz5UaXNjYWxpIE1haWw8L2E+IC0gSW1wb3J0YW56YSwgU3RlbGxpbmU6ICA8ZGl2IGNsYXNzPSdmb3Rvc3RlbGxpbmUnPjxpbWcgIHN0eWxlPSd2ZXJ0aWNhbC1hbGlnbjptaWRkbGU7JyBzcmM9Jy4uL2dyYWZpY2EvM3N0ZWxsZS5wbmcnIGFsdD0nM1N0ZWxsaW5lJz48L2Rpdj4gIExpbmsgRXN0ZXNvOiA8YSBocmVmPSdodHRwczovL21haWwudGlzY2FsaS5pdC8nIHRhcmdldD0nX2JsYW5rJz5odHRwczovL21haWwudGlzY2FsaS5pdC88L2E+PC9wPg== ICA8YSBocmVmPSdodHRwczovL3d3dy5mYXN0d2ViLml0L3NlcnZpemkvZmFzdG1haWwvJyB0YXJnZXQ9J19ibGFuayc+RmFzdHdlYiBNYWlsPC9hPiAtIEltcG9ydGFuemEsIFN0ZWxsaW5lOiAgPGRpdiBjbGFzcz0nZm90b3N0ZWxsaW5lJz48aW1nICBzdHlsZT0ndmVydGljYWwtYWxpZ246bWlkZGxlOycgc3JjPScuLi9ncmFmaWNhLzNzdGVsbGUucG5nJyBhbHQ9JzNTdGVsbGluZSc+PC9kaXY+ICBMaW5rIEVzdGVzbzogPGEgaHJlZj0naHR0cHM6Ly93d3cuZmFzdHdlYi5pdC9zZXJ2aXppL2Zhc3RtYWlsLycgdGFyZ2V0PSdfYmxhbmsnPmh0dHBzOi8vd3d3LmZhc3R3ZWIuaXQvc2Vydml6aS9mYXN0bWFpbC88L2E+PC9wPg== ICA8YSBocmVmPSdodHRwczovL3dlYm1haWwuYXJ1YmEuaXQvJyB0YXJnZXQ9J19ibGFuayc+QXJ1YmEgV2VibWFpbCAtIEEgcGFnYW1lbnRvPC9hPiAtIEltcG9ydGFuemEsIFN0ZWxsaW5lOiAgPGRpdiBjbGFzcz0nZm90b3N0ZWxsaW5lJz48aW1nICBzdHlsZT0ndmVydGljYWwtYWxpZ246bWlkZGxlOycgc3JjPScuLi9ncmFmaWNhLzVzdGVsbGUucG5nJyBhbHQ9JzVTdGVsbGluZSc+PC9kaXY+ICBMaW5rIEVzdGVzbzogPGEgaHJlZj0naHR0cHM6Ly93ZWJtYWlsLmFydWJhLml0LycgdGFyZ2V0PSdfYmxhbmsnPmh0dHBzOi8vd2VibWFpbC5hcnViYS5pdC88L2E+PC9wPg== ICA8YSBocmVmPSdodHRwczovL2xvZ2luLnZpcmdpbGlvLml0LycgdGFyZ2V0PSdfYmxhbmsnPlZpcmdpbGlvIE1haWw8L2E+IC0gSW1wb3J0YW56YSwgU3RlbGxpbmU6ICA8ZGl2IGNsYXNzPSdmb3Rvc3RlbGxpbmUnPjxpbWcgIHN0eWxlPSd2ZXJ0aWNhbC1hbGlnbjptaWRkbGU7JyBzcmM9Jy4uL2dyYWZpY2EvM3N0ZWxsZS5wbmcnIGFsdD0nM1N0ZWxsaW5lJz48L2Rpdj4gIExpbmsgRXN0ZXNvOiA8YSBocmVmPSdodHRwczovL2xvZ2luLnZpcmdpbGlvLml0LycgdGFyZ2V0PSdfYmxhbmsnPmh0dHBzOi8vbG9naW4udmlyZ2lsaW8uaXQvPC9hPjwvcD4= ICA8YSBocmVmPSdodHRwczovL3d3dy5tYWlsLmNvbScgdGFyZ2V0PSdfYmxhbmsnPkVtYWlsLmNvbTwvYT4gLSBJbXBvcnRhbnphLCBTdGVsbGluZTogIDxkaXYgY2xhc3M9J2ZvdG9zdGVsbGluZSc+PGltZyAgc3R5bGU9J3ZlcnRpY2FsLWFsaWduOm1pZGRsZTsnIHNyYz0nLi4vZ3JhZmljYS8zc3RlbGxlLnBuZycgYWx0PSczU3RlbGxpbmUnPjwvZGl2PiAgTGluayBFc3Rlc286IDxhIGhyZWY9J2h0dHBzOi8vd3d3Lm1haWwuY29tJyB0YXJnZXQ9J19ibGFuayc+aHR0cHM6Ly93d3cubWFpbC5jb208L2E+PC9wPg== ICA8YSBocmVmPSdodHRwczovL3d3dy5lbWFpbC5pdC8nIHRhcmdldD0nX2JsYW5rJz5FbWFpbC5pdDwvYT4gLSBJbXBvcnRhbnphLCBTdGVsbGluZTogIDxkaXYgY2xhc3M9J2ZvdG9zdGVsbGluZSc+PGltZyAgc3R5bGU9J3ZlcnRpY2FsLWFsaWduOm1pZGRsZTsnIHNyYz0nLi4vZ3JhZmljYS8zc3RlbGxlLnBuZycgYWx0PSczU3RlbGxpbmUnPjwvZGl2PiAgTGluayBFc3Rlc286IDxhIGhyZWY9J2h0dHBzOi8vd3d3LmVtYWlsLml0LycgdGFyZ2V0PSdfYmxhbmsnPmh0dHBzOi8vd3d3LmVtYWlsLml0LzwvYT48L3A+ ICA8YSBocmVmPSdodHRwczovL21haWwudm9kYWZvbmUuaXQvJyB0YXJnZXQ9J19ibGFuayc+Vm9kYWZvbmUgTWFpbDwvYT4gLSBJbXBvcnRhbnphLCBTdGVsbGluZTogIDxkaXYgY2xhc3M9J2ZvdG9zdGVsbGluZSc+PGltZyAgc3R5bGU9J3ZlcnRpY2FsLWFsaWduOm1pZGRsZTsnIHNyYz0nLi4vZ3JhZmljYS8zc3RlbGxlLnBuZycgYWx0PSczU3RlbGxpbmUnPjwvZGl2PiAgTGluayBFc3Rlc286IDxhIGhyZWY9J2h0dHBzOi8vbWFpbC52b2RhZm9uZS5pdC8nIHRhcmdldD0nX2JsYW5rJz5odHRwczovL21haWwudm9kYWZvbmUuaXQvPC9hPjwvcD4=
Video Downloader - My Personal Ranking
ICA8YSBocmVmPSdodHRwczovL2l0LnNhdmVmcm9tLm5ldC9pbmRleC5waHAnIHRhcmdldD0nX2JsYW5rJz5TYXZlIEZyb20gTmV0PC9hPiAtIEltcG9ydGFuemEsIFN0ZWxsaW5lOiAgPGRpdiBjbGFzcz0nZm90b3N0ZWxsaW5lJz48aW1nICBzdHlsZT0ndmVydGljYWwtYWxpZ246bWlkZGxlOycgc3JjPScuLi9ncmFmaWNhLzVzdGVsbGUucG5nJyBhbHQ9JzVTdGVsbGluZSc+PC9kaXY+ICBMaW5rIEVzdGVzbzogPGEgaHJlZj0naHR0cHM6Ly9pdC5zYXZlZnJvbS5uZXQvaW5kZXgucGhwJyB0YXJnZXQ9J19ibGFuayc+aHR0cHM6Ly9pdC5zYXZlZnJvbS5uZXQvaW5kZXgucGhwPC9hPjwvcD4= ICA8YSBocmVmPSdodHRwczovL3d3dy5wYXN0eS5pbmZvLycgdGFyZ2V0PSdfYmxhbmsnPlBhc3R5bGluazwvYT4gLSBJbXBvcnRhbnphLCBTdGVsbGluZTogIDxkaXYgY2xhc3M9J2ZvdG9zdGVsbGluZSc+PGltZyAgc3R5bGU9J3ZlcnRpY2FsLWFsaWduOm1pZGRsZTsnIHNyYz0nLi4vZ3JhZmljYS8zc3RlbGxlLnBuZycgYWx0PSczU3RlbGxpbmUnPjwvZGl2PiAgTGluayBFc3Rlc286IDxhIGhyZWY9J2h0dHBzOi8vd3d3LnBhc3R5LmluZm8vJyB0YXJnZXQ9J19ibGFuayc+aHR0cHM6Ly93d3cucGFzdHkuaW5mby88L2E+PC9wPg== ICA8YSBocmVmPSdodHRwczovL2Zkb3dubG9hZGVyLm5ldC9pdCcgdGFyZ2V0PSdfYmxhbmsnPkdldHZpZCBGYWNlYm9vazwvYT4gLSBJbXBvcnRhbnphLCBTdGVsbGluZTogIDxkaXYgY2xhc3M9J2ZvdG9zdGVsbGluZSc+PGltZyAgc3R5bGU9J3ZlcnRpY2FsLWFsaWduOm1pZGRsZTsnIHNyYz0nLi4vZ3JhZmljYS80c3RlbGxlLnBuZycgYWx0PSc0U3RlbGxpbmUnPjwvZGl2PiAgTGluayBFc3Rlc286IDxhIGhyZWY9J2h0dHBzOi8vZmRvd25sb2FkZXIubmV0L2l0JyB0YXJnZXQ9J19ibGFuayc+aHR0cHM6Ly9mZG93bmxvYWRlci5uZXQvaXQ8L2E+PC9wPg== ICA8YSBocmVmPSdodHRwczovL2l0LmZldGNoZmlsZS5uZXQvJyB0YXJnZXQ9J19ibGFuayc+T25saW5lIEZpbGUgRG93bmxvYWRlcjwvYT4gLSBJbXBvcnRhbnphLCBTdGVsbGluZTogIDxkaXYgY2xhc3M9J2ZvdG9zdGVsbGluZSc+PGltZyAgc3R5bGU9J3ZlcnRpY2FsLWFsaWduOm1pZGRsZTsnIHNyYz0nLi4vZ3JhZmljYS8zc3RlbGxlLnBuZycgYWx0PSczU3RlbGxpbmUnPjwvZGl2PiAgTGluayBFc3Rlc286IDxhIGhyZWY9J2h0dHBzOi8vaXQuZmV0Y2hmaWxlLm5ldC8nIHRhcmdldD0nX2JsYW5rJz5odHRwczovL2l0LmZldGNoZmlsZS5uZXQvPC9hPjwvcD4= ICA8YSBocmVmPSdodHRwczovL3d3dy5mcmVlbWFrZS5jb20vaXQvZnJlZV92aWRlb19kb3dubG9hZGVyLycgdGFyZ2V0PSdfYmxhbmsnPkZyZWVtYWtlIE9ubGluZTwvYT4gLSBJbXBvcnRhbnphLCBTdGVsbGluZTogIDxkaXYgY2xhc3M9J2ZvdG9zdGVsbGluZSc+PGltZyAgc3R5bGU9J3ZlcnRpY2FsLWFsaWduOm1pZGRsZTsnIHNyYz0nLi4vZ3JhZmljYS80c3RlbGxlLnBuZycgYWx0PSc0U3RlbGxpbmUnPjwvZGl2PiAgTGluayBFc3Rlc286IDxhIGhyZWY9J2h0dHBzOi8vd3d3LmZyZWVtYWtlLmNvbS9pdC9mcmVlX3ZpZGVvX2Rvd25sb2FkZXIvJyB0YXJnZXQ9J19ibGFuayc+aHR0cHM6Ly93d3cuZnJlZW1ha2UuY29tL2l0L2ZyZWVfdmlkZW9fZG93bmxvYWRlci88L2E+PC9wPg== ICA8YSBocmVmPSdodHRwczovL2FsbGlub25lZG93bmxvYWRlci5jb20vaXQvJyB0YXJnZXQ9J19ibGFuayc+QWxsaW5vbmVkb3dubG9hZGVyPC9hPiAtIEltcG9ydGFuemEsIFN0ZWxsaW5lOiAgPGRpdiBjbGFzcz0nZm90b3N0ZWxsaW5lJz48aW1nICBzdHlsZT0ndmVydGljYWwtYWxpZ246bWlkZGxlOycgc3JjPScuLi9ncmFmaWNhLzRzdGVsbGUucG5nJyBhbHQ9JzRTdGVsbGluZSc+PC9kaXY+ICBMaW5rIEVzdGVzbzogPGEgaHJlZj0naHR0cHM6Ly9hbGxpbm9uZWRvd25sb2FkZXIuY29tL2l0LycgdGFyZ2V0PSdfYmxhbmsnPmh0dHBzOi8vYWxsaW5vbmVkb3dubG9hZGVyLmNvbS9pdC88L2E+PC9wPg==
Style and Fashion - My Personal Ranking
ICA8YSBocmVmPSdodHRwczovL3d3dy5hbGZlbW1pbmlsZS5jb20vJyB0YXJnZXQ9J19ibGFuayc+QWwgRmVtbWluaWxlPC9hPiAtIEltcG9ydGFuemEsIFN0ZWxsaW5lOiAgPGRpdiBjbGFzcz0nZm90b3N0ZWxsaW5lJz48aW1nICBzdHlsZT0ndmVydGljYWwtYWxpZ246bWlkZGxlOycgc3JjPScuLi9ncmFmaWNhLzVzdGVsbGUucG5nJyBhbHQ9JzVTdGVsbGluZSc+PC9kaXY+ICBMaW5rIEVzdGVzbzogPGEgaHJlZj0naHR0cHM6Ly93d3cuYWxmZW1taW5pbGUuY29tLycgdGFyZ2V0PSdfYmxhbmsnPmh0dHBzOi8vd3d3LmFsZmVtbWluaWxlLmNvbS88L2E+PC9wPg== ICA8YSBocmVmPSdodHRwczovL3d3dy5kb25uYW1vZGVybmEuY29tL2xpZmVzdHlsZScgdGFyZ2V0PSdfYmxhbmsnPkRvbm5hIE1vZGVybmE8L2E+IC0gSW1wb3J0YW56YSwgU3RlbGxpbmU6ICA8ZGl2IGNsYXNzPSdmb3Rvc3RlbGxpbmUnPjxpbWcgIHN0eWxlPSd2ZXJ0aWNhbC1hbGlnbjptaWRkbGU7JyBzcmM9Jy4uL2dyYWZpY2EvNXN0ZWxsZS5wbmcnIGFsdD0nNVN0ZWxsaW5lJz48L2Rpdj4gIExpbmsgRXN0ZXNvOiA8YSBocmVmPSdodHRwczovL3d3dy5kb25uYW1vZGVybmEuY29tL2xpZmVzdHlsZScgdGFyZ2V0PSdfYmxhbmsnPmh0dHBzOi8vd3d3LmRvbm5hbW9kZXJuYS5jb20vbGlmZXN0eWxlPC9hPjwvcD4= ICA8YSBocmVmPSdodHRwczovL3d3dy52b2d1ZS5pdC8nIHRhcmdldD0nX2JsYW5rJz5Wb2d1ZTwvYT4gLSBJbXBvcnRhbnphLCBTdGVsbGluZTogIDxkaXYgY2xhc3M9J2ZvdG9zdGVsbGluZSc+PGltZyAgc3R5bGU9J3ZlcnRpY2FsLWFsaWduOm1pZGRsZTsnIHNyYz0nLi4vZ3JhZmljYS81c3RlbGxlLnBuZycgYWx0PSc1U3RlbGxpbmUnPjwvZGl2PiAgTGluayBFc3Rlc286IDxhIGhyZWY9J2h0dHBzOi8vd3d3LnZvZ3VlLml0LycgdGFyZ2V0PSdfYmxhbmsnPmh0dHBzOi8vd3d3LnZvZ3VlLml0LzwvYT48L3A+ ICA8YSBocmVmPSdodHRwczovL3d3dy52YW5pdHlmYWlyLml0LycgdGFyZ2V0PSdfYmxhbmsnPlZhbml0eSBGYWlyPC9hPiAtIEltcG9ydGFuemEsIFN0ZWxsaW5lOiAgPGRpdiBjbGFzcz0nZm90b3N0ZWxsaW5lJz48aW1nICBzdHlsZT0ndmVydGljYWwtYWxpZ246bWlkZGxlOycgc3JjPScuLi9ncmFmaWNhLzVzdGVsbGUucG5nJyBhbHQ9JzVTdGVsbGluZSc+PC9kaXY+ICBMaW5rIEVzdGVzbzogPGEgaHJlZj0naHR0cHM6Ly93d3cudmFuaXR5ZmFpci5pdC8nIHRhcmdldD0nX2JsYW5rJz5odHRwczovL3d3dy52YW5pdHlmYWlyLml0LzwvYT48L3A+ ICA8YSBocmVmPSdodHRwczovL3d3dy5kb3VnbGFzLml0LycgdGFyZ2V0PSdfYmxhbmsnPkRvdWdsYXMgIFByb2Z1bWk8L2E+IC0gSW1wb3J0YW56YSwgU3RlbGxpbmU6ICA8ZGl2IGNsYXNzPSdmb3Rvc3RlbGxpbmUnPjxpbWcgIHN0eWxlPSd2ZXJ0aWNhbC1hbGlnbjptaWRkbGU7JyBzcmM9Jy4uL2dyYWZpY2EvNHN0ZWxsZS5wbmcnIGFsdD0nNFN0ZWxsaW5lJz48L2Rpdj4gIExpbmsgRXN0ZXNvOiA8YSBocmVmPSdodHRwczovL3d3dy5kb3VnbGFzLml0LycgdGFyZ2V0PSdfYmxhbmsnPmh0dHBzOi8vd3d3LmRvdWdsYXMuaXQvPC9hPjwvcD4= ICA8YSBocmVmPSdodHRwczovL3d3dy5waWFuZXRhZG9ubmEuaXQvJyB0YXJnZXQ9J19ibGFuayc+UGlhbmV0YSBEb25uYTwvYT4gLSBJbXBvcnRhbnphLCBTdGVsbGluZTogIDxkaXYgY2xhc3M9J2ZvdG9zdGVsbGluZSc+PGltZyAgc3R5bGU9J3ZlcnRpY2FsLWFsaWduOm1pZGRsZTsnIHNyYz0nLi4vZ3JhZmljYS81c3RlbGxlLnBuZycgYWx0PSc1U3RlbGxpbmUnPjwvZGl2PiAgTGluayBFc3Rlc286IDxhIGhyZWY9J2h0dHBzOi8vd3d3LnBpYW5ldGFkb25uYS5pdC8nIHRhcmdldD0nX2JsYW5rJz5odHRwczovL3d3dy5waWFuZXRhZG9ubmEuaXQvPC9hPjwvcD4= ICA8YSBocmVmPSdodHRwczovL3d3dy5tc24uY29tL2l0LWl0L2xpZmVzdHlsZScgdGFyZ2V0PSdfYmxhbmsnPk1zbiBMaWZlU3R5bGU8L2E+IC0gSW1wb3J0YW56YSwgU3RlbGxpbmU6ICA8ZGl2IGNsYXNzPSdmb3Rvc3RlbGxpbmUnPjxpbWcgIHN0eWxlPSd2ZXJ0aWNhbC1hbGlnbjptaWRkbGU7JyBzcmM9Jy4uL2dyYWZpY2EvNHN0ZWxsZS5wbmcnIGFsdD0nNFN0ZWxsaW5lJz48L2Rpdj4gIExpbmsgRXN0ZXNvOiA8YSBocmVmPSdodHRwczovL3d3dy5tc24uY29tL2l0LWl0L2xpZmVzdHlsZScgdGFyZ2V0PSdfYmxhbmsnPmh0dHBzOi8vd3d3Lm1zbi5jb20vaXQtaXQvbGlmZXN0eWxlPC9hPjwvcD4= ICA8YSBocmVmPSdodHRwczovL3d3dy5lbGxlLmNvbS9pdC9iZWxsZXp6YS1iZWF1dHkvJyB0YXJnZXQ9J19ibGFuayc+RWxsZTwvYT4gLSBJbXBvcnRhbnphLCBTdGVsbGluZTogIDxkaXYgY2xhc3M9J2ZvdG9zdGVsbGluZSc+PGltZyAgc3R5bGU9J3ZlcnRpY2FsLWFsaWduOm1pZGRsZTsnIHNyYz0nLi4vZ3JhZmljYS80c3RlbGxlLnBuZycgYWx0PSc0U3RlbGxpbmUnPjwvZGl2PiAgTGluayBFc3Rlc286IDxhIGhyZWY9J2h0dHBzOi8vd3d3LmVsbGUuY29tL2l0L2JlbGxlenphLWJlYXV0eS8nIHRhcmdldD0nX2JsYW5rJz5odHRwczovL3d3dy5lbGxlLmNvbS9pdC9iZWxsZXp6YS1iZWF1dHkvPC9hPjwvcD4= ICA8YSBocmVmPSdodHRwczovL3d3dy5vZ2dpLml0LycgdGFyZ2V0PSdfYmxhbmsnPk9nZ2k8L2E+IC0gSW1wb3J0YW56YSwgU3RlbGxpbmU6ICA8ZGl2IGNsYXNzPSdmb3Rvc3RlbGxpbmUnPjxpbWcgIHN0eWxlPSd2ZXJ0aWNhbC1hbGlnbjptaWRkbGU7JyBzcmM9Jy4uL2dyYWZpY2EvNHN0ZWxsZS5wbmcnIGFsdD0nNFN0ZWxsaW5lJz48L2Rpdj4gIExpbmsgRXN0ZXNvOiA8YSBocmVmPSdodHRwczovL3d3dy5vZ2dpLml0LycgdGFyZ2V0PSdfYmxhbmsnPmh0dHBzOi8vd3d3Lm9nZ2kuaXQvPC9hPjwvcD4= ICA8YSBocmVmPSdodHRwczovL3d3dy5yaXphLml0LycgdGFyZ2V0PSdfYmxhbmsnPlJpemE8L2E+IC0gSW1wb3J0YW56YSwgU3RlbGxpbmU6ICA8ZGl2IGNsYXNzPSdmb3Rvc3RlbGxpbmUnPjxpbWcgIHN0eWxlPSd2ZXJ0aWNhbC1hbGlnbjptaWRkbGU7JyBzcmM9Jy4uL2dyYWZpY2EvNHN0ZWxsZS5wbmcnIGFsdD0nNFN0ZWxsaW5lJz48L2Rpdj4gIExpbmsgRXN0ZXNvOiA8YSBocmVmPSdodHRwczovL3d3dy5yaXphLml0LycgdGFyZ2V0PSdfYmxhbmsnPmh0dHBzOi8vd3d3LnJpemEuaXQvPC9hPjwvcD4= ICA8YSBocmVmPSdodHRwczovL3d3dy5ncS5jb20vJyB0YXJnZXQ9J19ibGFuayc+R1E8L2E+IC0gSW1wb3J0YW56YSwgU3RlbGxpbmU6ICA8ZGl2IGNsYXNzPSdmb3Rvc3RlbGxpbmUnPjxpbWcgIHN0eWxlPSd2ZXJ0aWNhbC1hbGlnbjptaWRkbGU7JyBzcmM9Jy4uL2dyYWZpY2EvNXN0ZWxsZS5wbmcnIGFsdD0nNVN0ZWxsaW5lJz48L2Rpdj4gIExpbmsgRXN0ZXNvOiA8YSBocmVmPSdodHRwczovL3d3dy5ncS5jb20vJyB0YXJnZXQ9J19ibGFuayc+aHR0cHM6Ly93d3cuZ3EuY29tLzwvYT48L3A+
Food and Drink - My Personal Ranking
ICA8YSBocmVmPSdodHRwczovL3d3dy5naWFsbG96YWZmZXJhbm8uaXQvJyB0YXJnZXQ9J19ibGFuayc+R2lhbGxvIFphZmZlcmFubyBSaWNldHRlPC9hPiAtIEltcG9ydGFuemEsIFN0ZWxsaW5lOiAgPGRpdiBjbGFzcz0nZm90b3N0ZWxsaW5lJz48aW1nICBzdHlsZT0ndmVydGljYWwtYWxpZ246bWlkZGxlOycgc3JjPScuLi9ncmFmaWNhLzVzdGVsbGUucG5nJyBhbHQ9JzVTdGVsbGluZSc+PC9kaXY+ICBMaW5rIEVzdGVzbzogPGEgaHJlZj0naHR0cHM6Ly93d3cuZ2lhbGxvemFmZmVyYW5vLml0LycgdGFyZ2V0PSdfYmxhbmsnPmh0dHBzOi8vd3d3LmdpYWxsb3phZmZlcmFuby5pdC88L2E+PC9wPg== ICA8YSBocmVmPSdodHRwOi8vd3d3LmZvb2RuZXR3b3JrLml0LycgdGFyZ2V0PSdfYmxhbmsnPkZvb2RuZXR3b3JrPC9hPiAtIEltcG9ydGFuemEsIFN0ZWxsaW5lOiAgPGRpdiBjbGFzcz0nZm90b3N0ZWxsaW5lJz48aW1nICBzdHlsZT0ndmVydGljYWwtYWxpZ246bWlkZGxlOycgc3JjPScuLi9ncmFmaWNhLzVzdGVsbGUucG5nJyBhbHQ9JzVTdGVsbGluZSc+PC9kaXY+ICBMaW5rIEVzdGVzbzogPGEgaHJlZj0naHR0cDovL3d3dy5mb29kbmV0d29yay5pdC8nIHRhcmdldD0nX2JsYW5rJz5odHRwOi8vd3d3LmZvb2RuZXR3b3JrLml0LzwvYT48L3A+ ICA8YSBocmVmPSdodHRwczovL3d3dy5ndXN0aXNzaW1vLml0LycgdGFyZ2V0PSdfYmxhbmsnPkd1c3Rpc3NpbW88L2E+IC0gSW1wb3J0YW56YSwgU3RlbGxpbmU6ICA8ZGl2IGNsYXNzPSdmb3Rvc3RlbGxpbmUnPjxpbWcgIHN0eWxlPSd2ZXJ0aWNhbC1hbGlnbjptaWRkbGU7JyBzcmM9Jy4uL2dyYWZpY2EvNXN0ZWxsZS5wbmcnIGFsdD0nNVN0ZWxsaW5lJz48L2Rpdj4gIExpbmsgRXN0ZXNvOiA8YSBocmVmPSdodHRwczovL3d3dy5ndXN0aXNzaW1vLml0LycgdGFyZ2V0PSdfYmxhbmsnPmh0dHBzOi8vd3d3Lmd1c3Rpc3NpbW8uaXQvPC9hPjwvcD4= ICA8YSBocmVmPSdodHRwczovL3d3dy5sYWN1Y2luYWl0YWxpYW5hLml0LycgdGFyZ2V0PSdfYmxhbmsnPkxhY3VjaW5haXRhbGlhbmE8L2E+IC0gSW1wb3J0YW56YSwgU3RlbGxpbmU6ICA8ZGl2IGNsYXNzPSdmb3Rvc3RlbGxpbmUnPjxpbWcgIHN0eWxlPSd2ZXJ0aWNhbC1hbGlnbjptaWRkbGU7JyBzcmM9Jy4uL2dyYWZpY2EvNXN0ZWxsZS5wbmcnIGFsdD0nNVN0ZWxsaW5lJz48L2Rpdj4gIExpbmsgRXN0ZXNvOiA8YSBocmVmPSdodHRwczovL3d3dy5sYWN1Y2luYWl0YWxpYW5hLml0LycgdGFyZ2V0PSdfYmxhbmsnPmh0dHBzOi8vd3d3LmxhY3VjaW5haXRhbGlhbmEuaXQvPC9hPjwvcD4= ICA8YSBocmVmPSdodHRwOi8vd3d3LmJicTRhbGwuaXQvJyB0YXJnZXQ9J19ibGFuayc+QkJRNGFsbDwvYT4gLSBJbXBvcnRhbnphLCBTdGVsbGluZTogIDxkaXYgY2xhc3M9J2ZvdG9zdGVsbGluZSc+PGltZyAgc3R5bGU9J3ZlcnRpY2FsLWFsaWduOm1pZGRsZTsnIHNyYz0nLi4vZ3JhZmljYS81c3RlbGxlLnBuZycgYWx0PSc1U3RlbGxpbmUnPjwvZGl2PiAgTGluayBFc3Rlc286IDxhIGhyZWY9J2h0dHA6Ly93d3cuYmJxNGFsbC5pdC8nIHRhcmdldD0nX2JsYW5rJz5odHRwOi8vd3d3LmJicTRhbGwuaXQvPC9hPjwvcD4= ICA8YSBocmVmPSdodHRwczovL3d3dy5jb2NrdGFpbGl0YWxpYS5pdC8nIHRhcmdldD0nX2JsYW5rJz5Db2NrdGFpbGl0YWxpYTwvYT4gLSBJbXBvcnRhbnphLCBTdGVsbGluZTogIDxkaXYgY2xhc3M9J2ZvdG9zdGVsbGluZSc+PGltZyAgc3R5bGU9J3ZlcnRpY2FsLWFsaWduOm1pZGRsZTsnIHNyYz0nLi4vZ3JhZmljYS81c3RlbGxlLnBuZycgYWx0PSc1U3RlbGxpbmUnPjwvZGl2PiAgTGluayBFc3Rlc286IDxhIGhyZWY9J2h0dHBzOi8vd3d3LmNvY2t0YWlsaXRhbGlhLml0LycgdGFyZ2V0PSdfYmxhbmsnPmh0dHBzOi8vd3d3LmNvY2t0YWlsaXRhbGlhLml0LzwvYT48L3A+ ICA8YSBocmVmPSdodHRwczovL3d3dy5idW9uaXNzaW1vLml0LycgdGFyZ2V0PSdfYmxhbmsnPkJ1b25pc3NpbW8gQ3VjaW5hPC9hPiAtIEltcG9ydGFuemEsIFN0ZWxsaW5lOiAgPGRpdiBjbGFzcz0nZm90b3N0ZWxsaW5lJz48aW1nICBzdHlsZT0ndmVydGljYWwtYWxpZ246bWlkZGxlOycgc3JjPScuLi9ncmFmaWNhLzRzdGVsbGUucG5nJyBhbHQ9JzRTdGVsbGluZSc+PC9kaXY+ICBMaW5rIEVzdGVzbzogPGEgaHJlZj0naHR0cHM6Ly93d3cuYnVvbmlzc2ltby5pdC8nIHRhcmdldD0nX2JsYW5rJz5odHRwczovL3d3dy5idW9uaXNzaW1vLml0LzwvYT48L3A+ ICA8YSBocmVmPSdodHRwOi8vd3d3Lm1vbmRvYmlycmEub3JnLycgdGFyZ2V0PSdfYmxhbmsnPk1vbmRvYmlycmE8L2E+IC0gSW1wb3J0YW56YSwgU3RlbGxpbmU6ICA8ZGl2IGNsYXNzPSdmb3Rvc3RlbGxpbmUnPjxpbWcgIHN0eWxlPSd2ZXJ0aWNhbC1hbGlnbjptaWRkbGU7JyBzcmM9Jy4uL2dyYWZpY2EvM3N0ZWxsZS5wbmcnIGFsdD0nM1N0ZWxsaW5lJz48L2Rpdj4gIExpbmsgRXN0ZXNvOiA8YSBocmVmPSdodHRwOi8vd3d3Lm1vbmRvYmlycmEub3JnLycgdGFyZ2V0PSdfYmxhbmsnPmh0dHA6Ly93d3cubW9uZG9iaXJyYS5vcmcvPC9hPjwvcD4= ICA8YSBocmVmPSdodHRwOi8vd3d3LmVub2d1aWRhLmNvbS8nIHRhcmdldD0nX2JsYW5rJz5Fbm9ndWlkYSBhbGxhIHNjb3BlcnRhIGRlaSB2aW5pPC9hPiAtIEltcG9ydGFuemEsIFN0ZWxsaW5lOiAgPGRpdiBjbGFzcz0nZm90b3N0ZWxsaW5lJz48aW1nICBzdHlsZT0ndmVydGljYWwtYWxpZ246bWlkZGxlOycgc3JjPScuLi9ncmFmaWNhLzNzdGVsbGUucG5nJyBhbHQ9JzNTdGVsbGluZSc+PC9kaXY+ICBMaW5rIEVzdGVzbzogPGEgaHJlZj0naHR0cDovL3d3dy5lbm9ndWlkYS5jb20vJyB0YXJnZXQ9J19ibGFuayc+aHR0cDovL3d3dy5lbm9ndWlkYS5jb20vPC9hPjwvcD4= ICA8YSBocmVmPSdodHRwczovL3d3dy5zYWxlcGVwZS5pdC8nIHRhcmdldD0nX2JsYW5rJz5TYWxlIGUgUGVwZSAtIGN1Y2luYSAtIHZpbmk8L2E+IC0gSW1wb3J0YW56YSwgU3RlbGxpbmU6ICA8ZGl2IGNsYXNzPSdmb3Rvc3RlbGxpbmUnPjxpbWcgIHN0eWxlPSd2ZXJ0aWNhbC1hbGlnbjptaWRkbGU7JyBzcmM9Jy4uL2dyYWZpY2EvNXN0ZWxsZS5wbmcnIGFsdD0nNVN0ZWxsaW5lJz48L2Rpdj4gIExpbmsgRXN0ZXNvOiA8YSBocmVmPSdodHRwczovL3d3dy5zYWxlcGVwZS5pdC8nIHRhcmdldD0nX2JsYW5rJz5odHRwczovL3d3dy5zYWxlcGVwZS5pdC88L2E+PC9wPg== ICA8YSBocmVmPSdodHRwczovL3d3dy5idXR0YWxhcGFzdGEuaXQvJyB0YXJnZXQ9J19ibGFuayc+QnV0dGEgbGEgUGFzdGE8L2E+IC0gSW1wb3J0YW56YSwgU3RlbGxpbmU6ICA8ZGl2IGNsYXNzPSdmb3Rvc3RlbGxpbmUnPjxpbWcgIHN0eWxlPSd2ZXJ0aWNhbC1hbGlnbjptaWRkbGU7JyBzcmM9Jy4uL2dyYWZpY2EvNHN0ZWxsZS5wbmcnIGFsdD0nNFN0ZWxsaW5lJz48L2Rpdj4gIExpbmsgRXN0ZXNvOiA8YSBocmVmPSdodHRwczovL3d3dy5idXR0YWxhcGFzdGEuaXQvJyB0YXJnZXQ9J19ibGFuayc+aHR0cHM6Ly93d3cuYnV0dGFsYXBhc3RhLml0LzwvYT48L3A+
Salute - My Personal Ranking
ICA8YSBocmVmPSdodHRwczovL3d3dy5tZWRpY2l0YWxpYS5pdC8nIHRhcmdldD0nX2JsYW5rJz5NZWRpY2l0YWxpYTwvYT4gLSBJbXBvcnRhbnphLCBTdGVsbGluZTogIDxkaXYgY2xhc3M9J2ZvdG9zdGVsbGluZSc+PGltZyAgc3R5bGU9J3ZlcnRpY2FsLWFsaWduOm1pZGRsZTsnIHNyYz0nLi4vZ3JhZmljYS81c3RlbGxlLnBuZycgYWx0PSc1U3RlbGxpbmUnPjwvZGl2PiAgTGluayBFc3Rlc286IDxhIGhyZWY9J2h0dHBzOi8vd3d3Lm1lZGljaXRhbGlhLml0LycgdGFyZ2V0PSdfYmxhbmsnPmh0dHBzOi8vd3d3Lm1lZGljaXRhbGlhLml0LzwvYT48L3A+ ICA8YSBocmVmPSdodHRwczovL3d3dy5teS1wZXJzb25hbHRyYWluZXIuaXQvc2FsdXRlLmh0bScgdGFyZ2V0PSdfYmxhbmsnPk15IFBlcnNvbmFsIFRyYWluZXIgLSBTYWx1dGU8L2E+IC0gSW1wb3J0YW56YSwgU3RlbGxpbmU6ICA8ZGl2IGNsYXNzPSdmb3Rvc3RlbGxpbmUnPjxpbWcgIHN0eWxlPSd2ZXJ0aWNhbC1hbGlnbjptaWRkbGU7JyBzcmM9Jy4uL2dyYWZpY2EvNXN0ZWxsZS5wbmcnIGFsdD0nNVN0ZWxsaW5lJz48L2Rpdj4gIExpbmsgRXN0ZXNvOiA8YSBocmVmPSdodHRwczovL3d3dy5teS1wZXJzb25hbHRyYWluZXIuaXQvc2FsdXRlLmh0bScgdGFyZ2V0PSdfYmxhbmsnPmh0dHBzOi8vd3d3Lm15LXBlcnNvbmFsdHJhaW5lci5pdC9zYWx1dGUuaHRtPC9hPjwvcD4= ICA8YSBocmVmPSdodHRwczovL3d3dy5vay1zYWx1dGUuaXQvJyB0YXJnZXQ9J19ibGFuayc+T0sgc2FsdXRlPC9hPiAtIEltcG9ydGFuemEsIFN0ZWxsaW5lOiAgPGRpdiBjbGFzcz0nZm90b3N0ZWxsaW5lJz48aW1nICBzdHlsZT0ndmVydGljYWwtYWxpZ246bWlkZGxlOycgc3JjPScuLi9ncmFmaWNhLzRzdGVsbGUucG5nJyBhbHQ9JzRTdGVsbGluZSc+PC9kaXY+ICBMaW5rIEVzdGVzbzogPGEgaHJlZj0naHR0cHM6Ly93d3cub2stc2FsdXRlLml0LycgdGFyZ2V0PSdfYmxhbmsnPmh0dHBzOi8vd3d3Lm9rLXNhbHV0ZS5pdC88L2E+PC9wPg== ICA8YSBocmVmPSdodHRwczovL3d3dy53aG8uaW50LycgdGFyZ2V0PSdfYmxhbmsnPldvcmxkIEhlYWx0aCBPcmdhbml6YXRpb248L2E+IC0gSW1wb3J0YW56YSwgU3RlbGxpbmU6ICA8ZGl2IGNsYXNzPSdmb3Rvc3RlbGxpbmUnPjxpbWcgIHN0eWxlPSd2ZXJ0aWNhbC1hbGlnbjptaWRkbGU7JyBzcmM9Jy4uL2dyYWZpY2EvNXN0ZWxsZS5wbmcnIGFsdD0nNVN0ZWxsaW5lJz48L2Rpdj4gIExpbmsgRXN0ZXNvOiA8YSBocmVmPSdodHRwczovL3d3dy53aG8uaW50LycgdGFyZ2V0PSdfYmxhbmsnPmh0dHBzOi8vd3d3Lndoby5pbnQvPC9hPjwvcD4= ICA8YSBocmVmPSdodHRwczovL2VkaXRpb24uY25uLmNvbS9oZWFsdGgnIHRhcmdldD0nX2JsYW5rJz5DTk4gSGVhbHRoPC9hPiAtIEltcG9ydGFuemEsIFN0ZWxsaW5lOiAgPGRpdiBjbGFzcz0nZm90b3N0ZWxsaW5lJz48aW1nICBzdHlsZT0ndmVydGljYWwtYWxpZ246bWlkZGxlOycgc3JjPScuLi9ncmFmaWNhLzRzdGVsbGUucG5nJyBhbHQ9JzRTdGVsbGluZSc+PC9kaXY+ICBMaW5rIEVzdGVzbzogPGEgaHJlZj0naHR0cHM6Ly9lZGl0aW9uLmNubi5jb20vaGVhbHRoJyB0YXJnZXQ9J19ibGFuayc+aHR0cHM6Ly9lZGl0aW9uLmNubi5jb20vaGVhbHRoPC9hPjwvcD4= ICA8YSBocmVmPSdodHRwczovL3d3dy5hbGJhbmVzaS5pdC8nIHRhcmdldD0nX2JsYW5rJz5BbGJhbmVzaSBTYWx1dGU8L2E+IC0gSW1wb3J0YW56YSwgU3RlbGxpbmU6ICA8ZGl2IGNsYXNzPSdmb3Rvc3RlbGxpbmUnPjxpbWcgIHN0eWxlPSd2ZXJ0aWNhbC1hbGlnbjptaWRkbGU7JyBzcmM9Jy4uL2dyYWZpY2EvNHN0ZWxsZS5wbmcnIGFsdD0nNFN0ZWxsaW5lJz48L2Rpdj4gIExpbmsgRXN0ZXNvOiA8YSBocmVmPSdodHRwczovL3d3dy5hbGJhbmVzaS5pdC8nIHRhcmdldD0nX2JsYW5rJz5odHRwczovL3d3dy5hbGJhbmVzaS5pdC88L2E+PC9wPg== ICA8YSBocmVmPSdodHRwczovL3d3dy5mYXJtYWNvZWN1cmEuaXQvJyB0YXJnZXQ9J19ibGFuayc+RmFybWFjbyBlIEN1cmE8L2E+IC0gSW1wb3J0YW56YSwgU3RlbGxpbmU6ICA8ZGl2IGNsYXNzPSdmb3Rvc3RlbGxpbmUnPjxpbWcgIHN0eWxlPSd2ZXJ0aWNhbC1hbGlnbjptaWRkbGU7JyBzcmM9Jy4uL2dyYWZpY2EvNXN0ZWxsZS5wbmcnIGFsdD0nNVN0ZWxsaW5lJz48L2Rpdj4gIExpbmsgRXN0ZXNvOiA8YSBocmVmPSdodHRwczovL3d3dy5mYXJtYWNvZWN1cmEuaXQvJyB0YXJnZXQ9J19ibGFuayc+aHR0cHM6Ly93d3cuZmFybWFjb2VjdXJhLml0LzwvYT48L3A+ ICA8YSBocmVmPSdodHRwczovL3d3dy5zdGFyYmVuZS5pdC8nIHRhcmdldD0nX2JsYW5rJz5TdGFyYmVuZTwvYT4gLSBJbXBvcnRhbnphLCBTdGVsbGluZTogIDxkaXYgY2xhc3M9J2ZvdG9zdGVsbGluZSc+PGltZyAgc3R5bGU9J3ZlcnRpY2FsLWFsaWduOm1pZGRsZTsnIHNyYz0nLi4vZ3JhZmljYS80c3RlbGxlLnBuZycgYWx0PSc0U3RlbGxpbmUnPjwvZGl2PiAgTGluayBFc3Rlc286IDxhIGhyZWY9J2h0dHBzOi8vd3d3LnN0YXJiZW5lLml0LycgdGFyZ2V0PSdfYmxhbmsnPmh0dHBzOi8vd3d3LnN0YXJiZW5lLml0LzwvYT48L3A+ ICA8YSBocmVmPSdodHRwOi8vd3d3LmZvcm1hemlvbmVwc2ljaGlhdHJpY2EuaXQvJyB0YXJnZXQ9J19ibGFuayc+Rm9ybWF6aW9uZSBQc2ljaGlhdHJpY2E8L2E+IC0gSW1wb3J0YW56YSwgU3RlbGxpbmU6ICA8ZGl2IGNsYXNzPSdmb3Rvc3RlbGxpbmUnPjxpbWcgIHN0eWxlPSd2ZXJ0aWNhbC1hbGlnbjptaWRkbGU7JyBzcmM9Jy4uL2dyYWZpY2EvM3N0ZWxsZS5wbmcnIGFsdD0nM1N0ZWxsaW5lJz48L2Rpdj4gIExpbmsgRXN0ZXNvOiA8YSBocmVmPSdodHRwOi8vd3d3LmZvcm1hemlvbmVwc2ljaGlhdHJpY2EuaXQvJyB0YXJnZXQ9J19ibGFuayc+aHR0cDovL3d3dy5mb3JtYXppb25lcHNpY2hpYXRyaWNhLml0LzwvYT48L3A+ ICA8YSBocmVmPSdodHRwczovL211c2NsZXdpa2kub3JnLycgdGFyZ2V0PSdfYmxhbmsnPk11c2NsZXdpa2k8L2E+IC0gSW1wb3J0YW56YSwgU3RlbGxpbmU6ICA8ZGl2IGNsYXNzPSdmb3Rvc3RlbGxpbmUnPjxpbWcgIHN0eWxlPSd2ZXJ0aWNhbC1hbGlnbjptaWRkbGU7JyBzcmM9Jy4uL2dyYWZpY2EvNHN0ZWxsZS5wbmcnIGFsdD0nNFN0ZWxsaW5lJz48L2Rpdj4gIExpbmsgRXN0ZXNvOiA8YSBocmVmPSdodHRwczovL211c2NsZXdpa2kub3JnLycgdGFyZ2V0PSdfYmxhbmsnPmh0dHBzOi8vbXVzY2xld2lraS5vcmcvPC9hPjwvcD4=
Scienze - My Personal Ranking
ICA8YSBocmVmPSdodHRwczovL3d3dy5mb2N1cy5pdC8nIHRhcmdldD0nX2JsYW5rJz5Gb2N1czwvYT4gLSBJbXBvcnRhbnphLCBTdGVsbGluZTogIDxkaXYgY2xhc3M9J2ZvdG9zdGVsbGluZSc+PGltZyAgc3R5bGU9J3ZlcnRpY2FsLWFsaWduOm1pZGRsZTsnIHNyYz0nLi4vZ3JhZmljYS81c3RlbGxlLnBuZycgYWx0PSc1U3RlbGxpbmUnPjwvZGl2PiAgTGluayBFc3Rlc286IDxhIGhyZWY9J2h0dHBzOi8vd3d3LmZvY3VzLml0LycgdGFyZ2V0PSdfYmxhbmsnPmh0dHBzOi8vd3d3LmZvY3VzLml0LzwvYT48L3A+ ICA8YSBocmVmPSdodHRwczovL3d3dy5uYXRpb25hbGdlb2dyYXBoaWMuaXQvc2NpZW56YScgdGFyZ2V0PSdfYmxhbmsnPk5hdGlvbmFsIEdlb2dyYXBoaWMgU2NpZW56YTwvYT4gLSBJbXBvcnRhbnphLCBTdGVsbGluZTogIDxkaXYgY2xhc3M9J2ZvdG9zdGVsbGluZSc+PGltZyAgc3R5bGU9J3ZlcnRpY2FsLWFsaWduOm1pZGRsZTsnIHNyYz0nLi4vZ3JhZmljYS81c3RlbGxlLnBuZycgYWx0PSc1U3RlbGxpbmUnPjwvZGl2PiAgTGluayBFc3Rlc286IDxhIGhyZWY9J2h0dHBzOi8vd3d3Lm5hdGlvbmFsZ2VvZ3JhcGhpYy5pdC9zY2llbnphJyB0YXJnZXQ9J19ibGFuayc+aHR0cHM6Ly93d3cubmF0aW9uYWxnZW9ncmFwaGljLml0L3NjaWVuemE8L2E+PC9wPg== ICA8YSBocmVmPSdodHRwczovL3d3dy5uYXR1cmUuY29tLycgdGFyZ2V0PSdfYmxhbmsnPk5hdHVyZTwvYT4gLSBJbXBvcnRhbnphLCBTdGVsbGluZTogIDxkaXYgY2xhc3M9J2ZvdG9zdGVsbGluZSc+PGltZyAgc3R5bGU9J3ZlcnRpY2FsLWFsaWduOm1pZGRsZTsnIHNyYz0nLi4vZ3JhZmljYS81c3RlbGxlLnBuZycgYWx0PSc1U3RlbGxpbmUnPjwvZGl2PiAgTGluayBFc3Rlc286IDxhIGhyZWY9J2h0dHBzOi8vd3d3Lm5hdHVyZS5jb20vJyB0YXJnZXQ9J19ibGFuayc+aHR0cHM6Ly93d3cubmF0dXJlLmNvbS88L2E+PC9wPg== ICA8YSBocmVmPSdodHRwczovL3d3dy5zY2llbmNlZGFpbHkuY29tLycgdGFyZ2V0PSdfYmxhbmsnPlNjaWVuY2VEYWlseSAtIEluZ2xlc2U8L2E+IC0gSW1wb3J0YW56YSwgU3RlbGxpbmU6ICA8ZGl2IGNsYXNzPSdmb3Rvc3RlbGxpbmUnPjxpbWcgIHN0eWxlPSd2ZXJ0aWNhbC1hbGlnbjptaWRkbGU7JyBzcmM9Jy4uL2dyYWZpY2EvNXN0ZWxsZS5wbmcnIGFsdD0nNVN0ZWxsaW5lJz48L2Rpdj4gIExpbmsgRXN0ZXNvOiA8YSBocmVmPSdodHRwczovL3d3dy5zY2llbmNlZGFpbHkuY29tLycgdGFyZ2V0PSdfYmxhbmsnPmh0dHBzOi8vd3d3LnNjaWVuY2VkYWlseS5jb20vPC9hPjwvcD4= ICA8YSBocmVmPSdodHRwczovL3BoeXMub3JnLycgdGFyZ2V0PSdfYmxhbmsnPlBoeXMub3JnIC0gSW5nbGVzZTwvYT4gLSBJbXBvcnRhbnphLCBTdGVsbGluZTogIDxkaXYgY2xhc3M9J2ZvdG9zdGVsbGluZSc+PGltZyAgc3R5bGU9J3ZlcnRpY2FsLWFsaWduOm1pZGRsZTsnIHNyYz0nLi4vZ3JhZmljYS81c3RlbGxlLnBuZycgYWx0PSc1U3RlbGxpbmUnPjwvZGl2PiAgTGluayBFc3Rlc286IDxhIGhyZWY9J2h0dHBzOi8vcGh5cy5vcmcvJyB0YXJnZXQ9J19ibGFuayc+aHR0cHM6Ly9waHlzLm9yZy88L2E+PC9wPg== ICA8YSBocmVmPSdodHRwczovL3d3dy5zbWl0aHNvbmlhbm1hZy5jb20vc2NpZW5jZS1uYXR1cmUvJyB0YXJnZXQ9J19ibGFuayc+U21pdGhzb25pYW4gLSBTY2llbmNlIC0gSW5nbGVzZTwvYT4gLSBJbXBvcnRhbnphLCBTdGVsbGluZTogIDxkaXYgY2xhc3M9J2ZvdG9zdGVsbGluZSc+PGltZyAgc3R5bGU9J3ZlcnRpY2FsLWFsaWduOm1pZGRsZTsnIHNyYz0nLi4vZ3JhZmljYS80c3RlbGxlLnBuZycgYWx0PSc0U3RlbGxpbmUnPjwvZGl2PiAgTGluayBFc3Rlc286IDxhIGhyZWY9J2h0dHBzOi8vd3d3LnNtaXRoc29uaWFubWFnLmNvbS9zY2llbmNlLW5hdHVyZS8nIHRhcmdldD0nX2JsYW5rJz5odHRwczovL3d3dy5zbWl0aHNvbmlhbm1hZy5jb20vc2NpZW5jZS1uYXR1cmUvPC9hPjwvcD4= ICA8YSBocmVmPSdodHRwczovL3d3dy5kaXNjb3Zlcm1hZ2F6aW5lLmNvbS8nIHRhcmdldD0nX2JsYW5rJz5EaXNjb3ZlciBNYWdhemluZSAtIEluZ2xlc2U8L2E+IC0gSW1wb3J0YW56YSwgU3RlbGxpbmU6ICA8ZGl2IGNsYXNzPSdmb3Rvc3RlbGxpbmUnPjxpbWcgIHN0eWxlPSd2ZXJ0aWNhbC1hbGlnbjptaWRkbGU7JyBzcmM9Jy4uL2dyYWZpY2EvNHN0ZWxsZS5wbmcnIGFsdD0nNFN0ZWxsaW5lJz48L2Rpdj4gIExpbmsgRXN0ZXNvOiA8YSBocmVmPSdodHRwczovL3d3dy5kaXNjb3Zlcm1hZ2F6aW5lLmNvbS8nIHRhcmdldD0nX2JsYW5rJz5odHRwczovL3d3dy5kaXNjb3Zlcm1hZ2F6aW5lLmNvbS88L2E+PC9wPg== ICA8YSBocmVmPSdodHRwczovL3d3dy5wb3BzY2kuY29tLycgdGFyZ2V0PSdfYmxhbmsnPlBvcHVsYXIgU2NpZW5jZSAtIEluZ2xlc2U8L2E+IC0gSW1wb3J0YW56YSwgU3RlbGxpbmU6ICA8ZGl2IGNsYXNzPSdmb3Rvc3RlbGxpbmUnPjxpbWcgIHN0eWxlPSd2ZXJ0aWNhbC1hbGlnbjptaWRkbGU7JyBzcmM9Jy4uL2dyYWZpY2EvNHN0ZWxsZS5wbmcnIGFsdD0nNFN0ZWxsaW5lJz48L2Rpdj4gIExpbmsgRXN0ZXNvOiA8YSBocmVmPSdodHRwczovL3d3dy5wb3BzY2kuY29tLycgdGFyZ2V0PSdfYmxhbmsnPmh0dHBzOi8vd3d3LnBvcHNjaS5jb20vPC9hPjwvcD4= ICA8YSBocmVmPSdodHRwczovL3d3dy5zcGFjZS5jb20vJyB0YXJnZXQ9J19ibGFuayc+U3BhY2UgLSBJbmdsZXNlPC9hPiAtIEltcG9ydGFuemEsIFN0ZWxsaW5lOiAgPGRpdiBjbGFzcz0nZm90b3N0ZWxsaW5lJz48aW1nICBzdHlsZT0ndmVydGljYWwtYWxpZ246bWlkZGxlOycgc3JjPScuLi9ncmFmaWNhLzVzdGVsbGUucG5nJyBhbHQ9JzVTdGVsbGluZSc+PC9kaXY+ICBMaW5rIEVzdGVzbzogPGEgaHJlZj0naHR0cHM6Ly93d3cuc3BhY2UuY29tLycgdGFyZ2V0PSdfYmxhbmsnPmh0dHBzOi8vd3d3LnNwYWNlLmNvbS88L2E+PC9wPg== ICA8YSBocmVmPSdodHRwczovL3d3dy5sZXNjaWVuemUuaXQnIHRhcmdldD0nX2JsYW5rJz5MZSBTY2llbnplPC9hPiAtIEltcG9ydGFuemEsIFN0ZWxsaW5lOiAgPGRpdiBjbGFzcz0nZm90b3N0ZWxsaW5lJz48aW1nICBzdHlsZT0ndmVydGljYWwtYWxpZ246bWlkZGxlOycgc3JjPScuLi9ncmFmaWNhLzVzdGVsbGUucG5nJyBhbHQ9JzVTdGVsbGluZSc+PC9kaXY+ICBMaW5rIEVzdGVzbzogPGEgaHJlZj0naHR0cHM6Ly93d3cubGVzY2llbnplLml0JyB0YXJnZXQ9J19ibGFuayc+aHR0cHM6Ly93d3cubGVzY2llbnplLml0PC9hPjwvcD4= ICA8YSBocmVmPSdodHRwOi8vd3d3LmNvZWx1bS5jb20vJyB0YXJnZXQ9J19ibGFuayc+Q29lbHVtIC0gSXRhbGlhbm88L2E+IC0gSW1wb3J0YW56YSwgU3RlbGxpbmU6ICA8ZGl2IGNsYXNzPSdmb3Rvc3RlbGxpbmUnPjxpbWcgIHN0eWxlPSd2ZXJ0aWNhbC1hbGlnbjptaWRkbGU7JyBzcmM9Jy4uL2dyYWZpY2EvNHN0ZWxsZS5wbmcnIGFsdD0nNFN0ZWxsaW5lJz48L2Rpdj4gIExpbmsgRXN0ZXNvOiA8YSBocmVmPSdodHRwOi8vd3d3LmNvZWx1bS5jb20vJyB0YXJnZXQ9J19ibGFuayc+aHR0cDovL3d3dy5jb2VsdW0uY29tLzwvYT48L3A+ ICA8YSBocmVmPSdodHRwOi8vd3d3LnJpdmlzdGFjb21wcmVuZHJlLm9yZy9yaXZpc3RhLycgdGFyZ2V0PSdfYmxhbmsnPlJpdmlzdGEgQ29tcHJlbmRyZTwvYT4gLSBJbXBvcnRhbnphLCBTdGVsbGluZTogIDxkaXYgY2xhc3M9J2ZvdG9zdGVsbGluZSc+PGltZyAgc3R5bGU9J3ZlcnRpY2FsLWFsaWduOm1pZGRsZTsnIHNyYz0nLi4vZ3JhZmljYS81c3RlbGxlLnBuZycgYWx0PSc1U3RlbGxpbmUnPjwvZGl2PiAgTGluayBFc3Rlc286IDxhIGhyZWY9J2h0dHA6Ly93d3cucml2aXN0YWNvbXByZW5kcmUub3JnL3JpdmlzdGEvJyB0YXJnZXQ9J19ibGFuayc+aHR0cDovL3d3dy5yaXZpc3RhY29tcHJlbmRyZS5vcmcvcml2aXN0YS88L2E+PC9wPg== ICA8YSBocmVmPSdodHRwOi8vd3d3LnJpdmlzdGFkaWFncmFyaWEub3JnLycgdGFyZ2V0PSdfYmxhbmsnPlJpdmlzdGEgZGkgQWdyYXJpYTwvYT4gLSBJbXBvcnRhbnphLCBTdGVsbGluZTogIDxkaXYgY2xhc3M9J2ZvdG9zdGVsbGluZSc+PGltZyAgc3R5bGU9J3ZlcnRpY2FsLWFsaWduOm1pZGRsZTsnIHNyYz0nLi4vZ3JhZmljYS80c3RlbGxlLnBuZycgYWx0PSc0U3RlbGxpbmUnPjwvZGl2PiAgTGluayBFc3Rlc286IDxhIGhyZWY9J2h0dHA6Ly93d3cucml2aXN0YWRpYWdyYXJpYS5vcmcvJyB0YXJnZXQ9J19ibGFuayc+aHR0cDovL3d3dy5yaXZpc3RhZGlhZ3JhcmlhLm9yZy88L2E+PC9wPg== ICA8YSBocmVmPSdodHRwOi8vd3d3LmFsbWFuYWNjby5jbnIuaXQvJyB0YXJnZXQ9J19ibGFuayc+QWxtYW5hY2NvIGRlbGxhIHNjaWVuemE8L2E+IC0gSW1wb3J0YW56YSwgU3RlbGxpbmU6ICA8ZGl2IGNsYXNzPSdmb3Rvc3RlbGxpbmUnPjxpbWcgIHN0eWxlPSd2ZXJ0aWNhbC1hbGlnbjptaWRkbGU7JyBzcmM9Jy4uL2dyYWZpY2EvNHN0ZWxsZS5wbmcnIGFsdD0nNFN0ZWxsaW5lJz48L2Rpdj4gIExpbmsgRXN0ZXNvOiA8YSBocmVmPSdodHRwOi8vd3d3LmFsbWFuYWNjby5jbnIuaXQvJyB0YXJnZXQ9J19ibGFuayc+aHR0cDovL3d3dy5hbG1hbmFjY28uY25yLml0LzwvYT48L3A+
Lavoro - My Personal Ranking
ICA8YSBocmVmPSdodHRwczovL3d3dy5pbmZvam9icy5pdC8nIHRhcmdldD0nX2JsYW5rJz5JbmZvam9iczwvYT4gLSBJbXBvcnRhbnphLCBTdGVsbGluZTogIDxkaXYgY2xhc3M9J2ZvdG9zdGVsbGluZSc+PGltZyAgc3R5bGU9J3ZlcnRpY2FsLWFsaWduOm1pZGRsZTsnIHNyYz0nLi4vZ3JhZmljYS81c3RlbGxlLnBuZycgYWx0PSc1U3RlbGxpbmUnPjwvZGl2PiAgTGluayBFc3Rlc286IDxhIGhyZWY9J2h0dHBzOi8vd3d3LmluZm9qb2JzLml0LycgdGFyZ2V0PSdfYmxhbmsnPmh0dHBzOi8vd3d3LmluZm9qb2JzLml0LzwvYT48L3A+ ICA8YSBocmVmPSdodHRwczovL2l0LmpvYnJhcGlkby5jb20vJyB0YXJnZXQ9J19ibGFuayc+Sm9icmFiaWRvPC9hPiAtIEltcG9ydGFuemEsIFN0ZWxsaW5lOiAgPGRpdiBjbGFzcz0nZm90b3N0ZWxsaW5lJz48aW1nICBzdHlsZT0ndmVydGljYWwtYWxpZ246bWlkZGxlOycgc3JjPScuLi9ncmFmaWNhLzRzdGVsbGUucG5nJyBhbHQ9JzRTdGVsbGluZSc+PC9kaXY+ICBMaW5rIEVzdGVzbzogPGEgaHJlZj0naHR0cHM6Ly9pdC5qb2JyYXBpZG8uY29tLycgdGFyZ2V0PSdfYmxhbmsnPmh0dHBzOi8vaXQuam9icmFwaWRvLmNvbS88L2E+PC9wPg== ICA8YSBocmVmPSdodHRwczovL3d3dy5tb25zdGVyLml0LycgdGFyZ2V0PSdfYmxhbmsnPk1vbnN0ZXI8L2E+IC0gSW1wb3J0YW56YSwgU3RlbGxpbmU6ICA8ZGl2IGNsYXNzPSdmb3Rvc3RlbGxpbmUnPjxpbWcgIHN0eWxlPSd2ZXJ0aWNhbC1hbGlnbjptaWRkbGU7JyBzcmM9Jy4uL2dyYWZpY2EvNHN0ZWxsZS5wbmcnIGFsdD0nNFN0ZWxsaW5lJz48L2Rpdj4gIExpbmsgRXN0ZXNvOiA8YSBocmVmPSdodHRwczovL3d3dy5tb25zdGVyLml0LycgdGFyZ2V0PSdfYmxhbmsnPmh0dHBzOi8vd3d3Lm1vbnN0ZXIuaXQvPC9hPjwvcD4= ICA8YSBocmVmPSdodHRwczovL2l0LmluZGVlZC5jb20vJyB0YXJnZXQ9J19ibGFuayc+SW5kZWVkPC9hPiAtIEltcG9ydGFuemEsIFN0ZWxsaW5lOiAgPGRpdiBjbGFzcz0nZm90b3N0ZWxsaW5lJz48aW1nICBzdHlsZT0ndmVydGljYWwtYWxpZ246bWlkZGxlOycgc3JjPScuLi9ncmFmaWNhLzVzdGVsbGUucG5nJyBhbHQ9JzVTdGVsbGluZSc+PC9kaXY+ICBMaW5rIEVzdGVzbzogPGEgaHJlZj0naHR0cHM6Ly9pdC5pbmRlZWQuY29tLycgdGFyZ2V0PSdfYmxhbmsnPmh0dHBzOi8vaXQuaW5kZWVkLmNvbS88L2E+PC9wPg== ICA8YSBocmVmPSdodHRwczovL3d3dy5saW5rZWRpbi5jb20vJyB0YXJnZXQ9J19ibGFuayc+TGlua2VkaW48L2E+IC0gSW1wb3J0YW56YSwgU3RlbGxpbmU6ICA8ZGl2IGNsYXNzPSdmb3Rvc3RlbGxpbmUnPjxpbWcgIHN0eWxlPSd2ZXJ0aWNhbC1hbGlnbjptaWRkbGU7JyBzcmM9Jy4uL2dyYWZpY2EvNXN0ZWxsZS5wbmcnIGFsdD0nNVN0ZWxsaW5lJz48L2Rpdj4gIExpbmsgRXN0ZXNvOiA8YSBocmVmPSdodHRwczovL3d3dy5saW5rZWRpbi5jb20vJyB0YXJnZXQ9J19ibGFuayc+aHR0cHM6Ly93d3cubGlua2VkaW4uY29tLzwvYT48L3A+ ICA8YSBocmVmPSdodHRwczovL2xhdm9yby5jb3JyaWVyZS5pdC8nIHRhcmdldD0nX2JsYW5rJz5MYXZvcm8gQ29ycmllcmU8L2E+IC0gSW1wb3J0YW56YSwgU3RlbGxpbmU6ICA8ZGl2IGNsYXNzPSdmb3Rvc3RlbGxpbmUnPjxpbWcgIHN0eWxlPSd2ZXJ0aWNhbC1hbGlnbjptaWRkbGU7JyBzcmM9Jy4uL2dyYWZpY2EvM3N0ZWxsZS5wbmcnIGFsdD0nM1N0ZWxsaW5lJz48L2Rpdj4gIExpbmsgRXN0ZXNvOiA8YSBocmVmPSdodHRwczovL2xhdm9yby5jb3JyaWVyZS5pdC8nIHRhcmdldD0nX2JsYW5rJz5odHRwczovL2xhdm9yby5jb3JyaWVyZS5pdC88L2E+PC9wPg== ICA8YSBocmVmPSdodHRwczovL2xhdm9yby50cm92aXQuaXQvJyB0YXJnZXQ9J19ibGFuayc+VHJvdml0PC9hPiAtIEltcG9ydGFuemEsIFN0ZWxsaW5lOiAgPGRpdiBjbGFzcz0nZm90b3N0ZWxsaW5lJz48aW1nICBzdHlsZT0ndmVydGljYWwtYWxpZ246bWlkZGxlOycgc3JjPScuLi9ncmFmaWNhLzRzdGVsbGUucG5nJyBhbHQ9JzRTdGVsbGluZSc+PC9kaXY+ICBMaW5rIEVzdGVzbzogPGEgaHJlZj0naHR0cHM6Ly9sYXZvcm8udHJvdml0Lml0LycgdGFyZ2V0PSdfYmxhbmsnPmh0dHBzOi8vbGF2b3JvLnRyb3ZpdC5pdC88L2E+PC9wPg== ICA8YSBocmVmPSdodHRwczovL3d3dy5tYW5wb3dlci5pdC8nIHRhcmdldD0nX2JsYW5rJz5NYW5wb3dlcjwvYT4gLSBJbXBvcnRhbnphLCBTdGVsbGluZTogIDxkaXYgY2xhc3M9J2ZvdG9zdGVsbGluZSc+PGltZyAgc3R5bGU9J3ZlcnRpY2FsLWFsaWduOm1pZGRsZTsnIHNyYz0nLi4vZ3JhZmljYS80c3RlbGxlLnBuZycgYWx0PSc0U3RlbGxpbmUnPjwvZGl2PiAgTGluayBFc3Rlc286IDxhIGhyZWY9J2h0dHBzOi8vd3d3Lm1hbnBvd2VyLml0LycgdGFyZ2V0PSdfYmxhbmsnPmh0dHBzOi8vd3d3Lm1hbnBvd2VyLml0LzwvYT48L3A+ ICA8YSBocmVmPSdodHRwczovL3d3dy5yYW5kc3RhZC5pdC8nIHRhcmdldD0nX2JsYW5rJz5SYW5kc3RhZDwvYT4gLSBJbXBvcnRhbnphLCBTdGVsbGluZTogIDxkaXYgY2xhc3M9J2ZvdG9zdGVsbGluZSc+PGltZyAgc3R5bGU9J3ZlcnRpY2FsLWFsaWduOm1pZGRsZTsnIHNyYz0nLi4vZ3JhZmljYS80c3RlbGxlLnBuZycgYWx0PSc0U3RlbGxpbmUnPjwvZGl2PiAgTGluayBFc3Rlc286IDxhIGhyZWY9J2h0dHBzOi8vd3d3LnJhbmRzdGFkLml0LycgdGFyZ2V0PSdfYmxhbmsnPmh0dHBzOi8vd3d3LnJhbmRzdGFkLml0LzwvYT48L3A+ ICA8YSBocmVmPSdodHRwczovL3d3dy5jYXJlZXJqZXQuaXQvJyB0YXJnZXQ9J19ibGFuayc+Q2FyZWVyamV0PC9hPiAtIEltcG9ydGFuemEsIFN0ZWxsaW5lOiAgPGRpdiBjbGFzcz0nZm90b3N0ZWxsaW5lJz48aW1nICBzdHlsZT0ndmVydGljYWwtYWxpZ246bWlkZGxlOycgc3JjPScuLi9ncmFmaWNhLzNzdGVsbGUucG5nJyBhbHQ9JzNTdGVsbGluZSc+PC9kaXY+ICBMaW5rIEVzdGVzbzogPGEgaHJlZj0naHR0cHM6Ly93d3cuY2FyZWVyamV0Lml0LycgdGFyZ2V0PSdfYmxhbmsnPmh0dHBzOi8vd3d3LmNhcmVlcmpldC5pdC88L2E+PC9wPg== ICA8YSBocmVmPSdodHRwczovL3d3dy50cml2YWdvLml0LycgdGFyZ2V0PSdfYmxhbmsnPlRyaXZhZ288L2E+IC0gSW1wb3J0YW56YSwgU3RlbGxpbmU6ICA8ZGl2IGNsYXNzPSdmb3Rvc3RlbGxpbmUnPjxpbWcgIHN0eWxlPSd2ZXJ0aWNhbC1hbGlnbjptaWRkbGU7JyBzcmM9Jy4uL2dyYWZpY2EvNXN0ZWxsZS5wbmcnIGFsdD0nNVN0ZWxsaW5lJz48L2Rpdj4gIExpbmsgRXN0ZXNvOiA8YSBocmVmPSdodHRwczovL3d3dy50cml2YWdvLml0LycgdGFyZ2V0PSdfYmxhbmsnPmh0dHBzOi8vd3d3LnRyaXZhZ28uaXQvPC9hPjwvcD4=
Business - My Personal Ranking
ICA8YSBocmVmPSdodHRwczovL3d3dy5taWxsaW9uYWlyZS5pdC8nIHRhcmdldD0nX2JsYW5rJz5NaWxsaW9uYWlyZTwvYT4gLSBJbXBvcnRhbnphLCBTdGVsbGluZTogIDxkaXYgY2xhc3M9J2ZvdG9zdGVsbGluZSc+PGltZyAgc3R5bGU9J3ZlcnRpY2FsLWFsaWduOm1pZGRsZTsnIHNyYz0nLi4vZ3JhZmljYS81c3RlbGxlLnBuZycgYWx0PSc1U3RlbGxpbmUnPjwvZGl2PiAgTGluayBFc3Rlc286IDxhIGhyZWY9J2h0dHBzOi8vd3d3Lm1pbGxpb25haXJlLml0LycgdGFyZ2V0PSdfYmxhbmsnPmh0dHBzOi8vd3d3Lm1pbGxpb25haXJlLml0LzwvYT48L3A+ ICA8YSBocmVmPSdodHRwczovL3d3dy5pbW1vYmlsaWFyZS5pdC8nIHRhcmdldD0nX2JsYW5rJz5JbW1vYmlsaWFyZS5pdDwvYT4gLSBJbXBvcnRhbnphLCBTdGVsbGluZTogIDxkaXYgY2xhc3M9J2ZvdG9zdGVsbGluZSc+PGltZyAgc3R5bGU9J3ZlcnRpY2FsLWFsaWduOm1pZGRsZTsnIHNyYz0nLi4vZ3JhZmljYS81c3RlbGxlLnBuZycgYWx0PSc1U3RlbGxpbmUnPjwvZGl2PiAgTGluayBFc3Rlc286IDxhIGhyZWY9J2h0dHBzOi8vd3d3LmltbW9iaWxpYXJlLml0LycgdGFyZ2V0PSdfYmxhbmsnPmh0dHBzOi8vd3d3LmltbW9iaWxpYXJlLml0LzwvYT48L3A+ ICA8YSBocmVmPSdodHRwczovL3d3dy5jYXNhLml0LycgdGFyZ2V0PSdfYmxhbmsnPkNhc2EuaXQ8L2E+IC0gSW1wb3J0YW56YSwgU3RlbGxpbmU6ICA8ZGl2IGNsYXNzPSdmb3Rvc3RlbGxpbmUnPjxpbWcgIHN0eWxlPSd2ZXJ0aWNhbC1hbGlnbjptaWRkbGU7JyBzcmM9Jy4uL2dyYWZpY2EvNXN0ZWxsZS5wbmcnIGFsdD0nNVN0ZWxsaW5lJz48L2Rpdj4gIExpbmsgRXN0ZXNvOiA8YSBocmVmPSdodHRwczovL3d3dy5jYXNhLml0LycgdGFyZ2V0PSdfYmxhbmsnPmh0dHBzOi8vd3d3LmNhc2EuaXQvPC9hPjwvcD4= ICA8YSBocmVmPSdodHRwczovL3d3dy5pZGVhbGlzdGEuaXQvJyB0YXJnZXQ9J19ibGFuayc+SWRlYWxpc3RhPC9hPiAtIEltcG9ydGFuemEsIFN0ZWxsaW5lOiAgPGRpdiBjbGFzcz0nZm90b3N0ZWxsaW5lJz48aW1nICBzdHlsZT0ndmVydGljYWwtYWxpZ246bWlkZGxlOycgc3JjPScuLi9ncmFmaWNhLzVzdGVsbGUucG5nJyBhbHQ9JzVTdGVsbGluZSc+PC9kaXY+ICBMaW5rIEVzdGVzbzogPGEgaHJlZj0naHR0cHM6Ly93d3cuaWRlYWxpc3RhLml0LycgdGFyZ2V0PSdfYmxhbmsnPmh0dHBzOi8vd3d3LmlkZWFsaXN0YS5pdC88L2E+PC9wPg== ICA8YSBocmVmPSdodHRwczovL3d3dy5hbGxidXNpbmVzcy5jb20vJyB0YXJnZXQ9J19ibGFuayc+QWxsYnVzaW5lc3M8L2E+IC0gSW1wb3J0YW56YSwgU3RlbGxpbmU6ICA8ZGl2IGNsYXNzPSdmb3Rvc3RlbGxpbmUnPjxpbWcgIHN0eWxlPSd2ZXJ0aWNhbC1hbGlnbjptaWRkbGU7JyBzcmM9Jy4uL2dyYWZpY2EvNXN0ZWxsZS5wbmcnIGFsdD0nNVN0ZWxsaW5lJz48L2Rpdj4gIExpbmsgRXN0ZXNvOiA8YSBocmVmPSdodHRwczovL3d3dy5hbGxidXNpbmVzcy5jb20vJyB0YXJnZXQ9J19ibGFuayc+aHR0cHM6Ly93d3cuYWxsYnVzaW5lc3MuY29tLzwvYT48L3A+ ICA8YSBocmVmPSdodHRwczovL3d3dy5ibG9vbWJlcmcuY29tLycgdGFyZ2V0PSdfYmxhbmsnPkJsb29tYmVyZzwvYT4gLSBJbXBvcnRhbnphLCBTdGVsbGluZTogIDxkaXYgY2xhc3M9J2ZvdG9zdGVsbGluZSc+PGltZyAgc3R5bGU9J3ZlcnRpY2FsLWFsaWduOm1pZGRsZTsnIHNyYz0nLi4vZ3JhZmljYS81c3RlbGxlLnBuZycgYWx0PSc1U3RlbGxpbmUnPjwvZGl2PiAgTGluayBFc3Rlc286IDxhIGhyZWY9J2h0dHBzOi8vd3d3LmJsb29tYmVyZy5jb20vJyB0YXJnZXQ9J19ibGFuayc+aHR0cHM6Ly93d3cuYmxvb21iZXJnLmNvbS88L2E+PC9wPg== ICA8YSBocmVmPSdidXNpbmVzc2luc2lkZXIuY29tJyB0YXJnZXQ9J19ibGFuayc+QnVzaW5lc3NpbnNpZGVyPC9hPiAtIEltcG9ydGFuemEsIFN0ZWxsaW5lOiAgPGRpdiBjbGFzcz0nZm90b3N0ZWxsaW5lJz48aW1nICBzdHlsZT0ndmVydGljYWwtYWxpZ246bWlkZGxlOycgc3JjPScuLi9ncmFmaWNhLzVzdGVsbGUucG5nJyBhbHQ9JzVTdGVsbGluZSc+PC9kaXY+ICBMaW5rIEVzdGVzbzogPGEgaHJlZj0nYnVzaW5lc3NpbnNpZGVyLmNvbScgdGFyZ2V0PSdfYmxhbmsnPmJ1c2luZXNzaW5zaWRlci5jb208L2E+PC9wPg== ICA8YSBocmVmPSdodHRwczovL3d3dy5mdC5jb20vJyB0YXJnZXQ9J19ibGFuayc+RmluYW5jaWFsIFRpbWVzPC9hPiAtIEltcG9ydGFuemEsIFN0ZWxsaW5lOiAgPGRpdiBjbGFzcz0nZm90b3N0ZWxsaW5lJz48aW1nICBzdHlsZT0ndmVydGljYWwtYWxpZ246bWlkZGxlOycgc3JjPScuLi9ncmFmaWNhLzVzdGVsbGUucG5nJyBhbHQ9JzVTdGVsbGluZSc+PC9kaXY+ICBMaW5rIEVzdGVzbzogPGEgaHJlZj0naHR0cHM6Ly93d3cuZnQuY29tLycgdGFyZ2V0PSdfYmxhbmsnPmh0dHBzOi8vd3d3LmZ0LmNvbS88L2E+PC9wPg== ICA8YSBocmVmPSdodHRwczovL3d3dy5mb3JiZXMuY29tLycgdGFyZ2V0PSdfYmxhbmsnPkZvcmJlczwvYT4gLSBJbXBvcnRhbnphLCBTdGVsbGluZTogIDxkaXYgY2xhc3M9J2ZvdG9zdGVsbGluZSc+PGltZyAgc3R5bGU9J3ZlcnRpY2FsLWFsaWduOm1pZGRsZTsnIHNyYz0nLi4vZ3JhZmljYS81c3RlbGxlLnBuZycgYWx0PSc1U3RlbGxpbmUnPjwvZGl2PiAgTGluayBFc3Rlc286IDxhIGhyZWY9J2h0dHBzOi8vd3d3LmZvcmJlcy5jb20vJyB0YXJnZXQ9J19ibGFuayc+aHR0cHM6Ly93d3cuZm9yYmVzLmNvbS88L2E+PC9wPg== ICA8YSBocmVmPSdodHRwczovL3d3dy5jYXJlZXJidWlsZGVyLmNvbS8nIHRhcmdldD0nX2JsYW5rJz5DYXJlZXJidWlsZGVyPC9hPiAtIEltcG9ydGFuemEsIFN0ZWxsaW5lOiAgPGRpdiBjbGFzcz0nZm90b3N0ZWxsaW5lJz48aW1nICBzdHlsZT0ndmVydGljYWwtYWxpZ246bWlkZGxlOycgc3JjPScuLi9ncmFmaWNhLzRzdGVsbGUucG5nJyBhbHQ9JzRTdGVsbGluZSc+PC9kaXY+ICBMaW5rIEVzdGVzbzogPGEgaHJlZj0naHR0cHM6Ly93d3cuY2FyZWVyYnVpbGRlci5jb20vJyB0YXJnZXQ9J19ibGFuayc+aHR0cHM6Ly93d3cuY2FyZWVyYnVpbGRlci5jb20vPC9hPjwvcD4=
Viaggi - My Personal Ranking
ICA8YSBocmVmPSdodHRwczovL3d3dy5ib29raW5nLmNvbS8nIHRhcmdldD0nX2JsYW5rJz5Cb29raW5nLmNvbTwvYT4gLSBJbXBvcnRhbnphLCBTdGVsbGluZTogIDxkaXYgY2xhc3M9J2ZvdG9zdGVsbGluZSc+PGltZyAgc3R5bGU9J3ZlcnRpY2FsLWFsaWduOm1pZGRsZTsnIHNyYz0nLi4vZ3JhZmljYS81c3RlbGxlLnBuZycgYWx0PSc1U3RlbGxpbmUnPjwvZGl2PiAgTGluayBFc3Rlc286IDxhIGhyZWY9J2h0dHBzOi8vd3d3LmJvb2tpbmcuY29tLycgdGFyZ2V0PSdfYmxhbmsnPmh0dHBzOi8vd3d3LmJvb2tpbmcuY29tLzwvYT48L3A+ ICA8YSBocmVmPSdodHRwczovL3d3dy5leHBlZGlhLml0LycgdGFyZ2V0PSdfYmxhbmsnPkV4cGVkaWEgSVQ8L2E+IC0gSW1wb3J0YW56YSwgU3RlbGxpbmU6ICA8ZGl2IGNsYXNzPSdmb3Rvc3RlbGxpbmUnPjxpbWcgIHN0eWxlPSd2ZXJ0aWNhbC1hbGlnbjptaWRkbGU7JyBzcmM9Jy4uL2dyYWZpY2EvNXN0ZWxsZS5wbmcnIGFsdD0nNVN0ZWxsaW5lJz48L2Rpdj4gIExpbmsgRXN0ZXNvOiA8YSBocmVmPSdodHRwczovL3d3dy5leHBlZGlhLml0LycgdGFyZ2V0PSdfYmxhbmsnPmh0dHBzOi8vd3d3LmV4cGVkaWEuaXQvPC9hPjwvcD4= ICA8YSBocmVmPSdodHRwczovL3d3dy5rYXlhay5pdC8nIHRhcmdldD0nX2JsYW5rJz5LYXlhazwvYT4gLSBJbXBvcnRhbnphLCBTdGVsbGluZTogIDxkaXYgY2xhc3M9J2ZvdG9zdGVsbGluZSc+PGltZyAgc3R5bGU9J3ZlcnRpY2FsLWFsaWduOm1pZGRsZTsnIHNyYz0nLi4vZ3JhZmljYS81c3RlbGxlLnBuZycgYWx0PSc1U3RlbGxpbmUnPjwvZGl2PiAgTGluayBFc3Rlc286IDxhIGhyZWY9J2h0dHBzOi8vd3d3LmtheWFrLml0LycgdGFyZ2V0PSdfYmxhbmsnPmh0dHBzOi8vd3d3LmtheWFrLml0LzwvYT48L3A+ ICA8YSBocmVmPSdodHRwczovL3d3dy5sb2dpdHJhdmVsLml0LycgdGFyZ2V0PSdfYmxhbmsnPkxvZ2l0cmF2ZWw8L2E+IC0gSW1wb3J0YW56YSwgU3RlbGxpbmU6ICA8ZGl2IGNsYXNzPSdmb3Rvc3RlbGxpbmUnPjxpbWcgIHN0eWxlPSd2ZXJ0aWNhbC1hbGlnbjptaWRkbGU7JyBzcmM9Jy4uL2dyYWZpY2EvNXN0ZWxsZS5wbmcnIGFsdD0nNVN0ZWxsaW5lJz48L2Rpdj4gIExpbmsgRXN0ZXNvOiA8YSBocmVmPSdodHRwczovL3d3dy5sb2dpdHJhdmVsLml0LycgdGFyZ2V0PSdfYmxhbmsnPmh0dHBzOi8vd3d3LmxvZ2l0cmF2ZWwuaXQvPC9hPjwvcD4= ICA8YSBocmVmPSdodHRwczovL3d3dy5pdC5sYXN0bWludXRlLmNvbS8nIHRhcmdldD0nX2JsYW5rJz5MYXN0bWludXRlPC9hPiAtIEltcG9ydGFuemEsIFN0ZWxsaW5lOiAgPGRpdiBjbGFzcz0nZm90b3N0ZWxsaW5lJz48aW1nICBzdHlsZT0ndmVydGljYWwtYWxpZ246bWlkZGxlOycgc3JjPScuLi9ncmFmaWNhLzVzdGVsbGUucG5nJyBhbHQ9JzVTdGVsbGluZSc+PC9kaXY+ICBMaW5rIEVzdGVzbzogPGEgaHJlZj0naHR0cHM6Ly93d3cuaXQubGFzdG1pbnV0ZS5jb20vJyB0YXJnZXQ9J19ibGFuayc+aHR0cHM6Ly93d3cuaXQubGFzdG1pbnV0ZS5jb20vPC9hPjwvcD4= ICA8YSBocmVmPSdodHRwczovL3d3dy5ob3RlbHRvbmlnaHQuY29tLycgdGFyZ2V0PSdfYmxhbmsnPkhvdGVsdG9uaWdodC5jb208L2E+IC0gSW1wb3J0YW56YSwgU3RlbGxpbmU6ICA8ZGl2IGNsYXNzPSdmb3Rvc3RlbGxpbmUnPjxpbWcgIHN0eWxlPSd2ZXJ0aWNhbC1hbGlnbjptaWRkbGU7JyBzcmM9Jy4uL2dyYWZpY2EvNHN0ZWxsZS5wbmcnIGFsdD0nNFN0ZWxsaW5lJz48L2Rpdj4gIExpbmsgRXN0ZXNvOiA8YSBocmVmPSdodHRwczovL3d3dy5ob3RlbHRvbmlnaHQuY29tLycgdGFyZ2V0PSdfYmxhbmsnPmh0dHBzOi8vd3d3LmhvdGVsdG9uaWdodC5jb20vPC9hPjwvcD4= ICA8YSBocmVmPSdodHRwczovL3d3dy5ob3RlbHMuY29tLycgdGFyZ2V0PSdfYmxhbmsnPkhvdGVsczwvYT4gLSBJbXBvcnRhbnphLCBTdGVsbGluZTogIDxkaXYgY2xhc3M9J2ZvdG9zdGVsbGluZSc+PGltZyAgc3R5bGU9J3ZlcnRpY2FsLWFsaWduOm1pZGRsZTsnIHNyYz0nLi4vZ3JhZmljYS80c3RlbGxlLnBuZycgYWx0PSc0U3RlbGxpbmUnPjwvZGl2PiAgTGluayBFc3Rlc286IDxhIGhyZWY9J2h0dHBzOi8vd3d3LmhvdGVscy5jb20vJyB0YXJnZXQ9J19ibGFuayc+aHR0cHM6Ly93d3cuaG90ZWxzLmNvbS88L2E+PC9wPg== ICA8YSBocmVmPSdodHRwczovL3R1cmlzdGlwZXJjYXNvLml0LycgdGFyZ2V0PSdfYmxhbmsnPlR1cmlzdGlwZXJjYXNvPC9hPiAtIEltcG9ydGFuemEsIFN0ZWxsaW5lOiAgPGRpdiBjbGFzcz0nZm90b3N0ZWxsaW5lJz48aW1nICBzdHlsZT0ndmVydGljYWwtYWxpZ246bWlkZGxlOycgc3JjPScuLi9ncmFmaWNhLzRzdGVsbGUucG5nJyBhbHQ9JzRTdGVsbGluZSc+PC9kaXY+ICBMaW5rIEVzdGVzbzogPGEgaHJlZj0naHR0cHM6Ly90dXJpc3RpcGVyY2Fzby5pdC8nIHRhcmdldD0nX2JsYW5rJz5odHRwczovL3R1cmlzdGlwZXJjYXNvLml0LzwvYT48L3A+ ICA8YSBocmVmPSdodHRwczovL3d3dy50cmlwYWR2aXNvci5pdC8nIHRhcmdldD0nX2JsYW5rJz5UcmlwYWR2aXNvcjwvYT4gLSBJbXBvcnRhbnphLCBTdGVsbGluZTogIDxkaXYgY2xhc3M9J2ZvdG9zdGVsbGluZSc+PGltZyAgc3R5bGU9J3ZlcnRpY2FsLWFsaWduOm1pZGRsZTsnIHNyYz0nLi4vZ3JhZmljYS81c3RlbGxlLnBuZycgYWx0PSc1U3RlbGxpbmUnPjwvZGl2PiAgTGluayBFc3Rlc286IDxhIGhyZWY9J2h0dHBzOi8vd3d3LnRyaXBhZHZpc29yLml0LycgdGFyZ2V0PSdfYmxhbmsnPmh0dHBzOi8vd3d3LnRyaXBhZHZpc29yLml0LzwvYT48L3A+ ICA8YSBocmVmPSdodHRwczovL3d3dy5jYXNldmFjYW56YS5pdC8nIHRhcmdldD0nX2JsYW5rJz5DYXNhdmFjYW56YTwvYT4gLSBJbXBvcnRhbnphLCBTdGVsbGluZTogIDxkaXYgY2xhc3M9J2ZvdG9zdGVsbGluZSc+PGltZyAgc3R5bGU9J3ZlcnRpY2FsLWFsaWduOm1pZGRsZTsnIHNyYz0nLi4vZ3JhZmljYS80c3RlbGxlLnBuZycgYWx0PSc0U3RlbGxpbmUnPjwvZGl2PiAgTGluayBFc3Rlc286IDxhIGhyZWY9J2h0dHBzOi8vd3d3LmNhc2V2YWNhbnphLml0LycgdGFyZ2V0PSdfYmxhbmsnPmh0dHBzOi8vd3d3LmNhc2V2YWNhbnphLml0LzwvYT48L3A+ ICA8YSBocmVmPSdodHRwczovL3d3dy5jb3N0YWNyb2NpZXJlLml0LycgdGFyZ2V0PSdfYmxhbmsnPkNvc3RhY3JvY2llcmU8L2E+IC0gSW1wb3J0YW56YSwgU3RlbGxpbmU6ICA8ZGl2IGNsYXNzPSdmb3Rvc3RlbGxpbmUnPjxpbWcgIHN0eWxlPSd2ZXJ0aWNhbC1hbGlnbjptaWRkbGU7JyBzcmM9Jy4uL2dyYWZpY2EvNHN0ZWxsZS5wbmcnIGFsdD0nNFN0ZWxsaW5lJz48L2Rpdj4gIExpbmsgRXN0ZXNvOiA8YSBocmVmPSdodHRwczovL3d3dy5jb3N0YWNyb2NpZXJlLml0LycgdGFyZ2V0PSdfYmxhbmsnPmh0dHBzOi8vd3d3LmNvc3RhY3JvY2llcmUuaXQvPC9hPjwvcD4= ICA8YSBocmVmPSdodHRwczovL3d3dy50cmVuaXRhbGlhLmNvbS8nIHRhcmdldD0nX2JsYW5rJz5UcmVuaXRpYWxpYTwvYT4gLSBJbXBvcnRhbnphLCBTdGVsbGluZTogIDxkaXYgY2xhc3M9J2ZvdG9zdGVsbGluZSc+PGltZyAgc3R5bGU9J3ZlcnRpY2FsLWFsaWduOm1pZGRsZTsnIHNyYz0nLi4vZ3JhZmljYS80c3RlbGxlLnBuZycgYWx0PSc0U3RlbGxpbmUnPjwvZGl2PiAgTGluayBFc3Rlc286IDxhIGhyZWY9J2h0dHBzOi8vd3d3LnRyZW5pdGFsaWEuY29tLycgdGFyZ2V0PSdfYmxhbmsnPmh0dHBzOi8vd3d3LnRyZW5pdGFsaWEuY29tLzwvYT48L3A+ ICA8YSBocmVmPSdodHRwczovL3d3dy52aWFtaWNoZWxpbi5pdC8nIHRhcmdldD0nX2JsYW5rJz5WaWFtaWNoZWxpbjwvYT4gLSBJbXBvcnRhbnphLCBTdGVsbGluZTogIDxkaXYgY2xhc3M9J2ZvdG9zdGVsbGluZSc+PGltZyAgc3R5bGU9J3ZlcnRpY2FsLWFsaWduOm1pZGRsZTsnIHNyYz0nLi4vZ3JhZmljYS8zc3RlbGxlLnBuZycgYWx0PSczU3RlbGxpbmUnPjwvZGl2PiAgTGluayBFc3Rlc286IDxhIGhyZWY9J2h0dHBzOi8vd3d3LnZpYW1pY2hlbGluLml0LycgdGFyZ2V0PSdfYmxhbmsnPmh0dHBzOi8vd3d3LnZpYW1pY2hlbGluLml0LzwvYT48L3A+ ICA8YSBocmVmPSdodHRwczovL3d3dy5hbGl0YWxpYS5jb20vJyB0YXJnZXQ9J19ibGFuayc+QWxpdGFsaWE8L2E+IC0gSW1wb3J0YW56YSwgU3RlbGxpbmU6ICA8ZGl2IGNsYXNzPSdmb3Rvc3RlbGxpbmUnPjxpbWcgIHN0eWxlPSd2ZXJ0aWNhbC1hbGlnbjptaWRkbGU7JyBzcmM9Jy4uL2dyYWZpY2EvNHN0ZWxsZS5wbmcnIGFsdD0nNFN0ZWxsaW5lJz48L2Rpdj4gIExpbmsgRXN0ZXNvOiA8YSBocmVmPSdodHRwczovL3d3dy5hbGl0YWxpYS5jb20vJyB0YXJnZXQ9J19ibGFuayc+aHR0cHM6Ly93d3cuYWxpdGFsaWEuY29tLzwvYT48L3A+ ICA8YSBocmVmPSdodHRwczovL3d3dy5nb29nbGUuY29tL21hcHMvJyB0YXJnZXQ9J19ibGFuayc+R29vZ2xlIE1hcHM8L2E+IC0gSW1wb3J0YW56YSwgU3RlbGxpbmU6ICA8ZGl2IGNsYXNzPSdmb3Rvc3RlbGxpbmUnPjxpbWcgIHN0eWxlPSd2ZXJ0aWNhbC1hbGlnbjptaWRkbGU7JyBzcmM9Jy4uL2dyYWZpY2EvNXN0ZWxsZS5wbmcnIGFsdD0nNVN0ZWxsaW5lJz48L2Rpdj4gIExpbmsgRXN0ZXNvOiA8YSBocmVmPSdodHRwczovL3d3dy5nb29nbGUuY29tL21hcHMvJyB0YXJnZXQ9J19ibGFuayc+aHR0cHM6Ly93d3cuZ29vZ2xlLmNvbS9tYXBzLzwvYT48L3A+ ICA8YSBocmVmPSdodHRwczovL3d3dy5iZWQtYW5kLWJyZWFrZmFzdC5pdC8nIHRhcmdldD0nX2JsYW5rJz5CZWQgYW5kIEJyZWFrZmFzdDwvYT4gLSBJbXBvcnRhbnphLCBTdGVsbGluZTogIDxkaXYgY2xhc3M9J2ZvdG9zdGVsbGluZSc+PGltZyAgc3R5bGU9J3ZlcnRpY2FsLWFsaWduOm1pZGRsZTsnIHNyYz0nLi4vZ3JhZmljYS80c3RlbGxlLnBuZycgYWx0PSc0U3RlbGxpbmUnPjwvZGl2PiAgTGluayBFc3Rlc286IDxhIGhyZWY9J2h0dHBzOi8vd3d3LmJlZC1hbmQtYnJlYWtmYXN0Lml0LycgdGFyZ2V0PSdfYmxhbmsnPmh0dHBzOi8vd3d3LmJlZC1hbmQtYnJlYWtmYXN0Lml0LzwvYT48L3A+ ICA8YSBocmVmPSdodHRwczovL3d3dy5lZHJlYW1zLmNvbS8nIHRhcmdldD0nX2JsYW5rJz5FZHJlYW1zPC9hPiAtIEltcG9ydGFuemEsIFN0ZWxsaW5lOiAgPGRpdiBjbGFzcz0nZm90b3N0ZWxsaW5lJz48aW1nICBzdHlsZT0ndmVydGljYWwtYWxpZ246bWlkZGxlOycgc3JjPScuLi9ncmFmaWNhLzRzdGVsbGUucG5nJyBhbHQ9JzRTdGVsbGluZSc+PC9kaXY+ICBMaW5rIEVzdGVzbzogPGEgaHJlZj0naHR0cHM6Ly93d3cuZWRyZWFtcy5jb20vJyB0YXJnZXQ9J19ibGFuayc+aHR0cHM6Ly93d3cuZWRyZWFtcy5jb20vPC9hPjwvcD4= ICA8YSBocmVmPSdodHRwczovL3d3dy50cmF2ZWxibG9nLm9yZy8nIHRhcmdldD0nX2JsYW5rJz5UcmF2ZWxibG9nPC9hPiAtIEltcG9ydGFuemEsIFN0ZWxsaW5lOiAgPGRpdiBjbGFzcz0nZm90b3N0ZWxsaW5lJz48aW1nICBzdHlsZT0ndmVydGljYWwtYWxpZ246bWlkZGxlOycgc3JjPScuLi9ncmFmaWNhLzVzdGVsbGUucG5nJyBhbHQ9JzVTdGVsbGluZSc+PC9kaXY+ICBMaW5rIEVzdGVzbzogPGEgaHJlZj0naHR0cHM6Ly93d3cudHJhdmVsYmxvZy5vcmcvJyB0YXJnZXQ9J19ibGFuayc+aHR0cHM6Ly93d3cudHJhdmVsYmxvZy5vcmcvPC9hPjwvcD4=
Motori - My Personal Ranking
ICA8YSBocmVmPSdodHRwOi8vd3d3LnF1YXR0cm9ydW90ZS5pdC8nIHRhcmdldD0nX2JsYW5rJz5RdWF0dHJvcnVvdGU8L2E+IC0gSW1wb3J0YW56YSwgU3RlbGxpbmU6ICA8ZGl2IGNsYXNzPSdmb3Rvc3RlbGxpbmUnPjxpbWcgIHN0eWxlPSd2ZXJ0aWNhbC1hbGlnbjptaWRkbGU7JyBzcmM9Jy4uL2dyYWZpY2EvNXN0ZWxsZS5wbmcnIGFsdD0nNVN0ZWxsaW5lJz48L2Rpdj4gIExpbmsgRXN0ZXNvOiA8YSBocmVmPSdodHRwOi8vd3d3LnF1YXR0cm9ydW90ZS5pdC8nIHRhcmdldD0nX2JsYW5rJz5odHRwOi8vd3d3LnF1YXR0cm9ydW90ZS5pdC88L2E+PC9wPg== ICA8YSBocmVmPSdodHRwczovL3d3dy5tb3RvLml0LycgdGFyZ2V0PSdfYmxhbmsnPk1vdG88L2E+IC0gSW1wb3J0YW56YSwgU3RlbGxpbmU6ICA8ZGl2IGNsYXNzPSdmb3Rvc3RlbGxpbmUnPjxpbWcgIHN0eWxlPSd2ZXJ0aWNhbC1hbGlnbjptaWRkbGU7JyBzcmM9Jy4uL2dyYWZpY2EvNXN0ZWxsZS5wbmcnIGFsdD0nNVN0ZWxsaW5lJz48L2Rpdj4gIExpbmsgRXN0ZXNvOiA8YSBocmVmPSdodHRwczovL3d3dy5tb3RvLml0LycgdGFyZ2V0PSdfYmxhbmsnPmh0dHBzOi8vd3d3Lm1vdG8uaXQvPC9hPjwvcD4= ICA8YSBocmVmPSdodHRwczovL3d3dy5hdXRvYmxvZy5pdC8nIHRhcmdldD0nX2JsYW5rJz5BdXRvYmxvZzwvYT4gLSBJbXBvcnRhbnphLCBTdGVsbGluZTogIDxkaXYgY2xhc3M9J2ZvdG9zdGVsbGluZSc+PGltZyAgc3R5bGU9J3ZlcnRpY2FsLWFsaWduOm1pZGRsZTsnIHNyYz0nLi4vZ3JhZmljYS81c3RlbGxlLnBuZycgYWx0PSc1U3RlbGxpbmUnPjwvZGl2PiAgTGluayBFc3Rlc286IDxhIGhyZWY9J2h0dHBzOi8vd3d3LmF1dG9ibG9nLml0LycgdGFyZ2V0PSdfYmxhbmsnPmh0dHBzOi8vd3d3LmF1dG9ibG9nLml0LzwvYT48L3A+ ICA8YSBocmVmPSdodHRwczovL3d3dy5tb3RvcmlvbmxpbmUuY29tLycgdGFyZ2V0PSdfYmxhbmsnPk1vdG9yaW9ubGluZTwvYT4gLSBJbXBvcnRhbnphLCBTdGVsbGluZTogIDxkaXYgY2xhc3M9J2ZvdG9zdGVsbGluZSc+PGltZyAgc3R5bGU9J3ZlcnRpY2FsLWFsaWduOm1pZGRsZTsnIHNyYz0nLi4vZ3JhZmljYS81c3RlbGxlLnBuZycgYWx0PSc1U3RlbGxpbmUnPjwvZGl2PiAgTGluayBFc3Rlc286IDxhIGhyZWY9J2h0dHBzOi8vd3d3Lm1vdG9yaW9ubGluZS5jb20vJyB0YXJnZXQ9J19ibGFuayc+aHR0cHM6Ly93d3cubW90b3Jpb25saW5lLmNvbS88L2E+PC9wPg== ICA8YSBocmVmPSdodHRwczovL3d3dy5tb3RvcmkuaXQvJyB0YXJnZXQ9J19ibGFuayc+TW90b3JpLml0PC9hPiAtIEltcG9ydGFuemEsIFN0ZWxsaW5lOiAgPGRpdiBjbGFzcz0nZm90b3N0ZWxsaW5lJz48aW1nICBzdHlsZT0ndmVydGljYWwtYWxpZ246bWlkZGxlOycgc3JjPScuLi9ncmFmaWNhLzVzdGVsbGUucG5nJyBhbHQ9JzVTdGVsbGluZSc+PC9kaXY+ICBMaW5rIEVzdGVzbzogPGEgaHJlZj0naHR0cHM6Ly93d3cubW90b3JpLml0LycgdGFyZ2V0PSdfYmxhbmsnPmh0dHBzOi8vd3d3Lm1vdG9yaS5pdC88L2E+PC9wPg== ICA8YSBocmVmPSdodHRwczovL3d3dy5hdXRvbW9iaWxlLml0LycgdGFyZ2V0PSdfYmxhbmsnPkF1dG9tb2JpbGUuaXQ8L2E+IC0gSW1wb3J0YW56YSwgU3RlbGxpbmU6ICA8ZGl2IGNsYXNzPSdmb3Rvc3RlbGxpbmUnPjxpbWcgIHN0eWxlPSd2ZXJ0aWNhbC1hbGlnbjptaWRkbGU7JyBzcmM9Jy4uL2dyYWZpY2EvNHN0ZWxsZS5wbmcnIGFsdD0nNFN0ZWxsaW5lJz48L2Rpdj4gIExpbmsgRXN0ZXNvOiA8YSBocmVmPSdodHRwczovL3d3dy5hdXRvbW9iaWxlLml0LycgdGFyZ2V0PSdfYmxhbmsnPmh0dHBzOi8vd3d3LmF1dG9tb2JpbGUuaXQvPC9hPjwvcD4= ICA8YSBocmVmPSdodHRwczovL3d3dy5pbmZvbW90b3JpLmNvbS8nIHRhcmdldD0nX2JsYW5rJz5JbmZvbW90b3JpPC9hPiAtIEltcG9ydGFuemEsIFN0ZWxsaW5lOiAgPGRpdiBjbGFzcz0nZm90b3N0ZWxsaW5lJz48aW1nICBzdHlsZT0ndmVydGljYWwtYWxpZ246bWlkZGxlOycgc3JjPScuLi9ncmFmaWNhLzVzdGVsbGUucG5nJyBhbHQ9JzVTdGVsbGluZSc+PC9kaXY+ICBMaW5rIEVzdGVzbzogPGEgaHJlZj0naHR0cHM6Ly93d3cuaW5mb21vdG9yaS5jb20vJyB0YXJnZXQ9J19ibGFuayc+aHR0cHM6Ly93d3cuaW5mb21vdG9yaS5jb20vPC9hPjwvcD4= ICA8YSBocmVmPSdodHRwczovL3d3dy5mb3JtdWxhMS5jb20vJyB0YXJnZXQ9J19ibGFuayc+Rm9ybXVsYTE8L2E+IC0gSW1wb3J0YW56YSwgU3RlbGxpbmU6ICA8ZGl2IGNsYXNzPSdmb3Rvc3RlbGxpbmUnPjxpbWcgIHN0eWxlPSd2ZXJ0aWNhbC1hbGlnbjptaWRkbGU7JyBzcmM9Jy4uL2dyYWZpY2EvNXN0ZWxsZS5wbmcnIGFsdD0nNVN0ZWxsaW5lJz48L2Rpdj4gIExpbmsgRXN0ZXNvOiA8YSBocmVmPSdodHRwczovL3d3dy5mb3JtdWxhMS5jb20vJyB0YXJnZXQ9J19ibGFuayc+aHR0cHM6Ly93d3cuZm9ybXVsYTEuY29tLzwvYT48L3A+
Finanza - My Personal Ranking
ICA8YSBocmVmPSdodHRwczovL3d3dy5pbHNvbGUyNG9yZS5jb20vc2V6L2ZpbmFuemEnIHRhcmdldD0nX2JsYW5rJz5JbCBTb2xlIDI0IEZpbmFuemE8L2E+IC0gSW1wb3J0YW56YSwgU3RlbGxpbmU6ICA8ZGl2IGNsYXNzPSdmb3Rvc3RlbGxpbmUnPjxpbWcgIHN0eWxlPSd2ZXJ0aWNhbC1hbGlnbjptaWRkbGU7JyBzcmM9Jy4uL2dyYWZpY2EvNXN0ZWxsZS5wbmcnIGFsdD0nNVN0ZWxsaW5lJz48L2Rpdj4gIExpbmsgRXN0ZXNvOiA8YSBocmVmPSdodHRwczovL3d3dy5pbHNvbGUyNG9yZS5jb20vc2V6L2ZpbmFuemEnIHRhcmdldD0nX2JsYW5rJz5odHRwczovL3d3dy5pbHNvbGUyNG9yZS5jb20vc2V6L2ZpbmFuemE8L2E+PC9wPg== ICA8YSBocmVmPSdodHRwczovL3d3dy5taWxhbm9maW5hbnphLml0LycgdGFyZ2V0PSdfYmxhbmsnPk1pbGFubyBGaW5hbnphPC9hPiAtIEltcG9ydGFuemEsIFN0ZWxsaW5lOiAgPGRpdiBjbGFzcz0nZm90b3N0ZWxsaW5lJz48aW1nICBzdHlsZT0ndmVydGljYWwtYWxpZ246bWlkZGxlOycgc3JjPScuLi9ncmFmaWNhLzVzdGVsbGUucG5nJyBhbHQ9JzVTdGVsbGluZSc+PC9kaXY+ICBMaW5rIEVzdGVzbzogPGEgaHJlZj0naHR0cHM6Ly93d3cubWlsYW5vZmluYW56YS5pdC8nIHRhcmdldD0nX2JsYW5rJz5odHRwczovL3d3dy5taWxhbm9maW5hbnphLml0LzwvYT48L3A+ ICA8YSBocmVmPSdodHRwczovL3d3dy5maW5hbnphb25saW5lLmNvbS8nIHRhcmdldD0nX2JsYW5rJz5GaW5hbnphIE9ubGluZTwvYT4gLSBJbXBvcnRhbnphLCBTdGVsbGluZTogIDxkaXYgY2xhc3M9J2ZvdG9zdGVsbGluZSc+PGltZyAgc3R5bGU9J3ZlcnRpY2FsLWFsaWduOm1pZGRsZTsnIHNyYz0nLi4vZ3JhZmljYS81c3RlbGxlLnBuZycgYWx0PSc1U3RlbGxpbmUnPjwvZGl2PiAgTGluayBFc3Rlc286IDxhIGhyZWY9J2h0dHBzOi8vd3d3LmZpbmFuemFvbmxpbmUuY29tLycgdGFyZ2V0PSdfYmxhbmsnPmh0dHBzOi8vd3d3LmZpbmFuemFvbmxpbmUuY29tLzwvYT48L3A+ ICA8YSBocmVmPSdodHRwczovL3d3dy5ib3JzYWl0YWxpYW5hLml0LycgdGFyZ2V0PSdfYmxhbmsnPkJvcnNhIEl0YWxpYW5hPC9hPiAtIEltcG9ydGFuemEsIFN0ZWxsaW5lOiAgPGRpdiBjbGFzcz0nZm90b3N0ZWxsaW5lJz48aW1nICBzdHlsZT0ndmVydGljYWwtYWxpZ246bWlkZGxlOycgc3JjPScuLi9ncmFmaWNhLzVzdGVsbGUucG5nJyBhbHQ9JzVTdGVsbGluZSc+PC9kaXY+ICBMaW5rIEVzdGVzbzogPGEgaHJlZj0naHR0cHM6Ly93d3cuYm9yc2FpdGFsaWFuYS5pdC8nIHRhcmdldD0nX2JsYW5rJz5odHRwczovL3d3dy5ib3JzYWl0YWxpYW5hLml0LzwvYT48L3A+ ICA8YSBocmVmPSdodHRwczovL3d3dy5ibG9vbWJlcmcuY29tLycgdGFyZ2V0PSdfYmxhbmsnPkJsb29tYmVyZzwvYT4gLSBJbXBvcnRhbnphLCBTdGVsbGluZTogIDxkaXYgY2xhc3M9J2ZvdG9zdGVsbGluZSc+PGltZyAgc3R5bGU9J3ZlcnRpY2FsLWFsaWduOm1pZGRsZTsnIHNyYz0nLi4vZ3JhZmljYS81c3RlbGxlLnBuZycgYWx0PSc1U3RlbGxpbmUnPjwvZGl2PiAgTGluayBFc3Rlc286IDxhIGhyZWY9J2h0dHBzOi8vd3d3LmJsb29tYmVyZy5jb20vJyB0YXJnZXQ9J19ibGFuayc+aHR0cHM6Ly93d3cuYmxvb21iZXJnLmNvbS88L2E+PC9wPg== ICA8YSBocmVmPSdodHRwczovL2ZpbmFuY2UueWFob28uY29tLycgdGFyZ2V0PSdfYmxhbmsnPllhaG9vIEZpbmFuY2U8L2E+IC0gSW1wb3J0YW56YSwgU3RlbGxpbmU6ICA8ZGl2IGNsYXNzPSdmb3Rvc3RlbGxpbmUnPjxpbWcgIHN0eWxlPSd2ZXJ0aWNhbC1hbGlnbjptaWRkbGU7JyBzcmM9Jy4uL2dyYWZpY2EvNXN0ZWxsZS5wbmcnIGFsdD0nNVN0ZWxsaW5lJz48L2Rpdj4gIExpbmsgRXN0ZXNvOiA8YSBocmVmPSdodHRwczovL2ZpbmFuY2UueWFob28uY29tLycgdGFyZ2V0PSdfYmxhbmsnPmh0dHBzOi8vZmluYW5jZS55YWhvby5jb20vPC9hPjwvcD4= ICA8YSBocmVmPSdodHRwczovL3d3dy5nb29nbGUuY29tL2ZpbmFuY2UnIHRhcmdldD0nX2JsYW5rJz5Hb29nbGUgRmluYW56YTwvYT4gLSBJbXBvcnRhbnphLCBTdGVsbGluZTogIDxkaXYgY2xhc3M9J2ZvdG9zdGVsbGluZSc+PGltZyAgc3R5bGU9J3ZlcnRpY2FsLWFsaWduOm1pZGRsZTsnIHNyYz0nLi4vZ3JhZmljYS81c3RlbGxlLnBuZycgYWx0PSc1U3RlbGxpbmUnPjwvZGl2PiAgTGluayBFc3Rlc286IDxhIGhyZWY9J2h0dHBzOi8vd3d3Lmdvb2dsZS5jb20vZmluYW5jZScgdGFyZ2V0PSdfYmxhbmsnPmh0dHBzOi8vd3d3Lmdvb2dsZS5jb20vZmluYW5jZTwvYT48L3A+ ICA8YSBocmVmPSdodHRwczovL3d3dy5kaXJlY3RhLml0LycgdGFyZ2V0PSdfYmxhbmsnPkRpcmVjdGEgVHJhZGluZyBPbmxpbmU8L2E+IC0gSW1wb3J0YW56YSwgU3RlbGxpbmU6ICA8ZGl2IGNsYXNzPSdmb3Rvc3RlbGxpbmUnPjxpbWcgIHN0eWxlPSd2ZXJ0aWNhbC1hbGlnbjptaWRkbGU7JyBzcmM9Jy4uL2dyYWZpY2EvNHN0ZWxsZS5wbmcnIGFsdD0nNFN0ZWxsaW5lJz48L2Rpdj4gIExpbmsgRXN0ZXNvOiA8YSBocmVmPSdodHRwczovL3d3dy5kaXJlY3RhLml0LycgdGFyZ2V0PSdfYmxhbmsnPmh0dHBzOi8vd3d3LmRpcmVjdGEuaXQvPC9hPjwvcD4= ICA8YSBocmVmPSdodHRwczovL3d3dy5pZy5jb20vJyB0YXJnZXQ9J19ibGFuayc+SWcgVHJhZGluZyBPbmxpbmU8L2E+IC0gSW1wb3J0YW56YSwgU3RlbGxpbmU6ICA8ZGl2IGNsYXNzPSdmb3Rvc3RlbGxpbmUnPjxpbWcgIHN0eWxlPSd2ZXJ0aWNhbC1hbGlnbjptaWRkbGU7JyBzcmM9Jy4uL2dyYWZpY2EvNHN0ZWxsZS5wbmcnIGFsdD0nNFN0ZWxsaW5lJz48L2Rpdj4gIExpbmsgRXN0ZXNvOiA8YSBocmVmPSdodHRwczovL3d3dy5pZy5jb20vJyB0YXJnZXQ9J19ibGFuayc+aHR0cHM6Ly93d3cuaWcuY29tLzwvYT48L3A+
Casa e Giardino - My Personal Ranking
ICA8YSBocmVmPSdodHRwczovL3d3dy5pbW1vYmlsaWFyZS5pdC8nIHRhcmdldD0nX2JsYW5rJz5JbW1vYmlsaWFyZS5pdDwvYT4gLSBJbXBvcnRhbnphLCBTdGVsbGluZTogIDxkaXYgY2xhc3M9J2ZvdG9zdGVsbGluZSc+PGltZyAgc3R5bGU9J3ZlcnRpY2FsLWFsaWduOm1pZGRsZTsnIHNyYz0nLi4vZ3JhZmljYS81c3RlbGxlLnBuZycgYWx0PSc1U3RlbGxpbmUnPjwvZGl2PiAgTGluayBFc3Rlc286IDxhIGhyZWY9J2h0dHBzOi8vd3d3LmltbW9iaWxpYXJlLml0LycgdGFyZ2V0PSdfYmxhbmsnPmh0dHBzOi8vd3d3LmltbW9iaWxpYXJlLml0LzwvYT48L3A+ ICA8YSBocmVmPSdodHRwczovL3d3dy5jYXNhLml0LycgdGFyZ2V0PSdfYmxhbmsnPkNhc2EuaXQ8L2E+IC0gSW1wb3J0YW56YSwgU3RlbGxpbmU6ICA8ZGl2IGNsYXNzPSdmb3Rvc3RlbGxpbmUnPjxpbWcgIHN0eWxlPSd2ZXJ0aWNhbC1hbGlnbjptaWRkbGU7JyBzcmM9Jy4uL2dyYWZpY2EvNXN0ZWxsZS5wbmcnIGFsdD0nNVN0ZWxsaW5lJz48L2Rpdj4gIExpbmsgRXN0ZXNvOiA8YSBocmVmPSdodHRwczovL3d3dy5jYXNhLml0LycgdGFyZ2V0PSdfYmxhbmsnPmh0dHBzOi8vd3d3LmNhc2EuaXQvPC9hPjwvcD4= ICA8YSBocmVmPSdodHRwczovL3d3dy5sYXZvcmluY2FzYS5pdC8nIHRhcmdldD0nX2JsYW5rJz5MYXZvcmkgaW4gQ2FzYTwvYT4gLSBJbXBvcnRhbnphLCBTdGVsbGluZTogIDxkaXYgY2xhc3M9J2ZvdG9zdGVsbGluZSc+PGltZyAgc3R5bGU9J3ZlcnRpY2FsLWFsaWduOm1pZGRsZTsnIHNyYz0nLi4vZ3JhZmljYS81c3RlbGxlLnBuZycgYWx0PSc1U3RlbGxpbmUnPjwvZGl2PiAgTGluayBFc3Rlc286IDxhIGhyZWY9J2h0dHBzOi8vd3d3Lmxhdm9yaW5jYXNhLml0LycgdGFyZ2V0PSdfYmxhbmsnPmh0dHBzOi8vd3d3Lmxhdm9yaW5jYXNhLml0LzwvYT48L3A+ ICA8YSBocmVmPSdodHRwczovL2Rlc2lnbi5yZXB1YmJsaWNhLml0LycgdGFyZ2V0PSdfYmxhbmsnPkRlc2lnbiBSZXB1YmJsaWNhPC9hPiAtIEltcG9ydGFuemEsIFN0ZWxsaW5lOiAgPGRpdiBjbGFzcz0nZm90b3N0ZWxsaW5lJz48aW1nICBzdHlsZT0ndmVydGljYWwtYWxpZ246bWlkZGxlOycgc3JjPScuLi9ncmFmaWNhLzVzdGVsbGUucG5nJyBhbHQ9JzVTdGVsbGluZSc+PC9kaXY+ICBMaW5rIEVzdGVzbzogPGEgaHJlZj0naHR0cHM6Ly9kZXNpZ24ucmVwdWJibGljYS5pdC8nIHRhcmdldD0nX2JsYW5rJz5odHRwczovL2Rlc2lnbi5yZXB1YmJsaWNhLml0LzwvYT48L3A+ ICA8YSBocmVmPSdodHRwczovL3d3dy5pZGVhbGlzdGEuaXQvJyB0YXJnZXQ9J19ibGFuayc+SWRlYWxpc3RhLml0PC9hPiAtIEltcG9ydGFuemEsIFN0ZWxsaW5lOiAgPGRpdiBjbGFzcz0nZm90b3N0ZWxsaW5lJz48aW1nICBzdHlsZT0ndmVydGljYWwtYWxpZ246bWlkZGxlOycgc3JjPScuLi9ncmFmaWNhLzRzdGVsbGUucG5nJyBhbHQ9JzRTdGVsbGluZSc+PC9kaXY+ICBMaW5rIEVzdGVzbzogPGEgaHJlZj0naHR0cHM6Ly93d3cuaWRlYWxpc3RhLml0LycgdGFyZ2V0PSdfYmxhbmsnPmh0dHBzOi8vd3d3LmlkZWFsaXN0YS5pdC88L2E+PC9wPg== ICA8YSBocmVmPSdodHRwczovL3d3dy50ZWNub2Nhc2EuaXQvJyB0YXJnZXQ9J19ibGFuayc+VGVjbm9jYXNhPC9hPiAtIEltcG9ydGFuemEsIFN0ZWxsaW5lOiAgPGRpdiBjbGFzcz0nZm90b3N0ZWxsaW5lJz48aW1nICBzdHlsZT0ndmVydGljYWwtYWxpZ246bWlkZGxlOycgc3JjPScuLi9ncmFmaWNhLzNzdGVsbGUucG5nJyBhbHQ9JzNTdGVsbGluZSc+PC9kaXY+ICBMaW5rIEVzdGVzbzogPGEgaHJlZj0naHR0cHM6Ly93d3cudGVjbm9jYXNhLml0LycgdGFyZ2V0PSdfYmxhbmsnPmh0dHBzOi8vd3d3LnRlY25vY2FzYS5pdC88L2E+PC9wPg== ICA8YSBocmVmPSdodHRwczovL3d3dy5lZGlscG9ydGFsZS5jb20vJyB0YXJnZXQ9J19ibGFuayc+RWRpbHBvcnRhbGU8L2E+IC0gSW1wb3J0YW56YSwgU3RlbGxpbmU6ICA8ZGl2IGNsYXNzPSdmb3Rvc3RlbGxpbmUnPjxpbWcgIHN0eWxlPSd2ZXJ0aWNhbC1hbGlnbjptaWRkbGU7JyBzcmM9Jy4uL2dyYWZpY2EvNXN0ZWxsZS5wbmcnIGFsdD0nNVN0ZWxsaW5lJz48L2Rpdj4gIExpbmsgRXN0ZXNvOiA8YSBocmVmPSdodHRwczovL3d3dy5lZGlscG9ydGFsZS5jb20vJyB0YXJnZXQ9J19ibGFuayc+aHR0cHM6Ly93d3cuZWRpbHBvcnRhbGUuY29tLzwvYT48L3A+ ICA8YSBocmVmPSdodHRwczovL3d3dy5jb3NlZGljYXNhLmNvbS8nIHRhcmdldD0nX2JsYW5rJz5Db3NlIGRpIENhc2E8L2E+IC0gSW1wb3J0YW56YSwgU3RlbGxpbmU6ICA8ZGl2IGNsYXNzPSdmb3Rvc3RlbGxpbmUnPjxpbWcgIHN0eWxlPSd2ZXJ0aWNhbC1hbGlnbjptaWRkbGU7JyBzcmM9Jy4uL2dyYWZpY2EvNHN0ZWxsZS5wbmcnIGFsdD0nNFN0ZWxsaW5lJz48L2Rpdj4gIExpbmsgRXN0ZXNvOiA8YSBocmVmPSdodHRwczovL3d3dy5jb3NlZGljYXNhLmNvbS8nIHRhcmdldD0nX2JsYW5rJz5odHRwczovL3d3dy5jb3NlZGljYXNhLmNvbS88L2E+PC9wPg== ICA8YSBocmVmPSdodHRwczovL2xpdmluZy5jb3JyaWVyZS5pdC8nIHRhcmdldD0nX2JsYW5rJz5MaXZpbmcgQ29ycmllcmU8L2E+IC0gSW1wb3J0YW56YSwgU3RlbGxpbmU6ICA8ZGl2IGNsYXNzPSdmb3Rvc3RlbGxpbmUnPjxpbWcgIHN0eWxlPSd2ZXJ0aWNhbC1hbGlnbjptaWRkbGU7JyBzcmM9Jy4uL2dyYWZpY2EvNHN0ZWxsZS5wbmcnIGFsdD0nNFN0ZWxsaW5lJz48L2Rpdj4gIExpbmsgRXN0ZXNvOiA8YSBocmVmPSdodHRwczovL2xpdmluZy5jb3JyaWVyZS5pdC8nIHRhcmdldD0nX2JsYW5rJz5odHRwczovL2xpdmluZy5jb3JyaWVyZS5pdC88L2E+PC9wPg== ICA8YSBocmVmPSdodHRwczovL3d3dy5hcnJlZGFtZW50by5pdC8nIHRhcmdldD0nX2JsYW5rJz5BcnJlZGFtZW50by5pdDwvYT4gLSBJbXBvcnRhbnphLCBTdGVsbGluZTogIDxkaXYgY2xhc3M9J2ZvdG9zdGVsbGluZSc+PGltZyAgc3R5bGU9J3ZlcnRpY2FsLWFsaWduOm1pZGRsZTsnIHNyYz0nLi4vZ3JhZmljYS80c3RlbGxlLnBuZycgYWx0PSc0U3RlbGxpbmUnPjwvZGl2PiAgTGluayBFc3Rlc286IDxhIGhyZWY9J2h0dHBzOi8vd3d3LmFycmVkYW1lbnRvLml0LycgdGFyZ2V0PSdfYmxhbmsnPmh0dHBzOi8vd3d3LmFycmVkYW1lbnRvLml0LzwvYT48L3A+ ICA8YSBocmVmPSdodHRwczovL3d3dy5tb25kb2NvbnYuaXQvJyB0YXJnZXQ9J19ibGFuayc+TW9uZG8gQ29udmllbnphPC9hPiAtIEltcG9ydGFuemEsIFN0ZWxsaW5lOiAgPGRpdiBjbGFzcz0nZm90b3N0ZWxsaW5lJz48aW1nICBzdHlsZT0ndmVydGljYWwtYWxpZ246bWlkZGxlOycgc3JjPScuLi9ncmFmaWNhLzRzdGVsbGUucG5nJyBhbHQ9JzRTdGVsbGluZSc+PC9kaXY+ICBMaW5rIEVzdGVzbzogPGEgaHJlZj0naHR0cHM6Ly93d3cubW9uZG9jb252Lml0LycgdGFyZ2V0PSdfYmxhbmsnPmh0dHBzOi8vd3d3Lm1vbmRvY29udi5pdC88L2E+PC9wPg== ICA8YSBocmVmPSdodHRwczovL3d3dy5pa2VhLmNvbS8nIHRhcmdldD0nX2JsYW5rJz5Ja2VhPC9hPiAtIEltcG9ydGFuemEsIFN0ZWxsaW5lOiAgPGRpdiBjbGFzcz0nZm90b3N0ZWxsaW5lJz48aW1nICBzdHlsZT0ndmVydGljYWwtYWxpZ246bWlkZGxlOycgc3JjPScuLi9ncmFmaWNhLzVzdGVsbGUucG5nJyBhbHQ9JzVTdGVsbGluZSc+PC9kaXY+ICBMaW5rIEVzdGVzbzogPGEgaHJlZj0naHR0cHM6Ly93d3cuaWtlYS5jb20vJyB0YXJnZXQ9J19ibGFuayc+aHR0cHM6Ly93d3cuaWtlYS5jb20vPC9hPjwvcD4= ICA8YSBocmVmPSdodHRwczovL3d3dy5sZXJveW1lcmxpbi5pdC8nIHRhcmdldD0nX2JsYW5rJz5MZXJveSBNZXJsaW48L2E+IC0gSW1wb3J0YW56YSwgU3RlbGxpbmU6ICA8ZGl2IGNsYXNzPSdmb3Rvc3RlbGxpbmUnPjxpbWcgIHN0eWxlPSd2ZXJ0aWNhbC1hbGlnbjptaWRkbGU7JyBzcmM9Jy4uL2dyYWZpY2EvNHN0ZWxsZS5wbmcnIGFsdD0nNFN0ZWxsaW5lJz48L2Rpdj4gIExpbmsgRXN0ZXNvOiA8YSBocmVmPSdodHRwczovL3d3dy5sZXJveW1lcmxpbi5pdC8nIHRhcmdldD0nX2JsYW5rJz5odHRwczovL3d3dy5sZXJveW1lcmxpbi5pdC88L2E+PC9wPg== ICA8YSBocmVmPSdodHRwczovL3d3dy5naWFyZGluYWdnaW8uaXQvJyB0YXJnZXQ9J19ibGFuayc+R2lhcmRpbmFnZ2lvLml0PC9hPiAtIEltcG9ydGFuemEsIFN0ZWxsaW5lOiAgPGRpdiBjbGFzcz0nZm90b3N0ZWxsaW5lJz48aW1nICBzdHlsZT0ndmVydGljYWwtYWxpZ246bWlkZGxlOycgc3JjPScuLi9ncmFmaWNhLzVzdGVsbGUucG5nJyBhbHQ9JzVTdGVsbGluZSc+PC9kaXY+ICBMaW5rIEVzdGVzbzogPGEgaHJlZj0naHR0cHM6Ly93d3cuZ2lhcmRpbmFnZ2lvLml0LycgdGFyZ2V0PSdfYmxhbmsnPmh0dHBzOi8vd3d3LmdpYXJkaW5hZ2dpby5pdC88L2E+PC9wPg== ICA8YSBocmVmPSdodHRwczovL3d3dy5naWFyZGluYWdnaW8ubmV0LycgdGFyZ2V0PSdfYmxhbmsnPkdpYXJkaW5hZ2dpby5uZXQ8L2E+IC0gSW1wb3J0YW56YSwgU3RlbGxpbmU6ICA8ZGl2IGNsYXNzPSdmb3Rvc3RlbGxpbmUnPjxpbWcgIHN0eWxlPSd2ZXJ0aWNhbC1hbGlnbjptaWRkbGU7JyBzcmM9Jy4uL2dyYWZpY2EvNXN0ZWxsZS5wbmcnIGFsdD0nNVN0ZWxsaW5lJz48L2Rpdj4gIExpbmsgRXN0ZXNvOiA8YSBocmVmPSdodHRwczovL3d3dy5naWFyZGluYWdnaW8ubmV0LycgdGFyZ2V0PSdfYmxhbmsnPmh0dHBzOi8vd3d3LmdpYXJkaW5hZ2dpby5uZXQvPC9hPjwvcD4= ICA8YSBocmVmPSdodHRwczovL3d3dy5naWFyZGluYWdnaW8ub3JnLycgdGFyZ2V0PSdfYmxhbmsnPkdpYXJkaW5hZ2dpby5vcmc8L2E+IC0gSW1wb3J0YW56YSwgU3RlbGxpbmU6ICA8ZGl2IGNsYXNzPSdmb3Rvc3RlbGxpbmUnPjxpbWcgIHN0eWxlPSd2ZXJ0aWNhbC1hbGlnbjptaWRkbGU7JyBzcmM9Jy4uL2dyYWZpY2EvNHN0ZWxsZS5wbmcnIGFsdD0nNFN0ZWxsaW5lJz48L2Rpdj4gIExpbmsgRXN0ZXNvOiA8YSBocmVmPSdodHRwczovL3d3dy5naWFyZGluYWdnaW8ub3JnLycgdGFyZ2V0PSdfYmxhbmsnPmh0dHBzOi8vd3d3LmdpYXJkaW5hZ2dpby5vcmcvPC9hPjwvcD4= ICA8YSBocmVmPSdodHRwczovL3d3dy5naWFyZGluYWdnaW8ubW9iaS8nIHRhcmdldD0nX2JsYW5rJz5HaWFyZGluYWdnaW88L2E+IC0gSW1wb3J0YW56YSwgU3RlbGxpbmU6ICA8ZGl2IGNsYXNzPSdmb3Rvc3RlbGxpbmUnPjxpbWcgIHN0eWxlPSd2ZXJ0aWNhbC1hbGlnbjptaWRkbGU7JyBzcmM9Jy4uL2dyYWZpY2EvNXN0ZWxsZS5wbmcnIGFsdD0nNVN0ZWxsaW5lJz48L2Rpdj4gIExpbmsgRXN0ZXNvOiA8YSBocmVmPSdodHRwczovL3d3dy5naWFyZGluYWdnaW8ubW9iaS8nIHRhcmdldD0nX2JsYW5rJz5odHRwczovL3d3dy5naWFyZGluYWdnaW8ubW9iaS88L2E+PC9wPg==
Tecnologia - My Personal Ranking
ICA8YSBocmVmPSdodHRwczovL3d3dy50b21zaHcuaXQvJyB0YXJnZXQ9J19ibGFuayc+VG9tJ3MgSGFyZHdhcmUgaXQ8L2E+IC0gSW1wb3J0YW56YSwgU3RlbGxpbmU6ICA8ZGl2IGNsYXNzPSdmb3Rvc3RlbGxpbmUnPjxpbWcgIHN0eWxlPSd2ZXJ0aWNhbC1hbGlnbjptaWRkbGU7JyBzcmM9Jy4uL2dyYWZpY2EvNXN0ZWxsZS5wbmcnIGFsdD0nNVN0ZWxsaW5lJz48L2Rpdj4gIExpbmsgRXN0ZXNvOiA8YSBocmVmPSdodHRwczovL3d3dy50b21zaHcuaXQvJyB0YXJnZXQ9J19ibGFuayc+aHR0cHM6Ly93d3cudG9tc2h3Lml0LzwvYT48L3A+ ICA8YSBocmVmPSdodHRwczovL3d3dy50b21zaGFyZHdhcmUuY29tLycgdGFyZ2V0PSdfYmxhbmsnPlRvbSdzIEhhcmR3YXJlIGNvbTwvYT4gLSBJbXBvcnRhbnphLCBTdGVsbGluZTogIDxkaXYgY2xhc3M9J2ZvdG9zdGVsbGluZSc+PGltZyAgc3R5bGU9J3ZlcnRpY2FsLWFsaWduOm1pZGRsZTsnIHNyYz0nLi4vZ3JhZmljYS81c3RlbGxlLnBuZycgYWx0PSc1U3RlbGxpbmUnPjwvZGl2PiAgTGluayBFc3Rlc286IDxhIGhyZWY9J2h0dHBzOi8vd3d3LnRvbXNoYXJkd2FyZS5jb20vJyB0YXJnZXQ9J19ibGFuayc+aHR0cHM6Ly93d3cudG9tc2hhcmR3YXJlLmNvbS88L2E+PC9wPg== ICA8YSBocmVmPSdodHRwczovL3d3dy5od3VwZ3JhZGUuaXQvJyB0YXJnZXQ9J19ibGFuayc+SHd1cGdyYWRlPC9hPiAtIEltcG9ydGFuemEsIFN0ZWxsaW5lOiAgPGRpdiBjbGFzcz0nZm90b3N0ZWxsaW5lJz48aW1nICBzdHlsZT0ndmVydGljYWwtYWxpZ246bWlkZGxlOycgc3JjPScuLi9ncmFmaWNhLzVzdGVsbGUucG5nJyBhbHQ9JzVTdGVsbGluZSc+PC9kaXY+ICBMaW5rIEVzdGVzbzogPGEgaHJlZj0naHR0cHM6Ly93d3cuaHd1cGdyYWRlLml0LycgdGFyZ2V0PSdfYmxhbmsnPmh0dHBzOi8vd3d3Lmh3dXBncmFkZS5pdC88L2E+PC9wPg== ICA8YSBocmVmPSdodHRwczovL3d3dy5oZGJsb2cuaXQvJyB0YXJnZXQ9J19ibGFuayc+SGRibG9nPC9hPiAtIEltcG9ydGFuemEsIFN0ZWxsaW5lOiAgPGRpdiBjbGFzcz0nZm90b3N0ZWxsaW5lJz48aW1nICBzdHlsZT0ndmVydGljYWwtYWxpZ246bWlkZGxlOycgc3JjPScuLi9ncmFmaWNhLzVzdGVsbGUucG5nJyBhbHQ9JzVTdGVsbGluZSc+PC9kaXY+ICBMaW5rIEVzdGVzbzogPGEgaHJlZj0naHR0cHM6Ly93d3cuaGRibG9nLml0LycgdGFyZ2V0PSdfYmxhbmsnPmh0dHBzOi8vd3d3LmhkYmxvZy5pdC88L2E+PC9wPg== ICA8YSBocmVmPSdodHRwczovL3d3dy56ZXVzbmV3cy5pdC8nIHRhcmdldD0nX2JsYW5rJz5aZXVzbmV3czwvYT4gLSBJbXBvcnRhbnphLCBTdGVsbGluZTogIDxkaXYgY2xhc3M9J2ZvdG9zdGVsbGluZSc+PGltZyAgc3R5bGU9J3ZlcnRpY2FsLWFsaWduOm1pZGRsZTsnIHNyYz0nLi4vZ3JhZmljYS80c3RlbGxlLnBuZycgYWx0PSc0U3RlbGxpbmUnPjwvZGl2PiAgTGluayBFc3Rlc286IDxhIGhyZWY9J2h0dHBzOi8vd3d3LnpldXNuZXdzLml0LycgdGFyZ2V0PSdfYmxhbmsnPmh0dHBzOi8vd3d3LnpldXNuZXdzLml0LzwvYT48L3A+ ICA8YSBocmVmPSdodHRwczovL3d3dy53aXJlZC5jb20vJyB0YXJnZXQ9J19ibGFuayc+V2lyZWQuY29tIC0gSW5nbGVzZTwvYT4gLSBJbXBvcnRhbnphLCBTdGVsbGluZTogIDxkaXYgY2xhc3M9J2ZvdG9zdGVsbGluZSc+PGltZyAgc3R5bGU9J3ZlcnRpY2FsLWFsaWduOm1pZGRsZTsnIHNyYz0nLi4vZ3JhZmljYS81c3RlbGxlLnBuZycgYWx0PSc1U3RlbGxpbmUnPjwvZGl2PiAgTGluayBFc3Rlc286IDxhIGhyZWY9J2h0dHBzOi8vd3d3LndpcmVkLmNvbS8nIHRhcmdldD0nX2JsYW5rJz5odHRwczovL3d3dy53aXJlZC5jb20vPC9hPjwvcD4= ICA8YSBocmVmPSdodHRwczovL2dlZWtpc3NpbW8uY29tLycgdGFyZ2V0PSdfYmxhbmsnPkdlZWtpc3NpbW88L2E+IC0gSW1wb3J0YW56YSwgU3RlbGxpbmU6ICA8ZGl2IGNsYXNzPSdmb3Rvc3RlbGxpbmUnPjxpbWcgIHN0eWxlPSd2ZXJ0aWNhbC1hbGlnbjptaWRkbGU7JyBzcmM9Jy4uL2dyYWZpY2EvNHN0ZWxsZS5wbmcnIGFsdD0nNFN0ZWxsaW5lJz48L2Rpdj4gIExpbmsgRXN0ZXNvOiA8YSBocmVmPSdodHRwczovL2dlZWtpc3NpbW8uY29tLycgdGFyZ2V0PSdfYmxhbmsnPmh0dHBzOi8vZ2Vla2lzc2ltby5jb20vPC9hPjwvcD4= ICA8YSBocmVmPSdodHRwOi8vd3d3LnBob3RvZ3JhcGhlcnMuaXQvJyB0YXJnZXQ9J19ibGFuayc+UGhvdG9ncmFwaGVyczwvYT4gLSBJbXBvcnRhbnphLCBTdGVsbGluZTogIDxkaXYgY2xhc3M9J2ZvdG9zdGVsbGluZSc+PGltZyAgc3R5bGU9J3ZlcnRpY2FsLWFsaWduOm1pZGRsZTsnIHNyYz0nLi4vZ3JhZmljYS80c3RlbGxlLnBuZycgYWx0PSc0U3RlbGxpbmUnPjwvZGl2PiAgTGluayBFc3Rlc286IDxhIGhyZWY9J2h0dHA6Ly93d3cucGhvdG9ncmFwaGVycy5pdC8nIHRhcmdldD0nX2JsYW5rJz5odHRwOi8vd3d3LnBob3RvZ3JhcGhlcnMuaXQvPC9hPjwvcD4= ICA8YSBocmVmPSdodHRwczovL3d3dy5keG9tYXJrLmNvbS8nIHRhcmdldD0nX2JsYW5rJz5EeG9tYXJrIC0gU21hcnRwaG9uZSAmIENhbWVyYSBUZXN0PC9hPiAtIEltcG9ydGFuemEsIFN0ZWxsaW5lOiAgPGRpdiBjbGFzcz0nZm90b3N0ZWxsaW5lJz48aW1nICBzdHlsZT0ndmVydGljYWwtYWxpZ246bWlkZGxlOycgc3JjPScuLi9ncmFmaWNhLzVzdGVsbGUucG5nJyBhbHQ9JzVTdGVsbGluZSc+PC9kaXY+ICBMaW5rIEVzdGVzbzogPGEgaHJlZj0naHR0cHM6Ly93d3cuZHhvbWFyay5jb20vJyB0YXJnZXQ9J19ibGFuayc+aHR0cHM6Ly93d3cuZHhvbWFyay5jb20vPC9hPjwvcD4= ICA8YSBocmVmPSdodHRwczovL3d3dy5wdW50by1pbmZvcm1hdGljby5pdC8nIHRhcmdldD0nX2JsYW5rJz5QdW50byBJbmZvcm1hdGljbzwvYT4gLSBJbXBvcnRhbnphLCBTdGVsbGluZTogIDxkaXYgY2xhc3M9J2ZvdG9zdGVsbGluZSc+PGltZyAgc3R5bGU9J3ZlcnRpY2FsLWFsaWduOm1pZGRsZTsnIHNyYz0nLi4vZ3JhZmljYS80c3RlbGxlLnBuZycgYWx0PSc0U3RlbGxpbmUnPjwvZGl2PiAgTGluayBFc3Rlc286IDxhIGhyZWY9J2h0dHBzOi8vd3d3LnB1bnRvLWluZm9ybWF0aWNvLml0LycgdGFyZ2V0PSdfYmxhbmsnPmh0dHBzOi8vd3d3LnB1bnRvLWluZm9ybWF0aWNvLml0LzwvYT48L3A+
Software - My Personal Ranking
ICA8YSBocmVmPSdodHRwczovL2Rvd25sb2FkLmNuZXQuY29tLycgdGFyZ2V0PSdfYmxhbmsnPkRvd25sb2FkLmNvbSBjbmV0PC9hPiAtIEltcG9ydGFuemEsIFN0ZWxsaW5lOiAgPGRpdiBjbGFzcz0nZm90b3N0ZWxsaW5lJz48aW1nICBzdHlsZT0ndmVydGljYWwtYWxpZ246bWlkZGxlOycgc3JjPScuLi9ncmFmaWNhLzVzdGVsbGUucG5nJyBhbHQ9JzVTdGVsbGluZSc+PC9kaXY+ICBMaW5rIEVzdGVzbzogPGEgaHJlZj0naHR0cHM6Ly9kb3dubG9hZC5jbmV0LmNvbS8nIHRhcmdldD0nX2JsYW5rJz5odHRwczovL2Rvd25sb2FkLmNuZXQuY29tLzwvYT48L3A+ ICA8YSBocmVmPSdodHRwczovL2ZpbGVoaXBwby5jb20vJyB0YXJnZXQ9J19ibGFuayc+RmlsZUhpcHBvPC9hPiAtIEltcG9ydGFuemEsIFN0ZWxsaW5lOiAgPGRpdiBjbGFzcz0nZm90b3N0ZWxsaW5lJz48aW1nICBzdHlsZT0ndmVydGljYWwtYWxpZ246bWlkZGxlOycgc3JjPScuLi9ncmFmaWNhLzVzdGVsbGUucG5nJyBhbHQ9JzVTdGVsbGluZSc+PC9kaXY+ICBMaW5rIEVzdGVzbzogPGEgaHJlZj0naHR0cHM6Ly9maWxlaGlwcG8uY29tLycgdGFyZ2V0PSdfYmxhbmsnPmh0dHBzOi8vZmlsZWhpcHBvLmNvbS88L2E+PC9wPg== ICA8YSBocmVmPSdodHRwczovL3d3dy56ZG5ldC5jb20vJyB0YXJnZXQ9J19ibGFuayc+WmRuZXQ8L2E+IC0gSW1wb3J0YW56YSwgU3RlbGxpbmU6ICA8ZGl2IGNsYXNzPSdmb3Rvc3RlbGxpbmUnPjxpbWcgIHN0eWxlPSd2ZXJ0aWNhbC1hbGlnbjptaWRkbGU7JyBzcmM9Jy4uL2dyYWZpY2EvNXN0ZWxsZS5wbmcnIGFsdD0nNVN0ZWxsaW5lJz48L2Rpdj4gIExpbmsgRXN0ZXNvOiA8YSBocmVmPSdodHRwczovL3d3dy56ZG5ldC5jb20vJyB0YXJnZXQ9J19ibGFuayc+aHR0cHM6Ly93d3cuemRuZXQuY29tLzwvYT48L3A+ ICA8YSBocmVmPSdodHRwczovL3d3dy5mcmVld2FyZWZpbGVzLmNvbS8nIHRhcmdldD0nX2JsYW5rJz5GcmVld2FyZUZpbGVzPC9hPiAtIEltcG9ydGFuemEsIFN0ZWxsaW5lOiAgPGRpdiBjbGFzcz0nZm90b3N0ZWxsaW5lJz48aW1nICBzdHlsZT0ndmVydGljYWwtYWxpZ246bWlkZGxlOycgc3JjPScuLi9ncmFmaWNhLzVzdGVsbGUucG5nJyBhbHQ9JzVTdGVsbGluZSc+PC9kaXY+ICBMaW5rIEVzdGVzbzogPGEgaHJlZj0naHR0cHM6Ly93d3cuZnJlZXdhcmVmaWxlcy5jb20vJyB0YXJnZXQ9J19ibGFuayc+aHR0cHM6Ly93d3cuZnJlZXdhcmVmaWxlcy5jb20vPC9hPjwvcD4= ICA8YSBocmVmPSdodHRwczovL3d3dy5tYWpvcmdlZWtzLmNvbS8nIHRhcmdldD0nX2JsYW5rJz5NYWpvckdlZWtzPC9hPiAtIEltcG9ydGFuemEsIFN0ZWxsaW5lOiAgPGRpdiBjbGFzcz0nZm90b3N0ZWxsaW5lJz48aW1nICBzdHlsZT0ndmVydGljYWwtYWxpZ246bWlkZGxlOycgc3JjPScuLi9ncmFmaWNhLzVzdGVsbGUucG5nJyBhbHQ9JzVTdGVsbGluZSc+PC9kaXY+ICBMaW5rIEVzdGVzbzogPGEgaHJlZj0naHR0cHM6Ly93d3cubWFqb3JnZWVrcy5jb20vJyB0YXJnZXQ9J19ibGFuayc+aHR0cHM6Ly93d3cubWFqb3JnZWVrcy5jb20vPC9hPjwvcD4= ICA8YSBocmVmPSdodHRwczovL2FsdGVybmF0aXZldG8ubmV0LycgdGFyZ2V0PSdfYmxhbmsnPkFsdGVybmF0aXZlVG88L2E+IC0gSW1wb3J0YW56YSwgU3RlbGxpbmU6ICA8ZGl2IGNsYXNzPSdmb3Rvc3RlbGxpbmUnPjxpbWcgIHN0eWxlPSd2ZXJ0aWNhbC1hbGlnbjptaWRkbGU7JyBzcmM9Jy4uL2dyYWZpY2EvNHN0ZWxsZS5wbmcnIGFsdD0nNFN0ZWxsaW5lJz48L2Rpdj4gIExpbmsgRXN0ZXNvOiA8YSBocmVmPSdodHRwczovL2FsdGVybmF0aXZldG8ubmV0LycgdGFyZ2V0PSdfYmxhbmsnPmh0dHBzOi8vYWx0ZXJuYXRpdmV0by5uZXQvPC9hPjwvcD4= ICA8YSBocmVmPSdodHRwczovL3d3dy5hcmFuenVsbGEuaXQvJyB0YXJnZXQ9J19ibGFuayc+QXJhbnp1bGxhPC9hPiAtIEltcG9ydGFuemEsIFN0ZWxsaW5lOiAgPGRpdiBjbGFzcz0nZm90b3N0ZWxsaW5lJz48aW1nICBzdHlsZT0ndmVydGljYWwtYWxpZ246bWlkZGxlOycgc3JjPScuLi9ncmFmaWNhLzVzdGVsbGUucG5nJyBhbHQ9JzVTdGVsbGluZSc+PC9kaXY+ICBMaW5rIEVzdGVzbzogPGEgaHJlZj0naHR0cHM6Ly93d3cuYXJhbnp1bGxhLml0LycgdGFyZ2V0PSdfYmxhbmsnPmh0dHBzOi8vd3d3LmFyYW56dWxsYS5pdC88L2E+PC9wPg== ICA8YSBocmVmPSdodHRwczovL3d3dy50cnVzdHJhZGl1cy5jb20vJyB0YXJnZXQ9J19ibGFuayc+VHJ1c3RyYWRpdXMgU29mdHdhcmUgUmV2aWV3czwvYT4gLSBJbXBvcnRhbnphLCBTdGVsbGluZTogIDxkaXYgY2xhc3M9J2ZvdG9zdGVsbGluZSc+PGltZyAgc3R5bGU9J3ZlcnRpY2FsLWFsaWduOm1pZGRsZTsnIHNyYz0nLi4vZ3JhZmljYS81c3RlbGxlLnBuZycgYWx0PSc1U3RlbGxpbmUnPjwvZGl2PiAgTGluayBFc3Rlc286IDxhIGhyZWY9J2h0dHBzOi8vd3d3LnRydXN0cmFkaXVzLmNvbS8nIHRhcmdldD0nX2JsYW5rJz5odHRwczovL3d3dy50cnVzdHJhZGl1cy5jb20vPC9hPjwvcD4=
Software download - My Personal Ranking
ICA8YSBocmVmPSdodHRwczovL3NvdXJjZWZvcmdlLm5ldC8nIHRhcmdldD0nX2JsYW5rJz5Tb3VyY2Vmb3JnZTwvYT4gLSBJbXBvcnRhbnphLCBTdGVsbGluZTogIDxkaXYgY2xhc3M9J2ZvdG9zdGVsbGluZSc+PGltZyAgc3R5bGU9J3ZlcnRpY2FsLWFsaWduOm1pZGRsZTsnIHNyYz0nLi4vZ3JhZmljYS81c3RlbGxlLnBuZycgYWx0PSc1U3RlbGxpbmUnPjwvZGl2PiAgTGluayBFc3Rlc286IDxhIGhyZWY9J2h0dHBzOi8vc291cmNlZm9yZ2UubmV0LycgdGFyZ2V0PSdfYmxhbmsnPmh0dHBzOi8vc291cmNlZm9yZ2UubmV0LzwvYT48L3A+ ICA8YSBocmVmPSdodHRwczovL3d3dy5leHBsb2l0LWRiLmNvbS8nIHRhcmdldD0nX2JsYW5rJz5FeHBsb2l0IERCPC9hPiAtIEltcG9ydGFuemEsIFN0ZWxsaW5lOiAgPGRpdiBjbGFzcz0nZm90b3N0ZWxsaW5lJz48aW1nICBzdHlsZT0ndmVydGljYWwtYWxpZ246bWlkZGxlOycgc3JjPScuLi9ncmFmaWNhLzVzdGVsbGUucG5nJyBhbHQ9JzVTdGVsbGluZSc+PC9kaXY+ICBMaW5rIEVzdGVzbzogPGEgaHJlZj0naHR0cHM6Ly93d3cuZXhwbG9pdC1kYi5jb20vJyB0YXJnZXQ9J19ibGFuayc+aHR0cHM6Ly93d3cuZXhwbG9pdC1kYi5jb20vPC9hPjwvcD4= ICA8YSBocmVmPSdodHRwOi8vd3d3LnNlY3VyaXR5dHViZS5uZXQvJyB0YXJnZXQ9J19ibGFuayc+U2VjdXJpdHkgVHViZTwvYT4gLSBJbXBvcnRhbnphLCBTdGVsbGluZTogIDxkaXYgY2xhc3M9J2ZvdG9zdGVsbGluZSc+PGltZyAgc3R5bGU9J3ZlcnRpY2FsLWFsaWduOm1pZGRsZTsnIHNyYz0nLi4vZ3JhZmljYS81c3RlbGxlLnBuZycgYWx0PSc1U3RlbGxpbmUnPjwvZGl2PiAgTGluayBFc3Rlc286IDxhIGhyZWY9J2h0dHA6Ly93d3cuc2VjdXJpdHl0dWJlLm5ldC8nIHRhcmdldD0nX2JsYW5rJz5odHRwOi8vd3d3LnNlY3VyaXR5dHViZS5uZXQvPC9hPjwvcD4= ICA8YSBocmVmPSdodHRwczovL2ZpbGVoaXBwby5jb20vaXQvJyB0YXJnZXQ9J19ibGFuayc+RmlsZUhpcHBvIEl0IEZyZWU8L2E+IC0gSW1wb3J0YW56YSwgU3RlbGxpbmU6ICA8ZGl2IGNsYXNzPSdmb3Rvc3RlbGxpbmUnPjxpbWcgIHN0eWxlPSd2ZXJ0aWNhbC1hbGlnbjptaWRkbGU7JyBzcmM9Jy4uL2dyYWZpY2EvNXN0ZWxsZS5wbmcnIGFsdD0nNVN0ZWxsaW5lJz48L2Rpdj4gIExpbmsgRXN0ZXNvOiA8YSBocmVmPSdodHRwczovL2ZpbGVoaXBwby5jb20vaXQvJyB0YXJnZXQ9J19ibGFuayc+aHR0cHM6Ly9maWxlaGlwcG8uY29tL2l0LzwvYT48L3A+ ICA8YSBocmVmPSdodHRwczovL3d3dy5tYWN1cGRhdGUuY29tLycgdGFyZ2V0PSdfYmxhbmsnPk1hYyBVcGRhdGU8L2E+IC0gSW1wb3J0YW56YSwgU3RlbGxpbmU6ICA8ZGl2IGNsYXNzPSdmb3Rvc3RlbGxpbmUnPjxpbWcgIHN0eWxlPSd2ZXJ0aWNhbC1hbGlnbjptaWRkbGU7JyBzcmM9Jy4uL2dyYWZpY2EvNHN0ZWxsZS5wbmcnIGFsdD0nNFN0ZWxsaW5lJz48L2Rpdj4gIExpbmsgRXN0ZXNvOiA8YSBocmVmPSdodHRwczovL3d3dy5tYWN1cGRhdGUuY29tLycgdGFyZ2V0PSdfYmxhbmsnPmh0dHBzOi8vd3d3Lm1hY3VwZGF0ZS5jb20vPC9hPjwvcD4= ICA8YSBocmVmPSdodHRwczovL3d3dy5wcm9ncmFtbWllZG92ZXRyb3ZhcmxpLml0JyB0YXJnZXQ9J19ibGFuayc+UHJvZ3JhbW1pIGUgZG92ZSB0cm92YXJsaTwvYT4gLSBJbXBvcnRhbnphLCBTdGVsbGluZTogIDxkaXYgY2xhc3M9J2ZvdG9zdGVsbGluZSc+PGltZyAgc3R5bGU9J3ZlcnRpY2FsLWFsaWduOm1pZGRsZTsnIHNyYz0nLi4vZ3JhZmljYS81c3RlbGxlLnBuZycgYWx0PSc1U3RlbGxpbmUnPjwvZGl2PiAgTGluayBFc3Rlc286IDxhIGhyZWY9J2h0dHBzOi8vd3d3LnByb2dyYW1taWVkb3ZldHJvdmFybGkuaXQnIHRhcmdldD0nX2JsYW5rJz5odHRwczovL3d3dy5wcm9ncmFtbWllZG92ZXRyb3ZhcmxpLml0PC9hPjwvcD4= ICA8YSBocmVmPSdodHRwczovL3d3dy54ZGNjLmV1LycgdGFyZ2V0PSdfYmxhbmsnPlhkY2MgLSBSaWNoaWVkZSBjbGllbnQgSVJDPC9hPiAtIEltcG9ydGFuemEsIFN0ZWxsaW5lOiAgPGRpdiBjbGFzcz0nZm90b3N0ZWxsaW5lJz48aW1nICBzdHlsZT0ndmVydGljYWwtYWxpZ246bWlkZGxlOycgc3JjPScuLi9ncmFmaWNhLzVzdGVsbGUucG5nJyBhbHQ9JzVTdGVsbGluZSc+PC9kaXY+ICBMaW5rIEVzdGVzbzogPGEgaHJlZj0naHR0cHM6Ly93d3cueGRjYy5ldS8nIHRhcmdldD0nX2JsYW5rJz5odHRwczovL3d3dy54ZGNjLmV1LzwvYT48L3A+ ICA8YSBocmVmPSdodHRwczovL3d3dy50ZWNoc3BvdC5jb20vZG93bmxvYWRzLycgdGFyZ2V0PSdfYmxhbmsnPlRlY2hzcG90IC0gU29mdHdhcmUgZnJlZSAmIHRyaWFsPC9hPiAtIEltcG9ydGFuemEsIFN0ZWxsaW5lOiAgPGRpdiBjbGFzcz0nZm90b3N0ZWxsaW5lJz48aW1nICBzdHlsZT0ndmVydGljYWwtYWxpZ246bWlkZGxlOycgc3JjPScuLi9ncmFmaWNhLzVzdGVsbGUucG5nJyBhbHQ9JzVTdGVsbGluZSc+PC9kaXY+ICBMaW5rIEVzdGVzbzogPGEgaHJlZj0naHR0cHM6Ly93d3cudGVjaHNwb3QuY29tL2Rvd25sb2Fkcy8nIHRhcmdldD0nX2JsYW5rJz5odHRwczovL3d3dy50ZWNoc3BvdC5jb20vZG93bmxvYWRzLzwvYT48L3A+ ICA8YSBocmVmPSdodHRwczovL2dpdGh1Yi5jb20vZ2l0aHViJyB0YXJnZXQ9J19ibGFuayc+R2l0aHViIC0gcmVwb3NpdG9yeSAtIEluZ2xlc2U8L2E+IC0gSW1wb3J0YW56YSwgU3RlbGxpbmU6ICA8ZGl2IGNsYXNzPSdmb3Rvc3RlbGxpbmUnPjxpbWcgIHN0eWxlPSd2ZXJ0aWNhbC1hbGlnbjptaWRkbGU7JyBzcmM9Jy4uL2dyYWZpY2EvNHN0ZWxsZS5wbmcnIGFsdD0nNFN0ZWxsaW5lJz48L2Rpdj4gIExpbmsgRXN0ZXNvOiA8YSBocmVmPSdodHRwczovL2dpdGh1Yi5jb20vZ2l0aHViJyB0YXJnZXQ9J19ibGFuayc+aHR0cHM6Ly9naXRodWIuY29tL2dpdGh1YjwvYT48L3A+ ICA8YSBocmVmPSdodHRwczovL3d3dy5tYWxhdmlkYS5jb20vJyB0YXJnZXQ9J19ibGFuayc+TWFsYXZpZGE8L2E+IC0gSW1wb3J0YW56YSwgU3RlbGxpbmU6ICA8ZGl2IGNsYXNzPSdmb3Rvc3RlbGxpbmUnPjxpbWcgIHN0eWxlPSd2ZXJ0aWNhbC1hbGlnbjptaWRkbGU7JyBzcmM9Jy4uL2dyYWZpY2EvM3N0ZWxsZS5wbmcnIGFsdD0nM1N0ZWxsaW5lJz48L2Rpdj4gIExpbmsgRXN0ZXNvOiA8YSBocmVmPSdodHRwczovL3d3dy5tYWxhdmlkYS5jb20vJyB0YXJnZXQ9J19ibGFuayc+aHR0cHM6Ly93d3cubWFsYXZpZGEuY29tLzwvYT48L3A+ ICA8YSBocmVmPSdodHRwczovL2Vta2VpLmN6LycgdGFyZ2V0PSdfYmxhbmsnPkVta2VpIE1haWxlcjwvYT4gLSBJbXBvcnRhbnphLCBTdGVsbGluZTogIDxkaXYgY2xhc3M9J2ZvdG9zdGVsbGluZSc+PGltZyAgc3R5bGU9J3ZlcnRpY2FsLWFsaWduOm1pZGRsZTsnIHNyYz0nLi4vZ3JhZmljYS80c3RlbGxlLnBuZycgYWx0PSc0U3RlbGxpbmUnPjwvZGl2PiAgTGluayBFc3Rlc286IDxhIGhyZWY9J2h0dHBzOi8vZW1rZWkuY3ovJyB0YXJnZXQ9J19ibGFuayc+aHR0cHM6Ly9lbWtlaS5jei88L2E+PC9wPg==
Banche Online - My Personal Ranking
ICA8YSBocmVmPSdodHRwczovL3d3dy51bmljcmVkaXQuaXQnIHRhcmdldD0nX2JsYW5rJz5VbmljcmVkaXQ8L2E+IC0gSW1wb3J0YW56YSwgU3RlbGxpbmU6ICA8ZGl2IGNsYXNzPSdmb3Rvc3RlbGxpbmUnPjxpbWcgIHN0eWxlPSd2ZXJ0aWNhbC1hbGlnbjptaWRkbGU7JyBzcmM9Jy4uL2dyYWZpY2EvNXN0ZWxsZS5wbmcnIGFsdD0nNVN0ZWxsaW5lJz48L2Rpdj4gIExpbmsgRXN0ZXNvOiA8YSBocmVmPSdodHRwczovL3d3dy51bmljcmVkaXQuaXQnIHRhcmdldD0nX2JsYW5rJz5odHRwczovL3d3dy51bmljcmVkaXQuaXQ8L2E+PC9wPg== ICA8YSBocmVmPSdodHRwczovL3d3dy5tcHMuaXQvJyB0YXJnZXQ9J19ibGFuayc+TW9udGUgZGVpIFBhc2NoaSBkaSBTaWVuYSAtIGNvbml2b2x0YSBpbiBzYWx2YWJhbmNoZSA8L2E+IC0gSW1wb3J0YW56YSwgU3RlbGxpbmU6ICA8ZGl2IGNsYXNzPSdmb3Rvc3RlbGxpbmUnPjxpbWcgIHN0eWxlPSd2ZXJ0aWNhbC1hbGlnbjptaWRkbGU7JyBzcmM9Jy4uL2dyYWZpY2EvM3N0ZWxsZS5wbmcnIGFsdD0nM1N0ZWxsaW5lJz48L2Rpdj4gIExpbmsgRXN0ZXNvOiA8YSBocmVmPSdodHRwczovL3d3dy5tcHMuaXQvJyB0YXJnZXQ9J19ibGFuayc+aHR0cHM6Ly93d3cubXBzLml0LzwvYT48L3A+ ICA8YSBocmVmPSdodHRwczovL3d3dy5pbnRlc2FzYW5wYW9sby5jb20vJyB0YXJnZXQ9J19ibGFuayc+SW50ZXNhIFNhbiBQYW9sbzwvYT4gLSBJbXBvcnRhbnphLCBTdGVsbGluZTogIDxkaXYgY2xhc3M9J2ZvdG9zdGVsbGluZSc+PGltZyAgc3R5bGU9J3ZlcnRpY2FsLWFsaWduOm1pZGRsZTsnIHNyYz0nLi4vZ3JhZmljYS81c3RlbGxlLnBuZycgYWx0PSc1U3RlbGxpbmUnPjwvZGl2PiAgTGluayBFc3Rlc286IDxhIGhyZWY9J2h0dHBzOi8vd3d3LmludGVzYXNhbnBhb2xvLmNvbS8nIHRhcmdldD0nX2JsYW5rJz5odHRwczovL3d3dy5pbnRlc2FzYW5wYW9sby5jb20vPC9hPjwvcD4= ICA8YSBocmVmPSdodHRwczovL2ZpbmVjb2JhbmsuY29tL2l0L29ubGluZS8nIHRhcmdldD0nX2JsYW5rJz5GaW5lY29iYW5rPC9hPiAtIEltcG9ydGFuemEsIFN0ZWxsaW5lOiAgPGRpdiBjbGFzcz0nZm90b3N0ZWxsaW5lJz48aW1nICBzdHlsZT0ndmVydGljYWwtYWxpZ246bWlkZGxlOycgc3JjPScuLi9ncmFmaWNhLzRzdGVsbGUucG5nJyBhbHQ9JzRTdGVsbGluZSc+PC9kaXY+ICBMaW5rIEVzdGVzbzogPGEgaHJlZj0naHR0cHM6Ly9maW5lY29iYW5rLmNvbS9pdC9vbmxpbmUvJyB0YXJnZXQ9J19ibGFuayc+aHR0cHM6Ly9maW5lY29iYW5rLmNvbS9pdC9vbmxpbmUvPC9hPjwvcD4= ICA8YSBocmVmPSdodHRwczovL3d3dy5iYW5jb2JwbS5pdC8nIHRhcmdldD0nX2JsYW5rJz5CYW5jbyBQb3BvbGFyZTwvYT4gLSBJbXBvcnRhbnphLCBTdGVsbGluZTogIDxkaXYgY2xhc3M9J2ZvdG9zdGVsbGluZSc+PGltZyAgc3R5bGU9J3ZlcnRpY2FsLWFsaWduOm1pZGRsZTsnIHNyYz0nLi4vZ3JhZmljYS81c3RlbGxlLnBuZycgYWx0PSc1U3RlbGxpbmUnPjwvZGl2PiAgTGluayBFc3Rlc286IDxhIGhyZWY9J2h0dHBzOi8vd3d3LmJhbmNvYnBtLml0LycgdGFyZ2V0PSdfYmxhbmsnPmh0dHBzOi8vd3d3LmJhbmNvYnBtLml0LzwvYT48L3A+ ICA8YSBocmVmPSdodHRwczovL2JubC5pdC8nIHRhcmdldD0nX2JsYW5rJz5CTkw8L2E+IC0gSW1wb3J0YW56YSwgU3RlbGxpbmU6ICA8ZGl2IGNsYXNzPSdmb3Rvc3RlbGxpbmUnPjxpbWcgIHN0eWxlPSd2ZXJ0aWNhbC1hbGlnbjptaWRkbGU7JyBzcmM9Jy4uL2dyYWZpY2EvNXN0ZWxsZS5wbmcnIGFsdD0nNVN0ZWxsaW5lJz48L2Rpdj4gIExpbmsgRXN0ZXNvOiA8YSBocmVmPSdodHRwczovL2JubC5pdC8nIHRhcmdldD0nX2JsYW5rJz5odHRwczovL2JubC5pdC88L2E+PC9wPg== ICA8YSBocmVmPSdodHRwczovL3d3dy5zZWxsYS5pdC8nIHRhcmdldD0nX2JsYW5rJz5CYW5jYSBTZWxsYTwvYT4gLSBJbXBvcnRhbnphLCBTdGVsbGluZTogIDxkaXYgY2xhc3M9J2ZvdG9zdGVsbGluZSc+PGltZyAgc3R5bGU9J3ZlcnRpY2FsLWFsaWduOm1pZGRsZTsnIHNyYz0nLi4vZ3JhZmljYS81c3RlbGxlLnBuZycgYWx0PSc1U3RlbGxpbmUnPjwvZGl2PiAgTGluayBFc3Rlc286IDxhIGhyZWY9J2h0dHBzOi8vd3d3LnNlbGxhLml0LycgdGFyZ2V0PSdfYmxhbmsnPmh0dHBzOi8vd3d3LnNlbGxhLml0LzwvYT48L3A+ ICA8YSBocmVmPSdodHRwczovL3d3dy51YmliYW5jYS5jb20nIHRhcmdldD0nX2JsYW5rJz5VYmkgQmFuY2E8L2E+IC0gSW1wb3J0YW56YSwgU3RlbGxpbmU6ICA8ZGl2IGNsYXNzPSdmb3Rvc3RlbGxpbmUnPjxpbWcgIHN0eWxlPSd2ZXJ0aWNhbC1hbGlnbjptaWRkbGU7JyBzcmM9Jy4uL2dyYWZpY2EvNXN0ZWxsZS5wbmcnIGFsdD0nNVN0ZWxsaW5lJz48L2Rpdj4gIExpbmsgRXN0ZXNvOiA8YSBocmVmPSdodHRwczovL3d3dy51YmliYW5jYS5jb20nIHRhcmdldD0nX2JsYW5rJz5odHRwczovL3d3dy51YmliYW5jYS5jb208L2E+PC9wPg==
Servizi postali - My Personal Ranking
ICA8YSBocmVmPSdodHRwczovL3d3dy5wb3N0ZS5pdC8nIHRhcmdldD0nX2JsYW5rJz5Qb3N0ZS5pdDwvYT4gLSBJbXBvcnRhbnphLCBTdGVsbGluZTogIDxkaXYgY2xhc3M9J2ZvdG9zdGVsbGluZSc+PGltZyAgc3R5bGU9J3ZlcnRpY2FsLWFsaWduOm1pZGRsZTsnIHNyYz0nLi4vZ3JhZmljYS80c3RlbGxlLnBuZycgYWx0PSc0U3RlbGxpbmUnPjwvZGl2PiAgTGluayBFc3Rlc286IDxhIGhyZWY9J2h0dHBzOi8vd3d3LnBvc3RlLml0LycgdGFyZ2V0PSdfYmxhbmsnPmh0dHBzOi8vd3d3LnBvc3RlLml0LzwvYT48L3A+ ICA8YSBocmVmPSdodHRwczovL3d3dy5nbHMtaXRhbHkuY29tLycgdGFyZ2V0PSdfYmxhbmsnPkdMUyBJdGFsaWE8L2E+IC0gSW1wb3J0YW56YSwgU3RlbGxpbmU6ICA8ZGl2IGNsYXNzPSdmb3Rvc3RlbGxpbmUnPjxpbWcgIHN0eWxlPSd2ZXJ0aWNhbC1hbGlnbjptaWRkbGU7JyBzcmM9Jy4uL2dyYWZpY2EvNXN0ZWxsZS5wbmcnIGFsdD0nNVN0ZWxsaW5lJz48L2Rpdj4gIExpbmsgRXN0ZXNvOiA8YSBocmVmPSdodHRwczovL3d3dy5nbHMtaXRhbHkuY29tLycgdGFyZ2V0PSdfYmxhbmsnPmh0dHBzOi8vd3d3Lmdscy1pdGFseS5jb20vPC9hPjwvcD4= ICA8YSBocmVmPSdodHRwczovL3d3dy5icnQuaXQvaXQnIHRhcmdldD0nX2JsYW5rJz5CYXJ0b2xpbmk8L2E+IC0gSW1wb3J0YW56YSwgU3RlbGxpbmU6ICA8ZGl2IGNsYXNzPSdmb3Rvc3RlbGxpbmUnPjxpbWcgIHN0eWxlPSd2ZXJ0aWNhbC1hbGlnbjptaWRkbGU7JyBzcmM9Jy4uL2dyYWZpY2EvNXN0ZWxsZS5wbmcnIGFsdD0nNVN0ZWxsaW5lJz48L2Rpdj4gIExpbmsgRXN0ZXNvOiA8YSBocmVmPSdodHRwczovL3d3dy5icnQuaXQvaXQnIHRhcmdldD0nX2JsYW5rJz5odHRwczovL3d3dy5icnQuaXQvaXQ8L2E+PC9wPg== ICA8YSBocmVmPSdodHRwczovL3d3dy5uZXhpdmUuaXQnIHRhcmdldD0nX2JsYW5rJz5OZXhpdmU8L2E+IC0gSW1wb3J0YW56YSwgU3RlbGxpbmU6ICA8ZGl2IGNsYXNzPSdmb3Rvc3RlbGxpbmUnPjxpbWcgIHN0eWxlPSd2ZXJ0aWNhbC1hbGlnbjptaWRkbGU7JyBzcmM9Jy4uL2dyYWZpY2EvNHN0ZWxsZS5wbmcnIGFsdD0nNFN0ZWxsaW5lJz48L2Rpdj4gIExpbmsgRXN0ZXNvOiA8YSBocmVmPSdodHRwczovL3d3dy5uZXhpdmUuaXQnIHRhcmdldD0nX2JsYW5rJz5odHRwczovL3d3dy5uZXhpdmUuaXQ8L2E+PC9wPg== ICA8YSBocmVmPSdodHRwczovL3d3dy51cHMuY29tJyB0YXJnZXQ9J19ibGFuayc+VVBTPC9hPiAtIEltcG9ydGFuemEsIFN0ZWxsaW5lOiAgPGRpdiBjbGFzcz0nZm90b3N0ZWxsaW5lJz48aW1nICBzdHlsZT0ndmVydGljYWwtYWxpZ246bWlkZGxlOycgc3JjPScuLi9ncmFmaWNhLzVzdGVsbGUucG5nJyBhbHQ9JzVTdGVsbGluZSc+PC9kaXY+ICBMaW5rIEVzdGVzbzogPGEgaHJlZj0naHR0cHM6Ly93d3cudXBzLmNvbScgdGFyZ2V0PSdfYmxhbmsnPmh0dHBzOi8vd3d3LnVwcy5jb208L2E+PC9wPg== ICA8YSBocmVmPSdodHRwczovL3d3dy50bnQuY29tJyB0YXJnZXQ9J19ibGFuayc+VE5UIC0gU2l0byBHZW5lcmFsZTwvYT4gLSBJbXBvcnRhbnphLCBTdGVsbGluZTogIDxkaXYgY2xhc3M9J2ZvdG9zdGVsbGluZSc+PGltZyAgc3R5bGU9J3ZlcnRpY2FsLWFsaWduOm1pZGRsZTsnIHNyYz0nLi4vZ3JhZmljYS81c3RlbGxlLnBuZycgYWx0PSc1U3RlbGxpbmUnPjwvZGl2PiAgTGluayBFc3Rlc286IDxhIGhyZWY9J2h0dHBzOi8vd3d3LnRudC5jb20nIHRhcmdldD0nX2JsYW5rJz5odHRwczovL3d3dy50bnQuY29tPC9hPjwvcD4= ICA8YSBocmVmPSdodHRwczovL3d3dy5zZGEuaXQvJyB0YXJnZXQ9J19ibGFuayc+U0RBIC0gYnkgcG9zdGUgaXRhbGlhbmU8L2E+IC0gSW1wb3J0YW56YSwgU3RlbGxpbmU6ICA8ZGl2IGNsYXNzPSdmb3Rvc3RlbGxpbmUnPjxpbWcgIHN0eWxlPSd2ZXJ0aWNhbC1hbGlnbjptaWRkbGU7JyBzcmM9Jy4uL2dyYWZpY2EvM3N0ZWxsZS5wbmcnIGFsdD0nM1N0ZWxsaW5lJz48L2Rpdj4gIExpbmsgRXN0ZXNvOiA8YSBocmVmPSdodHRwczovL3d3dy5zZGEuaXQvJyB0YXJnZXQ9J19ibGFuayc+aHR0cHM6Ly93d3cuc2RhLml0LzwvYT48L3A+
Web Radio - My Personal Ranking
ICA8YSBocmVmPSdodHRwczovL3R1bmVpbi5jb20vJyB0YXJnZXQ9J19ibGFuayc+VHVuZSBJbiBSYWRpbzwvYT4gLSBJbXBvcnRhbnphLCBTdGVsbGluZTogIDxkaXYgY2xhc3M9J2ZvdG9zdGVsbGluZSc+PGltZyAgc3R5bGU9J3ZlcnRpY2FsLWFsaWduOm1pZGRsZTsnIHNyYz0nLi4vZ3JhZmljYS81c3RlbGxlLnBuZycgYWx0PSc1U3RlbGxpbmUnPjwvZGl2PiAgTGluayBFc3Rlc286IDxhIGhyZWY9J2h0dHBzOi8vdHVuZWluLmNvbS8nIHRhcmdldD0nX2JsYW5rJz5odHRwczovL3R1bmVpbi5jb20vPC9hPjwvcD4= ICA8YSBocmVmPSdodHRwczovL3d3dy5yYWRpby5pdC8nIHRhcmdldD0nX2JsYW5rJz5SYWRpby5pdCAtIExpc3RhIHJhZGlvPC9hPiAtIEltcG9ydGFuemEsIFN0ZWxsaW5lOiAgPGRpdiBjbGFzcz0nZm90b3N0ZWxsaW5lJz48aW1nICBzdHlsZT0ndmVydGljYWwtYWxpZ246bWlkZGxlOycgc3JjPScuLi9ncmFmaWNhLzVzdGVsbGUucG5nJyBhbHQ9JzVTdGVsbGluZSc+PC9kaXY+ICBMaW5rIEVzdGVzbzogPGEgaHJlZj0naHR0cHM6Ly93d3cucmFkaW8uaXQvJyB0YXJnZXQ9J19ibGFuayc+aHR0cHM6Ly93d3cucmFkaW8uaXQvPC9hPjwvcD4= ICA8YSBocmVmPSdodHRwczovL3d3dy5yYWlwbGF5cmFkaW8uaXQvJyB0YXJnZXQ9J19ibGFuayc+UmFpIFJhZGlvPC9hPiAtIEltcG9ydGFuemEsIFN0ZWxsaW5lOiAgPGRpdiBjbGFzcz0nZm90b3N0ZWxsaW5lJz48aW1nICBzdHlsZT0ndmVydGljYWwtYWxpZ246bWlkZGxlOycgc3JjPScuLi9ncmFmaWNhLzRzdGVsbGUucG5nJyBhbHQ9JzRTdGVsbGluZSc+PC9kaXY+ICBMaW5rIEVzdGVzbzogPGEgaHJlZj0naHR0cHM6Ly93d3cucmFpcGxheXJhZGlvLml0LycgdGFyZ2V0PSdfYmxhbmsnPmh0dHBzOi8vd3d3LnJhaXBsYXlyYWRpby5pdC88L2E+PC9wPg== ICA8YSBocmVmPSdodHRwOi8vd3d3LnJhZGlvMjQuaWxzb2xlMjRvcmUuY29tLycgdGFyZ2V0PSdfYmxhbmsnPlJhZGlvMjQ8L2E+IC0gSW1wb3J0YW56YSwgU3RlbGxpbmU6ICA8ZGl2IGNsYXNzPSdmb3Rvc3RlbGxpbmUnPjxpbWcgIHN0eWxlPSd2ZXJ0aWNhbC1hbGlnbjptaWRkbGU7JyBzcmM9Jy4uL2dyYWZpY2EvNHN0ZWxsZS5wbmcnIGFsdD0nNFN0ZWxsaW5lJz48L2Rpdj4gIExpbmsgRXN0ZXNvOiA8YSBocmVmPSdodHRwOi8vd3d3LnJhZGlvMjQuaWxzb2xlMjRvcmUuY29tLycgdGFyZ2V0PSdfYmxhbmsnPmh0dHA6Ly93d3cucmFkaW8yNC5pbHNvbGUyNG9yZS5jb20vPC9hPjwvcD4= ICA8YSBocmVmPSdodHRwOi8vd3d3LnJ0bC5pdC8nIHRhcmdldD0nX2JsYW5rJz5SVEwgMTAyLjU8L2E+IC0gSW1wb3J0YW56YSwgU3RlbGxpbmU6ICA8ZGl2IGNsYXNzPSdmb3Rvc3RlbGxpbmUnPjxpbWcgIHN0eWxlPSd2ZXJ0aWNhbC1hbGlnbjptaWRkbGU7JyBzcmM9Jy4uL2dyYWZpY2EvNXN0ZWxsZS5wbmcnIGFsdD0nNVN0ZWxsaW5lJz48L2Rpdj4gIExpbmsgRXN0ZXNvOiA8YSBocmVmPSdodHRwOi8vd3d3LnJ0bC5pdC8nIHRhcmdldD0nX2JsYW5rJz5odHRwOi8vd3d3LnJ0bC5pdC88L2E+PC9wPg== ICA8YSBocmVmPSdodHRwczovL3d3dy5kZWVqYXkuaXQvJyB0YXJnZXQ9J19ibGFuayc+ZGVlamF5Lml0PC9hPiAtIEltcG9ydGFuemEsIFN0ZWxsaW5lOiAgPGRpdiBjbGFzcz0nZm90b3N0ZWxsaW5lJz48aW1nICBzdHlsZT0ndmVydGljYWwtYWxpZ246bWlkZGxlOycgc3JjPScuLi9ncmFmaWNhLzVzdGVsbGUucG5nJyBhbHQ9JzVTdGVsbGluZSc+PC9kaXY+ICBMaW5rIEVzdGVzbzogPGEgaHJlZj0naHR0cHM6Ly93d3cuZGVlamF5Lml0LycgdGFyZ2V0PSdfYmxhbmsnPmh0dHBzOi8vd3d3LmRlZWpheS5pdC88L2E+PC9wPg== ICA8YSBocmVmPSdodHRwczovL3d3dy4xMDUubmV0LycgdGFyZ2V0PSdfYmxhbmsnPjEwNTwvYT4gLSBJbXBvcnRhbnphLCBTdGVsbGluZTogIDxkaXYgY2xhc3M9J2ZvdG9zdGVsbGluZSc+PGltZyAgc3R5bGU9J3ZlcnRpY2FsLWFsaWduOm1pZGRsZTsnIHNyYz0nLi4vZ3JhZmljYS81c3RlbGxlLnBuZycgYWx0PSc1U3RlbGxpbmUnPjwvZGl2PiAgTGluayBFc3Rlc286IDxhIGhyZWY9J2h0dHBzOi8vd3d3LjEwNS5uZXQvJyB0YXJnZXQ9J19ibGFuayc+aHR0cHM6Ly93d3cuMTA1Lm5ldC88L2E+PC9wPg== ICA8YSBocmVmPSdodHRwczovL3d3dy5yZHMuaXQvJyB0YXJnZXQ9J19ibGFuayc+UkRTPC9hPiAtIEltcG9ydGFuemEsIFN0ZWxsaW5lOiAgPGRpdiBjbGFzcz0nZm90b3N0ZWxsaW5lJz48aW1nICBzdHlsZT0ndmVydGljYWwtYWxpZ246bWlkZGxlOycgc3JjPScuLi9ncmFmaWNhLzVzdGVsbGUucG5nJyBhbHQ9JzVTdGVsbGluZSc+PC9kaXY+ICBMaW5rIEVzdGVzbzogPGEgaHJlZj0naHR0cHM6Ly93d3cucmRzLml0LycgdGFyZ2V0PSdfYmxhbmsnPmh0dHBzOi8vd3d3LnJkcy5pdC88L2E+PC9wPg== ICA8YSBocmVmPSdodHRwczovL3d3dy5yYWRpb2l0YWxpYS5pdC9wbGF5ZXInIHRhcmdldD0nX2JsYW5rJz5SYWRpbyBJdGFsaWE8L2E+IC0gSW1wb3J0YW56YSwgU3RlbGxpbmU6ICA8ZGl2IGNsYXNzPSdmb3Rvc3RlbGxpbmUnPjxpbWcgIHN0eWxlPSd2ZXJ0aWNhbC1hbGlnbjptaWRkbGU7JyBzcmM9Jy4uL2dyYWZpY2EvNXN0ZWxsZS5wbmcnIGFsdD0nNVN0ZWxsaW5lJz48L2Rpdj4gIExpbmsgRXN0ZXNvOiA8YSBocmVmPSdodHRwczovL3d3dy5yYWRpb2l0YWxpYS5pdC9wbGF5ZXInIHRhcmdldD0nX2JsYW5rJz5odHRwczovL3d3dy5yYWRpb2l0YWxpYS5pdC9wbGF5ZXI8L2E+PC9wPg== ICA8YSBocmVmPSdodHRwczovL3d3dy5tMm8uaXQvb24tYWlyLycgdGFyZ2V0PSdfYmxhbmsnPk0yTzwvYT4gLSBJbXBvcnRhbnphLCBTdGVsbGluZTogIDxkaXYgY2xhc3M9J2ZvdG9zdGVsbGluZSc+PGltZyAgc3R5bGU9J3ZlcnRpY2FsLWFsaWduOm1pZGRsZTsnIHNyYz0nLi4vZ3JhZmljYS80c3RlbGxlLnBuZycgYWx0PSc0U3RlbGxpbmUnPjwvZGl2PiAgTGluayBFc3Rlc286IDxhIGhyZWY9J2h0dHBzOi8vd3d3Lm0yby5pdC9vbi1haXIvJyB0YXJnZXQ9J19ibGFuayc+aHR0cHM6Ly93d3cubTJvLml0L29uLWFpci88L2E+PC9wPg== ICA8YSBocmVmPSdodHRwczovL3d3dy52aXJnaW5yYWRpby5pdC8nIHRhcmdldD0nX2JsYW5rJz5WaXJnaW4gUmFkaW88L2E+IC0gSW1wb3J0YW56YSwgU3RlbGxpbmU6ICA8ZGl2IGNsYXNzPSdmb3Rvc3RlbGxpbmUnPjxpbWcgIHN0eWxlPSd2ZXJ0aWNhbC1hbGlnbjptaWRkbGU7JyBzcmM9Jy4uL2dyYWZpY2EvNHN0ZWxsZS5wbmcnIGFsdD0nNFN0ZWxsaW5lJz48L2Rpdj4gIExpbmsgRXN0ZXNvOiA8YSBocmVmPSdodHRwczovL3d3dy52aXJnaW5yYWRpby5pdC8nIHRhcmdldD0nX2JsYW5rJz5odHRwczovL3d3dy52aXJnaW5yYWRpby5pdC88L2E+PC9wPg== ICA8YSBocmVmPSdodHRwczovL3d3dy5raXNza2lzcy5pdC8nIHRhcmdldD0nX2JsYW5rJz5LaXNza2lzczwvYT4gLSBJbXBvcnRhbnphLCBTdGVsbGluZTogIDxkaXYgY2xhc3M9J2ZvdG9zdGVsbGluZSc+PGltZyAgc3R5bGU9J3ZlcnRpY2FsLWFsaWduOm1pZGRsZTsnIHNyYz0nLi4vZ3JhZmljYS80c3RlbGxlLnBuZycgYWx0PSc0U3RlbGxpbmUnPjwvZGl2PiAgTGluayBFc3Rlc286IDxhIGhyZWY9J2h0dHBzOi8vd3d3Lmtpc3NraXNzLml0LycgdGFyZ2V0PSdfYmxhbmsnPmh0dHBzOi8vd3d3Lmtpc3NraXNzLml0LzwvYT48L3A+ ICA8YSBocmVmPSdodHRwczovL3d3dy5kaXNjb3JhZGlvLml0LycgdGFyZ2V0PSdfYmxhbmsnPkRpc2NvcmFkaW88L2E+IC0gSW1wb3J0YW56YSwgU3RlbGxpbmU6ICA8ZGl2IGNsYXNzPSdmb3Rvc3RlbGxpbmUnPjxpbWcgIHN0eWxlPSd2ZXJ0aWNhbC1hbGlnbjptaWRkbGU7JyBzcmM9Jy4uL2dyYWZpY2EvNHN0ZWxsZS5wbmcnIGFsdD0nNFN0ZWxsaW5lJz48L2Rpdj4gIExpbmsgRXN0ZXNvOiA8YSBocmVmPSdodHRwczovL3d3dy5kaXNjb3JhZGlvLml0LycgdGFyZ2V0PSdfYmxhbmsnPmh0dHBzOi8vd3d3LmRpc2NvcmFkaW8uaXQvPC9hPjwvcD4= ICA8YSBocmVmPSdodHRwczovL3d3dy5jYXBpdGFsLml0LycgdGFyZ2V0PSdfYmxhbmsnPkNhcGl0YWw8L2E+IC0gSW1wb3J0YW56YSwgU3RlbGxpbmU6ICA8ZGl2IGNsYXNzPSdmb3Rvc3RlbGxpbmUnPjxpbWcgIHN0eWxlPSd2ZXJ0aWNhbC1hbGlnbjptaWRkbGU7JyBzcmM9Jy4uL2dyYWZpY2EvNHN0ZWxsZS5wbmcnIGFsdD0nNFN0ZWxsaW5lJz48L2Rpdj4gIExpbmsgRXN0ZXNvOiA8YSBocmVmPSdodHRwczovL3d3dy5jYXBpdGFsLml0LycgdGFyZ2V0PSdfYmxhbmsnPmh0dHBzOi8vd3d3LmNhcGl0YWwuaXQvPC9hPjwvcD4= ICA8YSBocmVmPSdodHRwOi8vd3d3LnJhZGlvc3ViYXNpby5pdC8nIHRhcmdldD0nX2JsYW5rJz5SYWRpbyBTdWJhc2lvPC9hPiAtIEltcG9ydGFuemEsIFN0ZWxsaW5lOiAgPGRpdiBjbGFzcz0nZm90b3N0ZWxsaW5lJz48aW1nICBzdHlsZT0ndmVydGljYWwtYWxpZ246bWlkZGxlOycgc3JjPScuLi9ncmFmaWNhLzRzdGVsbGUucG5nJyBhbHQ9JzRTdGVsbGluZSc+PC9kaXY+ICBMaW5rIEVzdGVzbzogPGEgaHJlZj0naHR0cDovL3d3dy5yYWRpb3N1YmFzaW8uaXQvJyB0YXJnZXQ9J19ibGFuayc+aHR0cDovL3d3dy5yYWRpb3N1YmFzaW8uaXQvPC9hPjwvcD4= ICA8YSBocmVmPSdodHRwczovL3d3dy5yYWRpb21vbnRlY2FybG8ubmV0LycgdGFyZ2V0PSdfYmxhbmsnPlJhZGlvIE1vbnRlY2FybG88L2E+IC0gSW1wb3J0YW56YSwgU3RlbGxpbmU6ICA8ZGl2IGNsYXNzPSdmb3Rvc3RlbGxpbmUnPjxpbWcgIHN0eWxlPSd2ZXJ0aWNhbC1hbGlnbjptaWRkbGU7JyBzcmM9Jy4uL2dyYWZpY2EvNHN0ZWxsZS5wbmcnIGFsdD0nNFN0ZWxsaW5lJz48L2Rpdj4gIExpbmsgRXN0ZXNvOiA8YSBocmVmPSdodHRwczovL3d3dy5yYWRpb21vbnRlY2FybG8ubmV0LycgdGFyZ2V0PSdfYmxhbmsnPmh0dHBzOi8vd3d3LnJhZGlvbW9udGVjYXJsby5uZXQvPC9hPjwvcD4=
Libreria - My Personal Ranking
ICA8YSBocmVmPSdodHRwczovL2Jvb2tzLmdvb2dsZS5pdC8nIHRhcmdldD0nX2JsYW5rJz5Hb29nbGUgTGlicmk8L2E+IC0gSW1wb3J0YW56YSwgU3RlbGxpbmU6ICA8ZGl2IGNsYXNzPSdmb3Rvc3RlbGxpbmUnPjxpbWcgIHN0eWxlPSd2ZXJ0aWNhbC1hbGlnbjptaWRkbGU7JyBzcmM9Jy4uL2dyYWZpY2EvNXN0ZWxsZS5wbmcnIGFsdD0nNVN0ZWxsaW5lJz48L2Rpdj4gIExpbmsgRXN0ZXNvOiA8YSBocmVmPSdodHRwczovL2Jvb2tzLmdvb2dsZS5pdC8nIHRhcmdldD0nX2JsYW5rJz5odHRwczovL2Jvb2tzLmdvb2dsZS5pdC88L2E+PC9wPg== ICA8YSBocmVmPSdodHRwczovL3d3dy5saWJlcmxpYmVyLml0LycgdGFyZ2V0PSdfYmxhbmsnPkxpYmVybGliZXI8L2E+IC0gSW1wb3J0YW56YSwgU3RlbGxpbmU6ICA8ZGl2IGNsYXNzPSdmb3Rvc3RlbGxpbmUnPjxpbWcgIHN0eWxlPSd2ZXJ0aWNhbC1hbGlnbjptaWRkbGU7JyBzcmM9Jy4uL2dyYWZpY2EvNXN0ZWxsZS5wbmcnIGFsdD0nNVN0ZWxsaW5lJz48L2Rpdj4gIExpbmsgRXN0ZXNvOiA8YSBocmVmPSdodHRwczovL3d3dy5saWJlcmxpYmVyLml0LycgdGFyZ2V0PSdfYmxhbmsnPmh0dHBzOi8vd3d3LmxpYmVybGliZXIuaXQvPC9hPjwvcD4= ICA8YSBocmVmPSdodHRwOi8vd3d3Lmd1dGVuYmVyZy5vcmcvYnJvd3NlL2xhbmd1YWdlcy9pdCcgdGFyZ2V0PSdfYmxhbmsnPkd1dGVuYmVyZyBJVDwvYT4gLSBJbXBvcnRhbnphLCBTdGVsbGluZTogIDxkaXYgY2xhc3M9J2ZvdG9zdGVsbGluZSc+PGltZyAgc3R5bGU9J3ZlcnRpY2FsLWFsaWduOm1pZGRsZTsnIHNyYz0nLi4vZ3JhZmljYS80c3RlbGxlLnBuZycgYWx0PSc0U3RlbGxpbmUnPjwvZGl2PiAgTGluayBFc3Rlc286IDxhIGhyZWY9J2h0dHA6Ly93d3cuZ3V0ZW5iZXJnLm9yZy9icm93c2UvbGFuZ3VhZ2VzL2l0JyB0YXJnZXQ9J19ibGFuayc+aHR0cDovL3d3dy5ndXRlbmJlcmcub3JnL2Jyb3dzZS9sYW5ndWFnZXMvaXQ8L2E+PC9wPg== ICA8YSBocmVmPSdodHRwOi8vd3d3LmxldHRlcmF0dXJhaXRhbGlhbmEubmV0LycgdGFyZ2V0PSdfYmxhbmsnPkxldHRlcmF0dXJhaXRhbGlhbmEubmV0PC9hPiAtIEltcG9ydGFuemEsIFN0ZWxsaW5lOiAgPGRpdiBjbGFzcz0nZm90b3N0ZWxsaW5lJz48aW1nICBzdHlsZT0ndmVydGljYWwtYWxpZ246bWlkZGxlOycgc3JjPScuLi9ncmFmaWNhLzNzdGVsbGUucG5nJyBhbHQ9JzNTdGVsbGluZSc+PC9kaXY+ICBMaW5rIEVzdGVzbzogPGEgaHJlZj0naHR0cDovL3d3dy5sZXR0ZXJhdHVyYWl0YWxpYW5hLm5ldC8nIHRhcmdldD0nX2JsYW5rJz5odHRwOi8vd3d3LmxldHRlcmF0dXJhaXRhbGlhbmEubmV0LzwvYT48L3A+ ICA8YSBocmVmPSdodHRwczovL2xpYmdlbi5pcy8nIHRhcmdldD0nX2JsYW5rJz5MaWJyYXJ5IEdlbmVzaXM8L2E+IC0gSW1wb3J0YW56YSwgU3RlbGxpbmU6ICA8ZGl2IGNsYXNzPSdmb3Rvc3RlbGxpbmUnPjxpbWcgIHN0eWxlPSd2ZXJ0aWNhbC1hbGlnbjptaWRkbGU7JyBzcmM9Jy4uL2dyYWZpY2EvNXN0ZWxsZS5wbmcnIGFsdD0nNVN0ZWxsaW5lJz48L2Rpdj4gIExpbmsgRXN0ZXNvOiA8YSBocmVmPSdodHRwczovL2xpYmdlbi5pcy8nIHRhcmdldD0nX2JsYW5rJz5odHRwczovL2xpYmdlbi5pcy88L2E+PC9wPg== ICA8YSBocmVmPSdodHRwOi8vd3d3LmVib29rZ3JhdGlzLm5ldC9lYm9va3MuYXNwJyB0YXJnZXQ9J19ibGFuayc+ZWJvb2tncmF0aXM8L2E+IC0gSW1wb3J0YW56YSwgU3RlbGxpbmU6ICA8ZGl2IGNsYXNzPSdmb3Rvc3RlbGxpbmUnPjxpbWcgIHN0eWxlPSd2ZXJ0aWNhbC1hbGlnbjptaWRkbGU7JyBzcmM9Jy4uL2dyYWZpY2EvM3N0ZWxsZS5wbmcnIGFsdD0nM1N0ZWxsaW5lJz48L2Rpdj4gIExpbmsgRXN0ZXNvOiA8YSBocmVmPSdodHRwOi8vd3d3LmVib29rZ3JhdGlzLm5ldC9lYm9va3MuYXNwJyB0YXJnZXQ9J19ibGFuayc+aHR0cDovL3d3dy5lYm9va2dyYXRpcy5uZXQvZWJvb2tzLmFzcDwvYT48L3A+ ICA8YSBocmVmPSdodHRwOi8vaXQuZmVlZGJvb2tzLmNvbS9wdWJsaWNkb21haW4nIHRhcmdldD0nX2JsYW5rJz5mZWVkYm9va3MgcHVibGljIGRvbWFpbiBpdDwvYT4gLSBJbXBvcnRhbnphLCBTdGVsbGluZTogIDxkaXYgY2xhc3M9J2ZvdG9zdGVsbGluZSc+PGltZyAgc3R5bGU9J3ZlcnRpY2FsLWFsaWduOm1pZGRsZTsnIHNyYz0nLi4vZ3JhZmljYS8zc3RlbGxlLnBuZycgYWx0PSczU3RlbGxpbmUnPjwvZGl2PiAgTGluayBFc3Rlc286IDxhIGhyZWY9J2h0dHA6Ly9pdC5mZWVkYm9va3MuY29tL3B1YmxpY2RvbWFpbicgdGFyZ2V0PSdfYmxhbmsnPmh0dHA6Ly9pdC5mZWVkYm9va3MuY29tL3B1YmxpY2RvbWFpbjwvYT48L3A+
Portali Web - My Personal Ranking
ICA8YSBocmVmPSdodHRwczovL3d3dy53aXJlZC5pdC8nIHRhcmdldD0nX2JsYW5rJz5XaXJlZDwvYT4gLSBJbXBvcnRhbnphLCBTdGVsbGluZTogIDxkaXYgY2xhc3M9J2ZvdG9zdGVsbGluZSc+PGltZyAgc3R5bGU9J3ZlcnRpY2FsLWFsaWduOm1pZGRsZTsnIHNyYz0nLi4vZ3JhZmljYS81c3RlbGxlLnBuZycgYWx0PSc1U3RlbGxpbmUnPjwvZGl2PiAgTGluayBFc3Rlc286IDxhIGhyZWY9J2h0dHBzOi8vd3d3LndpcmVkLml0LycgdGFyZ2V0PSdfYmxhbmsnPmh0dHBzOi8vd3d3LndpcmVkLml0LzwvYT48L3A+ ICA8YSBocmVmPSdodHRwczovL3d3dy5zbWFydHdvcmxkLml0LycgdGFyZ2V0PSdfYmxhbmsnPlNtYXJ0d29ybGQ8L2E+IC0gSW1wb3J0YW56YSwgU3RlbGxpbmU6ICA8ZGl2IGNsYXNzPSdmb3Rvc3RlbGxpbmUnPjxpbWcgIHN0eWxlPSd2ZXJ0aWNhbC1hbGlnbjptaWRkbGU7JyBzcmM9Jy4uL2dyYWZpY2EvNXN0ZWxsZS5wbmcnIGFsdD0nNVN0ZWxsaW5lJz48L2Rpdj4gIExpbmsgRXN0ZXNvOiA8YSBocmVmPSdodHRwczovL3d3dy5zbWFydHdvcmxkLml0LycgdGFyZ2V0PSdfYmxhbmsnPmh0dHBzOi8vd3d3LnNtYXJ0d29ybGQuaXQvPC9hPjwvcD4= ICA8YSBocmVmPSdodHRwczovL3d3dy5pbG1ldGVvLml0LycgdGFyZ2V0PSdfYmxhbmsnPmlsbWV0ZW8uaXQJPC9hPiAtIEltcG9ydGFuemEsIFN0ZWxsaW5lOiAgPGRpdiBjbGFzcz0nZm90b3N0ZWxsaW5lJz48aW1nICBzdHlsZT0ndmVydGljYWwtYWxpZ246bWlkZGxlOycgc3JjPScuLi9ncmFmaWNhLzVzdGVsbGUucG5nJyBhbHQ9JzVTdGVsbGluZSc+PC9kaXY+ICBMaW5rIEVzdGVzbzogPGEgaHJlZj0naHR0cHM6Ly93d3cuaWxtZXRlby5pdC8nIHRhcmdldD0nX2JsYW5rJz5odHRwczovL3d3dy5pbG1ldGVvLml0LzwvYT48L3A+ ICA8YSBocmVmPSdodHRwczovL3d3dy5zdGFzZXJhaW50di5jb20nIHRhcmdldD0nX2JsYW5rJz5zdGFzZXJhaW50di5jb208L2E+IC0gSW1wb3J0YW56YSwgU3RlbGxpbmU6ICA8ZGl2IGNsYXNzPSdmb3Rvc3RlbGxpbmUnPjxpbWcgIHN0eWxlPSd2ZXJ0aWNhbC1hbGlnbjptaWRkbGU7JyBzcmM9Jy4uL2dyYWZpY2EvNXN0ZWxsZS5wbmcnIGFsdD0nNVN0ZWxsaW5lJz48L2Rpdj4gIExpbmsgRXN0ZXNvOiA8YSBocmVmPSdodHRwczovL3d3dy5zdGFzZXJhaW50di5jb20nIHRhcmdldD0nX2JsYW5rJz5odHRwczovL3d3dy5zdGFzZXJhaW50di5jb208L2E+PC9wPg== ICA8YSBocmVmPSdodHRwczovL3d3dy5iMjQuaXQvJyB0YXJnZXQ9J19ibGFuayc+YjI0PC9hPiAtIEltcG9ydGFuemEsIFN0ZWxsaW5lOiAgPGRpdiBjbGFzcz0nZm90b3N0ZWxsaW5lJz48aW1nICBzdHlsZT0ndmVydGljYWwtYWxpZ246bWlkZGxlOycgc3JjPScuLi9ncmFmaWNhLzRzdGVsbGUucG5nJyBhbHQ9JzRTdGVsbGluZSc+PC9kaXY+ICBMaW5rIEVzdGVzbzogPGEgaHJlZj0naHR0cHM6Ly93d3cuYjI0Lml0LycgdGFyZ2V0PSdfYmxhbmsnPmh0dHBzOi8vd3d3LmIyNC5pdC88L2E+PC9wPg== ICA8YSBocmVmPSdodHRwczovL3d3dy5iYXN0YXJkaWRlbnRyby5pdC8nIHRhcmdldD0nX2JsYW5rJz5CYXN0YXJkaSBEZW50cm88L2E+IC0gSW1wb3J0YW56YSwgU3RlbGxpbmU6ICA8ZGl2IGNsYXNzPSdmb3Rvc3RlbGxpbmUnPjxpbWcgIHN0eWxlPSd2ZXJ0aWNhbC1hbGlnbjptaWRkbGU7JyBzcmM9Jy4uL2dyYWZpY2EvNXN0ZWxsZS5wbmcnIGFsdD0nNVN0ZWxsaW5lJz48L2Rpdj4gIExpbmsgRXN0ZXNvOiA8YSBocmVmPSdodHRwczovL3d3dy5iYXN0YXJkaWRlbnRyby5pdC8nIHRhcmdldD0nX2JsYW5rJz5odHRwczovL3d3dy5iYXN0YXJkaWRlbnRyby5pdC88L2E+PC9wPg== ICA8YSBocmVmPSdodHRwczovL3d3dy5yZWdpc3Rlci5pdC8nIHRhcmdldD0nX2JsYW5rJz5SZWdpc3RlcjwvYT4gLSBJbXBvcnRhbnphLCBTdGVsbGluZTogIDxkaXYgY2xhc3M9J2ZvdG9zdGVsbGluZSc+PGltZyAgc3R5bGU9J3ZlcnRpY2FsLWFsaWduOm1pZGRsZTsnIHNyYz0nLi4vZ3JhZmljYS80c3RlbGxlLnBuZycgYWx0PSc0U3RlbGxpbmUnPjwvZGl2PiAgTGluayBFc3Rlc286IDxhIGhyZWY9J2h0dHBzOi8vd3d3LnJlZ2lzdGVyLml0LycgdGFyZ2V0PSdfYmxhbmsnPmh0dHBzOi8vd3d3LnJlZ2lzdGVyLml0LzwvYT48L3A+ ICA8YSBocmVmPSdodHRwczovL3d3dy5oYWNrdHJpY2tzLml0LycgdGFyZ2V0PSdfYmxhbmsnPkhhY2sgVHJpY2tzPC9hPiAtIEltcG9ydGFuemEsIFN0ZWxsaW5lOiAgPGRpdiBjbGFzcz0nZm90b3N0ZWxsaW5lJz48aW1nICBzdHlsZT0ndmVydGljYWwtYWxpZ246bWlkZGxlOycgc3JjPScuLi9ncmFmaWNhLzVzdGVsbGUucG5nJyBhbHQ9JzVTdGVsbGluZSc+PC9kaXY+ICBMaW5rIEVzdGVzbzogPGEgaHJlZj0naHR0cHM6Ly93d3cuaGFja3RyaWNrcy5pdC8nIHRhcmdldD0nX2JsYW5rJz5odHRwczovL3d3dy5oYWNrdHJpY2tzLml0LzwvYT48L3A+ ICA8YSBocmVmPSdodHRwczovL3d3dy5wYWdpbmViaWFuY2hlLml0LycgdGFyZ2V0PSdfYmxhbmsnPlBhZ2luZSBCaWFuY2hlPC9hPiAtIEltcG9ydGFuemEsIFN0ZWxsaW5lOiAgPGRpdiBjbGFzcz0nZm90b3N0ZWxsaW5lJz48aW1nICBzdHlsZT0ndmVydGljYWwtYWxpZ246bWlkZGxlOycgc3JjPScuLi9ncmFmaWNhLzVzdGVsbGUucG5nJyBhbHQ9JzVTdGVsbGluZSc+PC9kaXY+ICBMaW5rIEVzdGVzbzogPGEgaHJlZj0naHR0cHM6Ly93d3cucGFnaW5lYmlhbmNoZS5pdC8nIHRhcmdldD0nX2JsYW5rJz5odHRwczovL3d3dy5wYWdpbmViaWFuY2hlLml0LzwvYT48L3A+ ICA8YSBocmVmPSdodHRwczovL3d3dy5zZWd1Z2lvLml0LycgdGFyZ2V0PSdfYmxhbmsnPlNlZ3VnaW8uaXQ8L2E+IC0gSW1wb3J0YW56YSwgU3RlbGxpbmU6ICA8ZGl2IGNsYXNzPSdmb3Rvc3RlbGxpbmUnPjxpbWcgIHN0eWxlPSd2ZXJ0aWNhbC1hbGlnbjptaWRkbGU7JyBzcmM9Jy4uL2dyYWZpY2EvNXN0ZWxsZS5wbmcnIGFsdD0nNVN0ZWxsaW5lJz48L2Rpdj4gIExpbmsgRXN0ZXNvOiA8YSBocmVmPSdodHRwczovL3d3dy5zZWd1Z2lvLml0LycgdGFyZ2V0PSdfYmxhbmsnPmh0dHBzOi8vd3d3LnNlZ3VnaW8uaXQvPC9hPjwvcD4= ICA8YSBocmVmPSdodHRwczovL3d3dy5pbnBzLml0LycgdGFyZ2V0PSdfYmxhbmsnPklucHM8L2E+IC0gSW1wb3J0YW56YSwgU3RlbGxpbmU6ICA8ZGl2IGNsYXNzPSdmb3Rvc3RlbGxpbmUnPjxpbWcgIHN0eWxlPSd2ZXJ0aWNhbC1hbGlnbjptaWRkbGU7JyBzcmM9Jy4uL2dyYWZpY2EvNXN0ZWxsZS5wbmcnIGFsdD0nNVN0ZWxsaW5lJz48L2Rpdj4gIExpbmsgRXN0ZXNvOiA8YSBocmVmPSdodHRwczovL3d3dy5pbnBzLml0LycgdGFyZ2V0PSdfYmxhbmsnPmh0dHBzOi8vd3d3LmlucHMuaXQvPC9hPjwvcD4= ICA8YSBocmVmPSdodHRwczovL3d3dy5taWNyb3NvZnQuY29tLycgdGFyZ2V0PSdfYmxhbmsnPk1pY3Jvc29mdDwvYT4gLSBJbXBvcnRhbnphLCBTdGVsbGluZTogIDxkaXYgY2xhc3M9J2ZvdG9zdGVsbGluZSc+PGltZyAgc3R5bGU9J3ZlcnRpY2FsLWFsaWduOm1pZGRsZTsnIHNyYz0nLi4vZ3JhZmljYS81c3RlbGxlLnBuZycgYWx0PSc1U3RlbGxpbmUnPjwvZGl2PiAgTGluayBFc3Rlc286IDxhIGhyZWY9J2h0dHBzOi8vd3d3Lm1pY3Jvc29mdC5jb20vJyB0YXJnZXQ9J19ibGFuayc+aHR0cHM6Ly93d3cubWljcm9zb2Z0LmNvbS88L2E+PC9wPg== ICA8YSBocmVmPSdodHRwOi8vd3d3LmdvdmVybm8uaXQvJyB0YXJnZXQ9J19ibGFuayc+R292ZXJuby5pdDwvYT4gLSBJbXBvcnRhbnphLCBTdGVsbGluZTogIDxkaXYgY2xhc3M9J2ZvdG9zdGVsbGluZSc+PGltZyAgc3R5bGU9J3ZlcnRpY2FsLWFsaWduOm1pZGRsZTsnIHNyYz0nLi4vZ3JhZmljYS81c3RlbGxlLnBuZycgYWx0PSc1U3RlbGxpbmUnPjwvZGl2PiAgTGluayBFc3Rlc286IDxhIGhyZWY9J2h0dHA6Ly93d3cuZ292ZXJuby5pdC8nIHRhcmdldD0nX2JsYW5rJz5odHRwOi8vd3d3LmdvdmVybm8uaXQvPC9hPjwvcD4= ICA8YSBocmVmPSdodHRwczovL3d3dy5hcHBsZS5jb20vJyB0YXJnZXQ9J19ibGFuayc+QXBwbGU8L2E+IC0gSW1wb3J0YW56YSwgU3RlbGxpbmU6ICA8ZGl2IGNsYXNzPSdmb3Rvc3RlbGxpbmUnPjxpbWcgIHN0eWxlPSd2ZXJ0aWNhbC1hbGlnbjptaWRkbGU7JyBzcmM9Jy4uL2dyYWZpY2EvNXN0ZWxsZS5wbmcnIGFsdD0nNVN0ZWxsaW5lJz48L2Rpdj4gIExpbmsgRXN0ZXNvOiA8YSBocmVmPSdodHRwczovL3d3dy5hcHBsZS5jb20vJyB0YXJnZXQ9J19ibGFuayc+aHR0cHM6Ly93d3cuYXBwbGUuY29tLzwvYT48L3A+
Online FileStore - My Personal Ranking
ICA8YSBocmVmPSdodHRwczovL3d3dy5pY2xvdWQuY29tLycgdGFyZ2V0PSdfYmxhbmsnPklDbG91ZDwvYT4gLSBJbXBvcnRhbnphLCBTdGVsbGluZTogIDxkaXYgY2xhc3M9J2ZvdG9zdGVsbGluZSc+PGltZyAgc3R5bGU9J3ZlcnRpY2FsLWFsaWduOm1pZGRsZTsnIHNyYz0nLi4vZ3JhZmljYS81c3RlbGxlLnBuZycgYWx0PSc1U3RlbGxpbmUnPjwvZGl2PiAgTGluayBFc3Rlc286IDxhIGhyZWY9J2h0dHBzOi8vd3d3LmljbG91ZC5jb20vJyB0YXJnZXQ9J19ibGFuayc+aHR0cHM6Ly93d3cuaWNsb3VkLmNvbS88L2E+PC9wPg== ICA8YSBocmVmPSdodHRwczovL3d3dy5nb29nbGUuY29tL2RyaXZlLycgdGFyZ2V0PSdfYmxhbmsnPkdvb2dsZSBEcml2ZTwvYT4gLSBJbXBvcnRhbnphLCBTdGVsbGluZTogIDxkaXYgY2xhc3M9J2ZvdG9zdGVsbGluZSc+PGltZyAgc3R5bGU9J3ZlcnRpY2FsLWFsaWduOm1pZGRsZTsnIHNyYz0nLi4vZ3JhZmljYS81c3RlbGxlLnBuZycgYWx0PSc1U3RlbGxpbmUnPjwvZGl2PiAgTGluayBFc3Rlc286IDxhIGhyZWY9J2h0dHBzOi8vd3d3Lmdvb2dsZS5jb20vZHJpdmUvJyB0YXJnZXQ9J19ibGFuayc+aHR0cHM6Ly93d3cuZ29vZ2xlLmNvbS9kcml2ZS88L2E+PC9wPg== ICA8YSBocmVmPSdodHRwczovL3d3dy5kcm9wYm94LmNvbS8nIHRhcmdldD0nX2JsYW5rJz5Ecm9wYm94PC9hPiAtIEltcG9ydGFuemEsIFN0ZWxsaW5lOiAgPGRpdiBjbGFzcz0nZm90b3N0ZWxsaW5lJz48aW1nICBzdHlsZT0ndmVydGljYWwtYWxpZ246bWlkZGxlOycgc3JjPScuLi9ncmFmaWNhLzVzdGVsbGUucG5nJyBhbHQ9JzVTdGVsbGluZSc+PC9kaXY+ICBMaW5rIEVzdGVzbzogPGEgaHJlZj0naHR0cHM6Ly93d3cuZHJvcGJveC5jb20vJyB0YXJnZXQ9J19ibGFuayc+aHR0cHM6Ly93d3cuZHJvcGJveC5jb20vPC9hPjwvcD4= ICA8YSBocmVmPSdodHRwczovL3d3dy5wY2xvdWQuY29tLycgdGFyZ2V0PSdfYmxhbmsnPlBDbG91ZDwvYT4gLSBJbXBvcnRhbnphLCBTdGVsbGluZTogIDxkaXYgY2xhc3M9J2ZvdG9zdGVsbGluZSc+PGltZyAgc3R5bGU9J3ZlcnRpY2FsLWFsaWduOm1pZGRsZTsnIHNyYz0nLi4vZ3JhZmljYS80c3RlbGxlLnBuZycgYWx0PSc0U3RlbGxpbmUnPjwvZGl2PiAgTGluayBFc3Rlc286IDxhIGhyZWY9J2h0dHBzOi8vd3d3LnBjbG91ZC5jb20vJyB0YXJnZXQ9J19ibGFuayc+aHR0cHM6Ly93d3cucGNsb3VkLmNvbS88L2E+PC9wPg== ICA8YSBocmVmPSdodHRwczovL3d3dy5hbWF6b24uaXQvY2xvdWRkcml2ZS8nIHRhcmdldD0nX2JsYW5rJz5BbWF6b24gQ2xvdWQgRHJpdmVyPC9hPiAtIEltcG9ydGFuemEsIFN0ZWxsaW5lOiAgPGRpdiBjbGFzcz0nZm90b3N0ZWxsaW5lJz48aW1nICBzdHlsZT0ndmVydGljYWwtYWxpZ246bWlkZGxlOycgc3JjPScuLi9ncmFmaWNhLzRzdGVsbGUucG5nJyBhbHQ9JzRTdGVsbGluZSc+PC9kaXY+ICBMaW5rIEVzdGVzbzogPGEgaHJlZj0naHR0cHM6Ly93d3cuYW1hem9uLml0L2Nsb3VkZHJpdmUvJyB0YXJnZXQ9J19ibGFuayc+aHR0cHM6Ly93d3cuYW1hem9uLml0L2Nsb3VkZHJpdmUvPC9hPjwvcD4= ICA8YSBocmVmPSdodHRwczovL3d3dy5pZHJpdmUuY29tLycgdGFyZ2V0PSdfYmxhbmsnPklEcml2ZTwvYT4gLSBJbXBvcnRhbnphLCBTdGVsbGluZTogIDxkaXYgY2xhc3M9J2ZvdG9zdGVsbGluZSc+PGltZyAgc3R5bGU9J3ZlcnRpY2FsLWFsaWduOm1pZGRsZTsnIHNyYz0nLi4vZ3JhZmljYS80c3RlbGxlLnBuZycgYWx0PSc0U3RlbGxpbmUnPjwvZGl2PiAgTGluayBFc3Rlc286IDxhIGhyZWY9J2h0dHBzOi8vd3d3Lmlkcml2ZS5jb20vJyB0YXJnZXQ9J19ibGFuayc+aHR0cHM6Ly93d3cuaWRyaXZlLmNvbS88L2E+PC9wPg== ICA8YSBocmVmPSdodHRwczovL21lZ2EubnovJyB0YXJnZXQ9J19ibGFuayc+TWVnYTwvYT4gLSBJbXBvcnRhbnphLCBTdGVsbGluZTogIDxkaXYgY2xhc3M9J2ZvdG9zdGVsbGluZSc+PGltZyAgc3R5bGU9J3ZlcnRpY2FsLWFsaWduOm1pZGRsZTsnIHNyYz0nLi4vZ3JhZmljYS80c3RlbGxlLnBuZycgYWx0PSc0U3RlbGxpbmUnPjwvZGl2PiAgTGluayBFc3Rlc286IDxhIGhyZWY9J2h0dHBzOi8vbWVnYS5uei8nIHRhcmdldD0nX2JsYW5rJz5odHRwczovL21lZ2EubnovPC9hPjwvcD4=
Manga - My Personal Ranking
ICA8YSBocmVmPSdodHRwczovL21hbmdhZGV4Lm9yZy8nIHRhcmdldD0nX2JsYW5rJz5NYW5nYURleDwvYT4gLSBJbXBvcnRhbnphLCBTdGVsbGluZTogIDxkaXYgY2xhc3M9J2ZvdG9zdGVsbGluZSc+PGltZyAgc3R5bGU9J3ZlcnRpY2FsLWFsaWduOm1pZGRsZTsnIHNyYz0nLi4vZ3JhZmljYS81c3RlbGxlLnBuZycgYWx0PSc1U3RlbGxpbmUnPjwvZGl2PiAgTGluayBFc3Rlc286IDxhIGhyZWY9J2h0dHBzOi8vbWFuZ2FkZXgub3JnLycgdGFyZ2V0PSdfYmxhbmsnPmh0dHBzOi8vbWFuZ2FkZXgub3JnLzwvYT48L3A+ ICA8YSBocmVmPSdodHRwczovL3d3dy5tYW5nYWVkZW4uY29tLycgdGFyZ2V0PSdfYmxhbmsnPk1hbmdhIEVkZW48L2E+IC0gSW1wb3J0YW56YSwgU3RlbGxpbmU6ICA8ZGl2IGNsYXNzPSdmb3Rvc3RlbGxpbmUnPjxpbWcgIHN0eWxlPSd2ZXJ0aWNhbC1hbGlnbjptaWRkbGU7JyBzcmM9Jy4uL2dyYWZpY2EvNXN0ZWxsZS5wbmcnIGFsdD0nNVN0ZWxsaW5lJz48L2Rpdj4gIExpbmsgRXN0ZXNvOiA8YSBocmVmPSdodHRwczovL3d3dy5tYW5nYWVkZW4uY29tLycgdGFyZ2V0PSdfYmxhbmsnPmh0dHBzOi8vd3d3Lm1hbmdhZWRlbi5jb20vPC9hPjwvcD4= ICA8YSBocmVmPSdodHRwOi8vZmFuZm94Lm5ldC8nIHRhcmdldD0nX2JsYW5rJz5NYW5nYSBGb3g8L2E+IC0gSW1wb3J0YW56YSwgU3RlbGxpbmU6ICA8ZGl2IGNsYXNzPSdmb3Rvc3RlbGxpbmUnPjxpbWcgIHN0eWxlPSd2ZXJ0aWNhbC1hbGlnbjptaWRkbGU7JyBzcmM9Jy4uL2dyYWZpY2EvNXN0ZWxsZS5wbmcnIGFsdD0nNVN0ZWxsaW5lJz48L2Rpdj4gIExpbmsgRXN0ZXNvOiA8YSBocmVmPSdodHRwOi8vZmFuZm94Lm5ldC8nIHRhcmdldD0nX2JsYW5rJz5odHRwOi8vZmFuZm94Lm5ldC88L2E+PC9wPg== ICA8YSBocmVmPSdodHRwczovL21hbmdha2FrYWxvdC5jb20vJyB0YXJnZXQ9J19ibGFuayc+TWFuZ2EgS2FrYWxvdDwvYT4gLSBJbXBvcnRhbnphLCBTdGVsbGluZTogIDxkaXYgY2xhc3M9J2ZvdG9zdGVsbGluZSc+PGltZyAgc3R5bGU9J3ZlcnRpY2FsLWFsaWduOm1pZGRsZTsnIHNyYz0nLi4vZ3JhZmljYS81c3RlbGxlLnBuZycgYWx0PSc1U3RlbGxpbmUnPjwvZGl2PiAgTGluayBFc3Rlc286IDxhIGhyZWY9J2h0dHBzOi8vbWFuZ2FrYWthbG90LmNvbS8nIHRhcmdldD0nX2JsYW5rJz5odHRwczovL21hbmdha2FrYWxvdC5jb20vPC9hPjwvcD4= ICA8YSBocmVmPSdodHRwOi8vd3d3Lm1hbmdhaGVyZS5jYy8nIHRhcmdldD0nX2JsYW5rJz5NYW5nYWhlcmU8L2E+IC0gSW1wb3J0YW56YSwgU3RlbGxpbmU6ICA8ZGl2IGNsYXNzPSdmb3Rvc3RlbGxpbmUnPjxpbWcgIHN0eWxlPSd2ZXJ0aWNhbC1hbGlnbjptaWRkbGU7JyBzcmM9Jy4uL2dyYWZpY2EvNHN0ZWxsZS5wbmcnIGFsdD0nNFN0ZWxsaW5lJz48L2Rpdj4gIExpbmsgRXN0ZXNvOiA8YSBocmVmPSdodHRwOi8vd3d3Lm1hbmdhaGVyZS5jYy8nIHRhcmdldD0nX2JsYW5rJz5odHRwOi8vd3d3Lm1hbmdhaGVyZS5jYy88L2E+PC9wPg== ICA8YSBocmVmPSdodHRwczovL21hbmdhaGVscGVycy5jb20vJyB0YXJnZXQ9J19ibGFuayc+TWFuZ2FoZWxwZXJzPC9hPiAtIEltcG9ydGFuemEsIFN0ZWxsaW5lOiAgPGRpdiBjbGFzcz0nZm90b3N0ZWxsaW5lJz48aW1nICBzdHlsZT0ndmVydGljYWwtYWxpZ246bWlkZGxlOycgc3JjPScuLi9ncmFmaWNhLzRzdGVsbGUucG5nJyBhbHQ9JzRTdGVsbGluZSc+PC9kaXY+ICBMaW5rIEVzdGVzbzogPGEgaHJlZj0naHR0cHM6Ly9tYW5nYWhlbHBlcnMuY29tLycgdGFyZ2V0PSdfYmxhbmsnPmh0dHBzOi8vbWFuZ2FoZWxwZXJzLmNvbS88L2E+PC9wPg== ICA8YSBocmVmPSdodHRwczovL20ubWFuZ2Fpcm8uY29tLycgdGFyZ2V0PSdfYmxhbmsnPk1hZ2Fpcm88L2E+IC0gSW1wb3J0YW56YSwgU3RlbGxpbmU6ICA8ZGl2IGNsYXNzPSdmb3Rvc3RlbGxpbmUnPjxpbWcgIHN0eWxlPSd2ZXJ0aWNhbC1hbGlnbjptaWRkbGU7JyBzcmM9Jy4uL2dyYWZpY2EvNHN0ZWxsZS5wbmcnIGFsdD0nNFN0ZWxsaW5lJz48L2Rpdj4gIExpbmsgRXN0ZXNvOiA8YSBocmVmPSdodHRwczovL20ubWFuZ2Fpcm8uY29tLycgdGFyZ2V0PSdfYmxhbmsnPmh0dHBzOi8vbS5tYW5nYWlyby5jb20vPC9hPjwvcD4=
Giochi - My Personal Ranking
ICA8YSBocmVmPSdodHRwczovL3d3dy5naW9jaGkuaXQvJyB0YXJnZXQ9J19ibGFuayc+R2lvY2hpLml0PC9hPiAtIEltcG9ydGFuemEsIFN0ZWxsaW5lOiAgPGRpdiBjbGFzcz0nZm90b3N0ZWxsaW5lJz48aW1nICBzdHlsZT0ndmVydGljYWwtYWxpZ246bWlkZGxlOycgc3JjPScuLi9ncmFmaWNhLzVzdGVsbGUucG5nJyBhbHQ9JzVTdGVsbGluZSc+PC9kaXY+ICBMaW5rIEVzdGVzbzogPGEgaHJlZj0naHR0cHM6Ly93d3cuZ2lvY2hpLml0LycgdGFyZ2V0PSdfYmxhbmsnPmh0dHBzOi8vd3d3Lmdpb2NoaS5pdC88L2E+PC9wPg== ICA8YSBocmVmPSdodHRwczovL3d3dy5mbGFzaGdhbWVzLml0LycgdGFyZ2V0PSdfYmxhbmsnPkZsYXNoZ2FtZXM8L2E+IC0gSW1wb3J0YW56YSwgU3RlbGxpbmU6ICA8ZGl2IGNsYXNzPSdmb3Rvc3RlbGxpbmUnPjxpbWcgIHN0eWxlPSd2ZXJ0aWNhbC1hbGlnbjptaWRkbGU7JyBzcmM9Jy4uL2dyYWZpY2EvNXN0ZWxsZS5wbmcnIGFsdD0nNVN0ZWxsaW5lJz48L2Rpdj4gIExpbmsgRXN0ZXNvOiA8YSBocmVmPSdodHRwczovL3d3dy5mbGFzaGdhbWVzLml0LycgdGFyZ2V0PSdfYmxhbmsnPmh0dHBzOi8vd3d3LmZsYXNoZ2FtZXMuaXQvPC9hPjwvcD4= ICA8YSBocmVmPSdodHRwczovL211bHRpcGxheWVyLml0LycgdGFyZ2V0PSdfYmxhbmsnPk11bHRpcGxheWVyLml0PC9hPiAtIEltcG9ydGFuemEsIFN0ZWxsaW5lOiAgPGRpdiBjbGFzcz0nZm90b3N0ZWxsaW5lJz48aW1nICBzdHlsZT0ndmVydGljYWwtYWxpZ246bWlkZGxlOycgc3JjPScuLi9ncmFmaWNhLzVzdGVsbGUucG5nJyBhbHQ9JzVTdGVsbGluZSc+PC9kaXY+ICBMaW5rIEVzdGVzbzogPGEgaHJlZj0naHR0cHM6Ly9tdWx0aXBsYXllci5pdC8nIHRhcmdldD0nX2JsYW5rJz5odHRwczovL211bHRpcGxheWVyLml0LzwvYT48L3A+ ICA8YSBocmVmPSdodHRwczovL3d3dy5ldmVyeWV5ZS5pdC8nIHRhcmdldD0nX2JsYW5rJz5FdmVyeWV5ZTwvYT4gLSBJbXBvcnRhbnphLCBTdGVsbGluZTogIDxkaXYgY2xhc3M9J2ZvdG9zdGVsbGluZSc+PGltZyAgc3R5bGU9J3ZlcnRpY2FsLWFsaWduOm1pZGRsZTsnIHNyYz0nLi4vZ3JhZmljYS81c3RlbGxlLnBuZycgYWx0PSc1U3RlbGxpbmUnPjwvZGl2PiAgTGluayBFc3Rlc286IDxhIGhyZWY9J2h0dHBzOi8vd3d3LmV2ZXJ5ZXllLml0LycgdGFyZ2V0PSdfYmxhbmsnPmh0dHBzOi8vd3d3LmV2ZXJ5ZXllLml0LzwvYT48L3A+ ICA8YSBocmVmPSdodHRwczovL3d3dy5naW9jaGl4bC5pdC8nIHRhcmdldD0nX2JsYW5rJz5HaW9jaGlYTDwvYT4gLSBJbXBvcnRhbnphLCBTdGVsbGluZTogIDxkaXYgY2xhc3M9J2ZvdG9zdGVsbGluZSc+PGltZyAgc3R5bGU9J3ZlcnRpY2FsLWFsaWduOm1pZGRsZTsnIHNyYz0nLi4vZ3JhZmljYS81c3RlbGxlLnBuZycgYWx0PSc1U3RlbGxpbmUnPjwvZGl2PiAgTGluayBFc3Rlc286IDxhIGhyZWY9J2h0dHBzOi8vd3d3Lmdpb2NoaXhsLml0LycgdGFyZ2V0PSdfYmxhbmsnPmh0dHBzOi8vd3d3Lmdpb2NoaXhsLml0LzwvYT48L3A+ ICA8YSBocmVmPSdodHRwczovL3d3dy5taW5pY2xpcC5jb20vJyB0YXJnZXQ9J19ibGFuayc+TWluaWNsaXA8L2E+IC0gSW1wb3J0YW56YSwgU3RlbGxpbmU6ICA8ZGl2IGNsYXNzPSdmb3Rvc3RlbGxpbmUnPjxpbWcgIHN0eWxlPSd2ZXJ0aWNhbC1hbGlnbjptaWRkbGU7JyBzcmM9Jy4uL2dyYWZpY2EvNXN0ZWxsZS5wbmcnIGFsdD0nNVN0ZWxsaW5lJz48L2Rpdj4gIExpbmsgRXN0ZXNvOiA8YSBocmVmPSdodHRwczovL3d3dy5taW5pY2xpcC5jb20vJyB0YXJnZXQ9J19ibGFuayc+aHR0cHM6Ly93d3cubWluaWNsaXAuY29tLzwvYT48L3A+ ICA8YSBocmVmPSdodHRwczovL2l0Lmlnbi5jb20vJyB0YXJnZXQ9J19ibGFuayc+SUdOIEl0YWxpYTwvYT4gLSBJbXBvcnRhbnphLCBTdGVsbGluZTogIDxkaXYgY2xhc3M9J2ZvdG9zdGVsbGluZSc+PGltZyAgc3R5bGU9J3ZlcnRpY2FsLWFsaWduOm1pZGRsZTsnIHNyYz0nLi4vZ3JhZmljYS80c3RlbGxlLnBuZycgYWx0PSc0U3RlbGxpbmUnPjwvZGl2PiAgTGluayBFc3Rlc286IDxhIGhyZWY9J2h0dHBzOi8vaXQuaWduLmNvbS8nIHRhcmdldD0nX2JsYW5rJz5odHRwczovL2l0Lmlnbi5jb20vPC9hPjwvcD4= ICA8YSBocmVmPSdodHRwczovL3d3dy50aGVnYW1lc21hY2hpbmUuaXQvJyB0YXJnZXQ9J19ibGFuayc+VGhlIEdhbWVzIE1hY2hpbmVzPC9hPiAtIEltcG9ydGFuemEsIFN0ZWxsaW5lOiAgPGRpdiBjbGFzcz0nZm90b3N0ZWxsaW5lJz48aW1nICBzdHlsZT0ndmVydGljYWwtYWxpZ246bWlkZGxlOycgc3JjPScuLi9ncmFmaWNhLzRzdGVsbGUucG5nJyBhbHQ9JzRTdGVsbGluZSc+PC9kaXY+ICBMaW5rIEVzdGVzbzogPGEgaHJlZj0naHR0cHM6Ly93d3cudGhlZ2FtZXNtYWNoaW5lLml0LycgdGFyZ2V0PSdfYmxhbmsnPmh0dHBzOi8vd3d3LnRoZWdhbWVzbWFjaGluZS5pdC88L2E+PC9wPg== ICA8YSBocmVmPSdodHRwczovL3d3dy54Ym94LmNvbS8nIHRhcmdldD0nX2JsYW5rJz5YYm94PC9hPiAtIEltcG9ydGFuemEsIFN0ZWxsaW5lOiAgPGRpdiBjbGFzcz0nZm90b3N0ZWxsaW5lJz48aW1nICBzdHlsZT0ndmVydGljYWwtYWxpZ246bWlkZGxlOycgc3JjPScuLi9ncmFmaWNhLzVzdGVsbGUucG5nJyBhbHQ9JzVTdGVsbGluZSc+PC9kaXY+ICBMaW5rIEVzdGVzbzogPGEgaHJlZj0naHR0cHM6Ly93d3cueGJveC5jb20vJyB0YXJnZXQ9J19ibGFuayc+aHR0cHM6Ly93d3cueGJveC5jb20vPC9hPjwvcD4= ICA8YSBocmVmPSdodHRwczovL3d3dy5wbGF5c3RhdGlvbi5jb20vJyB0YXJnZXQ9J19ibGFuayc+UGxheXN0YXRpb248L2E+IC0gSW1wb3J0YW56YSwgU3RlbGxpbmU6ICA8ZGl2IGNsYXNzPSdmb3Rvc3RlbGxpbmUnPjxpbWcgIHN0eWxlPSd2ZXJ0aWNhbC1hbGlnbjptaWRkbGU7JyBzcmM9Jy4uL2dyYWZpY2EvNXN0ZWxsZS5wbmcnIGFsdD0nNVN0ZWxsaW5lJz48L2Rpdj4gIExpbmsgRXN0ZXNvOiA8YSBocmVmPSdodHRwczovL3d3dy5wbGF5c3RhdGlvbi5jb20vJyB0YXJnZXQ9J19ibGFuayc+aHR0cHM6Ly93d3cucGxheXN0YXRpb24uY29tLzwvYT48L3A+ ICA8YSBocmVmPSdodHRwczovL3d3dy5uaW50ZW5kby5jb20vJyB0YXJnZXQ9J19ibGFuayc+TmludGVuZG88L2E+IC0gSW1wb3J0YW56YSwgU3RlbGxpbmU6ICA8ZGl2IGNsYXNzPSdmb3Rvc3RlbGxpbmUnPjxpbWcgIHN0eWxlPSd2ZXJ0aWNhbC1hbGlnbjptaWRkbGU7JyBzcmM9Jy4uL2dyYWZpY2EvNXN0ZWxsZS5wbmcnIGFsdD0nNVN0ZWxsaW5lJz48L2Rpdj4gIExpbmsgRXN0ZXNvOiA8YSBocmVmPSdodHRwczovL3d3dy5uaW50ZW5kby5jb20vJyB0YXJnZXQ9J19ibGFuayc+aHR0cHM6Ly93d3cubmludGVuZG8uY29tLzwvYT48L3A+ ICA8YSBocmVmPSdodHRwczovL3BjLWdhbWluZy5pdC8nIHRhcmdldD0nX2JsYW5rJz5QQyBHYW1pbmc8L2E+IC0gSW1wb3J0YW56YSwgU3RlbGxpbmU6ICA8ZGl2IGNsYXNzPSdmb3Rvc3RlbGxpbmUnPjxpbWcgIHN0eWxlPSd2ZXJ0aWNhbC1hbGlnbjptaWRkbGU7JyBzcmM9Jy4uL2dyYWZpY2EvM3N0ZWxsZS5wbmcnIGFsdD0nM1N0ZWxsaW5lJz48L2Rpdj4gIExpbmsgRXN0ZXNvOiA8YSBocmVmPSdodHRwczovL3BjLWdhbWluZy5pdC8nIHRhcmdldD0nX2JsYW5rJz5odHRwczovL3BjLWdhbWluZy5pdC88L2E+PC9wPg==
Giochi Download - My Personal Ranking
ICA8YSBocmVmPSdodHRwczovL2ZpdGdpcmwtcmVwYWNrcy5zaXRlLycgdGFyZ2V0PSdfYmxhbmsnPkZpdGdpcmw8L2E+IC0gSW1wb3J0YW56YSwgU3RlbGxpbmU6ICA8ZGl2IGNsYXNzPSdmb3Rvc3RlbGxpbmUnPjxpbWcgIHN0eWxlPSd2ZXJ0aWNhbC1hbGlnbjptaWRkbGU7JyBzcmM9Jy4uL2dyYWZpY2EvNXN0ZWxsZS5wbmcnIGFsdD0nNVN0ZWxsaW5lJz48L2Rpdj4gIExpbmsgRXN0ZXNvOiA8YSBocmVmPSdodHRwczovL2ZpdGdpcmwtcmVwYWNrcy5zaXRlLycgdGFyZ2V0PSdfYmxhbmsnPmh0dHBzOi8vZml0Z2lybC1yZXBhY2tzLnNpdGUvPC9hPjwvcD4= ICA8YSBocmVmPSdodHRwczovL2dhbWUtMnUuY29tLycgdGFyZ2V0PSdfYmxhbmsnPkdhbWUtMnU8L2E+IC0gSW1wb3J0YW56YSwgU3RlbGxpbmU6ICA8ZGl2IGNsYXNzPSdmb3Rvc3RlbGxpbmUnPjxpbWcgIHN0eWxlPSd2ZXJ0aWNhbC1hbGlnbjptaWRkbGU7JyBzcmM9Jy4uL2dyYWZpY2EvNXN0ZWxsZS5wbmcnIGFsdD0nNVN0ZWxsaW5lJz48L2Rpdj4gIExpbmsgRXN0ZXNvOiA8YSBocmVmPSdodHRwczovL2dhbWUtMnUuY29tLycgdGFyZ2V0PSdfYmxhbmsnPmh0dHBzOi8vZ2FtZS0ydS5jb20vPC9hPjwvcD4= ICA8YSBocmVmPSdodHRwczovL3d3dy5za2lkcm93Y29kZXgubmV0LycgdGFyZ2V0PSdfYmxhbmsnPlNraWRyb3djb2RleDwvYT4gLSBJbXBvcnRhbnphLCBTdGVsbGluZTogIDxkaXYgY2xhc3M9J2ZvdG9zdGVsbGluZSc+PGltZyAgc3R5bGU9J3ZlcnRpY2FsLWFsaWduOm1pZGRsZTsnIHNyYz0nLi4vZ3JhZmljYS80c3RlbGxlLnBuZycgYWx0PSc0U3RlbGxpbmUnPjwvZGl2PiAgTGluayBFc3Rlc286IDxhIGhyZWY9J2h0dHBzOi8vd3d3LnNraWRyb3djb2RleC5uZXQvJyB0YXJnZXQ9J19ibGFuayc+aHR0cHM6Ly93d3cuc2tpZHJvd2NvZGV4Lm5ldC88L2E+PC9wPg== ICA8YSBocmVmPSdodHRwczovL3BjZ2FtZXN0b3JyZW50cy5jb20vJyB0YXJnZXQ9J19ibGFuayc+UEMgR2FtZXRvcnJlbnRzPC9hPiAtIEltcG9ydGFuemEsIFN0ZWxsaW5lOiAgPGRpdiBjbGFzcz0nZm90b3N0ZWxsaW5lJz48aW1nICBzdHlsZT0ndmVydGljYWwtYWxpZ246bWlkZGxlOycgc3JjPScuLi9ncmFmaWNhLzRzdGVsbGUucG5nJyBhbHQ9JzRTdGVsbGluZSc+PC9kaXY+ICBMaW5rIEVzdGVzbzogPGEgaHJlZj0naHR0cHM6Ly9wY2dhbWVzdG9ycmVudHMuY29tLycgdGFyZ2V0PSdfYmxhbmsnPmh0dHBzOi8vcGNnYW1lc3RvcnJlbnRzLmNvbS88L2E+PC9wPg== ICA8YSBocmVmPSdodHRwczovL3N0b3JlLnN0ZWFtcG93ZXJlZC5jb20nIHRhcmdldD0nX2JsYW5rJz5TdGVhbTwvYT4gLSBJbXBvcnRhbnphLCBTdGVsbGluZTogIDxkaXYgY2xhc3M9J2ZvdG9zdGVsbGluZSc+PGltZyAgc3R5bGU9J3ZlcnRpY2FsLWFsaWduOm1pZGRsZTsnIHNyYz0nLi4vZ3JhZmljYS81c3RlbGxlLnBuZycgYWx0PSc1U3RlbGxpbmUnPjwvZGl2PiAgTGluayBFc3Rlc286IDxhIGhyZWY9J2h0dHBzOi8vc3RvcmUuc3RlYW1wb3dlcmVkLmNvbScgdGFyZ2V0PSdfYmxhbmsnPmh0dHBzOi8vc3RvcmUuc3RlYW1wb3dlcmVkLmNvbTwvYT48L3A+ ICA8YSBocmVmPSdodHRwczovL3d3dy5vcmlnaW4uY29tLycgdGFyZ2V0PSdfYmxhbmsnPk9yaWdpbjwvYT4gLSBJbXBvcnRhbnphLCBTdGVsbGluZTogIDxkaXYgY2xhc3M9J2ZvdG9zdGVsbGluZSc+PGltZyAgc3R5bGU9J3ZlcnRpY2FsLWFsaWduOm1pZGRsZTsnIHNyYz0nLi4vZ3JhZmljYS81c3RlbGxlLnBuZycgYWx0PSc1U3RlbGxpbmUnPjwvZGl2PiAgTGluayBFc3Rlc286IDxhIGhyZWY9J2h0dHBzOi8vd3d3Lm9yaWdpbi5jb20vJyB0YXJnZXQ9J19ibGFuayc+aHR0cHM6Ly93d3cub3JpZ2luLmNvbS88L2E+PC9wPg== ICA8YSBocmVmPSdodHRwczovL3d3dy5ibGl6emFyZC5jb20vJyB0YXJnZXQ9J19ibGFuayc+QmF0dGxlLm5ldCBCbGl6emFyZDwvYT4gLSBJbXBvcnRhbnphLCBTdGVsbGluZTogIDxkaXYgY2xhc3M9J2ZvdG9zdGVsbGluZSc+PGltZyAgc3R5bGU9J3ZlcnRpY2FsLWFsaWduOm1pZGRsZTsnIHNyYz0nLi4vZ3JhZmljYS80c3RlbGxlLnBuZycgYWx0PSc0U3RlbGxpbmUnPjwvZGl2PiAgTGluayBFc3Rlc286IDxhIGhyZWY9J2h0dHBzOi8vd3d3LmJsaXp6YXJkLmNvbS8nIHRhcmdldD0nX2JsYW5rJz5odHRwczovL3d3dy5ibGl6emFyZC5jb20vPC9hPjwvcD4= ICA8YSBocmVmPSdodHRwczovL3VwbGF5LnViaXNvZnQuY29tLycgdGFyZ2V0PSdfYmxhbmsnPlVwbGF5PC9hPiAtIEltcG9ydGFuemEsIFN0ZWxsaW5lOiAgPGRpdiBjbGFzcz0nZm90b3N0ZWxsaW5lJz48aW1nICBzdHlsZT0ndmVydGljYWwtYWxpZ246bWlkZGxlOycgc3JjPScuLi9ncmFmaWNhLzRzdGVsbGUucG5nJyBhbHQ9JzRTdGVsbGluZSc+PC9kaXY+ICBMaW5rIEVzdGVzbzogPGEgaHJlZj0naHR0cHM6Ly91cGxheS51Ymlzb2Z0LmNvbS8nIHRhcmdldD0nX2JsYW5rJz5odHRwczovL3VwbGF5LnViaXNvZnQuY29tLzwvYT48L3A+
Xx streaming - My Personal Ranking
ICA8YSBocmVmPSdodHRwczovL3d3dy54dmlkZW9zLmNvbS8nIHRhcmdldD0nX2JsYW5rJz5YdmlkZW9zPC9hPiAtIEltcG9ydGFuemEsIFN0ZWxsaW5lOiAgPGRpdiBjbGFzcz0nZm90b3N0ZWxsaW5lJz48aW1nICBzdHlsZT0ndmVydGljYWwtYWxpZ246bWlkZGxlOycgc3JjPScuLi9ncmFmaWNhLzVzdGVsbGUucG5nJyBhbHQ9JzVTdGVsbGluZSc+PC9kaXY+ICBMaW5rIEVzdGVzbzogPGEgaHJlZj0naHR0cHM6Ly93d3cueHZpZGVvcy5jb20vJyB0YXJnZXQ9J19ibGFuayc+aHR0cHM6Ly93d3cueHZpZGVvcy5jb20vPC9hPjwvcD4= ICA8YSBocmVmPSdodHRwczovL3d3dy5wb3JuaHViLmNvbS8nIHRhcmdldD0nX2JsYW5rJz5Qb3JuaHViPC9hPiAtIEltcG9ydGFuemEsIFN0ZWxsaW5lOiAgPGRpdiBjbGFzcz0nZm90b3N0ZWxsaW5lJz48aW1nICBzdHlsZT0ndmVydGljYWwtYWxpZ246bWlkZGxlOycgc3JjPScuLi9ncmFmaWNhLzVzdGVsbGUucG5nJyBhbHQ9JzVTdGVsbGluZSc+PC9kaXY+ICBMaW5rIEVzdGVzbzogPGEgaHJlZj0naHR0cHM6Ly93d3cucG9ybmh1Yi5jb20vJyB0YXJnZXQ9J19ibGFuayc+aHR0cHM6Ly93d3cucG9ybmh1Yi5jb20vPC9hPjwvcD4= ICA8YSBocmVmPSdodHRwczovL3d3dy50dWJlOC5jb20vJyB0YXJnZXQ9J19ibGFuayc+VHViZTg8L2E+IC0gSW1wb3J0YW56YSwgU3RlbGxpbmU6ICA8ZGl2IGNsYXNzPSdmb3Rvc3RlbGxpbmUnPjxpbWcgIHN0eWxlPSd2ZXJ0aWNhbC1hbGlnbjptaWRkbGU7JyBzcmM9Jy4uL2dyYWZpY2EvNXN0ZWxsZS5wbmcnIGFsdD0nNVN0ZWxsaW5lJz48L2Rpdj4gIExpbmsgRXN0ZXNvOiA8YSBocmVmPSdodHRwczovL3d3dy50dWJlOC5jb20vJyB0YXJnZXQ9J19ibGFuayc+aHR0cHM6Ly93d3cudHViZTguY29tLzwvYT48L3A+ ICA8YSBocmVmPSdodHRwczovL3d3dy5yZWR0dWJlLmNvbS8nIHRhcmdldD0nX2JsYW5rJz5SZWR0dWJlPC9hPiAtIEltcG9ydGFuemEsIFN0ZWxsaW5lOiAgPGRpdiBjbGFzcz0nZm90b3N0ZWxsaW5lJz48aW1nICBzdHlsZT0ndmVydGljYWwtYWxpZ246bWlkZGxlOycgc3JjPScuLi9ncmFmaWNhLzVzdGVsbGUucG5nJyBhbHQ9JzVTdGVsbGluZSc+PC9kaXY+ICBMaW5rIEVzdGVzbzogPGEgaHJlZj0naHR0cHM6Ly93d3cucmVkdHViZS5jb20vJyB0YXJnZXQ9J19ibGFuayc+aHR0cHM6Ly93d3cucmVkdHViZS5jb20vPC9hPjwvcD4= ICA8YSBocmVmPSdodHRwczovL3d3dy5zaGFtZWxlc3MuY29tLycgdGFyZ2V0PSdfYmxhbmsnPlNoYW1lbGVzczwvYT4gLSBJbXBvcnRhbnphLCBTdGVsbGluZTogIDxkaXYgY2xhc3M9J2ZvdG9zdGVsbGluZSc+PGltZyAgc3R5bGU9J3ZlcnRpY2FsLWFsaWduOm1pZGRsZTsnIHNyYz0nLi4vZ3JhZmljYS80c3RlbGxlLnBuZycgYWx0PSc0U3RlbGxpbmUnPjwvZGl2PiAgTGluayBFc3Rlc286IDxhIGhyZWY9J2h0dHBzOi8vd3d3LnNoYW1lbGVzcy5jb20vJyB0YXJnZXQ9J19ibGFuayc+aHR0cHM6Ly93d3cuc2hhbWVsZXNzLmNvbS88L2E+PC9wPg== ICA8YSBocmVmPSdodHRwczovL2N6ZWNodmlkZW8ub3JnLycgdGFyZ2V0PSdfYmxhbmsnPkN6ZWNodmlkZW88L2E+IC0gSW1wb3J0YW56YSwgU3RlbGxpbmU6ICA8ZGl2IGNsYXNzPSdmb3Rvc3RlbGxpbmUnPjxpbWcgIHN0eWxlPSd2ZXJ0aWNhbC1hbGlnbjptaWRkbGU7JyBzcmM9Jy4uL2dyYWZpY2EvNHN0ZWxsZS5wbmcnIGFsdD0nNFN0ZWxsaW5lJz48L2Rpdj4gIExpbmsgRXN0ZXNvOiA8YSBocmVmPSdodHRwczovL2N6ZWNodmlkZW8ub3JnLycgdGFyZ2V0PSdfYmxhbmsnPmh0dHBzOi8vY3plY2h2aWRlby5vcmcvPC9hPjwvcD4= ICA8YSBocmVmPSdodHRwczovL3N0cmVhbXh4eC50di8nIHRhcmdldD0nX2JsYW5rJz5TdHJlYW14eHg8L2E+IC0gSW1wb3J0YW56YSwgU3RlbGxpbmU6ICA8ZGl2IGNsYXNzPSdmb3Rvc3RlbGxpbmUnPjxpbWcgIHN0eWxlPSd2ZXJ0aWNhbC1hbGlnbjptaWRkbGU7JyBzcmM9Jy4uL2dyYWZpY2EvNXN0ZWxsZS5wbmcnIGFsdD0nNVN0ZWxsaW5lJz48L2Rpdj4gIExpbmsgRXN0ZXNvOiA8YSBocmVmPSdodHRwczovL3N0cmVhbXh4eC50di8nIHRhcmdldD0nX2JsYW5rJz5odHRwczovL3N0cmVhbXh4eC50di88L2E+PC9wPg== ICA8YSBocmVmPSdodHRwczovL3h4eGl0YWxpYW5wb3JuLmNvbS8nIHRhcmdldD0nX2JsYW5rJz54eHhpdGFsaWFucG9ybjwvYT4gLSBJbXBvcnRhbnphLCBTdGVsbGluZTogIDxkaXYgY2xhc3M9J2ZvdG9zdGVsbGluZSc+PGltZyAgc3R5bGU9J3ZlcnRpY2FsLWFsaWduOm1pZGRsZTsnIHNyYz0nLi4vZ3JhZmljYS8zc3RlbGxlLnBuZycgYWx0PSczU3RlbGxpbmUnPjwvZGl2PiAgTGluayBFc3Rlc286IDxhIGhyZWY9J2h0dHBzOi8veHh4aXRhbGlhbnBvcm4uY29tLycgdGFyZ2V0PSdfYmxhbmsnPmh0dHBzOi8veHh4aXRhbGlhbnBvcm4uY29tLzwvYT48L3A+ ICA8YSBocmVmPSdodHRwczovL2ZpbG1wb3Jub2l0YWxpYW5vLm9yZy8nIHRhcmdldD0nX2JsYW5rJz5GaWxtcG9ybm9pdGFsaWFuby5vcmc8L2E+IC0gSW1wb3J0YW56YSwgU3RlbGxpbmU6ICA8ZGl2IGNsYXNzPSdmb3Rvc3RlbGxpbmUnPjxpbWcgIHN0eWxlPSd2ZXJ0aWNhbC1hbGlnbjptaWRkbGU7JyBzcmM9Jy4uL2dyYWZpY2EvNHN0ZWxsZS5wbmcnIGFsdD0nNFN0ZWxsaW5lJz48L2Rpdj4gIExpbmsgRXN0ZXNvOiA8YSBocmVmPSdodHRwczovL2ZpbG1wb3Jub2l0YWxpYW5vLm9yZy8nIHRhcmdldD0nX2JsYW5rJz5odHRwczovL2ZpbG1wb3Jub2l0YWxpYW5vLm9yZy88L2E+PC9wPg==
Xx download - My Personal Ranking
ICA8YSBocmVmPSdodHRwczovL3N4eXBybi5jb20vJyB0YXJnZXQ9J19ibGFuayc+U3h5cHJuPC9hPiAtIEltcG9ydGFuemEsIFN0ZWxsaW5lOiAgPGRpdiBjbGFzcz0nZm90b3N0ZWxsaW5lJz48aW1nICBzdHlsZT0ndmVydGljYWwtYWxpZ246bWlkZGxlOycgc3JjPScuLi9ncmFmaWNhLzVzdGVsbGUucG5nJyBhbHQ9JzVTdGVsbGluZSc+PC9kaXY+ICBMaW5rIEVzdGVzbzogPGEgaHJlZj0naHR0cHM6Ly9zeHlwcm4uY29tLycgdGFyZ2V0PSdfYmxhbmsnPmh0dHBzOi8vc3h5cHJuLmNvbS88L2E+PC9wPg== ICA8YSBocmVmPSdodHRwczovL3h4eHN0cmVhbXMub3JnLycgdGFyZ2V0PSdfYmxhbmsnPnh4eHN0cmVhbXM8L2E+IC0gSW1wb3J0YW56YSwgU3RlbGxpbmU6ICA8ZGl2IGNsYXNzPSdmb3Rvc3RlbGxpbmUnPjxpbWcgIHN0eWxlPSd2ZXJ0aWNhbC1hbGlnbjptaWRkbGU7JyBzcmM9Jy4uL2dyYWZpY2EvNXN0ZWxsZS5wbmcnIGFsdD0nNVN0ZWxsaW5lJz48L2Rpdj4gIExpbmsgRXN0ZXNvOiA8YSBocmVmPSdodHRwczovL3h4eHN0cmVhbXMub3JnLycgdGFyZ2V0PSdfYmxhbmsnPmh0dHBzOi8veHh4c3RyZWFtcy5vcmcvPC9hPjwvcD4= ICA8YSBocmVmPSdodHRwczovL3JhcmJnLnRvL3RvcnJlbnRzLnBocD9jYXRlZ29yeT0yOzQnIHRhcmdldD0nX2JsYW5rJz5SYXJiZyAtIFhYWCAtIHRvcnJlbnQ8L2E+IC0gSW1wb3J0YW56YSwgU3RlbGxpbmU6ICA8ZGl2IGNsYXNzPSdmb3Rvc3RlbGxpbmUnPjxpbWcgIHN0eWxlPSd2ZXJ0aWNhbC1hbGlnbjptaWRkbGU7JyBzcmM9Jy4uL2dyYWZpY2EvNXN0ZWxsZS5wbmcnIGFsdD0nNVN0ZWxsaW5lJz48L2Rpdj4gIExpbmsgRXN0ZXNvOiA8YSBocmVmPSdodHRwczovL3JhcmJnLnRvL3RvcnJlbnRzLnBocD9jYXRlZ29yeT0yOzQnIHRhcmdldD0nX2JsYW5rJz5odHRwczovL3JhcmJnLnRvL3RvcnJlbnRzLnBocD9jYXRlZ29yeT0yOzQ8L2E+PC9wPg== ICA8YSBocmVmPSdodHRwczovL3NpdGVyaXBzLmNjLycgdGFyZ2V0PSdfYmxhbmsnPlNpdGVyaXBzPC9hPiAtIEltcG9ydGFuemEsIFN0ZWxsaW5lOiAgPGRpdiBjbGFzcz0nZm90b3N0ZWxsaW5lJz48aW1nICBzdHlsZT0ndmVydGljYWwtYWxpZ246bWlkZGxlOycgc3JjPScuLi9ncmFmaWNhLzNzdGVsbGUucG5nJyBhbHQ9JzNTdGVsbGluZSc+PC9kaXY+ICBMaW5rIEVzdGVzbzogPGEgaHJlZj0naHR0cHM6Ly9zaXRlcmlwcy5jYy8nIHRhcmdldD0nX2JsYW5rJz5odHRwczovL3NpdGVyaXBzLmNjLzwvYT48L3A+
Hentai - My Personal Ranking
ICA8YSBocmVmPSdodHRwczovL2UtaGVudGFpLm9yZy8nIHRhcmdldD0nX2JsYW5rJz5FLWhlbnRhaTwvYT4gLSBJbXBvcnRhbnphLCBTdGVsbGluZTogIDxkaXYgY2xhc3M9J2ZvdG9zdGVsbGluZSc+PGltZyAgc3R5bGU9J3ZlcnRpY2FsLWFsaWduOm1pZGRsZTsnIHNyYz0nLi4vZ3JhZmljYS81c3RlbGxlLnBuZycgYWx0PSc1U3RlbGxpbmUnPjwvZGl2PiAgTGluayBFc3Rlc286IDxhIGhyZWY9J2h0dHBzOi8vZS1oZW50YWkub3JnLycgdGFyZ2V0PSdfYmxhbmsnPmh0dHBzOi8vZS1oZW50YWkub3JnLzwvYT48L3A+ ICA8YSBocmVmPSdodHRwOi8veHl6Y29taWNzLmNvbS8nIHRhcmdldD0nX2JsYW5rJz54eXpjb21pY3M8L2E+IC0gSW1wb3J0YW56YSwgU3RlbGxpbmU6ICA8ZGl2IGNsYXNzPSdmb3Rvc3RlbGxpbmUnPjxpbWcgIHN0eWxlPSd2ZXJ0aWNhbC1hbGlnbjptaWRkbGU7JyBzcmM9Jy4uL2dyYWZpY2EvNHN0ZWxsZS5wbmcnIGFsdD0nNFN0ZWxsaW5lJz48L2Rpdj4gIExpbmsgRXN0ZXNvOiA8YSBocmVmPSdodHRwOi8veHl6Y29taWNzLmNvbS8nIHRhcmdldD0nX2JsYW5rJz5odHRwOi8veHl6Y29taWNzLmNvbS88L2E+PC9wPg== ICA8YSBocmVmPSdodHRwczovL25oZW50YWkubmV0LycgdGFyZ2V0PSdfYmxhbmsnPm5oZW50YWk8L2E+IC0gSW1wb3J0YW56YSwgU3RlbGxpbmU6ICA8ZGl2IGNsYXNzPSdmb3Rvc3RlbGxpbmUnPjxpbWcgIHN0eWxlPSd2ZXJ0aWNhbC1hbGlnbjptaWRkbGU7JyBzcmM9Jy4uL2dyYWZpY2EvNXN0ZWxsZS5wbmcnIGFsdD0nNVN0ZWxsaW5lJz48L2Rpdj4gIExpbmsgRXN0ZXNvOiA8YSBocmVmPSdodHRwczovL25oZW50YWkubmV0LycgdGFyZ2V0PSdfYmxhbmsnPmh0dHBzOi8vbmhlbnRhaS5uZXQvPC9hPjwvcD4= ICA8YSBocmVmPSdodHRwczovL2hlbnRhaWhhdmVuLnh4eC8nIHRhcmdldD0nX2JsYW5rJz5IZW50YWlIZWF2ZW48L2E+IC0gSW1wb3J0YW56YSwgU3RlbGxpbmU6ICA8ZGl2IGNsYXNzPSdmb3Rvc3RlbGxpbmUnPjxpbWcgIHN0eWxlPSd2ZXJ0aWNhbC1hbGlnbjptaWRkbGU7JyBzcmM9Jy4uL2dyYWZpY2EvNHN0ZWxsZS5wbmcnIGFsdD0nNFN0ZWxsaW5lJz48L2Rpdj4gIExpbmsgRXN0ZXNvOiA8YSBocmVmPSdodHRwczovL2hlbnRhaWhhdmVuLnh4eC8nIHRhcmdldD0nX2JsYW5rJz5odHRwczovL2hlbnRhaWhhdmVuLnh4eC88L2E+PC9wPg== ICA8YSBocmVmPSdodHRwczovL2hpdG9taS5sYScgdGFyZ2V0PSdfYmxhbmsnPmhpdG9taTwvYT4gLSBJbXBvcnRhbnphLCBTdGVsbGluZTogIDxkaXYgY2xhc3M9J2ZvdG9zdGVsbGluZSc+PGltZyAgc3R5bGU9J3ZlcnRpY2FsLWFsaWduOm1pZGRsZTsnIHNyYz0nLi4vZ3JhZmljYS80c3RlbGxlLnBuZycgYWx0PSc0U3RlbGxpbmUnPjwvZGl2PiAgTGluayBFc3Rlc286IDxhIGhyZWY9J2h0dHBzOi8vaGl0b21pLmxhJyB0YXJnZXQ9J19ibGFuayc+aHR0cHM6Ly9oaXRvbWkubGE8L2E+PC9wPg==
Vari & Utility - My Personal Ranking
ICA8YSBocmVmPSdodHRwczovL3d3dy5zcGVlZHRlc3QubmV0LycgdGFyZ2V0PSdfYmxhbmsnPlNwZWVkdGVzdCBJbnRlcm5ldDwvYT4gLSBJbXBvcnRhbnphLCBTdGVsbGluZTogIDxkaXYgY2xhc3M9J2ZvdG9zdGVsbGluZSc+PGltZyAgc3R5bGU9J3ZlcnRpY2FsLWFsaWduOm1pZGRsZTsnIHNyYz0nLi4vZ3JhZmljYS81c3RlbGxlLnBuZycgYWx0PSc1U3RlbGxpbmUnPjwvZGl2PiAgTGluayBFc3Rlc286IDxhIGhyZWY9J2h0dHBzOi8vd3d3LnNwZWVkdGVzdC5uZXQvJyB0YXJnZXQ9J19ibGFuayc+aHR0cHM6Ly93d3cuc3BlZWR0ZXN0Lm5ldC88L2E+PC9wPg== ICA8YSBocmVmPSdodHRwczovL2NhbnlvdXNlZW1lLm9yZy8nIHRhcmdldD0nX2JsYW5rJz5PcGVuIFBvcnQgQ2hlY2sgVG9vbDwvYT4gLSBJbXBvcnRhbnphLCBTdGVsbGluZTogIDxkaXYgY2xhc3M9J2ZvdG9zdGVsbGluZSc+PGltZyAgc3R5bGU9J3ZlcnRpY2FsLWFsaWduOm1pZGRsZTsnIHNyYz0nLi4vZ3JhZmljYS81c3RlbGxlLnBuZycgYWx0PSc1U3RlbGxpbmUnPjwvZGl2PiAgTGluayBFc3Rlc286IDxhIGhyZWY9J2h0dHBzOi8vY2FueW91c2VlbWUub3JnLycgdGFyZ2V0PSdfYmxhbmsnPmh0dHBzOi8vY2FueW91c2VlbWUub3JnLzwvYT48L3A+ ICA8YSBocmVmPSdodHRwczovL2hpZGVzdGVyLmNvbS9pdC9wcm94eS8nIHRhcmdldD0nX2JsYW5rJz5IaWRlc3RlciBQcm94eSBvbmxpbmU8L2E+IC0gSW1wb3J0YW56YSwgU3RlbGxpbmU6ICA8ZGl2IGNsYXNzPSdmb3Rvc3RlbGxpbmUnPjxpbWcgIHN0eWxlPSd2ZXJ0aWNhbC1hbGlnbjptaWRkbGU7JyBzcmM9Jy4uL2dyYWZpY2EvNXN0ZWxsZS5wbmcnIGFsdD0nNVN0ZWxsaW5lJz48L2Rpdj4gIExpbmsgRXN0ZXNvOiA8YSBocmVmPSdodHRwczovL2hpZGVzdGVyLmNvbS9pdC9wcm94eS8nIHRhcmdldD0nX2JsYW5rJz5odHRwczovL2hpZGVzdGVyLmNvbS9pdC9wcm94eS88L2E+PC9wPg== ICA8YSBocmVmPSdodHRwczovL3NtYWlscHJvLmNvbS8nIHRhcmdldD0nX2JsYW5rJz5UZW1wIE1haWw8L2E+IC0gSW1wb3J0YW56YSwgU3RlbGxpbmU6ICA8ZGl2IGNsYXNzPSdmb3Rvc3RlbGxpbmUnPjxpbWcgIHN0eWxlPSd2ZXJ0aWNhbC1hbGlnbjptaWRkbGU7JyBzcmM9Jy4uL2dyYWZpY2EvNXN0ZWxsZS5wbmcnIGFsdD0nNVN0ZWxsaW5lJz48L2Rpdj4gIExpbmsgRXN0ZXNvOiA8YSBocmVmPSdodHRwczovL3NtYWlscHJvLmNvbS8nIHRhcmdldD0nX2JsYW5rJz5odHRwczovL3NtYWlscHJvLmNvbS88L2E+PC9wPg== ICA8YSBocmVmPSdodHRwczovL21hcHMuZXNyaS5jb20vcmMvc2F0L2luZGV4Lmh0bWwnIHRhcmdldD0nX2JsYW5rJz5NYXBzIGVzcmk8L2E+IC0gSW1wb3J0YW56YSwgU3RlbGxpbmU6ICA8ZGl2IGNsYXNzPSdmb3Rvc3RlbGxpbmUnPjxpbWcgIHN0eWxlPSd2ZXJ0aWNhbC1hbGlnbjptaWRkbGU7JyBzcmM9Jy4uL2dyYWZpY2EvNXN0ZWxsZS5wbmcnIGFsdD0nNVN0ZWxsaW5lJz48L2Rpdj4gIExpbmsgRXN0ZXNvOiA8YSBocmVmPSdodHRwczovL21hcHMuZXNyaS5jb20vcmMvc2F0L2luZGV4Lmh0bWwnIHRhcmdldD0nX2JsYW5rJz5odHRwczovL21hcHMuZXNyaS5jb20vcmMvc2F0L2luZGV4Lmh0bWw8L2E+PC9wPg== ICA8YSBocmVmPSdodHRwczovL3d3dy5jNGlzcm5ldC5jb20vJyB0YXJnZXQ9J19ibGFuayc+YzRpc3JuZXQ8L2E+IC0gSW1wb3J0YW56YSwgU3RlbGxpbmU6ICA8ZGl2IGNsYXNzPSdmb3Rvc3RlbGxpbmUnPjxpbWcgIHN0eWxlPSd2ZXJ0aWNhbC1hbGlnbjptaWRkbGU7JyBzcmM9Jy4uL2dyYWZpY2EvNXN0ZWxsZS5wbmcnIGFsdD0nNVN0ZWxsaW5lJz48L2Rpdj4gIExpbmsgRXN0ZXNvOiA8YSBocmVmPSdodHRwczovL3d3dy5jNGlzcm5ldC5jb20vJyB0YXJnZXQ9J19ibGFuayc+aHR0cHM6Ly93d3cuYzRpc3JuZXQuY29tLzwvYT48L3A+ ICA8YSBocmVmPSdodHRwczovL3dhbGxwYXBlcnBsYXkuY29tLycgdGFyZ2V0PSdfYmxhbmsnPldhbGxwYXBlcjwvYT4gLSBJbXBvcnRhbnphLCBTdGVsbGluZTogIDxkaXYgY2xhc3M9J2ZvdG9zdGVsbGluZSc+PGltZyAgc3R5bGU9J3ZlcnRpY2FsLWFsaWduOm1pZGRsZTsnIHNyYz0nLi4vZ3JhZmljYS81c3RlbGxlLnBuZycgYWx0PSc1U3RlbGxpbmUnPjwvZGl2PiAgTGluayBFc3Rlc286IDxhIGhyZWY9J2h0dHBzOi8vd2FsbHBhcGVycGxheS5jb20vJyB0YXJnZXQ9J19ibGFuayc+aHR0cHM6Ly93YWxscGFwZXJwbGF5LmNvbS88L2E+PC9wPg== ICA8YSBocmVmPSdodHRwczovL2FyY2hpdmUuaXMvJyB0YXJnZXQ9J19ibGFuayc+QXJjaGl2ZSBXZWJzaXRlPC9hPiAtIEltcG9ydGFuemEsIFN0ZWxsaW5lOiAgPGRpdiBjbGFzcz0nZm90b3N0ZWxsaW5lJz48aW1nICBzdHlsZT0ndmVydGljYWwtYWxpZ246bWlkZGxlOycgc3JjPScuLi9ncmFmaWNhLzRzdGVsbGUucG5nJyBhbHQ9JzRTdGVsbGluZSc+PC9kaXY+ICBMaW5rIEVzdGVzbzogPGEgaHJlZj0naHR0cHM6Ly9hcmNoaXZlLmlzLycgdGFyZ2V0PSdfYmxhbmsnPmh0dHBzOi8vYXJjaGl2ZS5pcy88L2E+PC9wPg== ICA8YSBocmVmPSdodHRwczovL2V2ZXJ5dGltZXpvbmUuY29tLycgdGFyZ2V0PSdfYmxhbmsnPkV2ZXJ5IFRpbWUgWm9uZTwvYT4gLSBJbXBvcnRhbnphLCBTdGVsbGluZTogIDxkaXYgY2xhc3M9J2ZvdG9zdGVsbGluZSc+PGltZyAgc3R5bGU9J3ZlcnRpY2FsLWFsaWduOm1pZGRsZTsnIHNyYz0nLi4vZ3JhZmljYS80c3RlbGxlLnBuZycgYWx0PSc0U3RlbGxpbmUnPjwvZGl2PiAgTGluayBFc3Rlc286IDxhIGhyZWY9J2h0dHBzOi8vZXZlcnl0aW1lem9uZS5jb20vJyB0YXJnZXQ9J19ibGFuayc+aHR0cHM6Ly9ldmVyeXRpbWV6b25lLmNvbS88L2E+PC9wPg== ICA8YSBocmVmPSdodHRwczovL3d3dy5hY29udmVydC5jb20vJyB0YXJnZXQ9J19ibGFuayc+RmlsZSBjb252ZXJ0PC9hPiAtIEltcG9ydGFuemEsIFN0ZWxsaW5lOiAgPGRpdiBjbGFzcz0nZm90b3N0ZWxsaW5lJz48aW1nICBzdHlsZT0ndmVydGljYWwtYWxpZ246bWlkZGxlOycgc3JjPScuLi9ncmFmaWNhLzVzdGVsbGUucG5nJyBhbHQ9JzVTdGVsbGluZSc+PC9kaXY+ICBMaW5rIEVzdGVzbzogPGEgaHJlZj0naHR0cHM6Ly93d3cuYWNvbnZlcnQuY29tLycgdGFyZ2V0PSdfYmxhbmsnPmh0dHBzOi8vd3d3LmFjb252ZXJ0LmNvbS88L2E+PC9wPg== ICA8YSBocmVmPSdodHRwczovL2NvcHljaGFyLmNjLycgdGFyZ2V0PSdfYmxhbmsnPkNvcHljaGFyIC0gU2ltYm9saTwvYT4gLSBJbXBvcnRhbnphLCBTdGVsbGluZTogIDxkaXYgY2xhc3M9J2ZvdG9zdGVsbGluZSc+PGltZyAgc3R5bGU9J3ZlcnRpY2FsLWFsaWduOm1pZGRsZTsnIHNyYz0nLi4vZ3JhZmljYS80c3RlbGxlLnBuZycgYWx0PSc0U3RlbGxpbmUnPjwvZGl2PiAgTGluayBFc3Rlc286IDxhIGhyZWY9J2h0dHBzOi8vY29weWNoYXIuY2MvJyB0YXJnZXQ9J19ibGFuayc+aHR0cHM6Ly9jb3B5Y2hhci5jYy88L2E+PC9wPg== ICA8YSBocmVmPSdodHRwczovL2RpY3RhdGlvbi5pby8nIHRhcmdldD0nX2JsYW5rJz5EaWN0YXRpb24gLSBNdWx0aSBMaW5ndWE8L2E+IC0gSW1wb3J0YW56YSwgU3RlbGxpbmU6ICA8ZGl2IGNsYXNzPSdmb3Rvc3RlbGxpbmUnPjxpbWcgIHN0eWxlPSd2ZXJ0aWNhbC1hbGlnbjptaWRkbGU7JyBzcmM9Jy4uL2dyYWZpY2EvNHN0ZWxsZS5wbmcnIGFsdD0nNFN0ZWxsaW5lJz48L2Rpdj4gIExpbmsgRXN0ZXNvOiA8YSBocmVmPSdodHRwczovL2RpY3RhdGlvbi5pby8nIHRhcmdldD0nX2JsYW5rJz5odHRwczovL2RpY3RhdGlvbi5pby88L2E+PC9wPg== ICA8YSBocmVmPSdodHRwczovL2l0LmFraW5hdG9yLmNvbS8nIHRhcmdldD0nX2JsYW5rJz5Ba2luYXRvciAtIGluZG92aW5hIGlsIHBlbnNpZXJvPC9hPiAtIEltcG9ydGFuemEsIFN0ZWxsaW5lOiAgPGRpdiBjbGFzcz0nZm90b3N0ZWxsaW5lJz48aW1nICBzdHlsZT0ndmVydGljYWwtYWxpZ246bWlkZGxlOycgc3JjPScuLi9ncmFmaWNhLzVzdGVsbGUucG5nJyBhbHQ9JzVTdGVsbGluZSc+PC9kaXY+ICBMaW5rIEVzdGVzbzogPGEgaHJlZj0naHR0cHM6Ly9pdC5ha2luYXRvci5jb20vJyB0YXJnZXQ9J19ibGFuayc+aHR0cHM6Ly9pdC5ha2luYXRvci5jb20vPC9hPjwvcD4= ICA8YSBocmVmPSdodHRwczovL3d3dy5yYW5kb20ub3JnLycgdGFyZ2V0PSdfYmxhbmsnPkdlbmVyYXRvcmUgQ2FzdWFsZSBkaSBPZ2dldHRpPC9hPiAtIEltcG9ydGFuemEsIFN0ZWxsaW5lOiAgPGRpdiBjbGFzcz0nZm90b3N0ZWxsaW5lJz48aW1nICBzdHlsZT0ndmVydGljYWwtYWxpZ246bWlkZGxlOycgc3JjPScuLi9ncmFmaWNhLzVzdGVsbGUucG5nJyBhbHQ9JzVTdGVsbGluZSc+PC9kaXY+ICBMaW5rIEVzdGVzbzogPGEgaHJlZj0naHR0cHM6Ly93d3cucmFuZG9tLm9yZy8nIHRhcmdldD0nX2JsYW5rJz5odHRwczovL3d3dy5yYW5kb20ub3JnLzwvYT48L3A+
Torrent - My Personal Ranking
ICA8YSBocmVmPSdodHRwczovL2lsY29yc2Fyb25lcm8ubGluay8nIHRhcmdldD0nX2JsYW5rJz5JbCBjb3JzYXJvIG5lcm8gVWZmaWNpYWxlPC9hPiAtIEltcG9ydGFuemEsIFN0ZWxsaW5lOiAgPGRpdiBjbGFzcz0nZm90b3N0ZWxsaW5lJz48aW1nICBzdHlsZT0ndmVydGljYWwtYWxpZ246bWlkZGxlOycgc3JjPScuLi9ncmFmaWNhLzFzdGVsbGUucG5nJyBhbHQ9JzFTdGVsbGluZSc+PC9kaXY+ICBMaW5rIEVzdGVzbzogPGEgaHJlZj0naHR0cHM6Ly9pbGNvcnNhcm9uZXJvLmxpbmsvJyB0YXJnZXQ9J19ibGFuayc+aHR0cHM6Ly9pbGNvcnNhcm9uZXJvLmxpbmsvPC9hPjwvcD4= ICA8YSBocmVmPSdodHRwczovL3RoZXBpcmF0ZWJheS5vcmcvaW5kZXguaHRtbCcgdGFyZ2V0PSdfYmxhbmsnPlRoZXBpcmF0ZWJheTwvYT4gLSBJbXBvcnRhbnphLCBTdGVsbGluZTogIDxkaXYgY2xhc3M9J2ZvdG9zdGVsbGluZSc+PGltZyAgc3R5bGU9J3ZlcnRpY2FsLWFsaWduOm1pZGRsZTsnIHNyYz0nLi4vZ3JhZmljYS81c3RlbGxlLnBuZycgYWx0PSc1U3RlbGxpbmUnPjwvZGl2PiAgTGluayBFc3Rlc286IDxhIGhyZWY9J2h0dHBzOi8vdGhlcGlyYXRlYmF5Lm9yZy9pbmRleC5odG1sJyB0YXJnZXQ9J19ibGFuayc+aHR0cHM6Ly90aGVwaXJhdGViYXkub3JnL2luZGV4Lmh0bWw8L2E+PC9wPg== ICA8YSBocmVmPSdodHRwczovL3d3dy5saW1ldG9ycmVudHMuaW5mby8nIHRhcmdldD0nX2JsYW5rJz5MaW1ldG9ycmVudHM8L2E+IC0gSW1wb3J0YW56YSwgU3RlbGxpbmU6ICA8ZGl2IGNsYXNzPSdmb3Rvc3RlbGxpbmUnPjxpbWcgIHN0eWxlPSd2ZXJ0aWNhbC1hbGlnbjptaWRkbGU7JyBzcmM9Jy4uL2dyYWZpY2EvM3N0ZWxsZS5wbmcnIGFsdD0nM1N0ZWxsaW5lJz48L2Rpdj4gIExpbmsgRXN0ZXNvOiA8YSBocmVmPSdodHRwczovL3d3dy5saW1ldG9ycmVudHMuaW5mby8nIHRhcmdldD0nX2JsYW5rJz5odHRwczovL3d3dy5saW1ldG9ycmVudHMuaW5mby88L2E+PC9wPg== ICA8YSBocmVmPSdodHRwczovL3JhcmJnLnRvL3RvcnJlbnRzLnBocCcgdGFyZ2V0PSdfYmxhbmsnPlJhcmJnPC9hPiAtIEltcG9ydGFuemEsIFN0ZWxsaW5lOiAgPGRpdiBjbGFzcz0nZm90b3N0ZWxsaW5lJz48aW1nICBzdHlsZT0ndmVydGljYWwtYWxpZ246bWlkZGxlOycgc3JjPScuLi9ncmFmaWNhLzVzdGVsbGUucG5nJyBhbHQ9JzVTdGVsbGluZSc+PC9kaXY+ICBMaW5rIEVzdGVzbzogPGEgaHJlZj0naHR0cHM6Ly9yYXJiZy50by90b3JyZW50cy5waHAnIHRhcmdldD0nX2JsYW5rJz5odHRwczovL3JhcmJnLnRvL3RvcnJlbnRzLnBocDwvYT48L3A+ ICA8YSBocmVmPSdodHRwczovLzEzMzd4LnRvLycgdGFyZ2V0PSdfYmxhbmsnPjEzMzcgLSBpbiBpbmdsZXNlIHRvcnJlbnQ8L2E+IC0gSW1wb3J0YW56YSwgU3RlbGxpbmU6ICA8ZGl2IGNsYXNzPSdmb3Rvc3RlbGxpbmUnPjxpbWcgIHN0eWxlPSd2ZXJ0aWNhbC1hbGlnbjptaWRkbGU7JyBzcmM9Jy4uL2dyYWZpY2EvNHN0ZWxsZS5wbmcnIGFsdD0nNFN0ZWxsaW5lJz48L2Rpdj4gIExpbmsgRXN0ZXNvOiA8YSBocmVmPSdodHRwczovLzEzMzd4LnRvLycgdGFyZ2V0PSdfYmxhbmsnPmh0dHBzOi8vMTMzN3gudG8vPC9hPjwvcD4= ICA8YSBocmVmPSdodHRwczovL3d3dy50b3JyZW50ZG93bmxvYWRzLm1lLycgdGFyZ2V0PSdfYmxhbmsnPnRvcnJlbnRkb3dubG9hZHM8L2E+IC0gSW1wb3J0YW56YSwgU3RlbGxpbmU6ICA8ZGl2IGNsYXNzPSdmb3Rvc3RlbGxpbmUnPjxpbWcgIHN0eWxlPSd2ZXJ0aWNhbC1hbGlnbjptaWRkbGU7JyBzcmM9Jy4uL2dyYWZpY2EvNXN0ZWxsZS5wbmcnIGFsdD0nNVN0ZWxsaW5lJz48L2Rpdj4gIExpbmsgRXN0ZXNvOiA8YSBocmVmPSdodHRwczovL3d3dy50b3JyZW50ZG93bmxvYWRzLm1lLycgdGFyZ2V0PSdfYmxhbmsnPmh0dHBzOi8vd3d3LnRvcnJlbnRkb3dubG9hZHMubWUvPC9hPjwvcD4= ICA8YSBocmVmPSdodHRwczovL2dsb2Rscy50by8nIHRhcmdldD0nX2JsYW5rJz5HbG9kbHM8L2E+IC0gSW1wb3J0YW56YSwgU3RlbGxpbmU6ICA8ZGl2IGNsYXNzPSdmb3Rvc3RlbGxpbmUnPjxpbWcgIHN0eWxlPSd2ZXJ0aWNhbC1hbGlnbjptaWRkbGU7JyBzcmM9Jy4uL2dyYWZpY2EvNHN0ZWxsZS5wbmcnIGFsdD0nNFN0ZWxsaW5lJz48L2Rpdj4gIExpbmsgRXN0ZXNvOiA8YSBocmVmPSdodHRwczovL2dsb2Rscy50by8nIHRhcmdldD0nX2JsYW5rJz5odHRwczovL2dsb2Rscy50by88L2E+PC9wPg==